Central Auckland just got a whole lot sweeter with Kookie Haus opening its doors.
The past year has been one of growth for the Kookie Haus team. Since opening their first store in Ranui last year, duo Wesley Cannacooy and Jenna Chamberlain has been experimenting, expanding and exploring new cookie creations.
Hailed as some of the best in town, just sinking your teeth into their soft yet chewy comfort is enough to event convert the most savoury eater. Looking to bring the fun to the city their new spot can be found at the bottom of Airdale Street, just off Queen Street. A small but mighty space, you'll find a jam-packed cabinet with stacks on stacks cookie dough sandwiches, 'cakes' and other loaded creations.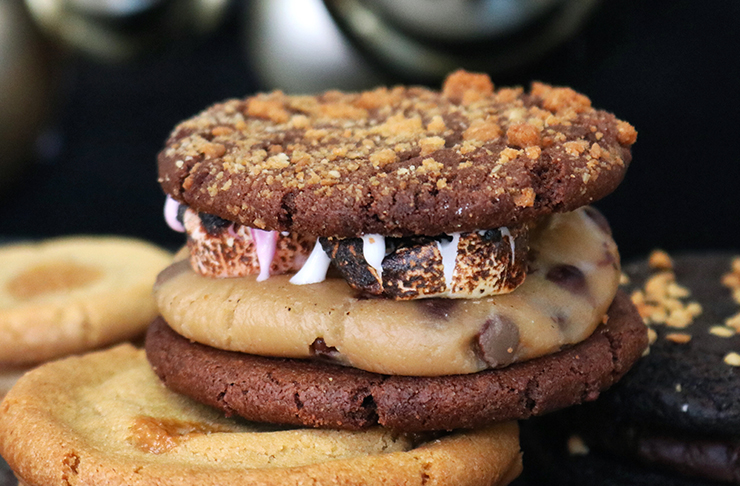 Our top pick is the peanut butter and chocolate cookie dough sandwich. Think cookie dough smothered in crunchy peanut butter, encased in two fresh chocolate cookies. If peanut butter's not your jam, opt for their signature sammie, the biggie S'mores which boasts oozing toasted marshmallow. Drooling yet?
Bringing sweet treats to one and all, the team has worked to bring the treats to pretty much all dietary requirements. We're talking ketogenic, vegan, gluten-free, low carb, high protein, and refined sugar-free options. The best part is they're so scrumptious, they don't even taste healthy which, let's be honest, is what really counts.
An excellent chip-to-biscuit ratio, if you can pull your eyes away from the loaded creations, the classic chocolate chip cookie is a must try. Maintaining an addictive crunch while remaining both chewy and gooey, after a bite, you'll be able to fully experience just how much Kookie Haus have perfected their craft.
Now officially open, whether you're hustling to hit that uni deadline, feel like bribing your boss en route to a meeting or are just in the mood for the quality you can taste, look no further than Kookie Haus' new central sweet spot.
For more information about Kookie Haus, including opening hours, click here.
Image Credit: Jaiden Bhaga