With Auckland's unique volcanic landscape there are lots of amazing summits from which to gaze upon the City Of Sails. One of our favourites however, has to be Maungawhau/Mount Eden, the summit of which has been closed to cars for around four years making it a great choice for those easy strolls—or strenuous workouts with killer views to be had from the top.
If you've been up in the past year you would have noticed that the entire summit around the crater has been closed to the public while the Tūpuna Maunga Authority erected a boardwalk in order to protect the sacred Maunga from its own success.
Well the work has been continuing apace under lockdown 2.0 and the Tūpuna Maunga Authority are finally able to unveil what they've been working on.
There remains just a few historic features of the last remnants of an ancient pā at Maungawhau—dating back to around 1200AD—which was an ancient settlement for several centuries. The new boardwalk now carefully circumvents these features so that we can visit the mountain, and see the ancient tūāpapa (terraces) and rua (pits) without causing damage. We can get behind that!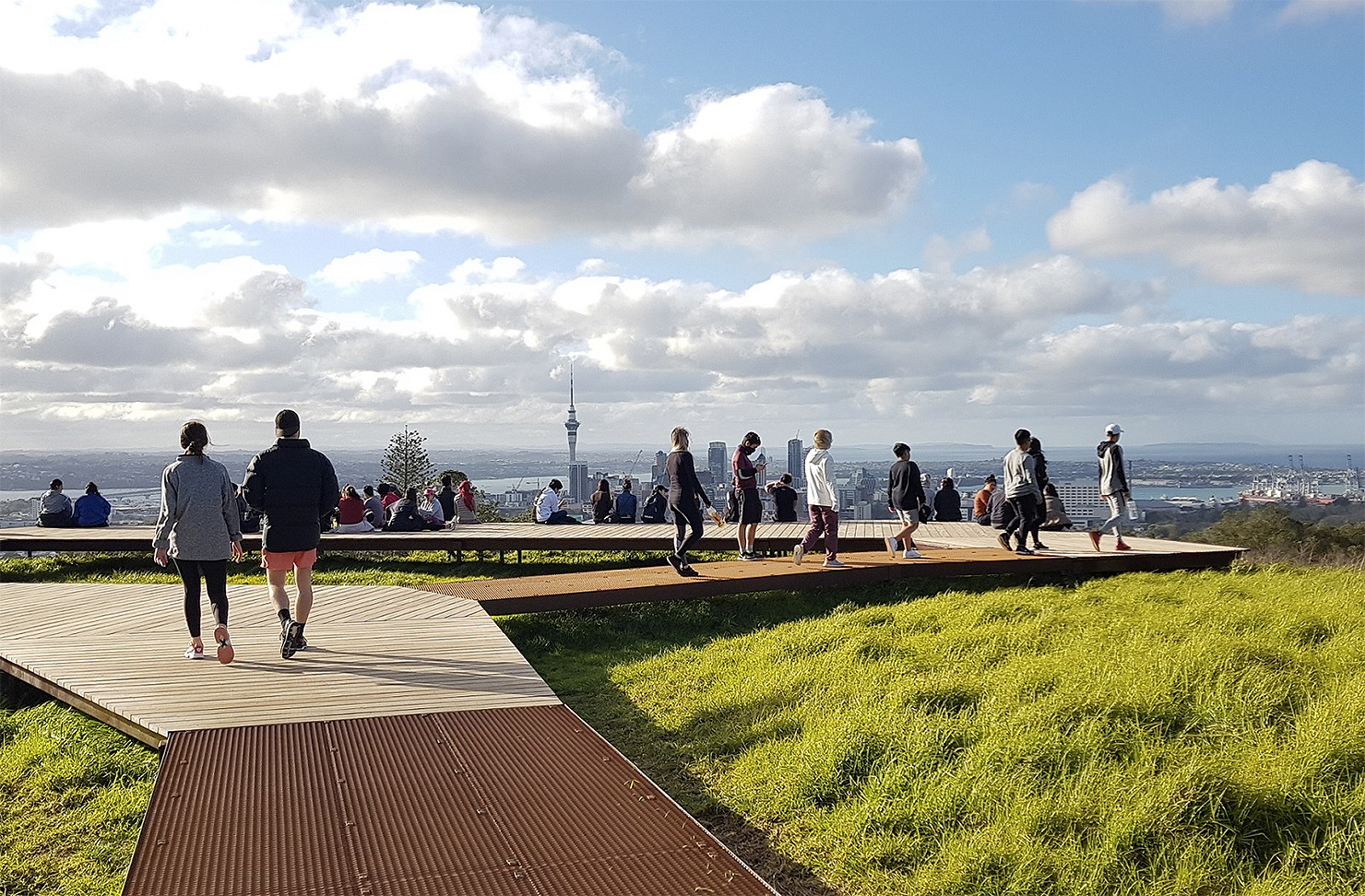 The expansive boardwalk also incorporates a new viewing platform perfect for those celebratory selfies after the hard graft reaching the top.
Paul Majurey, Chair of the Tūpuna Maunga Authority, says "Maungawhau is a waahi tapu—a sacred place of immense historical, cultural and spiritual significance to the Mana Whenua iwi/hapū of Tāmaki Makaurau. It is also geologically important and is highly valued by the many communities that have a connection with this special place. Maungawhau is a taonga in every sense of the word."
If you're keen to learn more about the Maunga and its cultural significance, the visitor centre is just next to Whau Cafe—which specialises in epic traditional Maori food not often found in the city and is most definitely worth a visit or three. The visitor centre will reopen at Alert Level 1.
In the meantime, if you're keen to make the trek at Alert Level 2 (.5), please make sure you're observing the two-metre social distancing at all times and we'll see you there!
The Details
What: Maungawhau/Mt Eden Summit Boardwalk
Where: Maungawhau / Mount Eden
When: From this week
Got the bug? Check out our favourite volcanoes to climb around Auckland.
Image credit: Auckland Council