What began as a food truck before settling into their CBD home as Kai Eatery has just opened a new restaurant on Dominion Road.
General Kai serves Pan-Asian fare that stays true to its origins.
"To open up a restaurant has always been my dream," says owner Allen Yeh. "We have an excellent team of chefs who each specialise in their own cuisine to ensure every bite is as authentic as the last."
Across the menu, you'll find Chinese, Taiwanese, Vietnamese and Japanese classics done right.
Start your feast with the crispy soft tofu. With a crunchy outer and a smooth interior and topped with cucumber, toasted peanut and sweet chilli, they're a must.
Or, if you prefer oodles of noodles, the bun mang ga is for you. A Vietnamese classic, this dish keeps things simple with vermicelli, bamboo, chicken and chilli, all in a moreish broth.
No meal would be complete without dumplings, and General Kai does them perfectly. Choose from the Shu Mai—pork dumplings, doused in Sichuan sauce, or the Har Gow if you prefer shrimp dumplings. There are also a variety of Potstickers and bao to choose from.
Their Little Bigger menu is filled with favourites and our top pick is the sizzling lamb with cumin. Tender and packed with a spicy kick thanks to an expert culmination of fresh herbs and seasonal veggies, the result is delicious. Other options include wok-fried beef, sweet and sour pork or sauteed prawns.
No visit to Kai would be complete without their signature fried chicken. With a thigh and drumstick, salad and house sauce, it's become an Auckland favourite for good reason.
End things on a sweet note with a mango snow ice. Served to share, (or not, if you're determined) it features mountains of snow ice topped with egg pudding and fresh mango. Or, if you prefer something even sweeter, the Oreo snow ice is for you.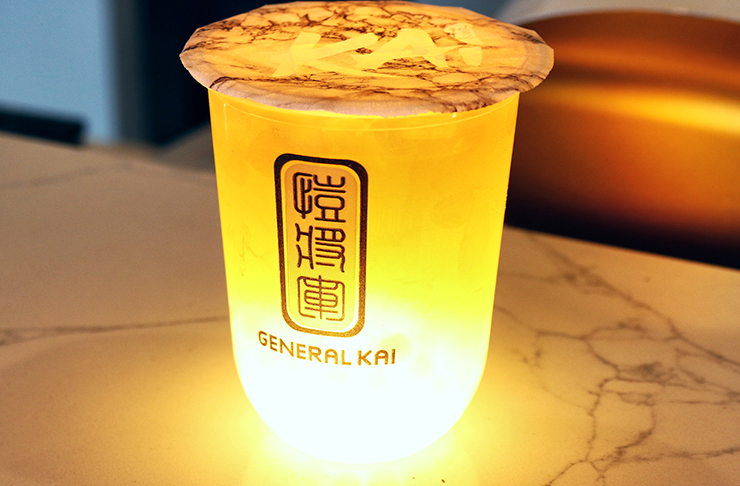 Wash it all down with a drink from their extensive menu. With everything from milk teas, fresh teas, slushies, beer, cider wine and even champagne, there's something for everyone. Or, try one of their bubble teas. Brewed on site by New Zealand's only tea-spresso machine, we recommend adding glowing pearls.
A gateway into traditional Asian cuisine, General Kai is a one-stop spot for Pan-Asian food and is a must visit.
For more information about General Kai, including opening hours, click here.
Image Credit: Jaiden Bhaga