The team behind Winona Forever, Sugar, and Rude Boy Deli have done it again with a brand new cafe, Just Like Martha.
Found on the fringe of Three Kings under the Obsidian apartments on Mt Eden Road, the space boasts a well-curated fit out. A welcoming front cabinet filled with 'classic Kiwi baking' will entice inside where you'll find the walls decked out with Scandinavian wallpaper and furnishings reminiscent of an Italian corner café. Known for their gorgeous eateries all across Auckland, Francesca Mazza and Aaron Carson's latest venture is nothing short of extraordinary.
"Opening up in a more suburban area, we're really excited to meet the locals," says Fran. "Our menu features accessible classics with a modern twists."
The café's name pays homage to Martha Stewart, as well as Fran's past experience as a baker.
"We used what we called a 'Martha-meter' to quality check our goods are Martha Stewart-worthy," laughs Fran.
Their food menu is exactly that and features a little something for everyone.
An exciting inclusion is mince on toast. Inspired by their experience opening their restaurant Fang, the dish features Sichuan flavouring—think chilli brioche topped with Sichuan spicy mince, poached egg, and seasonal greens doused in Fang chilli oil. If you like it hot, this one's for you.
For those who love all things sweet, look no further than the French toast. It features a dark chocolate brioche topped with raspberry pannacotta, sheets of white chocolate, thyme meringue and maple fried banana and it is a delicious masterpiece.
A reimagined classic, the braised beef cheek benedict is also worth a try. It stars two poached eggs on top of a layered potato stack with season greens, baby beets with tender beef cheek and rich balsamic hollandaise.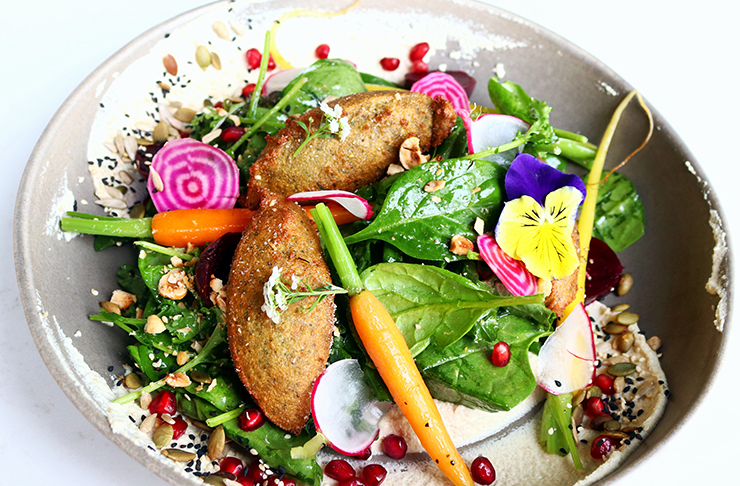 You may find yourself with food envy when your plant-loving pal orders the vegan breakfast. A picturesque bowl packed with beetroot, carrot, abby spinach, hazelnuts, crispy kale, pomegranate seeds, cashew mayonnaise and falafels. Eating the rainbow has never been so enticing.
Because we're a sucker for a good burger, our top pick is the double buttermilk fried chicken burger. Impressively sized, the fried chicken is complimented with southern slaw, chow chow relish, cheese, and aioli all served on a bed of shoestring fries. You'll find yourself in love at first sight (and bite).
With epic vibes and some of the best eats in town, it's safe to say Fran and Aaron have done it again and, better yet, made Martha proud.
For more information about Just Like Martha, including opening hours click here.
Image Credit: Jaiden Bhaga