Auckland, are you ready for this? A mind-blowing new eatery is opening in Mt. Eden and is set to change up the foodie scene.
Say hello to Wu & You, a whacky and wonderful haven of all things delicious. A step inside will have you surrounded by a visual feast of neon lights, sprawling murals and a sleek decor packed with hues of teals and pinks. With wonder around every corner, you won't know where to head first! Greeted by an epic marble bar, continue through to the backyard and come face-to-face with a mural masterpiece of Wu herself. So just who is Wu?
"Wu is our heroine," says head chef Cairan Flaherty. "She's a mix of traditional Chinese heritage with a badass streak, and the menu reflects that."
Food innovation at its finest, a quick glance at the menu will drastically escalate your appetite and make your mouth water with anticipation. Divided 'little guys', 'bigger guys' and 'loners', you know Wu's not going to be like the rest.
A masterpiece almost too gorgeous to touch, don't look past the Himalayan salt slab-cured Kingfish. Intricately placed presented on a pink crystal, you'll be served kingfish amongst edamame, red chilli, quinoa, coriander, pear and lemon. And yes, it's delicious as it looks.
Found in the loners section, you're definitely going to want to get to know Mr Krab's nori taco. Transforming the humble taco into a taste-tastic creation, you're going to want to have your cameras ready for a snap of this bad boy. Cairan's top pick swaps out tortilla for nori sheets along with tempura soft shell crab, sushi rice, guacamole, jalapeño and a drizzle of curried mayo. Trust us when we say: it's beyond epic.
With the perfect amount of ka-pow the bang bang chicken salad will no doubt have you coming back for more. Starring shredded chicken, crispy vegetables, chilli bean and oyster sauce, this dish is as electric as the surrounding neon. With everything from sweet to tangy and a bit of a crunch, we couldn't stop at just one bite.
Your taste bud's adventure isn't over yet though. We've still got dessert aka 'the happy ending' to devour. Wu's dessert range ends things on an unforgettable sweet note. Perhaps the first of its kind, the perfectly pink bao-nut is the sweet treat we didn't know we needed. Just think: a bao-shaped doughnut encasing strawberry marshmallow and ice cream—yum.
Reinventing a childhood classic, no sweet tooth will be able to resist the Golden Gaytime iceblock. Intrigued? Image smooth creamy frozen New York cheesecake coated in a thick oozing chocolate ganache drizzled with miso caramel sauce and a sprinkle of cookie crumbs. Yep, this treasure is pretty much a dream come true!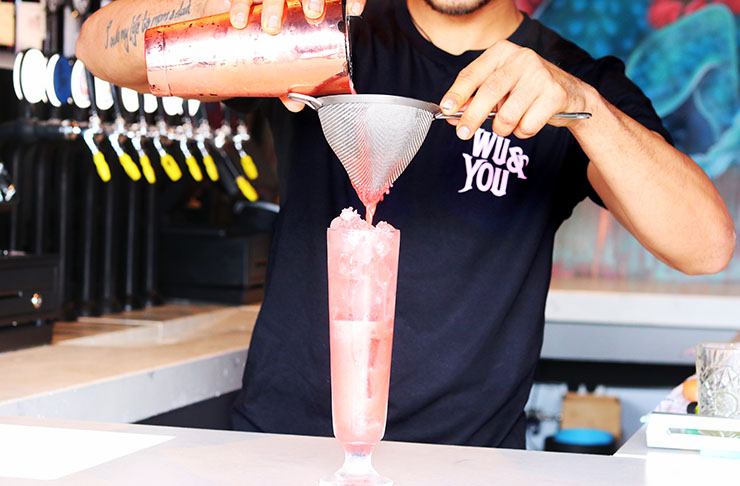 But wait! There's more. Served over the ballin' marble bar, Wu has put her own touch on each cocktail creation from the rising sun or Jackie Chan. Our top pick is the refreshing 36 chambers, a fresh take on the Singapore sling, this gem features gin, cherry herring, Cointreau, don Benedictine, fresh pineapple juice, limed with a hint of bitters. Or, if you're feeling a little more sour than sweet, look no further than the oh Bali! This magic potion is a blend of white rum, lemongrass and kaffir lime syrup, lime juice and soda water.
Opening her doors this Wednesday, be sure to head on over to Mt Eden and let the wonder of Wu enchant you too!
For more infomation and opening hours, click here.
Image credit: Jaiden Bhaga