There's a new fried chicken joint in town, and it's really clucking good. We're talking about Peach's Hot Chicken, the droolworthy food truck-turned restaurant that's recently opened its doors to the lucky people of Panmure.
Now when we say new, that's not entirely true. This sweet little spot—easily recognised by its peach exterior—is in fact the permanent home of the food truck of the same name; which has gained a cult following in recent years thanks to its unique brand of fried chicken (and can still be seen out-and-about for festivals and other events).
Yes, this isn't just your regular crispy chook, it's the special 'hot' kind that's popular in Nashville (where Alex, one half of the husband-and-wife duo behind Peach's, is originally from). This is made using a secret spice blend—available in varying degrees of heat, from mild right through to the appropriately-named Holy Cluck—that's based on a generations-old recipe handed down by Alex's grandmother.
But hot or not, one thing remains the same at every spice point—crispy, juicy fried chicken that's some of the best we've tasted in quite some time (and trust us, we've tasted A LOT of fried chicken).
If you only order one thing here, make it The Baller Sandwich—Peach's top seller and no doubt one of the reasons why these guys have gained such a loyal fanbase (because after tasting this, you'll forget other chicken burgers exist).
Served on a soft brioche bun, this OTT creation is bursting with boneless fried chicken thigh, coleslaw, cheddar cheese, homemade pickles and a generous serving of Nashville Comeback Sauce (Peach's take on aioli). You'll definitely need the paper towels on standby for this one—luckily, you'll find rolls of these on the tables, as well as the ingenious addition of a wash station by the counter to freshen up those sticky hands.
The chicken and waffles are also a standout dish; while the sides are certainly worth getting amongst if you've got the room (something we cannot guarantee). Of these, the Tater Tots—little nuggets of deep-fried potato, much like miniature hashbrowns—and Pimento Mac & Cheese are our faves. Wash all of that greasy goodness down with a glass of local beer, as is the recommendation here, and you're good to go.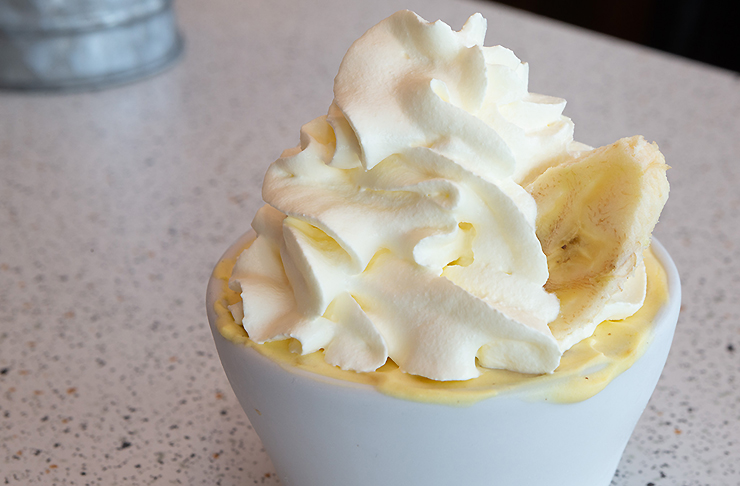 There's even a couple of desserts, led by another southern staple—banana pudding. This delicious after-chicken treat—created by Alex's wife and professionally-trained pastry chef, Olivia—will refresh your tastebuds with its cooling mix of vanilla custard, fresh bananas and vanilla wafers; and is again inspired by a family recipe (this time from Alex's other grandmother). We're told a rotating pie menu is also in the works (yum!).
As for the fit-out, this too is a nod to Peach's American roots. With booth-style seating, black-and-white family photographs and a sunken floor, the space is very much how we'd imagine a typical diner to be—only more stylish, due to the unconventional colour palette (black, white, orange and of course peach) and the inclusion of an edgy mural by Marcus Watson.
So, what would we say are our overall thoughts about this new addition to the fried chicken scene? Well, as those in the south would say, she's a real 'peach.'
For more images and information on Peach's Fried Chicken, including opening hours, click here.
Image credit: Wono Kim