Does your romance feel a little less shiny than you'd like it to be? Maybe life's so hectic right now that you're missing out on those magical moments with your special someone. A romantic getaway could be just what you need to reignite the flame and connect at a deeper level than ever before. And if you don't have a partner? No need to miss out. Recharge with your bestie or sign up for a soulful, solo retreat.
And because we know you're really busy, we've done the hard work for you and compiled a list of the best romantic getaways and magical retreats within driving distance from Auckland, so you can get straight down to blissful relaxation. Enjoy.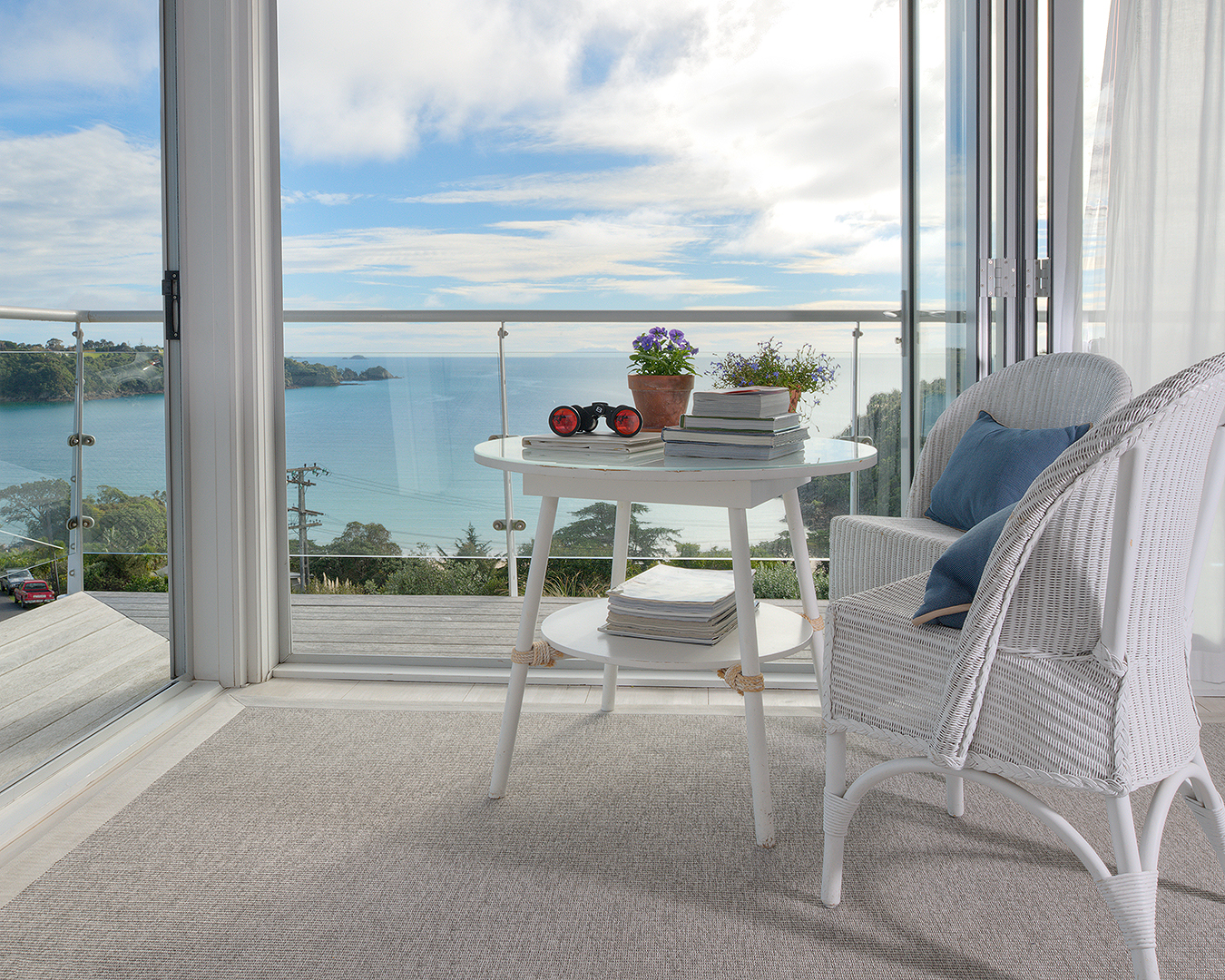 The Boatshed
Waiheke
Waiheke always feels like holiday time and just 40 minutes from downtown Auckland it makes the perfect romantic getaway. Book the lighthouse room at The Boatshed—it's the perfect place to feel like a princess at the top of your three-story lighthouse-esque, tower. Watch the tides change and boats coming and going from your perch above Little Oneroa beach. And, when night falls, order a meal to be delivered through a private service lift to your door. No movement required.
Castaways
KARIOTAHI BEACH
Sitting pretty on clifftops overlooking Kariotahi beach Castaways' location couldn't be more romantic. Cast away your worries and watch the black sand melt into the ocean and then into the sky from the comfort of your very own private studio. There's no better place to watch a brilliant sunset but if off-grid's more your style opt for the Totara Tree Tent. Created by the same team that made Castaways, this wilder sister retreat is equipped with a fully-stocked fridge and everything you need to whip up a delicious, gourmet BBQ dinner.
970 Lonely Bay
COROMANDEL
Situated in the absolute gem of the North Island, the Coromandel, 970 Lonely Bay is a totally luxe romantic getaway. Choose from one of four suites—our pick is the Estuary Terrace. If you have double date partners we suggest you take them to this two-bedroom suite. We are talking a massive deck where you can dine al fresco and a fireplace in the bedroom to keep you toasty. Yasss please! It's only a short walk to Cook's Beach and close to all the Coromandel hotspots like Hot Water Beach and Whitianga. You'll find everything you need and more—from foodie spots to a dig-your-own natural thermal spa in the sand.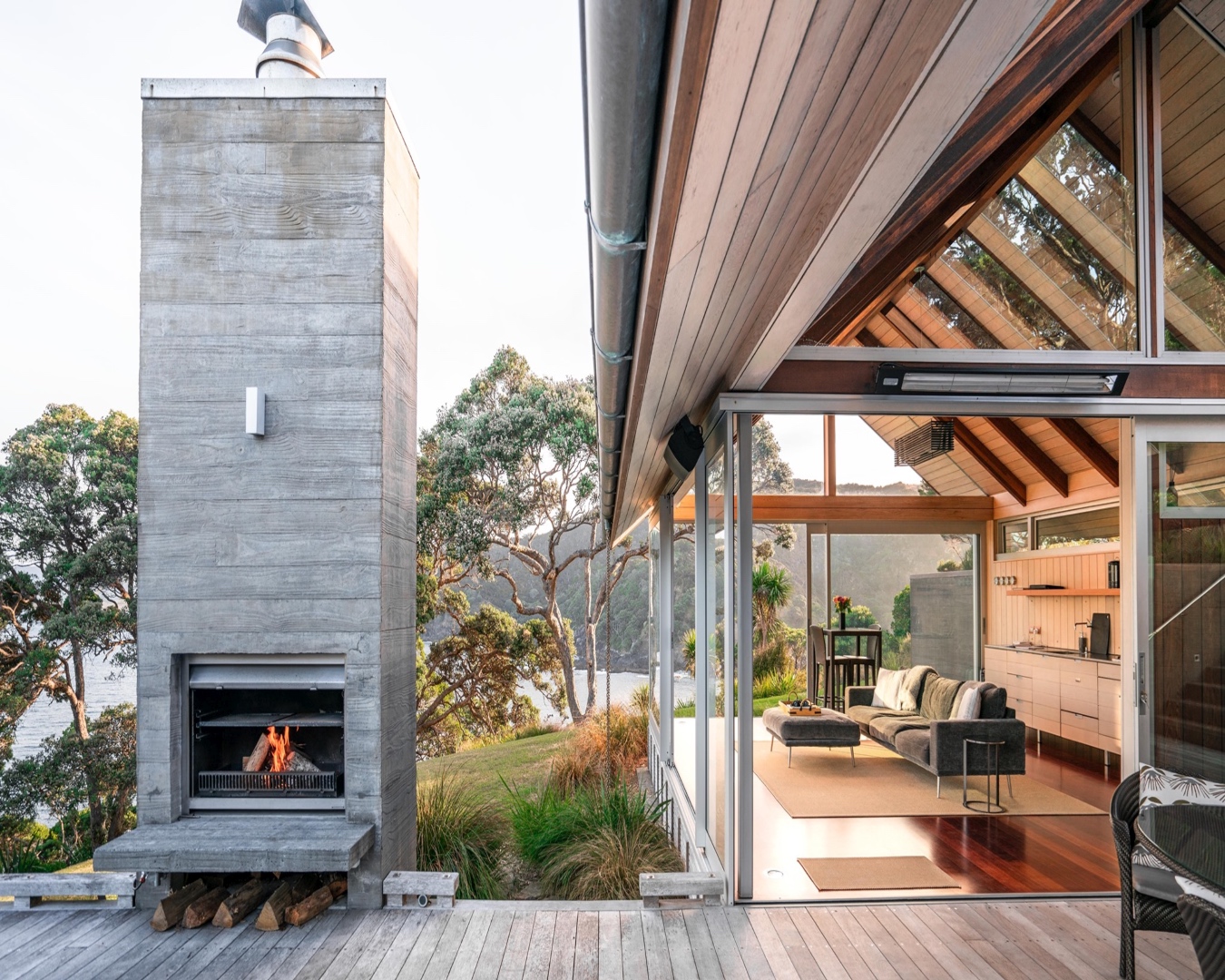 ​The Glasshouse
Whangarei
The Glasshouse is dreamy opulence on the edge of the Pacific Ocean. Enjoy champagne on arrival while you ponder what to indulge in first: will you live your mermaid fantasy in the saltwater reticulated rockpool, go for a cheeky dip in the private cove or spend the afternoon relaxing in a hammock among ancient Pohutukawa trees? If the decision proves too taxing you can opt for a cleanse instead and, with a touch of a button, enjoy million-dollar views of the ocean while you shower. Yaaaaaas.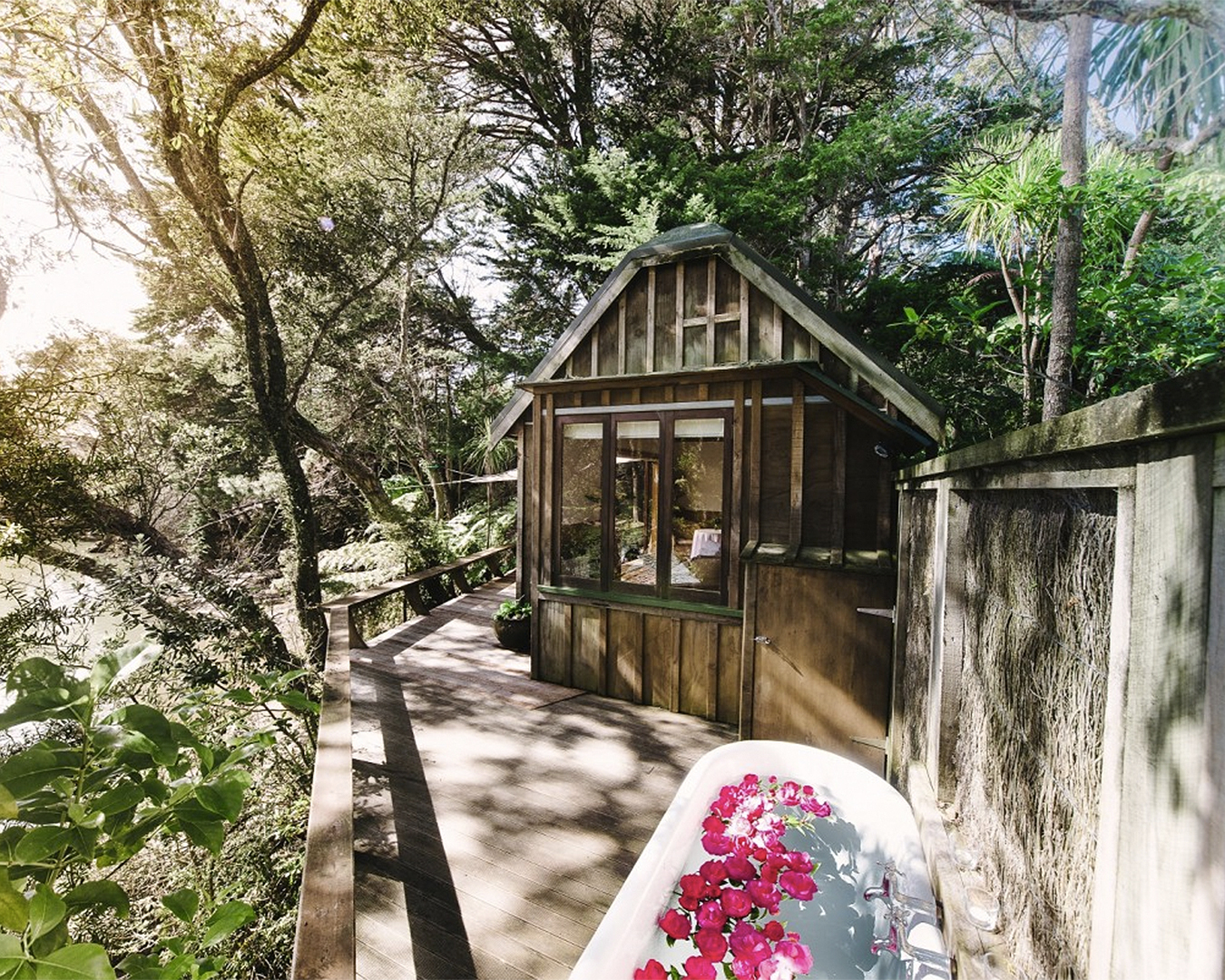 Magic Cottages At Takou River
KERIKERI
Venture far far away out of Auckland you will find some magical cottages, Takou River Cottages to be exact. Choose your own cottage perched in native bush. The best bit? There's an outdoor bath for two. Take a glass of bubbles in with you and cheers to the beauty of nature—and your relationship. With this many stars, you'll forget about the city lights as you let the river noises, crickets and native birds lull you into a blissful night's sleep.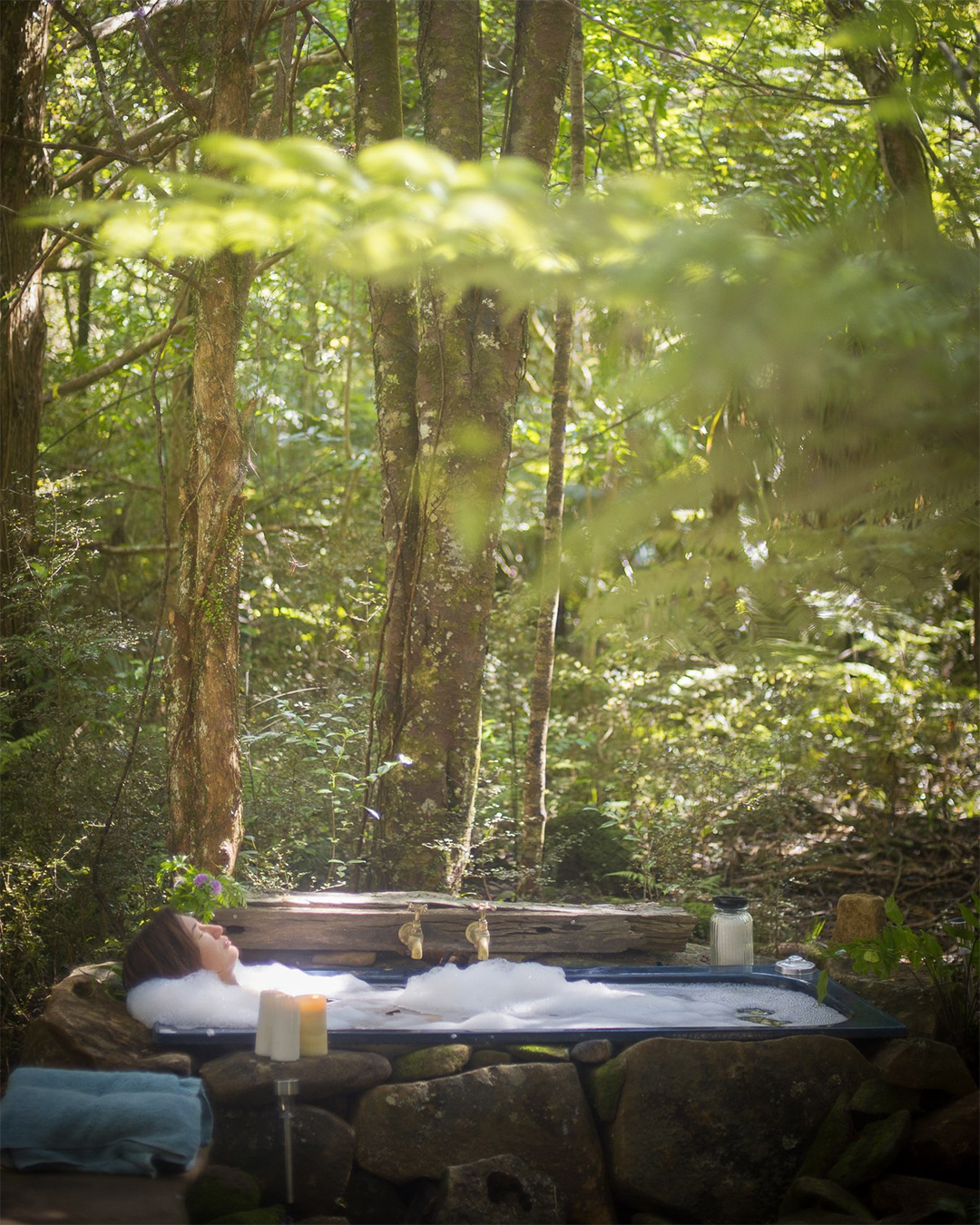 Highfield Forest Retreat
Kauri Coast
Feel yourself relax as you arrive at a Highfield Forest Retreat—a gorgeous campsite in a dappled glade, complete with fairy lights. A cloud-like bed awaits in a luxury tent with a rustic, kitchen-lounge kauri cottage nearby and a boardwalk through native bush connecting the two. Indulge in a steamy bubble bath under the forest canopy, or stoke the fire for a cosy evening indoors.
Boathouse Row
COATESVILLE
Ok, so this isn't outside Auckland, but it sure feels like it is. Boathouse Row boasts its own wharf and spa pool—the perfect spot for revelling in a misty morning, or enjoying a breath-taking sunset. As if it couldn't get better, the shower has two shower heads (so there'll be no fighting over the hot water!) and there's a stunning black granite bathtub in your bedroom for ultimate relaxation.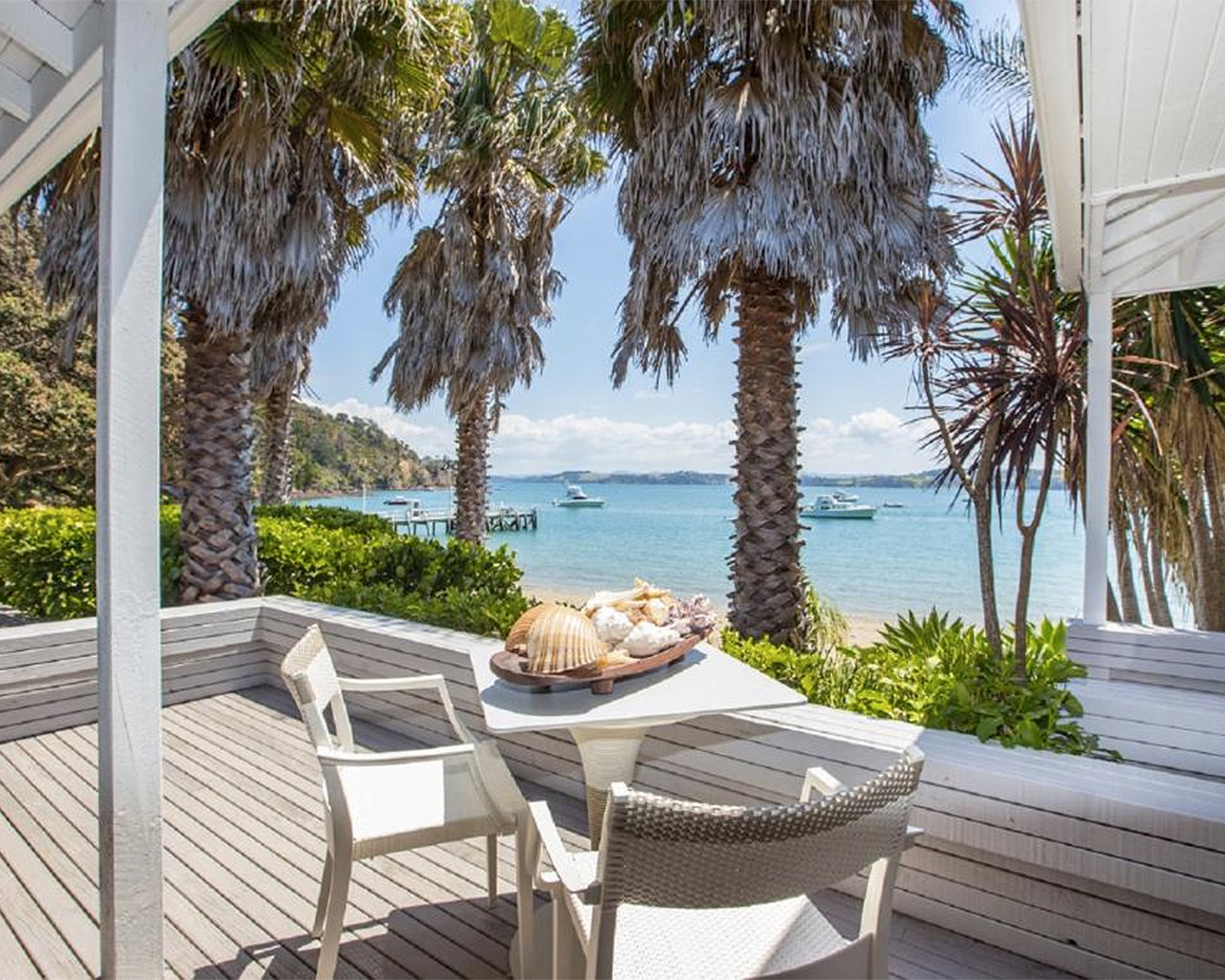 The Beach House
Kawau Island
The beachfront oasis of your dreams is only a short flight (or a decent drive and a ferry ride) away. Here, you can step from your room straight onto the sand. It doesn't get much better than this. Plus, you'll get the best night's sleep of your life on a super king bed with the sound of the waves lapping the shore. You won't feel your partner's movement or hear their snoring during the night! You'll soon be on island time at The Beach House.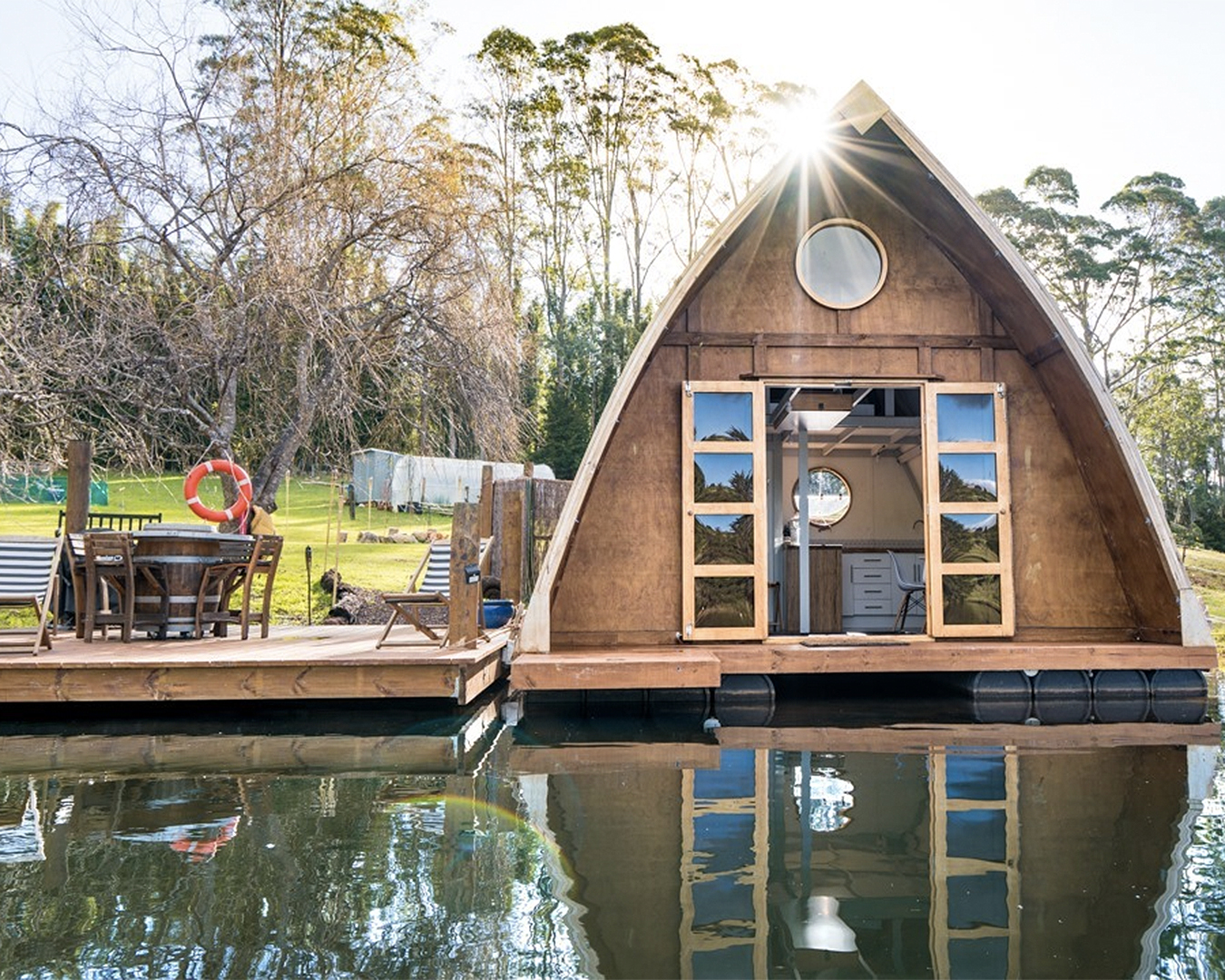 Cottle Hill Creek
KERIKERI
It doesn't get cuter than Cottle Hill Creek. 'The Ark' is a loft-style houseboat floating atop a private lake on a 16-acre farmlet. Gather around the wood burner to get cosy, enjoy a platter picnic on the wharf or re-enact The Little Mermaid and go for a romantic row on the lake.
The Gallery Accommodation
Mahurangi West
We can't talk about bliss without mentioning this boutique hotel. Designed by architect Pip Cheshire for famed bronze sculptor, Terry Stringer, the pair of suites at The Gallery Accommodation are next level. Set on six acres of lawns and kauri, the 'Cloud Suite' treats you to two floors of treetop and coastal vistas and the 'Forest Suite' features 19th-century stained glass windows and original Terry Stringer wall art. Sleek and modern for new age romance.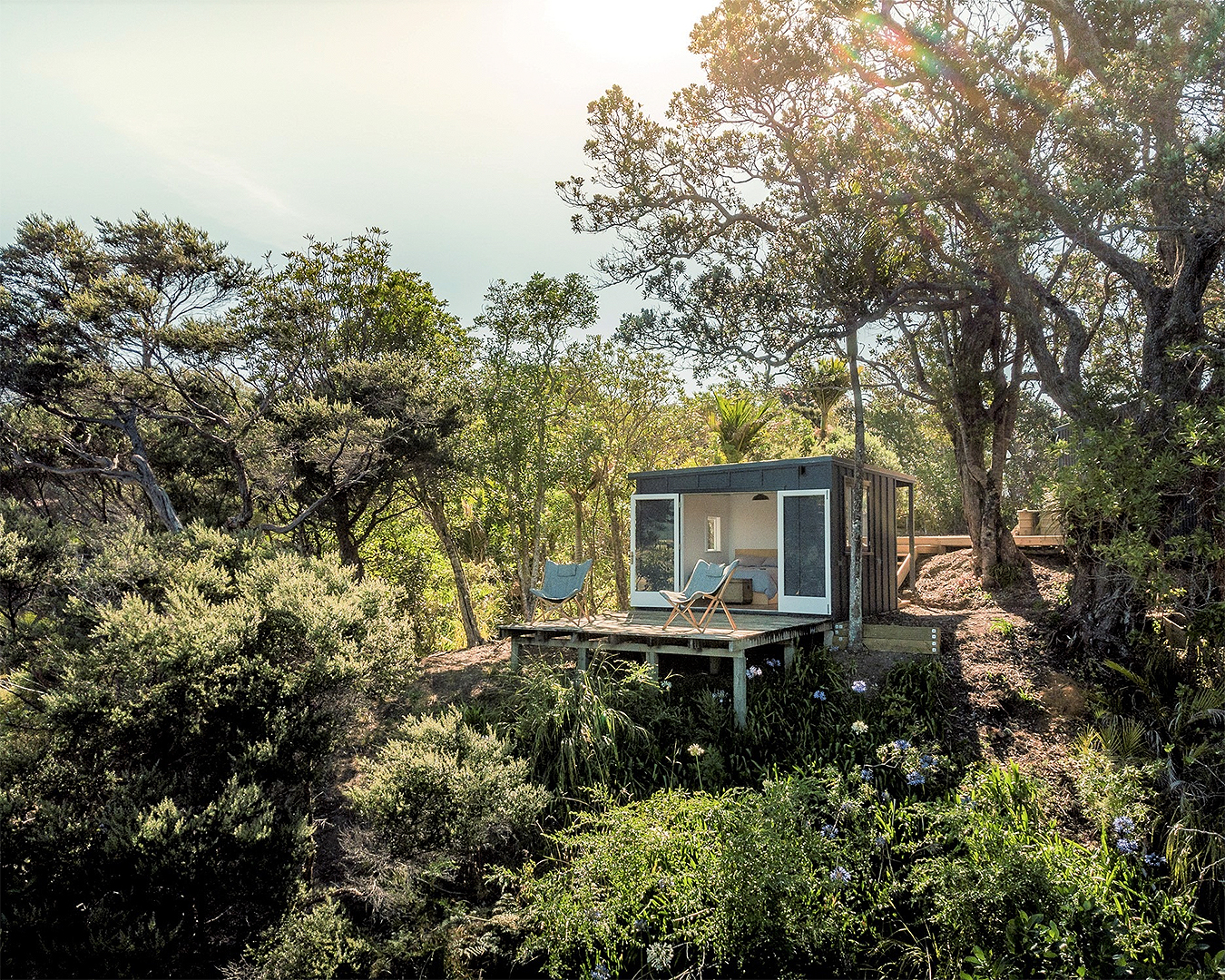 Ruru Room
PORT CHARLES
Wake up to sunrise which you can enjoy in its entirety from the comfort of your bed. Pop down the path for a morning swim off the rocks. The Ruru Room has a gorgeous deck for wiling away hours relaxing with a great book or just lying back, taking in the ocean views and listening to birdsong. If you're looking for a peaceful, retreat with a loved one where the joy is in the simplicity, this could be a bit of you.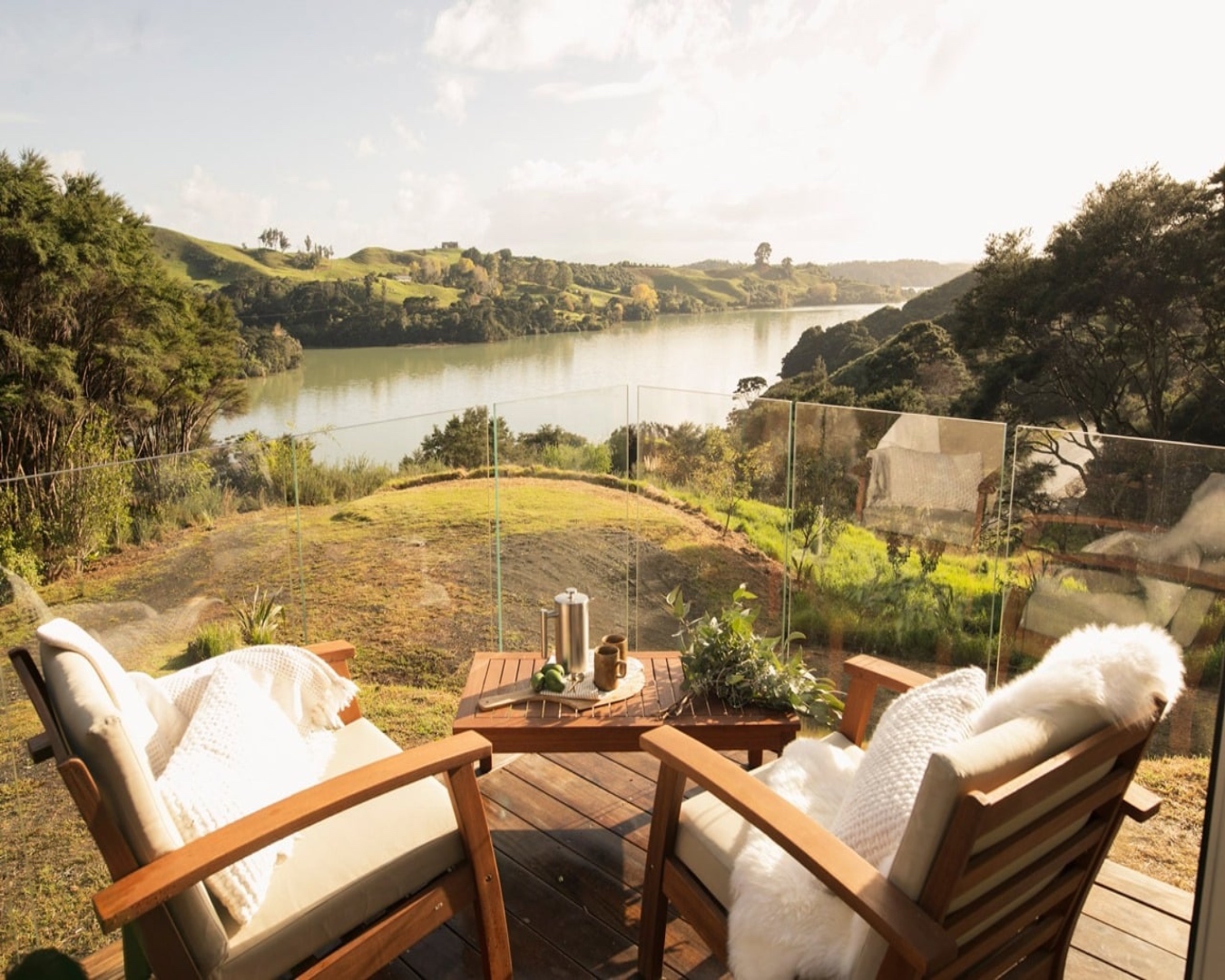 Tarata Eco Retreat
KAWHIA HARBOUR
This harbourside cabin is simply charming, no wonder it makes our list of one of the best destinations for a romantic getaway neat Auckland. Self-contained, private and restful, with several perfect outdoor living spaces, Tarata Eco Retreat favours a glass architecture aesthetic, creating a sense of total immersion in nature without sacrificing any luxuries.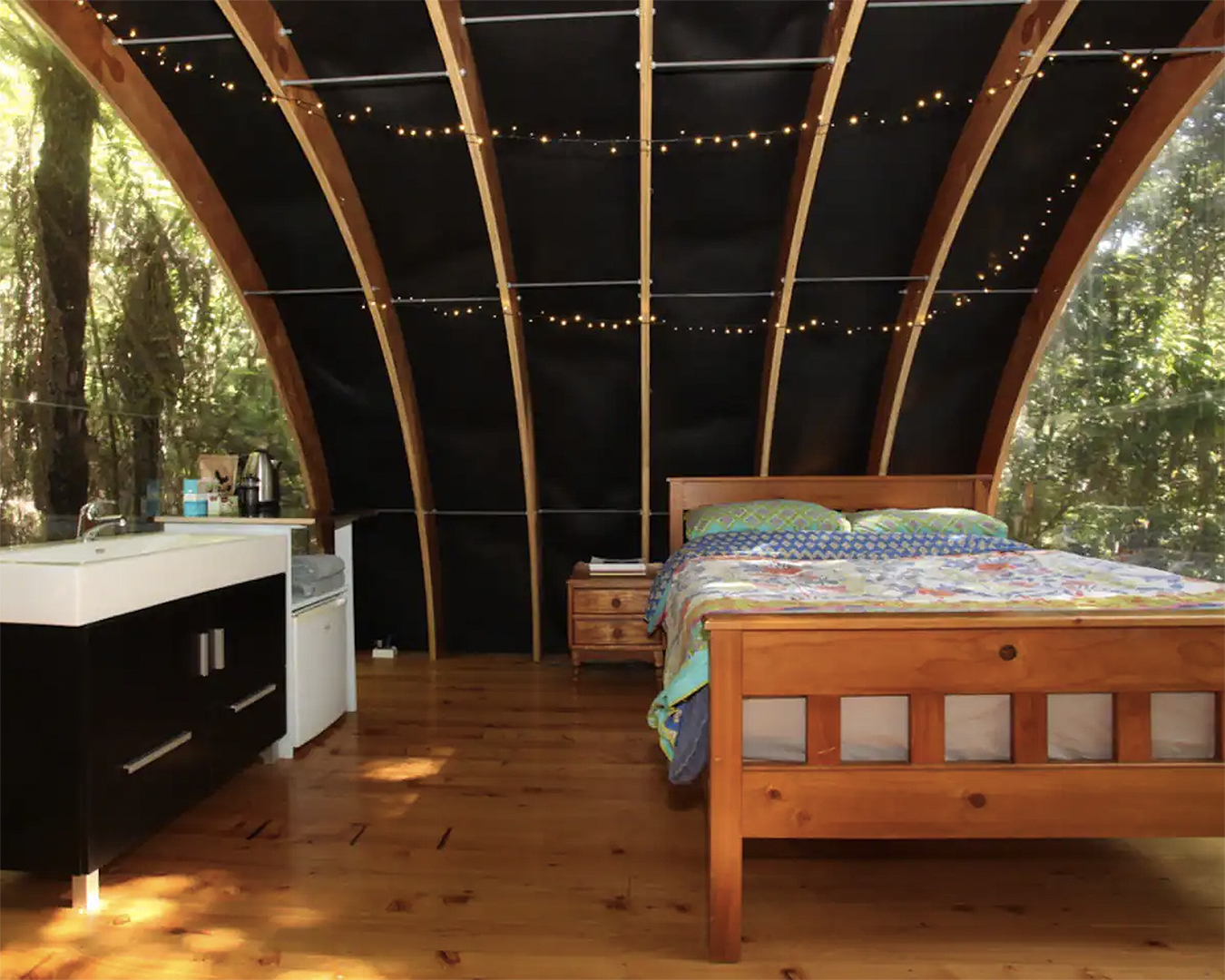 Arch Cabin In The Trees
Raglan
Treehouse meets cosy cottage in this forest hideaway near favourite Raglan surfing spot, Whale Bay. Snuggle up to your loved one under the romantic glow of fairy lights then wake up to birdsong and a day of fun in Raglan township. Arch Cabin In The Trees celebrates the simplicity and beauty of being together in nature.
Rainforest River Retreat
Whitianga
Three words: romantic treetop bathhouse. Yes, the Rainforest River Retreat at Wairua Lodge certainly delivers, with all details taken care of. Choose from a mountain or garden view, bundle up in luxurious bathrobes and enjoy the absolutely beautiful communal cooking and dining areas. You probably won't want to leave but if you're feeling adventurous Cathedral Cove and Hot Water Beach are just a half-hour drive away.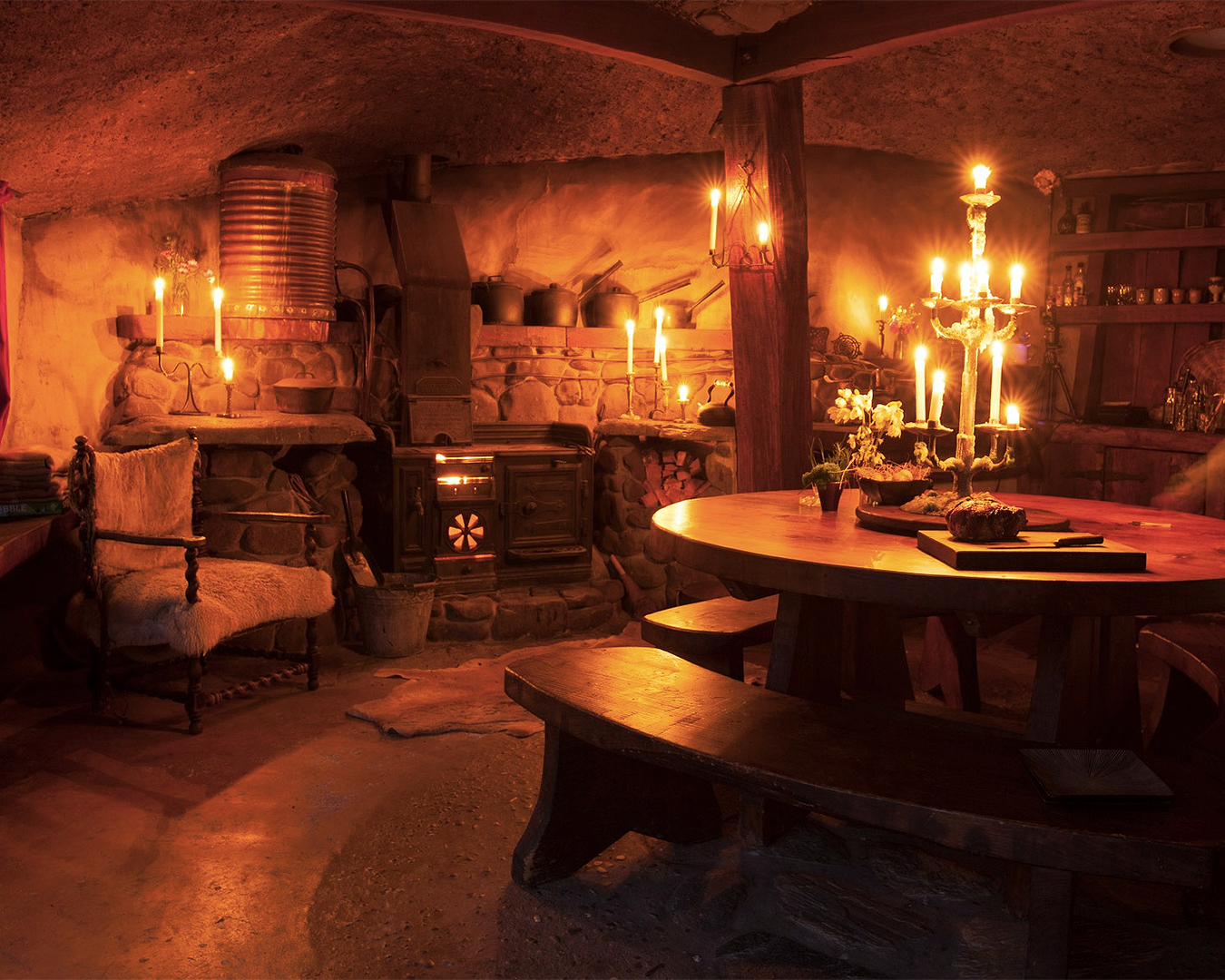 Underhill Valley
Waikato
You'll fall into a fairytale when you check in at Underhill Valley. Built into the hillside, revelling in rustic beauty, and opening out to a picturesque pond we're getting strong Middle Earth vibes from this secret hideaway and we just know you'll love it.
The Syrah Shack
Russell
Wine lovers will appreciate this off-grid luxury glamping among the syrah vines. The Syrah Shack is an eco-retreat complete with cute kitchen, hot shower, composting toilet and an outdoor bath for two. And it's just one kilometre from a vineyard, cellar door and eatery.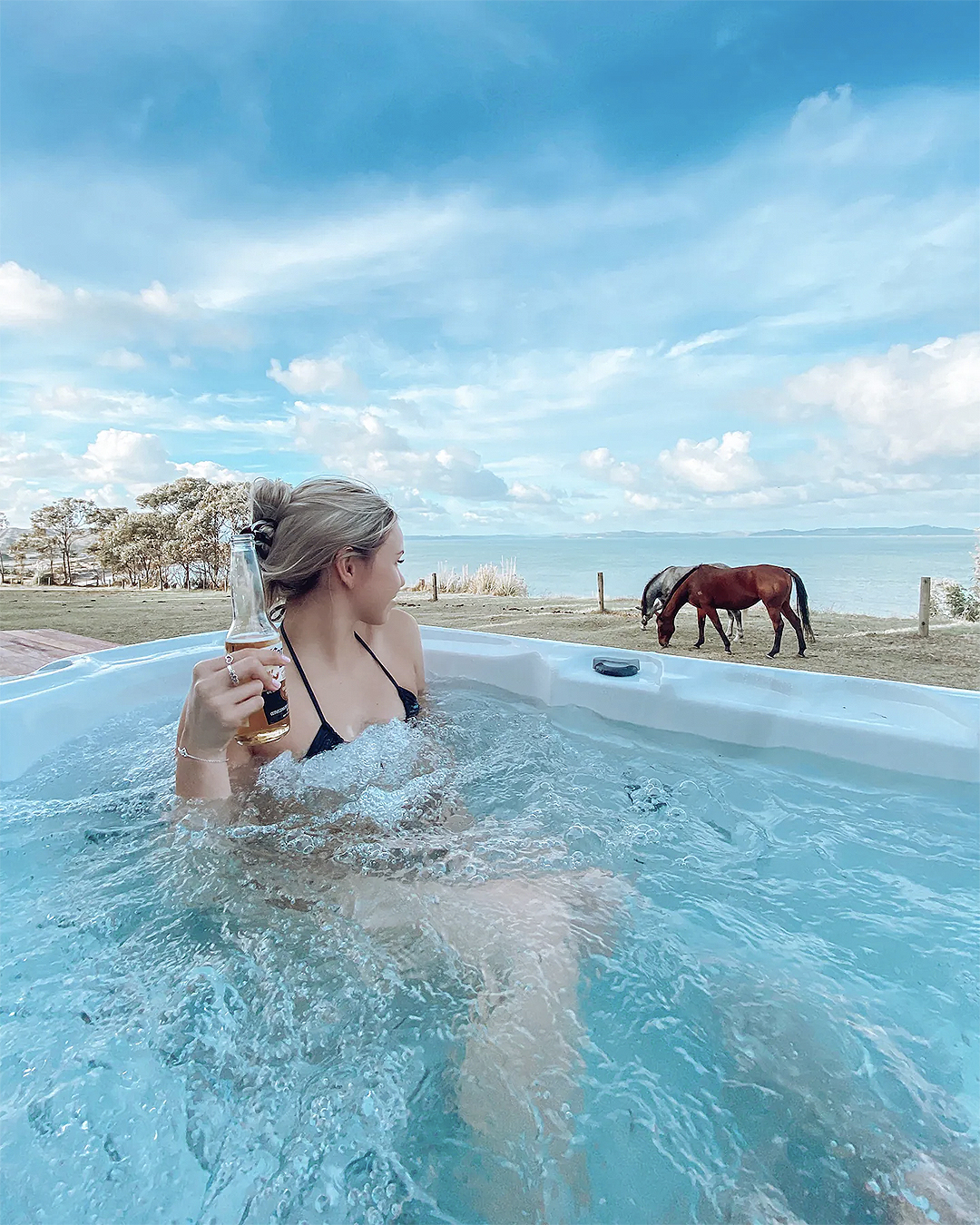 Kapia Lodge
POUTO
Perched high up on the cliff tops overlooking Kaipara Harbour, is one of the most romantic getaways in Aotearoa. Kapia Lodge is serenity incarnate, with all the comforts your heart could desire—a hot tub, stunning harbour views, sand dunes to explore, a Nespresso machine… There's even a high-tech telescope for reading each other's stars. This gem is pet-friendly too, so your furry friends can get in on the pampering.
Overlander Train
Raglan
For something completely different, opt for this 17-metre recycled railway carriage. Sitting in the heart of Solscape, the Overlander Train provides a unique self-contained experience that can be paired with the delicious healthy meals, soul-replenishing yoga classes and strong community vibe that Solscape is known for.
Amp up the romance a little closer to home with Auckland's most romantic restaurants.
Image credit: The Glasshouse, The Boatshed, Castaways, The Glasshouse, Magic Cottages At Takou River, Highfield Forest Retreat, The Beach House, Cottle Hill Creek, Ruru Room, Tarata Eco Retreat, Arch Cabin In The Trees, Underhill Valley, Kapia Lodge.
Editor's note: Urban List editors independently select and write about stuff we love and think you'll like too. Urban List has affiliate partnerships, so we get revenue from your purchase.