Book it in, we've found your next local escape and we promise, it's going to be a trip you'll never forget. Known for magical star-scapes, next-level scenery and fresh, local eats, Southland is a rejuvenating region that will warm your heart and awaken your soul.
Plus, with the return flight from Auckland making a comeback on July 6, you'll touch down in Invercargill in just two hours—winning. From boutique cafés to artisan chocolate shops, off-the-grid eco-stays and wildlife encounters, here are our picks on where to eat, stay and play across this awe-inspiring landscape.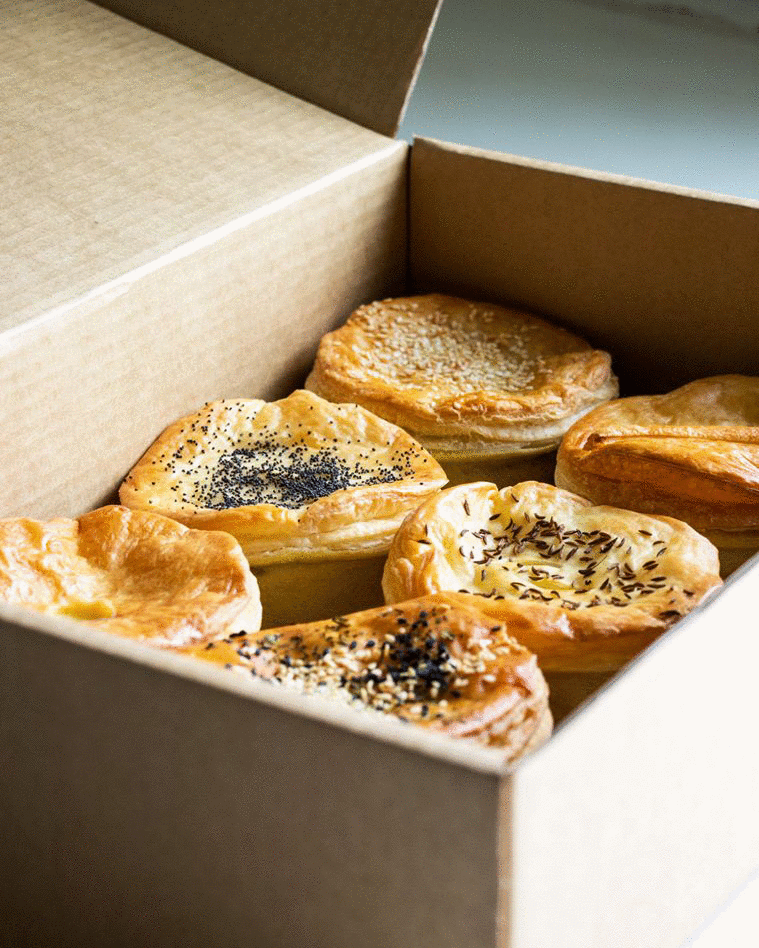 Bite Into A Lip-Smacking Foodie Scene
Toasted
Invercargill
Slinging New York-style bagels in the heart of Invercargill, Toasted is a mandatory brunch stop on any Southland sojourn. Opt for a classic number like the Plonked starring smoked salmon, cream cheese, red onion and capers, or dive into something a bit different like the Holey Guacamole—stacked high with Indonesian chicken, avocado, tomato, lettuce and aioli. We promise your palate will be pleased as punch after a visit to Toasted.
Niagara Falls Café
Niagara
If homegrown Southland bites are what you're craving, look no further than Niagara Falls Cafe. Their approach to food is simplicity at its finest—focusing on natural elements, locally-sourced produce and handcrafted goodness. Expect home-baked bread, slices and desserts as well as house-made sauces and freshly smoked Stewart Island salmon. Pull up a chair on their sun-soaked lawn, order up a glass of craft beer and call it a day.
Fat Bastard Pies
Invercargill
You had us at the word 'pie.' There's nothing more comforting than tucking into a load of piping hot mince and molten cheese encased in freshly-baked flaky pastry, with a dollop of tomato sauce of course. You'll find all this and more at Fat Bastard Pies, who are dishing up classic combos with a twist—from the Big Nude Seafood to the Little Fat Lamb, you're spoilt for choice.
Level One Restaurant
Invercargill
Tucked away on Kelvin Street, Level One Restaurant inside the Kelvin Hotel is the perfect setting for a classy evening full of good food and booze. Their dishes pack a flavour punch in the best way possible—expect seriously levelled-up seafood, smaller tasting plates for sharing and a bottle of the best vino for miles. They also offer a decadent selection of Pure South beef sure to satisfy steak lovers from near and far—drool.
Buster Crabb
Invercargill
Step into Buster Crabb for a taste of those throwback vibes, and a sip of some locally sourced wine while you're at it. Sporting heritage decor, moody ambience and a vintage newspaper for a menu, you'll be met with a selection of drool-worthy dishes like green-lip mussels with fennel, bacon, onion and parmesan or seafood and saffron risotto. Our advice? Wear your stretchy pants, but make 'em fancy.
Bake House Takeaways
Owaka
If you're exploring all that Southland has to offer including the scenic Catlins, you're going to work up and appetite and Bake House Takeaways is sure to satisfy those foodie cravings. From juicy burgers to the perfect pizza, you can't go wrong, but we're particularly taken by their Japanese menu which includes carefully crafted sushi on the daily by Chef Hiroki.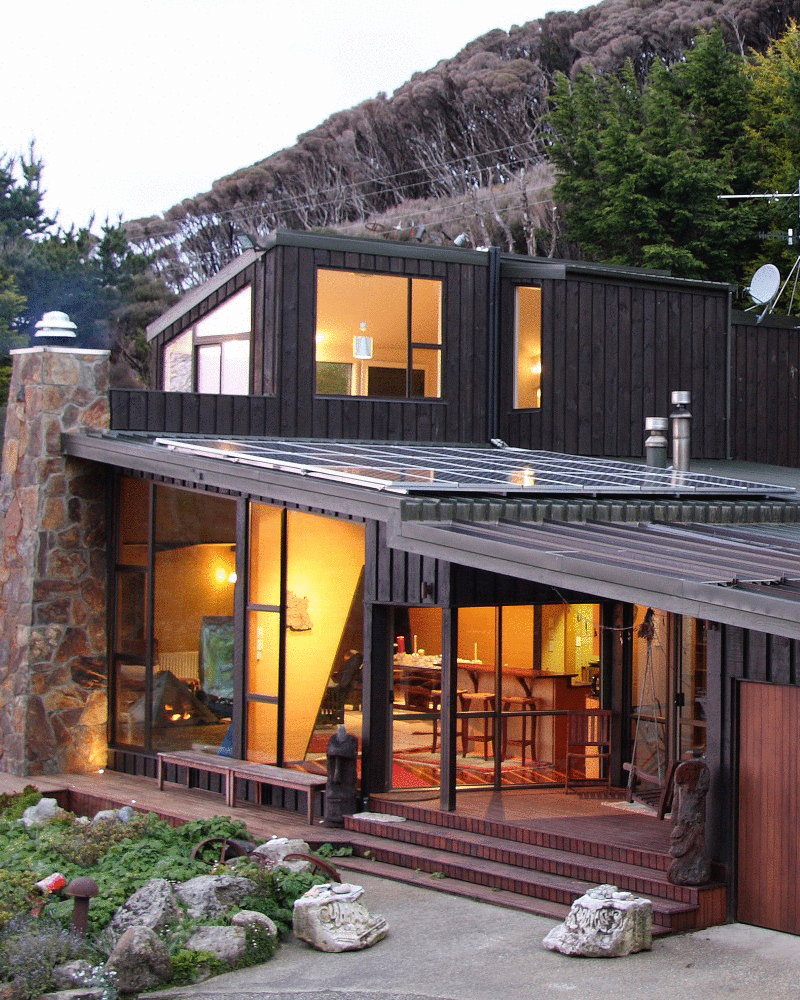 Shack Up At A Southland Stay
Jensen Bay House
Stewart Island
For a euphoric set-up on your Stewart Island excursion, be sure to hit up the architecturally-designed Jensen Bay House. This eco-escape allows you to truly unwind and connect with nature, offering solar-powered systems and eco-friendly amenities. Book in at one of the blissful guest-rooms and experience the best of Southland's hospitality with a side of spectacular views across the Foveaux Strait.
Beresford Heights
The Catlins
Situated atop Table Hill, Beresford Heights is everything you could ask for in a romantic off-the-grid retreat. Boasting breath-taking views, modern Scandinavian-inspired design, a wood-burning fireplace and the pièce de résistance—a cedar round hot tub overlooking the expansive vista. Cue the wine, cheeseboard and bubbles and book in at Beresford Heights for a blissful southern escape in the heart of The Catlins.
Ascot Park Hotel
INVERCARGILL
Book in at Ascot Park Hotel for the ultimate treat-yourself vibes. Sporting everything from deluxe suites to self-contained apartments, you'll be well and truly sorted for an indulgent stay. As a guest you'll also score access to their indoor heated pool, sauna or spa—so pack those swimmers and prepare to relax and unwind.
Catlins Mohua Park
Owaka
Another goodie to book in on your Catlins roadie is a night—or several—at Catlins Mohua Park Eco Accommodation. This dreamy location is set in expansive natural bush and rolling farmland, and it's home to four secluded eco-cottages, each delivering modern fit-outs and 'Gram-worthy scenic views. The park also undertakes a slew of environmental and sustainable initiatives to not just maintain but rebuild the environment, providing a place for you to take a step back and connect with nature.
Stewart Island Lodge
Stewart Island
Nestled away in native bush overlooking expansive ocean views, paradise does exist and you'll find it at Stewart Island Lodge. Offering an indulgent array of luxury rooms that each open onto the show-stopping balcony, it's the perfect cosy base for exploring all that Stewart Island has to offer.
The Lodges At Transport World
Invercargill
For a touch of luxury in the city, you can't miss The Lodges at Transport World. These self-contained apartments are equipped with all the must-haves like a modern kitchenette, roaring fireplace and refined finishes. What's more, you can combine your stay with a peep at Transport World, a world-class automotive museum boasting up to 300 different types of cars.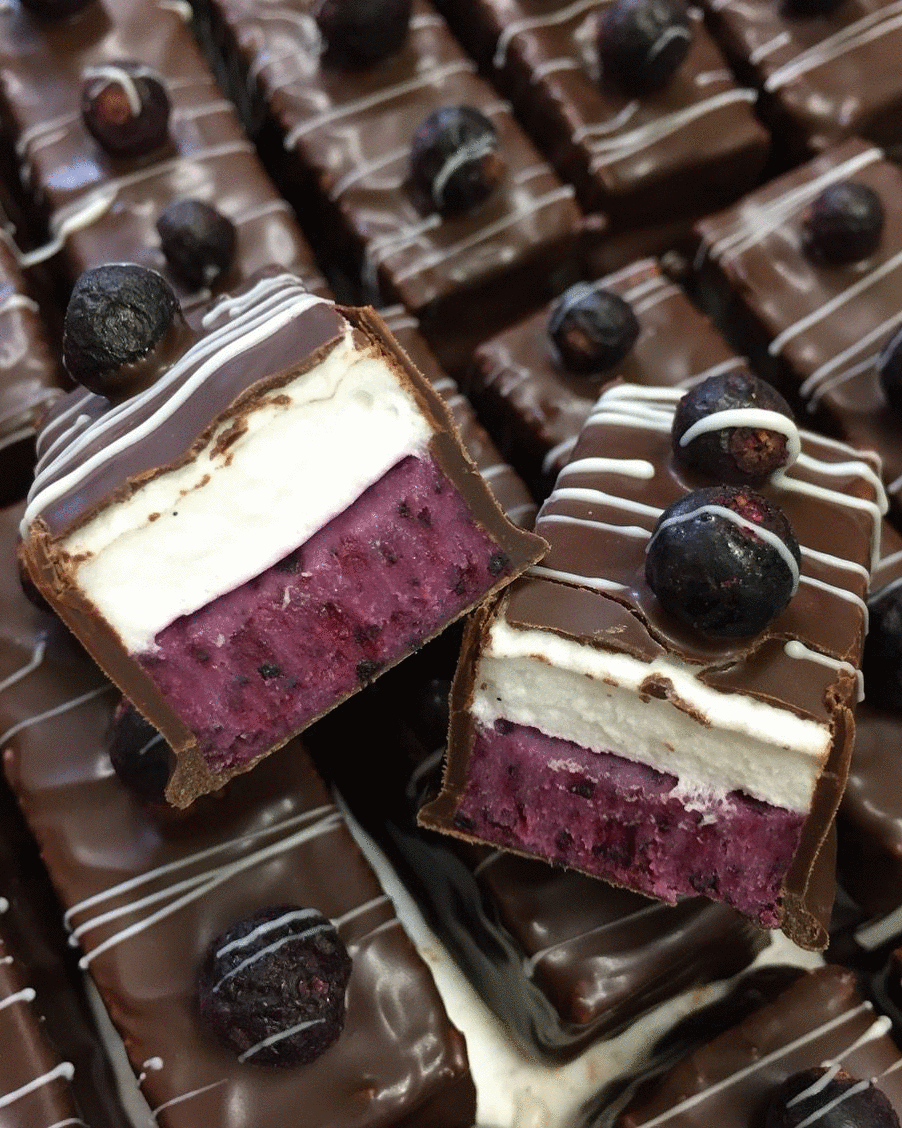 Get Around These Epic Things To Do
Seriously Good Chocolate Company
Invercargill
Satisfy your sweet tooth at the Seriously Good Chocolate Company, who serve decadent treats like gooey hot chocolate and a selection of handcrafted chocolates with flavours like jaffa and pavlova, or Bluff oyster and cheese rolls for the more adventurous. What's more, they also offer factory tours so that you can take a peek behind the good stuff. Sign us up.
Bill Richardson Transport World
INVERCARGILL
Calling all gearheads, we've found your ultimate must-do in Invercargill. Boasting more than 300 classic cars in its collection, you'll want to make a beeline for Bill Richardson Transport World—the largest private automotive museum in the world. But that's not all, they also have an exhibition dedicated to classic motorcycles as well at the Classic Motorcycle Mecca. From European to American bikes and beyond, you name it, they've got it.
Roadtrip The Catlins
Invercargill to Balclutha
Set off on an unforgettable road trip across the Catlins, a magical three-hour coastal stretch between Invercargill and Balclutha. Start off at Curio Bay, home to the incredibly rare Yellow-Eyed Penguins (Hoiho) and Hector's Dolphins (Pahu). Next enjoy a peaceful walk along Waipati Beach, scout out the lighthouse at Waipapa Point or go chasing McLean Falls.
Lace-Up And Hit The Great Walks
Various Locations
Southland boasts four of New Zealand's Great Walks—so grab your hiking boots and gear up to go off-the-grid and spend a few days in the wilderness. Beginners should tackle the Rakiura Track on Stewart Island, which takes you through native forest and isolated beaches. For something a bit more low-key, why not team up a day-walk with some bird-spotting on Stewart Island with Ulva's Guided Walks. Southland is also home to a slew of great short walks sure to suit any type of explorer, simply take your pick here.
Scout Out Wildlife On Stewart Island
Stewart Island
If small, feisty, fuzzy things warm your heart, a trip to Stewart Island to get up close and personal with our national icon is a must. Book in for an overnight eco excursion with Ruggedy Range where you'll traverse the stunning landscapes of Stewart Island all in search of our furry friends in their natural habitat. While you're at it, pop into Ulva Island sanctuary for a refreshing peek at abundant native flora and fauna and what's more, you can also indulge in some adorable kiwi spotting here too.
Chow Down On Bluff Oysters
Bluff
Let's be real, these beauties are the best in the world. The unique, intense flavour of Bluff oysters are thanks to the natural oyster beds found in the nearby Foveaux Strait. Oyster season runs from March through to August and we recommend devouring them fresh on the spot at Oyster Cove in Bluff. Should you find yourself down south in May, check out the annual Bluff Oyster & Food Festival, which will satisfy all your seafood cravings.
Chase The Southern Stars
Various Locations
One of the most magical things to do in Southland is stargazing. If you're lucky, you'll catch a glimpse of Aurora Australis (the Southern Lights)—a spectacular natural show of light, colour and stars caused by solar activity. Although not easily predicted, you're more likely to see them late at night, during the winter months and from a spot high up. Our picks for the best places to see the Southern Lights would be the Observation Rock at Stewart Island, the Catlins coastline or Invercargill's Sandy Point.
Image credit: Fat Bastard Pies, Oyster Cove, Jensen Bay House, Catlins Mohua Park, Seriously Good Chocolate Company, Air New Zealand