We don't know about you, but in the words of Avengers royalty Tony Stark, it kind of seems like the earth is closed today. And while we might feel upended by needing to work from home, skipping that gig we've been looking forward to or cancelling our holiday plans, there is one group of Kiwis feeling the hit of the COVID-19 pandemic a lot harder—our local business owners.
Now, more than ever, we need to be throwing our support behind the brave hustlers and entrepreneurs that make New Zealand a great place to be, by helping them to keep on keeping on in these uncertain times. You'll be saving coin on commuting and eating out, so skip the toilet paper hauls (like seriously) and use the beauty of the internet to back local Kiwi businesses from the comfort of your couch.
Stock Up On Sweet Treats
If the cans of beans and sachets of Uncle Ben's rice stacked up in your pantry don't seem particularly appetising (shock horror), reach for your phone and order up a sweet treat for delivery quick-smart. Moustache Milk & Cookie Bar deliver their delectable snacks nationwide, including personalised giant cookies—the perfect gift for yourself or a friend in self-isolation. Opt for a health-kick and stock up on raw treats from Mount Maunganui-based Real Rad Food, who ship all over New Zealand. From bliss balls to raw slices and 'Gram-worthy cakes, it's the definition of a guilt-free snack. Aucklanders can luckily still have their cake, and eat it too because The Caker offers delivery around the grounds on weekdays. And should you be craving an indulgent slab of chocolate, hit up Miann Chocolate Factory for all your comforting cocoa needs.
Try A Local Tipple
Let's be real, we could all use a cocktail—or three—right about now. Make yours one with purpose and ply it with a shot of local liquor from one of the many distillers around the country. Into gin? Add to cart some of New Zealand's best artisanal gins, with a special mention going to the creative minds behind the powerfully pink Blush Gin and the ever-so-inventive 1919 Distilling gin—we recommend the pineapple flavour. If brews are more your beat, the list of craft beer brands goes on. From the Wellington legends over at Garage Project to Good George—those guys from the 'Tron—you're covered when it comes to Friday work drinks via video chat this week.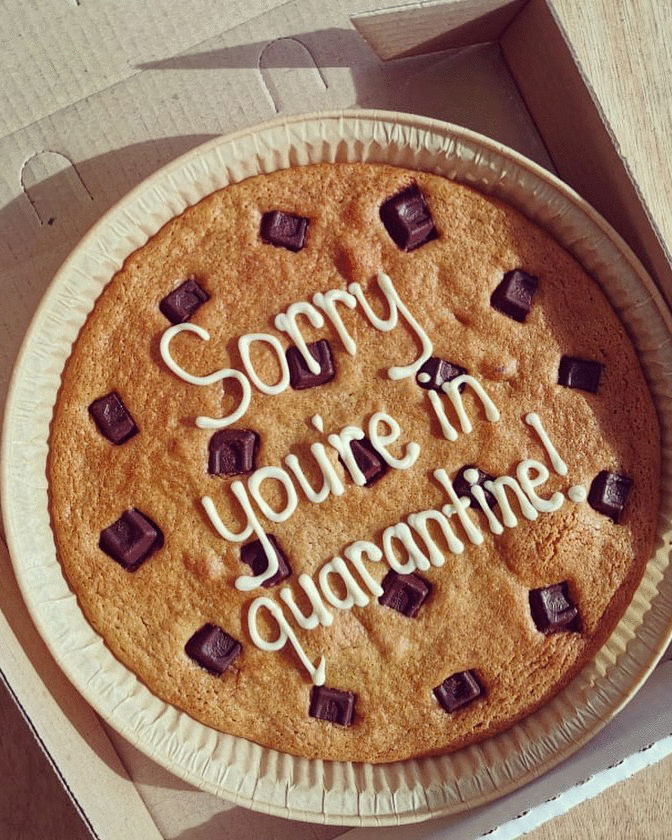 Revamp Your Wardrobe
Whilst we understand that sporting pyjamas 24/7 in self-isolation is tempting, ordering up new threads not only gives you something to look forward to, but also puts much-needed dollars in the pockets of local retailers. Do double good with your coin and get behind our favourite ethical Kiwi fashion brands, namely Hej Hej, who has just dropped a whimsical new collection all about breathable linen and beautiful colours. We guarantee it's sure to brighten up your time inside. Lads and ladies can also head over to Christchurch-based Indigo & Provisions online to pick up some curated essentials like sneakers, backpacks and logo tees.
Or Shop Second Hand On The 'Gram
No longer must you spend hours trawling through your local Sallies for that perfect vintage piece, because New Zealand is brimming with savvy side-hustlers turning Instagram into the curated closet of your dreams. Accounts like Mustard Jumper Vintage, The Vintage Club and Fruit Bowl Vintage are dropping second-hand selections on the weekly, so hit those post notifications to get first dibs on your next one-of-a-kind piece without having to leave your house—now that's a win-win.
Go Gourmet With Takeout
Just because we shouldn't be out and about at the moment doesn't mean your date night has to be any less gourmet. With a slew of restaurants offering takeaway and delivery right now, it's time to get behind the hospo industry and level-up your at-home picnic with a dish from your local fave. We've got you covered with all the best restaurants offering takeaway and delivery right now in Auckland and Queenstown (more to come), or jump on Uber Eats to find what's available close to you for delivery. Our advice? Kick start your evening with authentic Italian pizzas from Umu in Kingsland and cap it off with a baller dessert from the team over at Milse—now that's what we call fancy. For the best healthy deliveries, we've got your back right here.
Love Your Local Café From Afar
Whilst you might not be visiting your favourite coffee shop near work for a while, you can always throw them some love by stocking up on all the equipment needed to make a masterful cup of joe at home. Most coffee shops carry all the essential brew gear from plungers to drips, filters and of course, the all-important beans. Once you're underway, shake it up by bagging a subscription box from Fernweh, who hero a different single-origin coffee roaster every month such as local faves Flight Coffee and Supreme.
Other Ways You Can Back Kiwi Biz Right Now
Get around gift cards. Whether it be for yourself or a friend, show support by grabbing gift cards from restaurants, boutiques, hairdressers, beauty studios and gym classes—future you will thank you.

Pledge to shop local this year, and rally your mates to do the same. Give ASOS and Amazon a miss and instead, put your dollars in the pockets of people in your community.

Postpone don't cancel. If you're not in need of a booking any more—be it a venue, vendor or service, negotiate a new date or credit towards the service in the future instead of asking for a refund (or perhaps look at your booking as a donation).
Living the work from home life? Peep our seven Netflix shows short enough to binge in your lunch break.
Image credit: supplied