Waffles, where do we even start with this beauty? We could waffle on about these babies forever because they're just that good. Any day, any time is waffle appropriate whether it's for breakfast, lunch, dinner or dessert. They're versatile and have the ability to satisfy both the sweet and savoury tooth. Auckland's waffle scene proves that waffles are so much more than just pancakes with a criss-cross pattern. The golden and crispy comfort food and is in a realm of its own and here is a list of where to find the best waffles in Auckland.
Geeks On Sainsbury
Mt. Albert
Let's start this roundup with a classic, shall we? When you imagine a classic plate of waffles, you just want some crispy cakes, scoops of ice-cream, some fresh fruit and a generous drizzle of maple syrup. Geeks On Sainsbury have just that and another waffle dish that they've become famous for. They blew our minds with the genius idea of adding crunchy granola on top of the waffle to give the dish even more sweetness and nutty richness and texture. You get the option to add some caramelised bacon which we strongly recommend you do as that sweet and salty combination will change your life.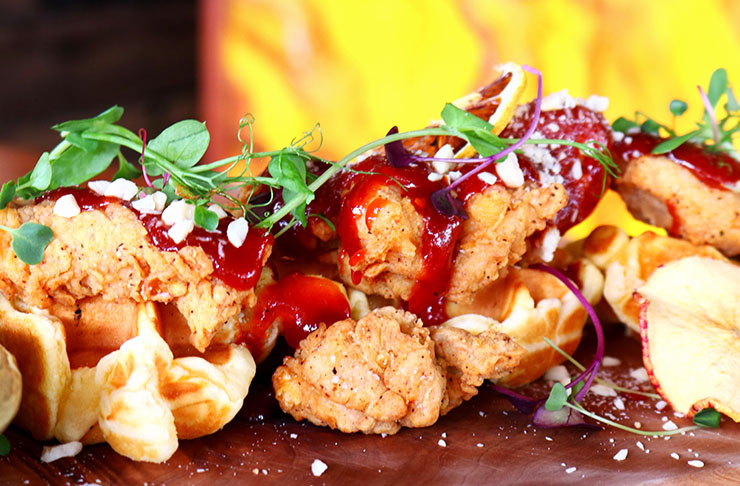 Centro
Takapuna
Speaking of the heavenly sweet and salty combination, you need to hit up Centro in Takapuna for their Korean fried chicken waffles. The crispy chicken is doused in a sticky, sweet and spicy sauce and it makes an oddly amazing combination with the buttery waffles. The crispy chicken enhances the crispy waffles and some people even go as far as adding a side of vanilla ice-cream! If you want to stick to more of the original style of waffles, Centro provides that too but on a whole new level. The waffles are caramelised with butterscotch and topped with sweet poached pear , fresh fruit and the ice cream comes WITH the waffle cone!
Mimosa
Takapuna
Right across the street from Centro is this super-vegan friendly café so our plant-based friends don't have to miss out on the waffle experience! Café Mimosa serves up a fully vegan ginger waffle and it's basically a gingerbread man cookie in a form of a crispy hot waffle. The waffle game just gets stronger at Mimosa with their homemade lemon marmalade which is slathered all over the ginger waffles. To make these even better, Mimosa pour a vegan custard all over the dish and top it with crunchy almonds.
Kokako
Grey Lynn
Kokako is renowned for their premium quality coffee and they're also renowned for serving up some of the tastiest waffles in town. Kokako's waffles take a wholesome approach by using a batter made from sweet kumara. The kumara waffles are topped with creamy coconut whip but the star of these waffles are those miso walnuts. They're candied in sugar and miso which tastes like salted caramel and the nuts get extra crunchy and add so much more texture to the delicacy!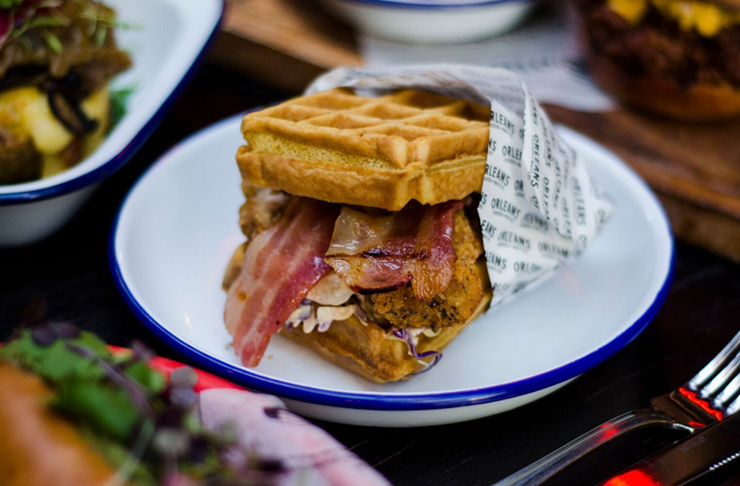 Orleans
Britomart
Orleans is no doubt one of the first eateries that showed Aucklanders the Southern savoury take on waffles with their fried chicken waffle combo. Orleans have thought outside the box and created something even better, a waffle burger! Replacing the regular burger bun from their fried chicken burger with crispy and fluffy waffles is an idea that we think deserves a Nobel Prize.
Miann
Fort Street
Miann takes waffles VERY seriously, they even have a full page menu of them! As always, Miann have thought outside the box and given Aucklanders a range of indulgent yet unique creations. From the apple crumble waffle to the s'mores waffle, their toppings are next level. Their waffles are also the crispiest in town as word on the street is, they add meringue in to they're mixture to get them super airy and fluffy bur crunchy like a meringue cookie, genius!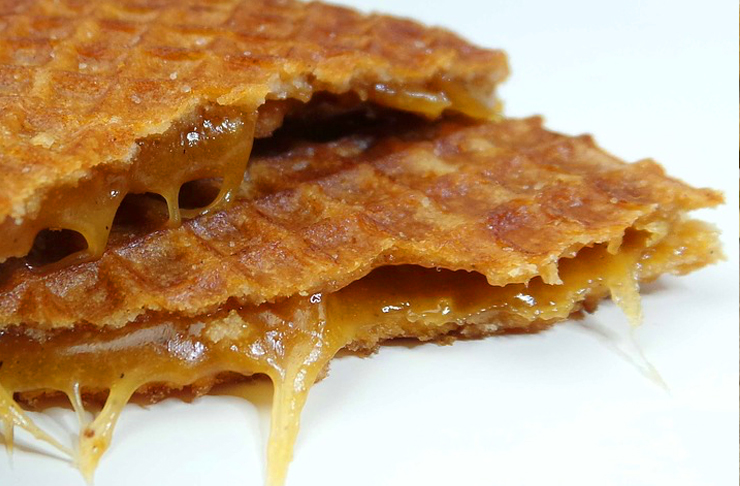 Double Dutch Fries
Takapuna
Although we love a big plate of waffles with epic toppings and generous scoops of ice-cream, there are those days when we just want a sweet treat to tide us over. Double Dutch Fries has opened up an official shop in Takapuna and they're one of the rare eateries in Auckland that serve authentic, freshly made stroopwafels! These babies may be small in size but don't let that trick you into thinking they're not decadent. The thin layers of waffles are buttery and golden and pressed together between a sweet and rich caramel sauce, always fresh and toasty warm.
House of Chocolate Dessert Café
Takapuna
It seems like Takapuna is the hood to be when it comes to satisfying the waffle craving! House of Chocolate Dessert Café was where the waffle trend in Takapuna begun with their endless options from sweet to savoury. With 13 different waffles to choose from, House of Chocolate proves that they are no joke when it comes to the waffle game. Our favourite would have to be the peanut butter and banana waffle as that's a combination that can never go wrong. Rich, crunchy peanut butter smothered all over a crispy hot waffle and topped with sweet caramelised banana, yes please!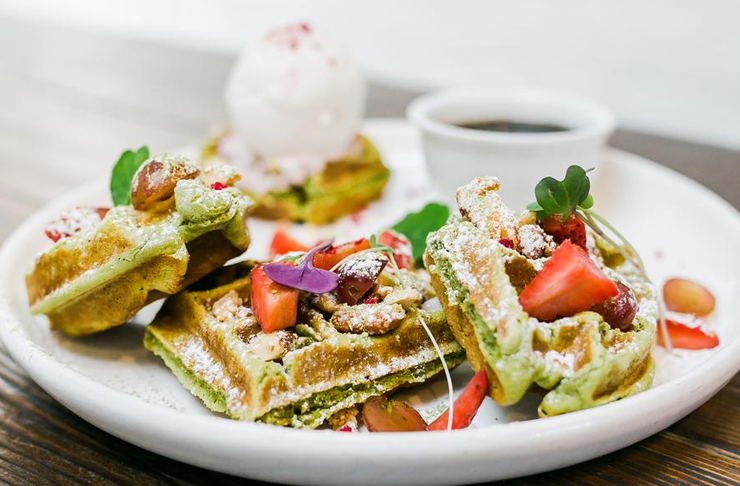 Dear Jervois
Herne Bay
Our friends at Dear Jervois first introduced their matcha waffles on to their menus in 2014. To this day, people find themselves making their way to the café just for this dish and it has become a Dear Jervois staple. The sweet, crispy waffles have been infused with matcha powder to give it the perfect amount of bitterness and depth to the buttery delights. It's then topped off with fresh fruit, caramelised nuts and a scoop of coconut ice-cream, who knew waffles could be so sophisticated?!
Crunch Tower Desserts
Parnell
If you're one of those people who live by the mentality of "go hard or go home," hit up Crunch Tower Desserts in Parnell. Previously known as Casa Del Gelato, this Parnell gem is the home to the freakshakes which went absolutely viral. Crunch Tower also do a killer waffle but they're different to the criss-cross shape that we're used to. Offering a Hong Kong style approach to the delicacy, if you haven't had these types of waffles before, now is your chance to get amongst it! The waffles are little sphere puff balls that taste like an eggy sponge cake and Crunch Tower go all out by adding gelato, fresh dairy whip, candy floss and seasonal fruit.
OKO Dessert Kitchen
Auckland CBD
Hot, crispy and sweet are the three musts when it comes to a solid dish of waffles and OKO have mastered all the elements. The waffles are made fresh to order and you get to choose your flavour of ice-cream out of the endless Movenpick selection. The stand out waffles at OKO are the Oreo waffles. The crispy, fresh waffle is topped off with crushed Oreo cookies and big dollops of cream cheese frosting and drizzled with hot chocolate ganache!
Prefer doughnuts? Here are Auckland's Best Doughnuts To Wrap Your Mouth Around.
Image credit: Jaiden Bhaga at Pollen
SaveSaveSaveSave