Some things in life make for the perfect union. Like toast and avocado, and pancakes and fairy floss (it's a thing), Aucklanders and breakfast are simply meant to be. Our hunt for the best breakfast in Auckland is never over and, being the brekkie (and brunch)-obsessives that we are, we're always waiting for the next shiny, delicious breakfast beacon (aka. Auckland's next best breakfast cafe) to open its doors.
So without further ado, we present the list to rule all lists. It's a list you'll want to print out and stick on your desk, in your car, by your bed, at your SO's house and back up in Google Drive, STAT. Here are all the best places for breakfast and brunch so jump to the best breakfasts in Auckland City, Ponsonby/Herne Bay/Grey Lynn/Westmere, Grafton/Karangahape Road, Newmarket/Epsom/Parnell, Greenlane/Royal Oak/Onehunga, Mt Eden/Kingsland, Mt Albert/Sandringham, North Shore/Hibiscus Coast, East Auckland, South Auckland, and West Auckland. Phew! You're more than welcome.
Auckland City
You city slickers are a lucky bunch. Some of Auckland's best breakfasts can be found in Auckland city itself. We're talking crepes, waffles, seasonal specialities and even brekkie burgers. Here's where to get the best breakfasts in Auckland city.
Homeland, Westhaven
The team at Homeland sure know a thing or two about breakfast. From Turkish eggs with whipped garlic yoghurt through to avocado hummus toast with Fix & Fogg Smoke And Fire peanut butter—there's something to please every palate. And let's not forget chef Peter Gordon's famous cheese scones, best enjoyed drowned in butter.
Amano, Britomart
A definite must-try on any foodies list, Amano consistently serves up a mean breakfast, whatever you're craving. A martini for breakfast? Hell yeah.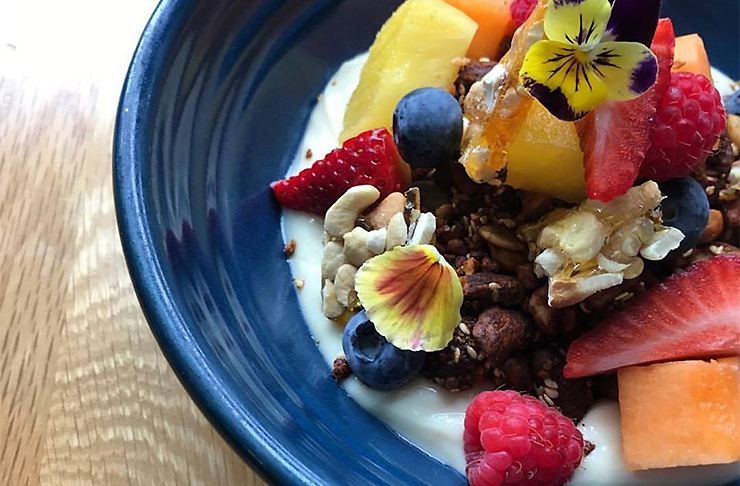 Odettes Eatery, City Works Depot
Beautiful fit-out? Check. Silky, smooth coffee? Check. Some of the best breakfasts in Auckland? Check. Odettes Eatery is a breakfast winner.
Lord of the Fries, Snickel Lane & Karangahape Road
Burgers for breakfast?! You don't have to ask us twice. Head to Lord of the Fries (they have two handy locations) for brekkie burgs and ALL the hash browns.
Williams Eatery, Wynyard Quarter
Local, organic and free-range, Williams Eatery strives to serve up only the highest quality ingredients and the result is impressive. The house hotcakes with mandarin curd, brown butter and sourdough crumb are a definite favourite.
Chuffed, Auckland CBD
Tucked down a corridor off High Street, Chuffed is home to some of the best breakfasts in Auckland City—don't blame us if you get hooked on their crumpets.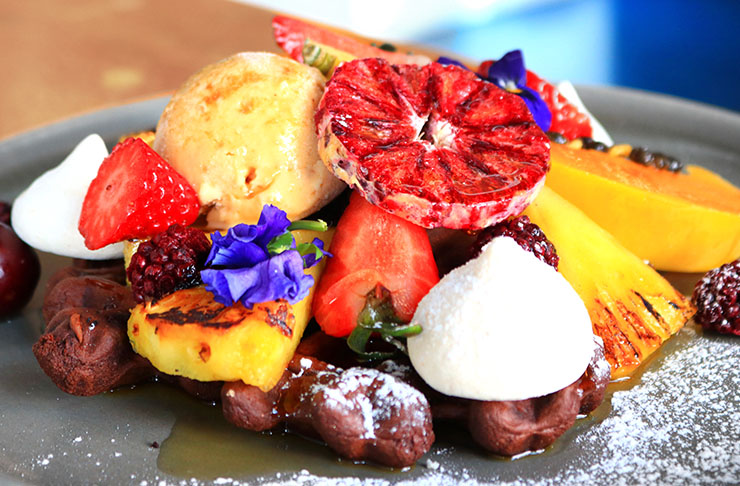 Rude Boy, Freemans Bay
An Instagrammer's dream, the eats at Rude Boy are as good looking as they are tasty. Anyone with a sweet tooth must try the hotcakes—fluffy cello and cream cheese with strawberry butter, vanilla cream and salted caramel.
Queenies Lunchroom, Freemans Bay
Queenies Lunchroom is exactly where you need to go when you want to escape the hustle-bustle of the city. Their Turkish eggs deserve a dedicated shout-out.
Hēmi, Freemans Bay
For a healthy breakfast that tastes more like something you'd have on cheat day, head along to Hēmi. Our pick? The melt-in-your-mouth waffles are available in equally delicious sweet and savoury options.
Giapo, Auckland CBD
If your breakfast doesn't consist of a hearty serving of ice cream on a totally elaborate cone then we say you're doing breakfast all wrong. At Giapo, you can build the brekkie of your dreams, choosing first your ice cream then the 'Gram-worthy cone you'd like to chow down on. This might well be your breakfast AND lunch.
Ponsonby/Herne Bay/Grey Lynn/Westmere
You haven't had the best breakfast in Auckland until you dine in these four suburbs. In no particular order, here are the best breakfast spots in Ponsonby, Herne Bay, Grey Lynn and Westmere:
Dear Jervois, Herne Bay
Herne Bay wouldn't be Herne Bay without Dear Jervois. It's one of the city's best breakfast cafés, so don't be surprised if you have to wait for a table (in which case you should pass the time by looking out for celebs, who apparently agree). Their matcha waffles are world-famous in Auckland, but we only have eyes for the mushroom and rosti stack (who knew lentils could go so well with brekkie?).
Dizengoff, Ponsonby
An oldie but a goodie, Dizengoff continues to dish up some of the best breakfast in Auckland. Our pick is the half and half—perfect scrambled eggs and creamy balsamic mushies with a dollop of homemade pesto. Nom.
Postal Service, Grey Lynn
Purveyors of damn good coffee AND some of Auckland's best breakfasts, Postal Service are pros at turning humble vegetables into something so good, your taste buds won't know what hit them.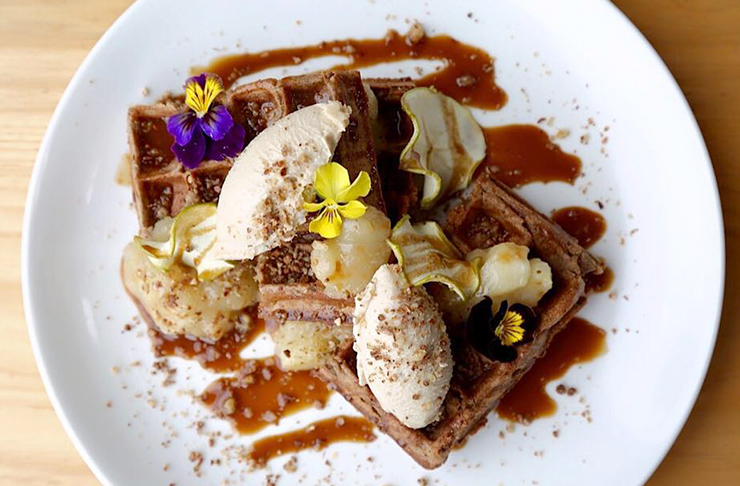 Little Bird Kitchen, Ponsonby
They were responsible for Auckland's raw food obsession and are showing no signs of slowing down. Visit Little Bird Kitchen to witness some raw, culinary magic.
Catroux, Westmere
Small but mighty, Catroux remains a frontrunner in the Auckland breakfast scene. Their menu is seasonal and always impressive.
Honey Bones, Grey Lynn
You'll find drool-worthy brekkies aplenty at Honey Bones. Think bacon egg butties, ricotta pancakes with poached fruit and smashed pumpkin (yes, pumpkin) on rye, washed down with an incredible-tasting smoothie.
Maison Des Lys, Grey Lynn
Follow the queue out of the door to find cute little French patisserie Maison des Lys—NZ's first vegan patisserie no less. Dive into one of their next-level loaded croissants with a shot of Eightthirty coffee on the side.
Ozone Coffee Roasters, Grey Lynn
There's a lot to love about the light and airy Ozone Coffee Roasters nestled in Grey Lynn. From the inventive seasonal menu to some of the best coffee out, we love that you can dine in with your pup by your side.
Grafton/Karangahape Road
One of the coolest precincts in town has breakfast down pat. For some of the best breakfasts near Auckland city, go here:
Fluff Cafe, Grafton
Fluff Cafe is the cute eatery that's serving up the fluffiest bread in town topped with boujee mouth-watering creations like smashed avo, slow-cooked pork, crumbed mushroom and even granola with wholemeal, vegan and gluten-free options available. Hell to the yes.
Benedict's, Eden Terrace
Boasting two outdoor spaces (including a lush courtyard) Benedict's serves up traditional brekkies with a twist. Did someone say twice-baked almond brioche?
Bestie, Karangahape Road
Did someone say Jelly Tip French toast? A mouthwatering combo of raspberry ice cream, housemade digestive biscuits and chocolate shards, this is exactly the type of OTT brekkie Bestie has become known for.
Newmarket/Epsom/Parnell
These three 'burbs have upped their breakfast game like nobody's business thanks to the opening of some excellent cafes. Make sure you try all of them—they're responsible for some of Auckland's best breakfasts.
The Humble Villager, Epsom
Manukau Road stalwart The Humble Villager is a great place to pull up a pew and dig into a great feed—the haloumi and avo toast is a stand out and don't leave without snaffling one of their legendary cheese scones.
Sparrow Café, Epsom
Smashed avo just got a serious makeover, and we likey. Yup, there's nothing boring about Sparrow's version of the dish (or any of their other brekky dishes for that matter), which takes The Midnight Baker's Freedom Loaf and tops it with avo smash, pickled courgette, red onion, feta, and chilli crisps. Glorious.
L'affare Newmarket
As to be expected, the coffee here is killer (this is the same L'affare as the popular coffee brand if you didn't know), but that's not the only reason to visit–their fried chicken waffles with bourbon syrup and sour cream are low-key incredible.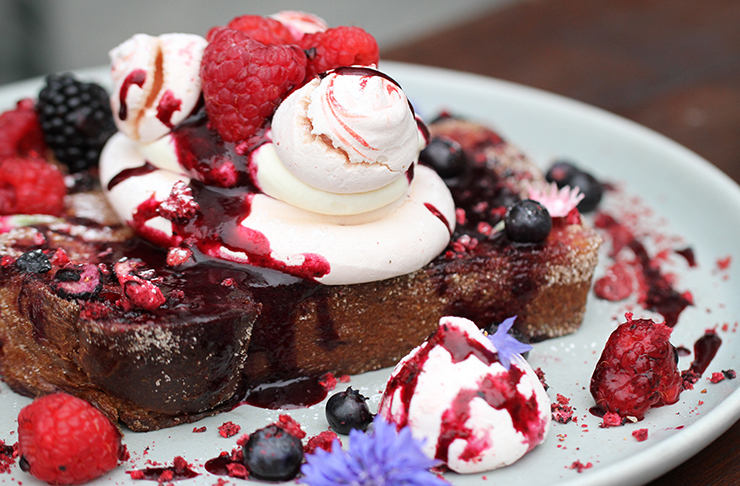 Winona Forever, Parnell
Home to one of the best cabinets (and best breakfasts) in Auckland is Winona Forever. We'll never get sick of their magical mushrooms.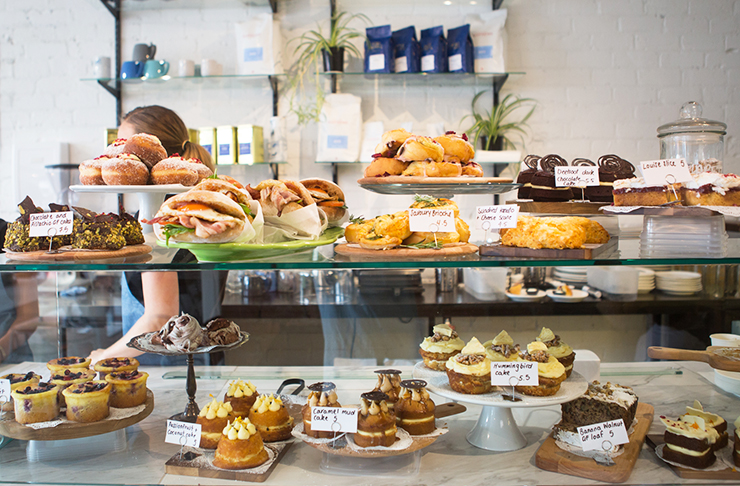 Hello Friends & Allies, Epsom
Epsom had no chance of being the best Auckland breakfast spot until Hello Friends & Allies came along. Their red velvet hotcakes are a game-changer.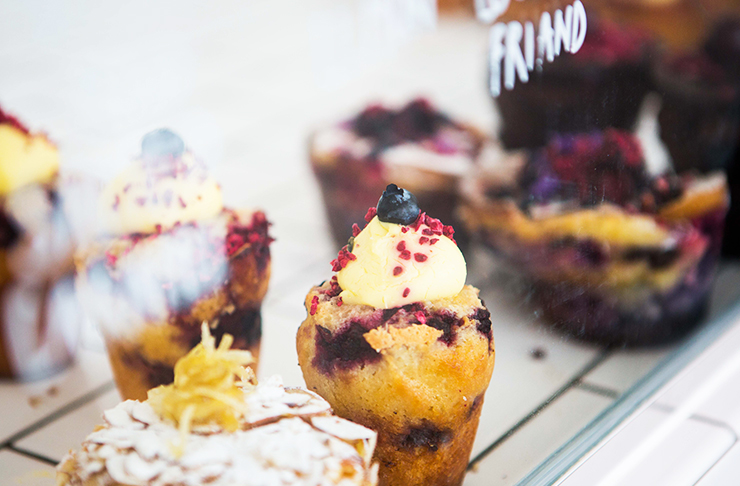 Little & Friday, Newmarket & Ponsonby
Doughnuts for breakfast are always a good idea. Little & Friday's cabinet is chock-a-block with all sorts of breakfast-friendly goodies.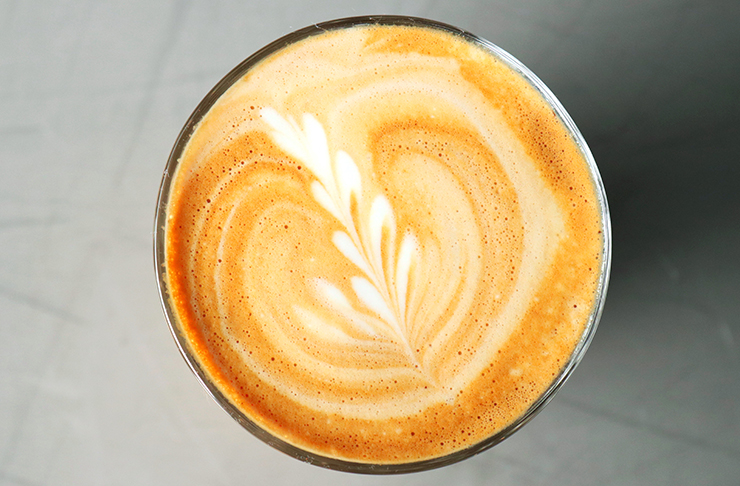 Mutual Friends, Newmarket
Mutual Friends' brekkie menu will brighten any morning—think breakfast bowls, smoothies, and a cabinet overflowing with ready-to-go treats.
Newbie, Newmarket
Fancy yourself a breakfast ramen bowl? This is just one of the unique dishes you'll find on the menu at Newbie, which also includes banoffee fritters and black rice porridge.
Flour Mill, Epsom
A visit to the Flour Mill is one of the best ways to start your day. Sit back amongst cute artworks and pops of pink while tucking into dishes like blueberry fritters and steak and eggs, followed by one of their legendary brownie pies—served in a skillet and piled high with whipped cream and other toppings as part of the lunch menu.
Greenlane/Royal Oak/Onehunga
These three neighbourhoods are killing it at the brunch game, and if you don't believe us, just check out these spots below.
Pikuniku, Greenlane
If you like brunch with a delicious Japanese twist best hotfoot it to Pikuniku. Amongst the (many) must-try dishes are the miso mushroom noodles, the fried chicken sandwich and don't leave without trying the next-level matcha croffles. Picnic indeed.
Slowlane, Greenlane
Name a better way to start your day than by chugging back an expertly-crafted cup of coffee, followed by a croffle face-stuffing sesh (that's croissant-waffles to the uninitiated). If this sounds like a bit of you, get in the Slowlane.
Five Elements Café Bistro, Royal Oak
Find solid brunch-time fare over at Five Elements Café Bistro, with eggs florentine, broccoli and cauliflower fritters and lox bagels all on the menu.
Brick By Brick Cafe, Onehunga
Keep things clean with Brick by Brick Cafe's yummy quinoa and oats granola, or go all-in with their savoury chicken waffles or sweet brioche toast.
Mr T's, Onehunga
Much-loved bakery and café, Mr T's merges classic treats with Vietnamese-style dishes and is especially loved for its mouthwatering pies. Definitely one of the best breakfasts in Auckland.
food me-n-u, Onehunga
Run by a former Hilton chef, food me-n-u is the spot for omelettes, buttermilk pancakes, and one hell of a take on bubble and squeak (read: Spanish chorizo, potatoes, honey-cured bacon, sauteed onion and wilted rocket served with a poached egg and sourdough).
Onehunga Cafe
Cajun chicken tacos? Check. Apple crumble waffles? Check. Sharing platter with fried chicken, pork belly, calamari, fries, polenta chips and slaw? CHECK. Yup, Onehunga Cafe certainly knows how to make our mouths water.
Mt Eden/Kingsland
Most of these cafes need no introduction, so it comes as no surprise they're the source of some of Auckland's best breakfasts.
Ipress, Mount Eden
Right in the centre of the village lies Ipress. Pull up a pew either downstairs or upstairs in their light and bright dining room and settle in for a good feed. We can't go past their fried chicken burger perfect for the morning after the night before. Stick around and play a vintage game or two while you're there.
Ralph's Bar and Eatery, Mt Eden
With a homely vibe, and some of the friendly folk in town head to Ralph's Bar and Eatery for breakfast you'll truly love. Dine like a God with the Breakfast of Zeus—fried tofu, red onion, sweet chilli, peppers, baby spinach, roast pumpkin, hummus, and dukkah with ciabatta or five-grain toast. Vegan breakfast sorted.
Harlan Pepper Food Co., Kingsland
Breakfast tacos? Yes, please! Harlan Pepper Food Co. has nailed their tapas-style menu and the Spanish twist means breakfast burritos and Spanish omelettes to die for.
Little Q, Kingsland
A beautiful little cafe on Kingsland's main strip that consistently serves up excellent food with divine service, Little Q will see you right. If a coconut French toast doesn't get you out of bed we don't know what will.
Mt Albert/Sandringham
To those living in these suburbs, we envy you. Be sure to make the most of what these amazing Auckland breakfast cafes have to offer.
KIND, Morningside
An equally healthy and delicious menu in a lush setting, KIND is attempting to make Morningside a little greener. Their mostly plant-based menu is fresh and different featuring some adventurous combos—the crispy tofu bao bun, with KIND's famous hot sauce is a must.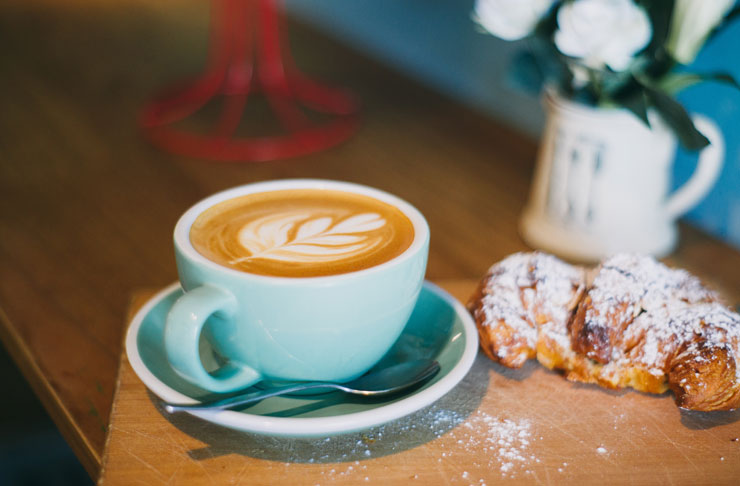 Petit Bocal, Sandringham
A slice of France in Sandringham, Petit Bocal is an unbeatable spot for coffee and croissants on a weekend morning. Their latte art rocks our socks.
L'oeuf, Mt Albert
L'oeuf is eggcellent. In fact, their menu is predominately egg-centric (try The Nest, please and thank you) but there are also tasty dishes for those who don't live the egg life.
Crave, Morningside
We love Crave's focus on the community just as much as we love their chia breakfast pudding.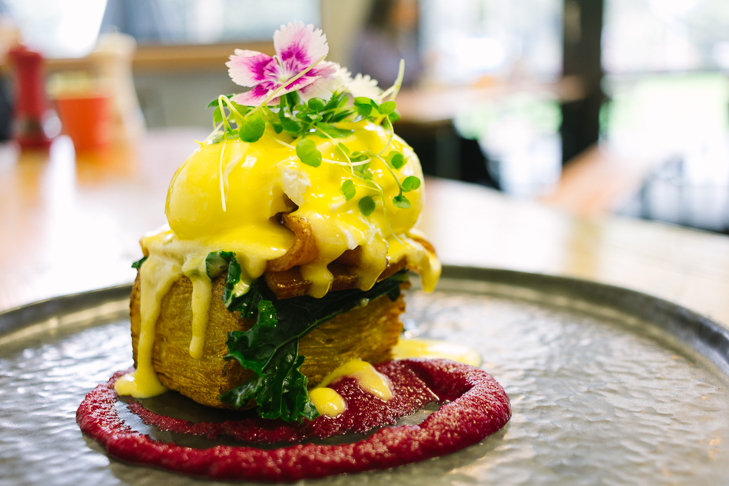 Geeks On Sainsbury, Morningside
We'll try not to geek out about this Morningside cafe too much, but Geeks On Sainsbury really is one of the best breakfast spots in Auckland. The coffee is fab, the service friendly and the food exactly how breakfast fare should be.
North Shore/Hibiscus Coast
These two regions north of the bridge don't mess around when it comes to amazing breakfast food. Here are some of our faves.
Duo Eatery, Birkenhead
A stellar eatery from the brains behind Culprit and Lowbrow, come for Duo's elevated classics like eggs bene but stay for the bruleed custard-soaked brioche.
Fika With Me, Birkenhead
Named after fika, the Swedish custom of having a coffee break with family, friends or colleagues, Fika With Me invites you to slow down and savour their delicious coffee and all-day brunch.
Fields Cafe, Albany
Brekky is looking mighty fine over at
Fields Cafe
, where you'll find us tucking into their blueberry ricotta hotcakes, truffle mushroom French toast, banoffee waffles... everything, basically.
Street Organics, Takapuna
At Street Organics you'll find delicious, nutritious brekky goodness for every diet under the sun, with some of our fave dishes including their peanut butter granola, chaffles (aka cheesy waffles) and acai bowls.
Honey, Takapuna
Sweet by name and sweet by nature, Honey is the home of banoffee French toast and gluten-free orange and ricotta pancakes.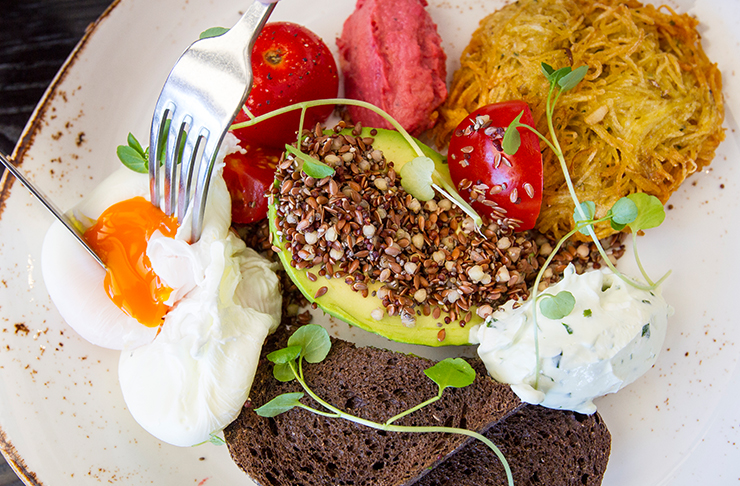 Paper Moon, Mairangi Bay
Fun fact: one of Auckland's best breakfasts cafes lives on the North Shore and has done so for yonks. Grab an outdoor table at Paper Moon and tuck into their epic brekkie fare in the sunshine.
Takapuna Beach Cafe, Takapuna
You're shore to love everything about Takapuna Beach Cafe. From the glorious view to the fresh, seasonal menu, it's a firm fave with the locals and will be with you, too.
Sip Kitchen, Mairangi Bay
Cleanse yourself of all the waffles with a trip to Sip Kitchen. Everything you eat and drink there will both nourish your body and satisfy your breakfast cravings.
Supernova, Milford
Supernova is the spot for wholesome yet hearty brekkie fare, including their incredible hotcake—served direct to your table in the cast-iron skillet it was cooked, and stacked with goodies like seasonal fruit, lemon curd and a truckload of maple butter (seriously guys, this one'll keep you going for a week).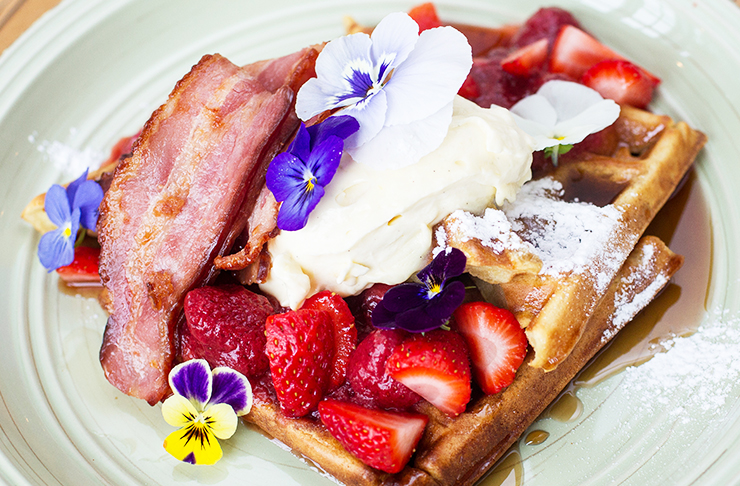 The Collins Cafe & Bar, Greenhithe
Cornflake-crusted French toast with vanilla mascarpone, poached pear, banana toffee and pistachio is what you've been searching for all along. The Collins Cafe & Bar is quickly gaining a rep for bringing cheat meal breakfast dreams to life.
Cafe Mimosa, Takapuna
Fairtrade and organic, you can't go past Cafe Mimosa. The Vegan Ploughman's Board includes sourdough toast, vine tomatoes, homemade vegan cheese, walnut mushroom pate, olive tapenade, seasonal pickles and sauerkraut. Can we hear a yes, please?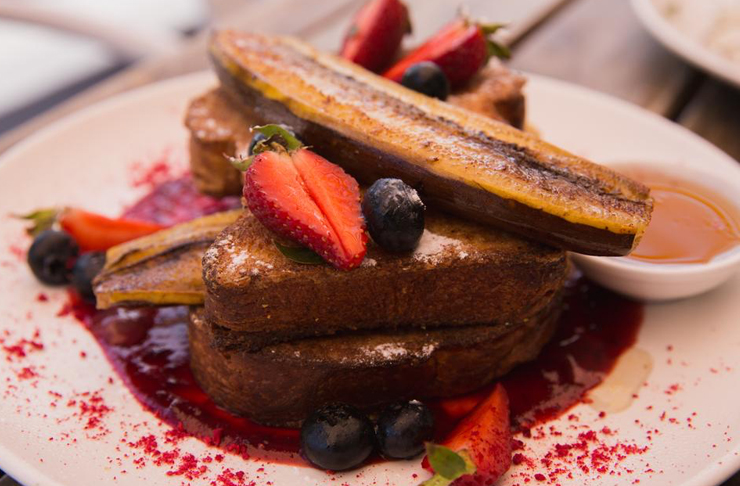 Jam Organic Cafe, Takapuna
Enjoy an epic alfresco brekkie over at Jam Organic Cafe. These guys aren't afraid to play with the classics (case in point: their moreish version of mince on toast) and also do a damn good coffee.
Ravenill Cafe & Restaurant, Birkenhead
Step into Ravenhill's bright and airy interior, and enjoy a killer menu suitable for dietary requirements (perfect for gluten-free and vegan folk) and moreish hot chocolates. It'll soon be your go-to spot for brunch on the Shore.
Bungalo Cafe, Birkenhead
Bungalo Cafe is always bustling on weekends and it's hard not to see why. Their menu boasts omelettes, burgers and smoothies with fresh fruit or even a shot of espresso if that's more your thing. Their famous crepes are also a must-try and best enjoyed in the sun in their outdoor seated area.
Patch Cafe, Sunnybrae
For a menu that ticks all the traditional brekkie boxes but has a few little surprises up its sleeve, you can't go past Patch. We especially love their smoothies and milkshakes, which are a breakfast unto themselves.
Major Tom, Albany
The cousin of another one of our fave morning-time spots, Winona Forever; Major Tom specialises in breakfasts that are as much a feast for the eyes as they are for the mouth. We're particularly fond of the French toast—a mouthwatering marriage of meringues, fresh fruit and dulce de leche panna cotta that's just the right amount of sweet for first thing in the morning.
Dear Coasties, Orewa
You may have to fight for a car park (and then a table), but Dear Coasties should be top of your brekkie hit list if you're in the area. These guys will have your day off to a delicious start with their mouthwatering pork belly bene with apple slaw (which, btw, you can also get in a handy half-portion), pretty-as-a-picture pancakes with fairy floss and fresh fruit, and—we're calling it—the best coffee on the Coast. Just don't forget to save room for some of that epic cabinet food.
Millies, Millwater
There are few cafés on the Coast with a following as loyal as Millies, thanks no doubt to their perfectly-poured coffee (some of the best in the area), OTT cabinet food (have you SEEN them doughnuts?) and of course, damn tasty breakfasts. We're particularly partial to their mushroom bowl, a sort of deconstructed mushrooms on toast. FYI: these guys also run the successful Oliver's café in Orewa.
East Auckland
In case you've forgotten that East Auckland is where to find some of the best breakfasts in Auckland, here's a quick reminder. These cafes know what's up.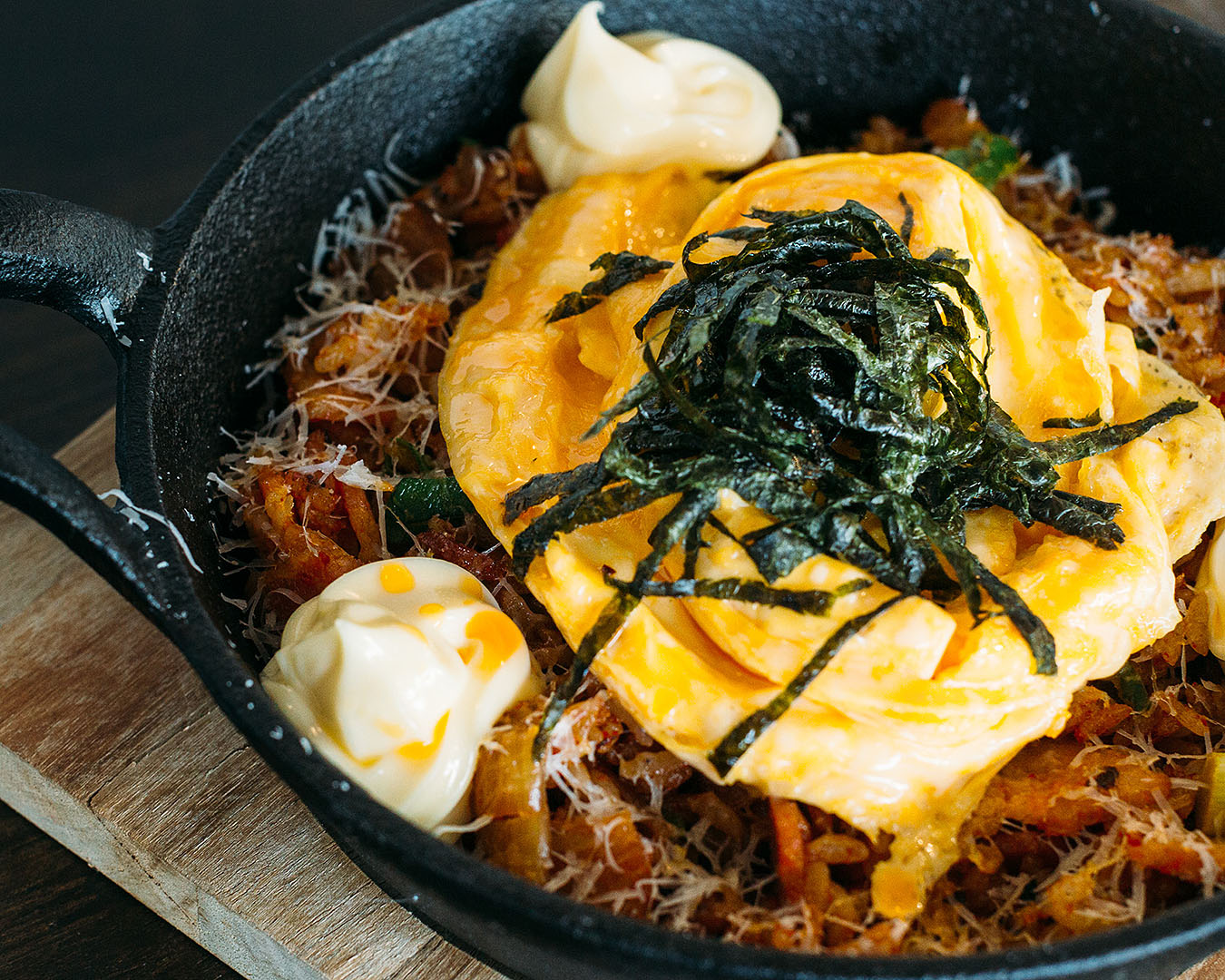 Blend Cafe, Botany
Everything from the dreamy interior to the next-level feeds blending Asian flavours with your more traditional cafe fare, Blend Cafe in Botany is your next pitstop. From a Korean take on cult-fave spag bol to kimchi fried rice with scrambled eggs, everything is on point, and the cabinet food is next-level.
Ampersand Eatery
Fancy a vegetarian brekky 'burrito' with a Bloody Mary on the side? Or perhaps challah French toast with a mimosa? Ampersand Eatery's got your back.
St Heliers Bay Café And Bistro, St Heliers
Get your brekkie and views fix in one hit with a visit to St Heliers Cafe & Bistro. It's one of the best Auckland breakfast experiences, ever.
Good Day, Orakei
Turn a terrible morning on its head with a lovely breakfast at Good Day. These guys know a thing or two about coffee, and the bacon bap does wonders for the soul.
Knead On Benson, Remuera
Remuera's best-kept secret, Knead On Benson offers artisanal baked goods and delectable breakfast fare made with local produce. Their almond croissants are not to be missed—flaky, tender pastry with dreamy vanilla bean custard and frangipane filling.
Picco, Glendowie
A cosy neighbourhood cafe, Picco Eatery serves up classic breakfasts with a Turkish twist. Note: they have hands down one of the best omelettes in town, as well as a killer pancake that will keep your sweet tooth happy for the day.
Meadow, Meadowbank
Meadow has been one of Auckland's best breakfasts spots for a while now and we ain't complaining. Their garden courtyard is unbeatable on a sunny day.
Marua Road Cafe, Ellerslie
Ellerslie's breakfast game has skyrocketed thanks to Marua Road Cafe. Their big breakfast is something we'll probably never stop raving about.
Woolfy's, Highbrook
For Insta-worthy dishes with the drool factor, Woolfy's is the spot. Chown down on everything from Szechuan chilli scrambled eggs and butterscotch hotcakes through to the hugely popular Breakfast Foo Yong (an Asian-style omelette topped with pickled cabbage, prawns, Japanese mayo and prawn crackers).
Urban In East, Howick
Whether you fancy fresh-pressed fruit juice and honey-roasted granola or French toast with all the trimmings, Urban in East has just the brekkie for you. Oh, and did we mention they also do NINE different types of eggs bene?
Hello Stranger, East Tamaki
Hello Stranger, indeed! This charming spot specialises in vibrant breakfast dishes you won't soon forget, including 'magic mushrooms' and smashed peas on toast (step aside, avocado). They've also been known to sling a mean slice of French toast.
South Auckland
Southside, don't think we've forgotten about you. We know you have some of Auckland's best-kept breakfast secrets.
Lola, Panmure
A cute li'l spot dishing up breakfast butties, Spanish eggs, and mince on toast with a spicy kick. Sweet brekky fans will appreciate
Lola
's black sticky rice with tropical fruit, coconut and caramelised banana.
Kreem, Manukau
Offering a wide selection of vegan, keto and gluten-free options both in their cabinets and on their menus, Kreem is the perfect spot for fussy eaters or those with dietary requirements.
Urban Soul, Manukau & Karaka
For epic brekkie dishes like fried chicken waffles with maple syrup and candied pecans, get along to Urban Soul ASAP.
The Corner Kitchen & Bar, Clevedon
Weekend roadies are much more enticing if food is involved. Make a pit stop at The Corner Kitchen & Bar for one of the best breakfasts in South Auckland.
Red Shed Palazzo, Karaka
Known as the 'people's cafe', Red Shed Palazzo is child-friendly, dog-friendly and stomach-friendly. Breakfast is a no-brainer—it's served throughout the day and they even have four different types of omelette. Yummm.
The Artisan, Wiri
Next time you wander to the wonder of South Auckland, make a beeline for The Artisan. With bright tables and smoothie names like 'this shit is bananas,' a smile will be on your dial quick smart.
The Farmhouse Deli, Clevedon
Enjoy the views of the Clevedon while sipping on organic Kokako coffee at The Farmhouse Deli. Serving locally grown and sourced food from their little white villa, this cafe lets you pretend you've escaped to the quaint countryside while still being within Auckland's borders.
Coffee 4 U Cafe, Manukau
If you're after a delicious midweek brekkie in Manukau look no further than
Coffee 4 U Cafe
. Hidden away from the main strip expect lovely homebaked treats and fine coffee to boot.
West Auckland
West is sometimes best, especially when breakfast rolls around. Here's where to find the best breakfast in West Auckland.
Fabric, Hobsonville Point
Come for the views (incredible) stay for the food (equally so). We especially love Fabric's croffle crunch with summer berries, vanilla whip and crème anglaise.
Browne St, Avondale
Take a trip to Browne St and you'll find apple pie French toast (that's cinnamon donuts with salted caramel, macadamia crumble and vanilla mascarpone) and mac 'n' beans (cowboy beans with crumbed mac 'n cheese, Sweaty Knox BBQ sauce, bacon and a poached egg).
Kneads All Day, Hobsonville
Start your day at Kneads All Day, where breakfast comes in the form of smashed peas and oat porridge (but not as you know them). Don't forget to take home a cheeky sweet treat from the cabinet.
Piccolina, Avondale
Say hello to Piccolina—an Italian-themed eatery, bakery, deli, heck they do everything. An inventive menu that's always changing, you should definitely make space for their life-changing tiramisu French toast and beautiful granola (main article image above).
Rosebank Coffee & Kitchen, Avondale
Once you stop marvelling at Rosebank Coffee & Kitchen's spectacular interior, get amongst their French toast. Housemade brioche with ganache, chantilly cream, pear purée, cocoa crumble and maple syrup come together in an edible work of art.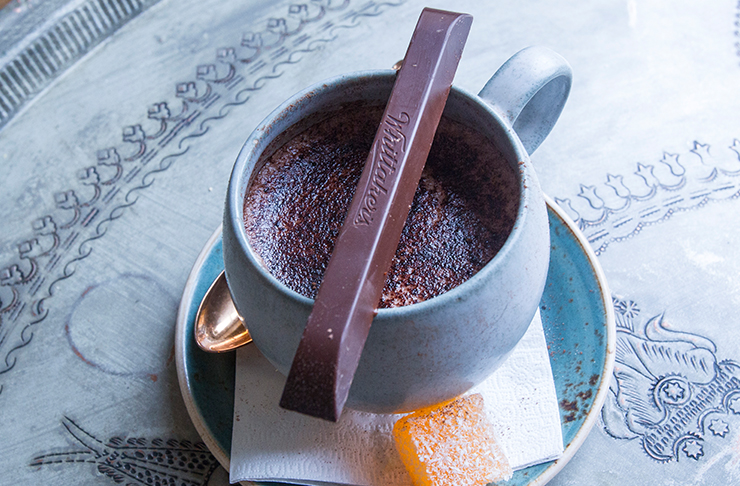 Deco Eatery, Titirangi
Give us the crispy potato rosti and nobody gets hurt. Seriously though, Deco Eatery's rosti eggs bene makes it one of the best places for breakfast in Auckland. Don't forget the hot chocolate.
The Block Cafe, Blockhouse Bay
Yep, home to the OG fried chicken eggs benedict of Auckland. The Block Cafe also have a bunch of other breakfast goodies in their arsenal so head to Blockhouse Bay and give them a jam.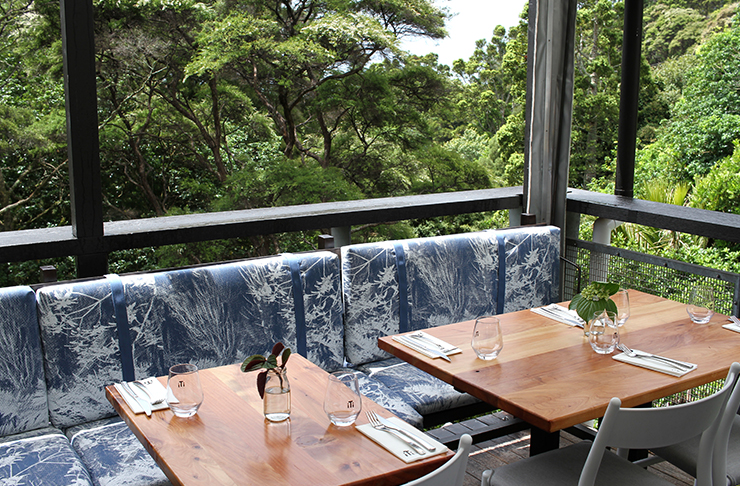 Iti, Titirangi
Sitting pretty in Titirangi is iTi. Nestle in amongst the beautiful surroundings from 9am on the weekends and eat your heart out. We recommend the iTi big breakfast—with bacon, bratwurst sausage, mushrooms, potato hash, baked beans, poached eggs and toast, you'll be in seventh heaven.
Little Sister Cafe, Henderson
Oh-so-sweet but oh-so-naughty, Henderson's Little Sister Cafe is the kinda place you go for breakfast and then walk out with a hefty collection of baked goods. But hey, that's why it's one of Auckland's best breakfast spots, right?
While you're at it, get your caffeine fix with the best coffee in Auckland.
Image credit: Piccolina by Wono Kim, Odettes, Urban Soul, The Farmhouse Deli, Lydia Arnold, Lauren Matilda Matthews, Jaiden Bhaga, Kellie Blizard, Supplied, Wono Kim, Kathryn Steane, Marua Road, Hello Stranger, The Flour Mill.