Some things in life make for the perfect union. Like toast and avocado, and pancakes and fairy floss (it's a thing), Aucklanders and breakfast are simply meant to be. Our hunt for the best breakfast in Auckland is never over and, being the brekkie-obsessives that we are, we're always waiting for the next shiny, delicious breakfast beacon (aka. Auckland's next best breakfast cafe) to open its doors.
But, living in one of the most breakfast-friendly cities in the world can be difficult. With so many Auckland breakfast spots to choose from, it's hard to keep tabs on who is serving up Auckland's best breakfasts. Fear not, breakfast-lover—you're about to have the ultimate list of the best breakfasts in Auckland right at your fingertips.
Without further ado, we present the list to rule all lists. It's a list you'll want to print out and stick on your desk, in your car, by your bed, at your SO's house and back up in Google Drive, STAT.

Here are all the best places for breakfast in Auckland (handily broken down into suburbs, might we add). You're more than welcome.
Auckland City
You city slickers are a lucky bunch. Some of Auckland's best breakfasts can be found in Auckland city itself. We're talking crepes, waffles, seasonal specialities and even brekkie burgers. Here's where to get the best breakfasts in Auckland city.
Odettes, City Works Depot
Beautiful fit out? Check. Silky, smooth coffee? Check. Some of the best breakfast in Auckland? Check. Odettes is a breakfast winner.
Major Sprout, Auckland City
With both food and aesthetics on-point, Major Sprout serves up a mighty fine guilt-free breakfast and beautiful bevvies to match.
Lord of the Fries, Queen Street & K'Road
Burgers for breakfast?! You don't have to ask us twice. Head to Lord of the Fries (they have two handy locations) for brekkie burgs and ALL the hash browns.
Pollen, Auckland CBD
For gorgeous (and delicious) breakfast food in Auckland City, look no further than Pollen. If chia seed waffles topped with chocolate soil won't get you out of bed, we don't know what will.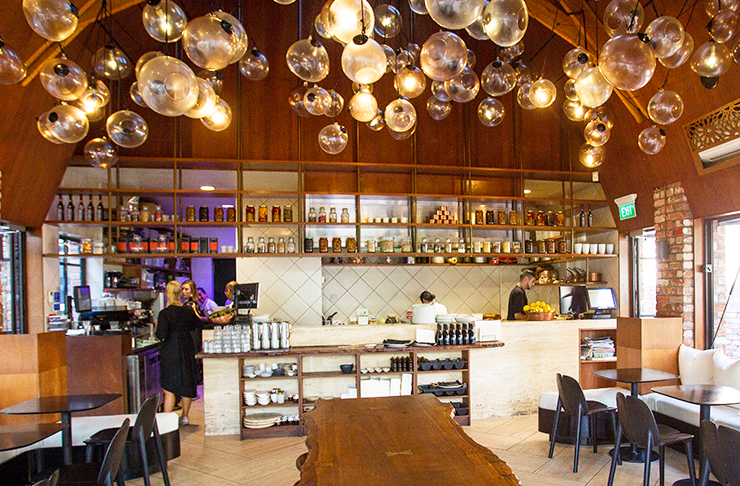 Ortolana, Britomart
Ortolana nail the farm-to-table concept like no other Auckland cafe. Feast on their seasonal menu and you won't be disappointed.
Chuffed, Auckland CBD
Tucked down a corridor off High Street, Chuffed is home to some of the best breakfasts in Auckland City—don't blame us if you get hooked on their crumpets.
Rude Boy
An Instagrammer's dream, the eats at Rude Boy are as good looking as they are tasty. Anyone with a sweet tooth must try the hotcakes—fluffy cello and cream cheese with strawberry butter, vanilla cream and salted caramel.
Rabbit Cafe, Eden Terrace
A menu that has all things green and a cabinet full of treats, this vegetarian spot is a must try. We love Rabbit's D.I.Y menu which lets you build your meal to your exact desire.
Ponsonby/Herne Bay/Grey Lynn/Westmere
You haven't had the best breakfast in Auckland until you dine in these four suburbs. In no particular order, here are the best breakfast spots in Ponsonby, Herne Bay, Grey Lynn and Westmere:
Dear Jervois, Herne Bay
Herne Bay wouldn't be Herne Bay without Dear Jervois. It's one of Auckland's best breakfast cafes, so don't be surprised if you have to wait for a table. Pro tip: the gluten-free waffles are worth it.
Dizengoff, Ponsonby
An oldie but a goodie, Dizengoff continues to dish up some of the best breakfast in Auckland. Our pick is the half and half—perfect scrambled eggs and creamy balsamic mushies with a dollop of homemade pesto. Nom.
Kokako, Grey Lynn
Purveyors of damn good coffee AND some of Auckland's best breakfasts, Kokako are pros at turning humble vegetables into something so good, your taste buds won't know what hit them.
Mary's, Ponsonby
Mary had...well, one of Auckland's best breakfasts cafes. With wi-fi and plenty of seats, it's the perfect place to power out some work over a couple of eggs.
Queenies, Freeman's Bay
Lovely, lovely Queenies is exactly where you need to go when you want to escape the Ponsonby madness. Their Turkish eggs deserve a dedicated shout-out.
Little Bird Unbakery, Ponsonby
They were responsible for Auckland's raw food obsession and are showing no signs of slowing down. Visit Little Bird Unbakery to witness some raw, culinary magic.
Catroux, Westmere
Small but mighty, Catroux remains a frontrunner in the Auckland breakfast scene. Their menu is seasonal and always impressive.
Williams Eatery, Wynyard Quarter
Local, organic and free-range, Williams Eatery strives to serve up only the highest quality ingredients and the result is impressive. The house crumpets with buttermilk sorbet, grilled plum, meringue and thyme syrup are a definite favourite.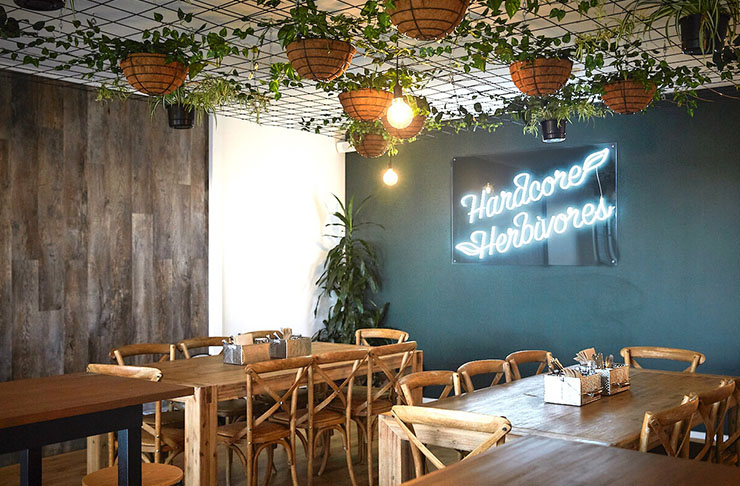 The Butcher's Son, Herne Bay
This fully plant-based eatery is on a mission to convince even the most devout meat-eater to give them a try. The Butcher's Son's extensive breakfast menu, along with the stocked cabinet of baked treats won't have you missing bacon and eggs. The Boss Breakfast is a must for their take on the classic Kiwi breaky, veganised.
KIND, Morningside
An equally healthy and delicious menu in a lush setting, KIND is attempting to make Morningside a little greener. Their mostly plant-based menu is fresh and different featuring some adventurous combos—the avocado with smoked chilli peanut butter, pistachio dukkah and heirloom tomatoes is a must.
Grafton/K'Road
One of the coolest precincts in town has breakfast down pat. For some of the best breakfasts near Auckland city, go here:
Welcome Eatery, Grafton
We've forgiven Welcome Eatery for only being open during the weekdays because their food makes up for it...although we wouldn't say no to having their torched eggs seven days a week.
Bestie, K'Road
Sitting snug in St Kevins Arcade, Bestie is the kinda spot you'd gladly spend an entire morning at. They've got eighthirty coffee in the machine and a batch of lip-smackingly good hotcakes in the kitchen.
Newmarket/Epsom/Parnell
These three 'burbs have upped their breakfast game like nobody's business thanks to the opening of some excellent cafes. Make sure you try all of them—they're responsible for some of Auckland's best breakfasts.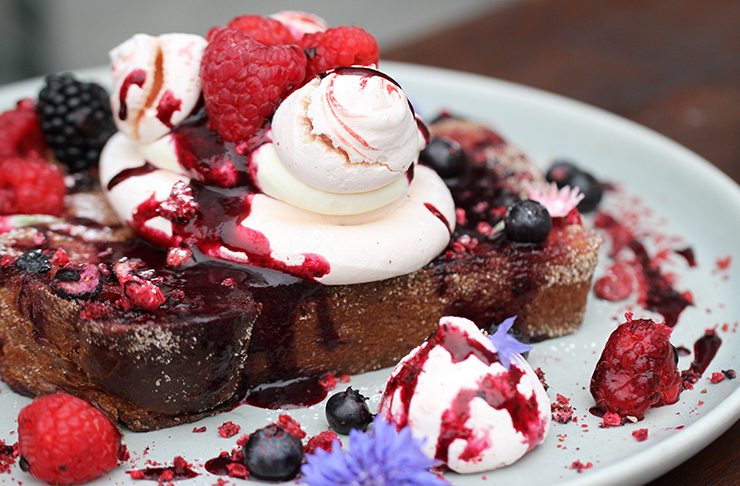 Winona Forever, Parnell
Home to one of the best cabinets (and best breakfasts) in Auckland is Winona Forever. We'll never get sick of their magical mushrooms.
Hello Friends & Allies, Epsom
Epsom had no chance of being a best Auckland breakfast spot until Hello Friends & Allies came along. Their red velvet pancakes are a game changer.
Little & Friday, Newmarket, Ponsonby & Belmont
Doughnuts for breakfast are always a good idea. Little & Friday's cabinet is chock-a-block with all sorts of breakfast-friendly goodies.

Wake Up Cafe, Parnell
This fun and quirky spot doubles as an art gallery and is worth spending some time in. Wake Up Cafe showcases local art so there is plenty to look at after demolishing one of the many eggs bennies on the menu.
Mutual Friends, Newmarket
Breakfast bowls, smoothies, and a cabinet overflowing with easy to go treats, Mutual Friends should be on your radar. Their $10 bacon and egg brioche and coffee combo is the perfect way to brighten any morning.
Mt Eden/Kingsland
Most of these cafes need no introduction, but there's a new kid in town who could be serving up one of Auckland's best breakfasts.
The Midnight Baker, Mt Eden
There is nothing more breakfast-y than a good piece of toast. The Midnight Baker, however, turns the humble toast into something you'll never forget.
Harlan Pepper Food Co., Kingsland
Breakfast tacos? Yes, please! Harlan Pepper Food Co. has nailed their tapas style menu and the Spanish twist means breakfast burritos and Spanish omelettes to die for.
Mondays, Kingsland
This hidden Kingsland sanctuary makes healthy food a pleasure to eat. Don't leave without trying one of Mondays' Auckland-famous smoothies.
Ralph's, Mt Eden
With a homely vibe, and some of the friendly folk in town head to Ralph's for breakfast you'll truly love. Dine like a God with the Breakfast of Zeus—fried tofu, red onion, sweet chilli, peppers, baby spinach, roast pumpkin, hummus, and dukkah with ciabatta or five-grain toast. Vegan breakfast sorted.
North Shore
The Shore doesn't mess around when it comes to amazing breakfast food. Here are some of our faves.
Paper Moon, Mairangi Bay
Fun fact: one of Auckland's best breakfasts cafes lives on the North Shore and has done so for yonks. Grab an outdoor table at Paper Moon and tuck into their epic brekkie fare in the sunshine.
Takapuna Beach Cafe, Takapuna
You're shore to love everything about Takapuna Beach Cafe. From the glorious view to the fresh, seasonal menu, it's a firm fave with the locals and will be with you, too.
Blind Basket, Takapuna
White and bright, Blind Basket serves up Japanese-influenced meals. But, really, who can go past the green eggs bene? Hello, Dr Seuss.
Sip Kitchen, Mairangi Bay
Cleanse yourself of all the waffles with a trip to Sip Kitchen. Everything you eat and drink there will both nourish your body and satisfy your breakfast cravings.
The Collins Cafe and Bar, Greenhithe
Cornflake and macadamia-crusted French toast is what you've been searching for all along. The Collins is quickly gaining a rep for bringing cheat meal breakfast dreams to life.
Cafe Mimosa, Takapuna
Fairtrade and organic, you can't go past Cafe Mimosa. The Vegan Ploughman's Board includes sourdough toast, vine tomatoes, homemade vegan cheese, walnut mushroom pate, olive tapenade, seasonal pickles and sauerkraut. Can we hear a yes, please?
Zomer, Takapuna Beach
What could be better than a weekend stroll along one of Auckland's most beautiful beaches followed by one of Auckland's best breakfasts? Zomer has you sorted.
So French, Takapuna
If you're after an authentic French crepe look no further. So French have you covered with sweet, savoury, classic, vegan—there's a crepe for everyone and we guarantee you won't be disappointed.
East Auckland
In case you've forgotten that East Auckland is where to find some of the best breakfast in Auckland, here's a quick reminder. These cafes know what's up.
St Heliers Bay Café and Bistro, St Heliers
Get your brekkie and views fix in one hit with a visit to St Heliers Cafe & Bistro. It's one of the best Auckland breakfast experiences, ever.
Good Day, Orakei
Turn a terrible morning on its head with a lovely breakfast at Good Day. These guys know a thing or two about coffee, and the bacon bap does wonders for the soul.
Meadow, Meadowbank
Meadow has been one of Auckland's best breakfasts spots for a while now and we ain't complaining. Their garden courtyard is unbeatable on a sunny day.
Marua Road Cafe, Ellerslie
Ellerslie's breakfast game has skyrocketed thanks to Marua Road Cafe. Their big breakfast is something we'll probably never stop raving about.
South Auckland
Southside, don't think we've forgotten about you. We know you have some of Auckland's best-kept breakfast secrets.
Urban Soul, Manukau
Ever had a breakfast tostada? No? Get your booty to Urban Soul in Manukau, ASAP.
Mottletop Espresso Bar, Papakura
Neighbourhood cafe, Mottletop Espresso Bar oozes homely vibes with shelves filled with books and mismatched bone china plates. We reckon the French toast is a must.
The Corner Kitchen & Bar, Clevedon
Weekend roadies are much more enticing if food is involved. Make a pit-stop at The Corner Kitchen & Bar for one of the best breakfasts in South Auckland.
Red Shed Palazzo, Karaka
Known as the 'people's cafe', Red Shed Palazzo is child-friendly, dog-friendly and stomach friendly. Breakfast is a no brainer—it's served throughout the day and they even have four different types of omelette. Yummm.
The Artisan, Wiri
Next time you wander to the wonder of South Auckland, make a beeline for The Artisan. With bright tables and a smoothie names like 'this shit is bananas,' a smile will be on your dial quick smart.
West Auckland
West is sometimes best, especially when breakfast rolls around. Here's where to find the best breakfast in West Auckland.
Rosebank Coffee & Kitchen, Avondale
Once you stop marvelling at Rosebank Coffee & Kitchen's spectacular interior, get amongst their French toast. Banana toffee, citrus, Grand Marnier and salted cocoa crumble are delicately placed on a piece of slate to create edible art.
Deco Eatery, Titirangi
Give us the crispy potato rosti and nobody gets hurt. Seriously though, Deco Eatery's rosti eggs bene makes it one of the best places for breakfast in Auckland. Don't forget the hot chocolate.
The Block Cafe, Blockhouse Bay
Yep, home to the OG fried chicken eggs benedict of Auckland. The Block Cafe also have a bunch of other breakfast goodies in their arsenal so head to Blockhouse Bay and give them a jam.
Iti, Titirangi
Sitting pretty in Titirangi is Iti. Nestle in amongst the beautiful surrounds from 9am on the weekends and eat your heart out. We recommend the Iti big place—with eggs, grilled tomato, bacon, potato hash, mushroom and spicy Bratwurst you'll be in seventh heaven. Opens 12 weekends, 3 weekdays
Little Sister, Henderson
Oh-so-sweet but oh-so-naughty, Henderson's Little Sister is the kinda place you go for breakfast and then walk out with a hefty collection of baked goods. But hey, that's why it's one of Auckland's best breakfast spots, right?
Mt Albert/Sandringham
To those living in these suburbs, we envy you. Be sure to make the most of what these amazing Auckland breakfast cafes have to offer.
Petit Bocal, Sandringham
A slice of France in Sandringham, Petit Bocal is an unbeatable spot for coffee and croissants on a weekend morning. Their latte art rocks our socks.
L'oeuf, Mt Albert
L'oeuf is eggcellent. In fact, their menu is predominately egg-centric (try The Nest, please and thank you) but there are also tasty dishes for those who don't live the egg life.
Crave, Morningside
We love Crave's focus on the community just as much as we love their chia breakfast pudding.
Geeks On Sainsbury, Morningside
We'll try not to geek out about this Morningside cafe too much, but Geeks On Sainsbury really is one of the best breakfast spots in Auckland. The coffee is fab, the service friendly and the food exactly how breakfast fare should be.
While you're at it, get your caffeine fix with the best coffee in Auckland.
Image Credit: Lydia Arnold, Lauren Matilda Matthews, Jaiden Bhaga, Kellie Blizard, Supplied