There is, quite frankly, no better way to end one's weekend than with a cheeky Sunday sesh. Because let's be real… embracing your inner sloth via TV binges and pizza ain't the way a perfectly good week should wrap up, especially when the sun is out and about. Don't let the frightful idea of Monday morning cramp your weekend fun—finish it off on a high note by partaking in a spot of Sunday session-ing.
Here are our top picks of where to get social on a Sunday…
46 & York
Parnell
Parnell's favourite party hotspot, 46 & York continues to churn out one of the best Sunday sessions in Auckland. Featuring 46 & York's famous cocktails and some of Auckland's best DJs on the decks, you'll want to be out of your fat pants and on the D-floor every single Sunday.
Chapel Bar & Bistro
Ponsonby
Judging by the sheer number of humans spilling out of Chapel every weekend, this Ponsonby suntrip is on the best place to get your Sunday session on in Auckland. It's the kinda place you can order a bottle of vino (between mates, not just for yourself, of course) or a jug of beer and joyfully cling onto your last moments of weekendly freedom. We'll drink to that!
MR TOMS
Ponsonby
Wander across the street from Chapel and MR TOMS will hook you up with delightful sharing plates, pizzas, cocktails, beats and rather large quantities of sunshine aka. the key ingredients for a successful Auckland Sunday session. Food highlights are the karaage chicken, beef short rib tacos, and Margherita pizza—one must always line their stomach, don't ya know?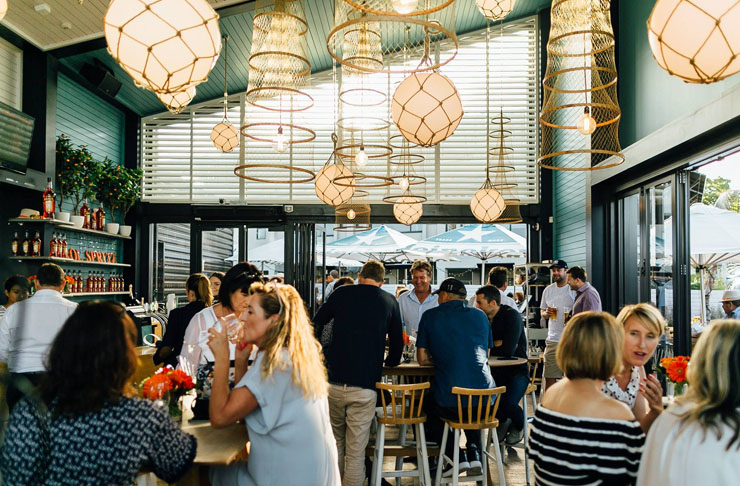 Regatta Bar & Eatery
Takapuna
Nothing screams chilled out weekend more than Auckland's North Shore. Sporting a nautical theme, complete with beach views, Regatta Bar & Eatery makes for an excellent Sunday session spot. Their menu features battered oysters (yum!), wagyu beef burger and EPIC antipasto platters. We're talking crayfish, soft shell crab, scallop carpaccio, wood-fired king prawns, cured salmon, szechuan peppered squid...basically everything you need to enjoy an Auckland Sunday session by the sea.
The Portland Public House
Kingsland
The laid-back feels at The Portland Public House are hard to beat on any day of the week, but there's something spesh about their Sunday vibes. Every Sunday this Kingsland bar offers a stellar line-up of cheap drinks, $6 (!) pizza or burgers and epic live gigs, with someone new taking the stage every week. Plus, you're likely to leave with a bunch of new mates—this is one of the best and friendliest Sunday sessions in Auckland.
Flight 605
Morningside
If your idea of an Auckland Sunday session involves craft beer, live music and good people, Flight 605 should be next on your list. This little Morningside bar has a big heart and takes their Sundays very seriously. There's often live music by some of the city's best up-and-coming artists and the courtyard is a prime spot for weekend debriefs.
The Conservatory
Wynyard Quarter
Wander down to North Wharf and cheers to the end of the weekend with one of Auckland's best Sunday sessions at The Conservatory. With views of the sparkly harbour, low-key vibes, and plenty of creative cocktails, spend a bit of time here and you'll start to think Sunday Funday is the best damn day of the week.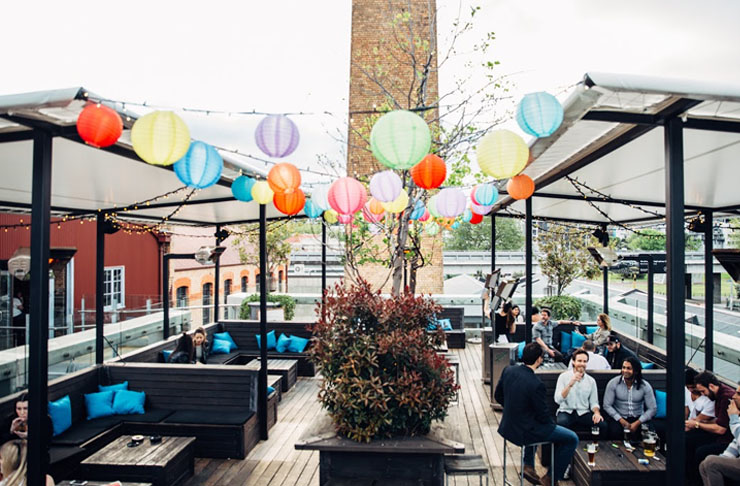 La Zeppa
Freemans Bay
You can't call yourself an Aucklander unless you've spent an arvo at La Zeppa—home to one of Auckland's best Sunday sessions. Gather your crew and treat yourself to grazing plates, cocktail jugs and an awesome rooftop atmosphere. There's no better place to get moderately sloshed before the working week reels you back in.
White + Wong's & Sardine
CBD
What better way to enjoy your Sunday sesh than by the water? For eight weeks, TIGER presents sweet sounds, good eats and dranks on the deck of White + Wong's. Running until March 25th, there will be Tiger Shuttles, buckets and froze cocktails. Yum!
The Parasol & Swing Company
Viaduct
Let's be honest. Rooftop bars are exactly where we want to be on a Sunday and The Parasol & Swing Company takes the cake. This two-storey bar specialises in weird and downright wonderful cocktails with a delish food menu to match. With noms such as loaded hash bites, crayfish waffle and tuna ceviche, you'll be full, happy and ready to tackle the week in no time.
Swashbucklers
Westhaven Marina
Swashies is an Auckland institution and on a sunny day, an unbeatable Sunday session spot. It's situated right on Westhaven Marina so you can soak in the sea breeze and views over a cold bevvie or two.
Hallertau
Riverhead
Beer garden + Sunday session = match made in heaven. Head out west to Hallertau and sample some of New Zealand's best craft beers and homegrown food. It's good no matter what the weather and is definitely one of the best Sunday sessions in Auckland.
Looking for more places for Sunday sessions? We've got 30 Bars You Should Have Been To If You Live In Auckland.
Image credit: Regatta, Hallertau, Lauren Matilda Matthews, Andrew Wilson, Parasole & Swing