Michael Embry once said: "You don't have to look far to find treasures, you discover them every time you visit a library." And here at The Urban List, we couldn't agree more! The appreciation for libraries and all they do for us is so real.
A library is a home to the literature that shapes the world, as well as a place for education and solitude. So, we thought it fitting to round up all the most beautiful libraries because not only are they awesome, they're just nice to look at. Here are the world's most beautiful libraries.
Bibliotheque Nationale de France | France
The French have a knack for doing things with an absolutely beautiful touch and their libraries are no different. The National Library of France was completed in 1868 and will have you feeling like you stepped right into Beauty and the Beast. Its tall bookcases and attention to detail is undeniably gorgeous—and just that little bit magical.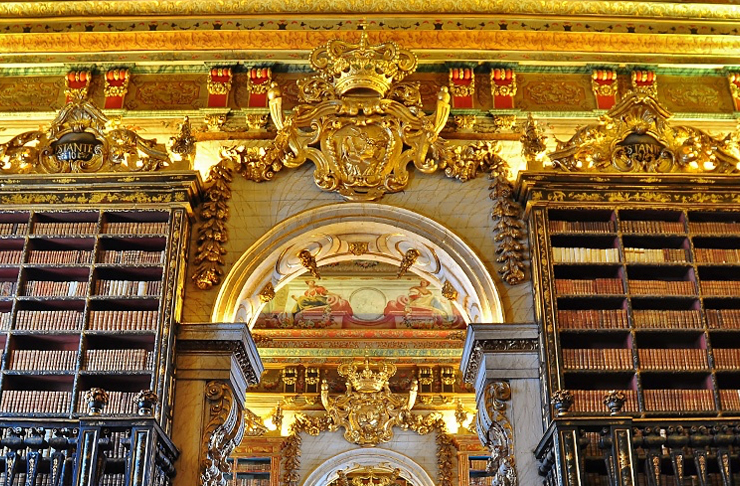 Portugal's Coimbra Library | Portugal
Portugal's Coimbra library is known not only for its undeniable good looks, but its creepy little residents. Yes… a native colony of bats have made a home for themselves here, eating up any insects that threaten the rare and historic books. From the interior to the exterior, this library oozes elegance and, if you can overlook the fact that bats are making themselves hidden in dark corners, this is a place worth exploring.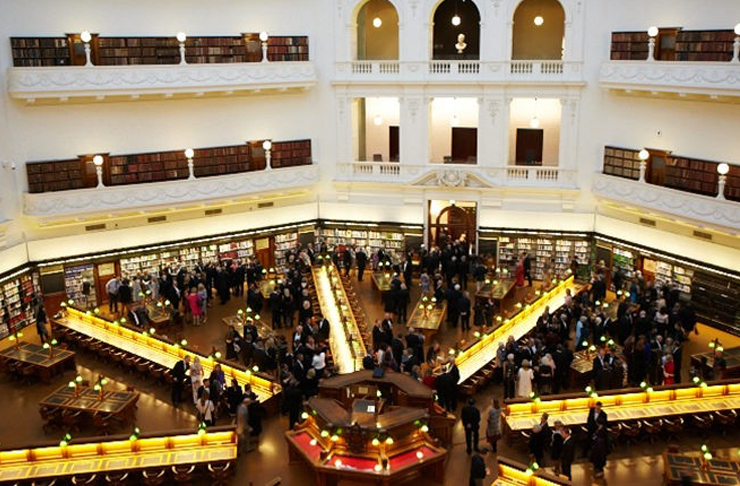 State Library of Victoria | Australia
Located in Melbourne, the State Library of Victoria is not only Australia's oldest library but is one of the world's first-ever public libraries. And of course, it's incredibly charming inside and out. Known for being the perfect wedding venue, the famous La Trobe reading room is 34 metres in height and beautifully white (snap).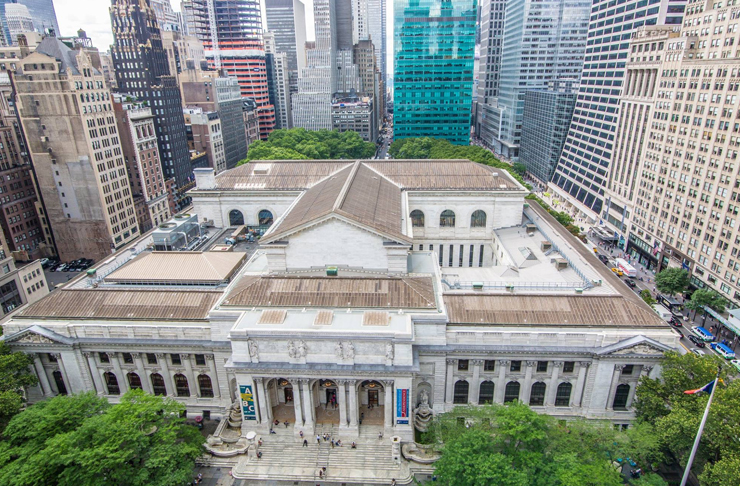 The New York Public Library | USA
We all remember it from Sex & The City, but Carrie's iconic breakup scene sort of overshadowed just how spectacular the New York Public Library really is. Built in 1902, this is a library that is regarded as one of the most gorgeous libraries in the world. With a breathtakingly beautiful mural of the sky covering the library's ceiling, long staircases and wooden features, this is a library that'll have you believing in fairytales.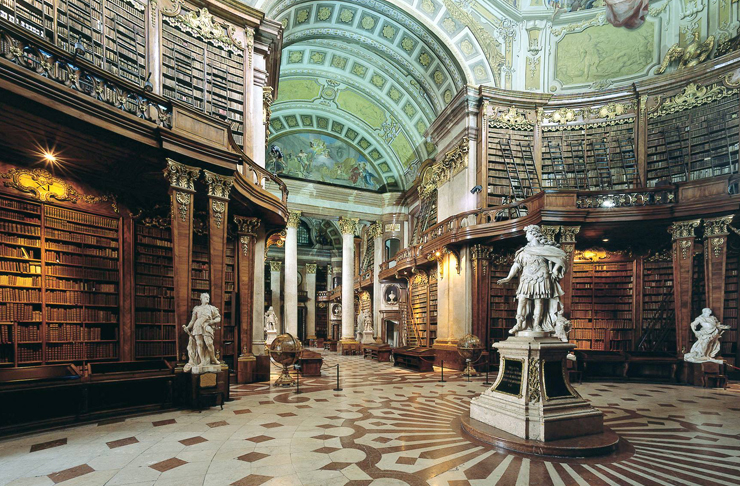 The Austrian National Library | Austria
It's hard to do anything but stare at the décor at the Austrian National Library as its galleries are decorated head to toe with wooden carvings and elegant statues. It is the largest library in Austria and as delightful exploring and marvelling at it may be, it has 7.4 million items in its many collections.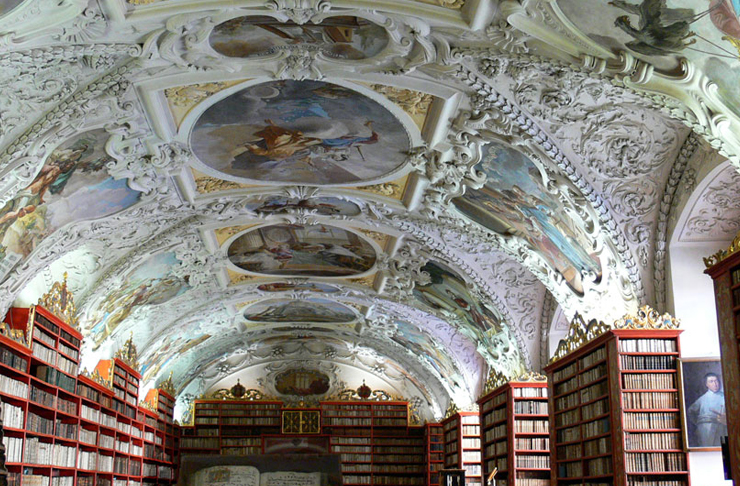 Baroque Library | Czech Republic
The ceiling frescos at the Baroque Library are so breathtakingly beautiful they have us wanting to jump on a plane to Prague ASAP. This place is utterly heavenly and will do nothing but bring happiness to your soul.
Musashino Art University Museum & Library | Japan
The unique design of Musahino Library is something that we can guarantee you have never seen before. The walls are a made up of a crazy jigsaw arrangement of timber cubbies designed by Japanese architect Sou Fujimoto that are covered by planes of glass. It's seriously creative and a whole lot of beautiful.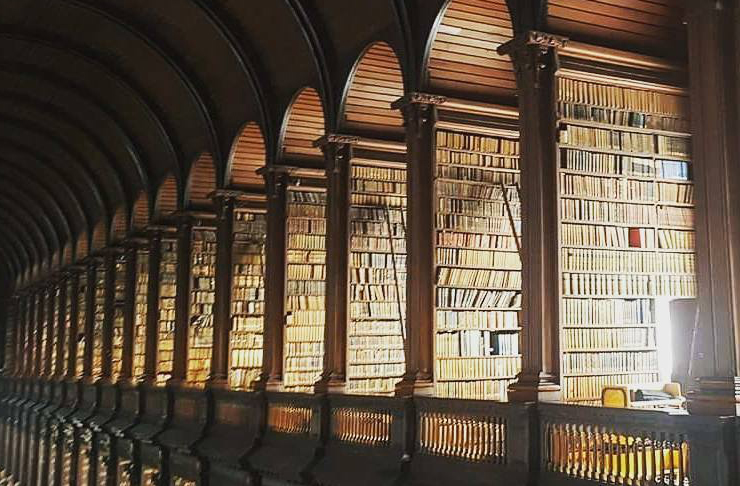 Trinity College Library | Ireland
As well as being the largest library in Ireland and home to the illuminated manuscript created by Celtic monks around the year 800, this library is as pretty as a picture. The two-story, dark wooden arches are the staple design feature and make the library one of the places to be when visiting Ireland.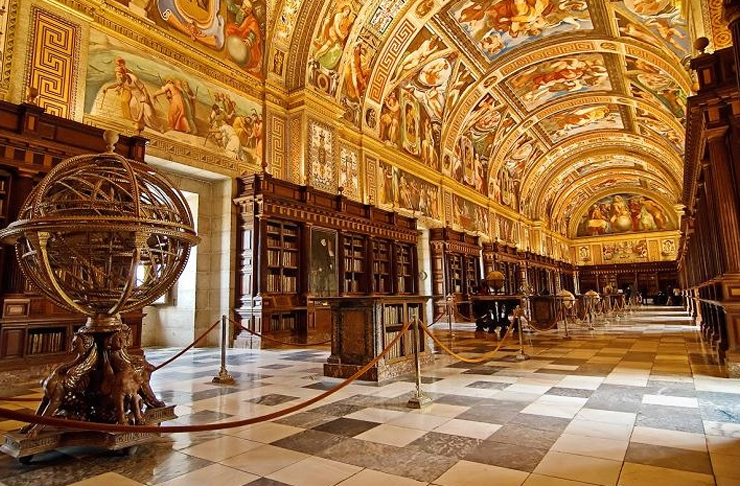 The Library of El Escorial | Spain
This famous Spanish library is known for being the historical residence of the King of Spain, Phillip II, although these days it is a World Heritage Site. The vaulted ceilings are painted with stunning designs and are seriously a sight to be seen.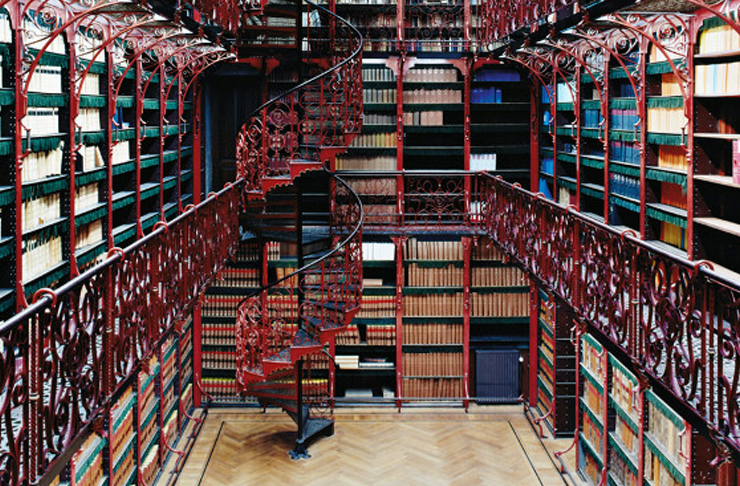 Handelingenkamer | Netherlands
This library holds every record of parliamentary hearings and discussions but is, of course, also known for being hella easy on the eyes. With marvellous red staircases and a glass dome ceiling, we had no choice but to include this library in our round up. It. Is. Beautiful. Fun fact: it was built before electric lighting, so the glass dome was included in the design to allow in light and minimise the use of candles around the books!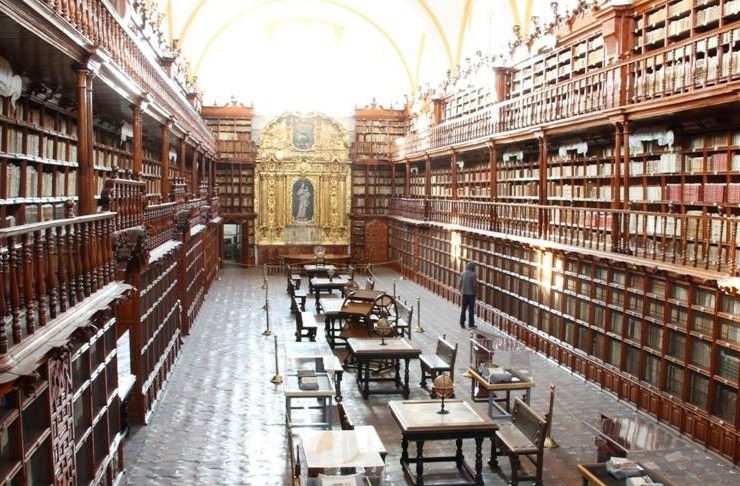 Palafoxiana Library | Mexico
Founded in 1646, this was the first public library in Mexico and some people argue that it was the first in America. Its white dome ceilings are beautifully designed, and although some damage was done to the layout during the 1999 earthquake, it has been repaired and is regarded as one of the most elegant libraries in the world.
Want more indulgence? Here are the best hotel spas from around the world.
Image Credit: Bibliotheque Nationale de France, Portugal's Coimbra Library, State Library of Victoria, The New York Public Library, The Austrian National Library, Baroque Library, Trinity College Library, The Library of El Escorial, Handelingenkamer, Palafoxiana Library