Renowned for being New Zealand's boutique wine region and home to charming towns and award-winning restaurants that showcase local produce, the Wairarapa at the heart of the Classic New Zealand Wine Trail, is an hour's scenic drive north east of Wellington and an ideal destination for a weekend—or midweek—escape.
Cycle around the vineyards and savour some of Aotearoa's finest pinot noir in Martinborough, taste artisanal cheese in Featherston and handmade chocolates in Greytown, enjoy wine and music festivals—Toast Martinborough and Wairarapa Wines Harvest Festival, and take a drive to relish the spectacular coastal highlights of Castlepoint and Cape Palliser.
Here are our picks on where to wine and dine, the iconic sights to see and must-do experiences in Wairarapa—we bet you'll never want to leave.

Eat And Drink
Martinborough Vineyards
Home to over 20 wineries and a charming colonial town, Martinborough is just an hour away from Wellington. While there, venture to some of the family-owned wineries by bike and sample some of Aotearoa's greatest drops. Green Jersey Explorer Tours offer bike hire, so you can spend the day cruising around the vineyards in Martinborough, taking in the picturesque scenery as you ride and visiting cellar doors—our favourites are Te Kairanga and Colombo Martinborough vineyards. Taste delicious wine, including bright and fruity pinot noir and enjoy a shared lunch featuring local fresh produce.
Reid + Reid Gin
Calling all gin lovers, this one's for you. Helmed by brothers Stew and Chris—with the aim to showcase New Zealand's natural flora—Reid + Reid is a craft gin distillery and tasting room situated in Martinborough. From their native gin, which is produced with three New Zealand botanicals—kawakawa, manuka and horopito—to their barrel-aged gin which has spent three months ageing in ex-Martinborough pinot noir French oak barrels, Reid + Reid's gin is challenging the status quo of traditional gin (and making us never look back). Be sure to make a booking for their distillery tour, where you'll learn about the craft making process and taste some of the renowned gin. We're thirsty just thinking about it.
Pinocchio Restaurant & Bar
Located in Greytown, Pinocchio Restaurant & Bar is owned and operated by husband and wife team, Paul and Elly. Paul comes from a fine-dining background, so expect well-curated dishes presented beautifully, while restaurant manager Elly ensures the floor runs smoothly and guests are welcomed warmly. We heartily recommend the twice-cooked lamb shoulder with citrus and herb couscous, tomatoes and goats cheese and the confit duck leg with parsnip puree, kumara gratin and orange. Or opt to leave the decisions to the chef and select the tasting menu with matching wines—the list changes weekly and features drops from local Wairarapa wineries.
C'est Cheese
An artisan deli in Featherston specialising in New Zealand-made cheese, C'est Cheese is pretty much what dreams are made of. As well as hard and soft cheese, you'll find freshly-made bread, cured meats, chutneys and local chocolate—everything you need for a weekend picnic with friends. There's a dine-in cheese bar where you can watch their cheese being made, before devouring a menu where cheese is the hero. Before you leave, stop by the deli that's stocked with quality products from New Zealand food producers to pick up some treats for the week (or later that night). C'est Cheese also offers an online store and delivery service, so you can get your goodies delivered straight to your door.
Finom
Meaning 'delicate, dainty and delicious' in Hungarian, Finom is a boutique patisserie based in Carterton, Wairarapa. The mastermind behind Finom, Sarah Webster creates beautiful wedding and celebration cakes featuring edible flowers, rainbow-coloured macarons and nut brittle. Sarah's style of baking is influenced by traditional cakes and pastries found in Eastern Europe, and she believes that food should look as good as it tastes. You'll find Finom's pastry at local markets around the Wairarapa and her wedding and celebration cakes are available to pick up. Finom can also ship macarons nationwide—choose a dozen macarons with drool-worthy flavours like salted caramel, passionfruit and cookies and cream.
Schoc Chocolates
Lime and chilli, sea salt, pink peppercorn and coffee and walnut—these are some of the flavour combinations you'll find at Schoc Chocolates (there are more than 80 to choose from!). A handmade gourmet chocolate store, you'll find Schoc Chocolates in Wairarapa's beautiful village, Greytown. Schoc Chocolates are handcrafted using classic techniques, with the beans sustainably sourced from around the world including Tanzania, Java and Papua New Guinea. There are no preservatives in the end result, and you'll spot local New Zealand flavours and ingredients, like lemon, kiwifruit and lavender. A trip to Schoc Chocolates is a must-visit if you're in the Wairarapa, and you can also check out their online store.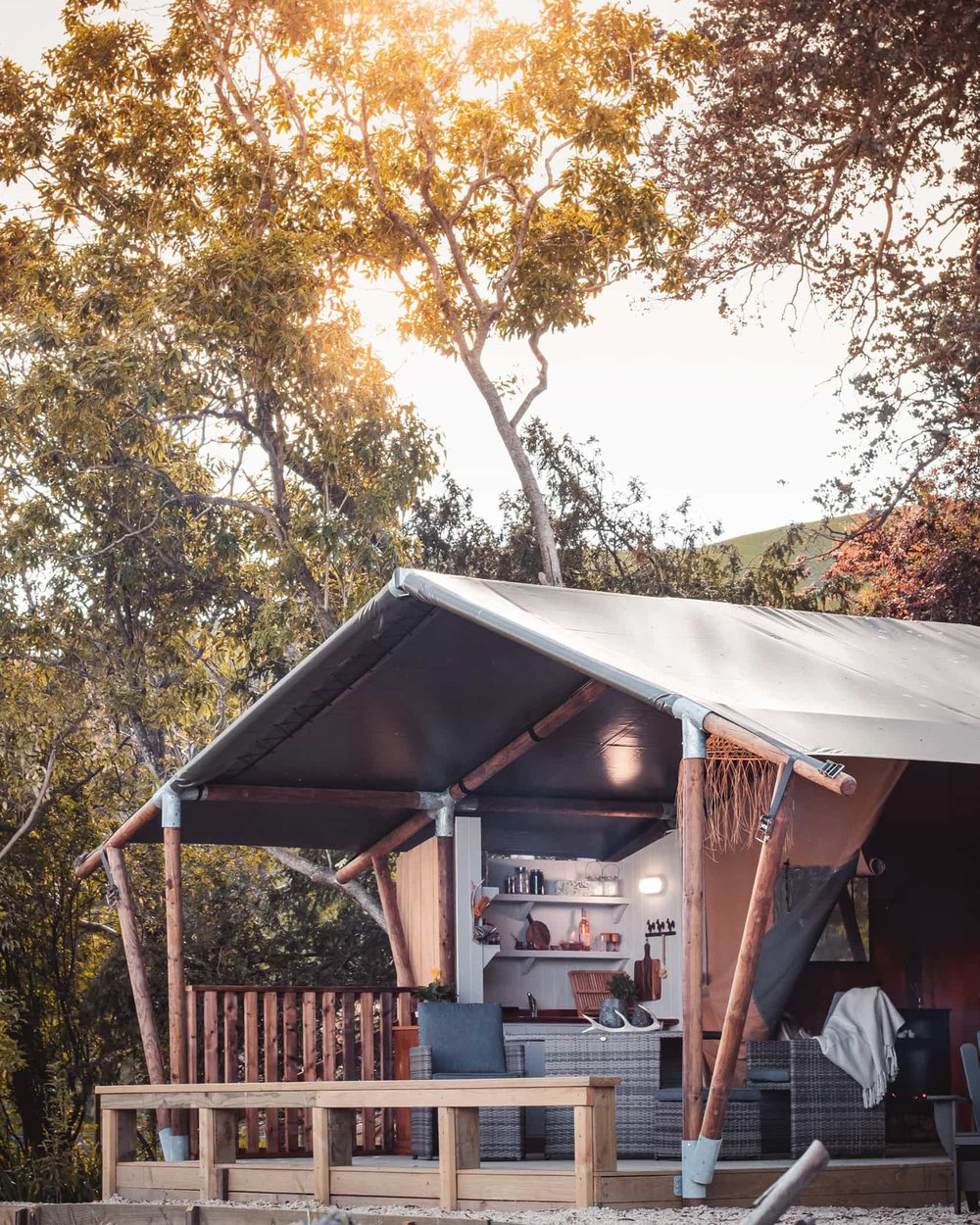 Where To Stay
Peppers Parehua
Situated on a lush green estate overlooking vineyards in Martinborough in the Wairarapa region, Peppers Parehua is a luxurious retreat ideal for special occasions. The elegant cottages and villas are tastefully decorated and the hotel features an onsite restaurant, cellar door for Escarpment Vineyard, tennis court, swimming pool and more. Read a book on the jetty by the private lake, explore the vineyards by bike, tuck into a freshly-made picnic lunch outdoors with a bottle of the region's finest pinot noir and relax in the evening in your hot tub—bliss.
The Martinborough Hotel
Ideally located in the heart of town, spend a few nights at The Martinborough Hotel and feast on world-class food and wine in the Wairarapa region. Originally built in 1882 and has since been restored, the boutique hotel features 20 rooms to choose from—each with unique decor including heritage suites—and an outdoor garden and courtyard to enjoy a drink in the sunshine. Make sure you dine at the downstairs restaurant, Union Square Bistro & Bar—a modern New Zealand bistro with French influence by Michelin-star chef, Adam Newell and his wife, Nicola.
The White Swan
If you're after a weekend getaway, book a night or two at The White Swan. Offering 12 rooms and suites with country charm, enjoy the convenience of staying right in Greytown. The White Swan is home to a restaurant and bar, which showcases the local wine and produce, such as the juicy burger with beef from Greytown Butchery or the Wairarapa beetroot salad with goat's cheese, pear and local honey. Stroll around Greytown and admire the shops, cafes and heritage buildings, wind down in the afternoon with a walk or cycle along the Greytown Rail Trail.
Whitimanuka
Boasting sweeping views of rolling farmland and native bush is Whitimanuka, a private retreat found on the edge of the Wairarapa Valley that's perfect if you're looking to unwind and spend time in nature. Whitimanuka is solar-powered and features warm wooden interiors with locally crafted furniture. There's also a fully-equipped kitchen at the retreat, a super king bed, a luxurious bathroom and an outdoor deck where you can sit back with a glass of chilled wine and nibbles and take in the stunning scenery.
Te Pamu
Experience safari-style glamping at Te Pamu Escape. The spacious tent is nestled among gum trees and set on 850 acres of Wairarapa's countryside. Don't worry, you won't be roughing it at Te Pamu Escape—there's a king-size bed, hot water, fully-equipped kitchen facilities and a flushing toilet. Before you go, order the antipasto platter with local Wairarapa cheese, cured meats, olives and fruit paste, or the BBQ tent package—so you can devour a gourmet three-course meal without having to drive. Afterwards, hop in the outdoor bath and appreciate the peace and quiet at Te Pamu.
Things To See And Do
Putangirua Pinnacles Walk
Lace-up your walking shoes and embark on the Putangirua Pinnacles walk, an approximately three-hour journey where you'll see some of the most spectacular rock formations in New Zealand—no wonder it was used as a film location in one of The Lord Of The Rings' films. There are two main routes that lead to the Putangirua Pinnacles or the lookout. Once there, continue on for a bit longer to enjoy views of Palliser Bay and Lake Onoke. The Putangirua Pinnacles Walk is in Aorangi Forest Park, about one hour's drive from Martinborough, beginning in the Putangirua Pinnacles Scenic Reserve. Pack water and lots of snacks.
Visit A Wildlife Centre With A Conservation Approach
See rare New Zealand Wildlife, including New Zealand's only white kiwi—Manukura—at the Pūkaha National Wildlife Centre in Wairarapa. Other native birds including kokako, stitchbirds, takahe, kakariki and black teal may be spotted in the unfenced sanctuary, too. The Wildlife Centre is also where some of Aotearoa's endangered species are bred and returned to the wild. Pūkaha National Wildlife Centre is non-profit and all of their proceeds go back into their conservation efforts. There are short strolls through the forest to see giant rimu, rata, kahikatea and tawa trees, and afterwards, enjoy something to eat at the café.
Cycling The Vines In Martinborough
Taste some of the region's best wine on a cycle journey of Martinborough with Green Jersey Explorer Tours (lycra shorts optional). Opt to hire your own bike for the day and ride to the vineyards at your own pace, stopping at cellar doors for a drink and bite to eat as you please. If you're a keen rider, Green Jersey Explorer Tours also offer multi-day adventure tours—including the three-day Remutaka Cycle Trail—where you'll explore different parts of the country by bike past ever-changing landscapes and quaint Kiwi towns.
Shopping In Greytown Village
A trip to the Wairarapa wouldn't be complete without a day (or several) spent wandering around the shops in Greytown Village. You'll find Wairarapa's oldest town, Greytown, an hour and a half from Palmerston North or an hour from Wellington. Expect independent clothing boutiques, homeware stores, bustling cafes, colonial buildings and historic trees. Greytown is also a foodie's heaven—make sure you visit Schoc Chocolates for a handcrafted treat and Pinehaven Orchards for a real fruit ice cream.
Visit The Wairarapa Coast, Castlepoint And Cape Palliser
Take a few days off work and embark on a road trip along the scenic and rugged Wairarapa Coast. Visit the small beachside town of Castlepoint, which is 64km from Masterton, and see one of the most stunning—and iconic—sights along the Wairarapa coast, the lighthouse. There are safe places to swim at Castlepoint, scenic tramps and great fishing spots, too. Another spot to visit along the Wairarapa Coast and an hour's drive from Martinborough is Cape Palliser— the southernmost point of the North Island and home to the North Island's largest fur seal colony.
Festivals
Toast Martinborough Wine & Food Festival
Coined as New Zealand's premier wine, food and music festival, Toast Martinborough is a unique one-day event held across more than eight wineries in Martinborough. The festival highlights the area's award-winning wine and food while patrons enjoy live music and soak up the glorious sunshine. Once you get there, choose which vineyards you'd like to visit, jump on the free shuttle (or walk) and sip, eat, cheers and laugh the day away. Tickets are available to be purchased online from the Toast Martinborough website.
Unfortunately due to COVID, Toast Martinborough has been cancelled for this year. Thankfully the team behind the festival has assured us Kiwis that they'll be back next year.
WAIRARAPA WINES HARVEST FESTIVAL
Set underneath a canopy of native trees, this annual town-meets-country festival, held on the banks of the Ruamahanga River in the Gladstone region, is all about quality produce. Equal parts great wine, great food and great entertainment, it's one of the best places to sample some of the regions bigger and smaller boutique wines. You'll know where to find us!
With endless wineries, stunning scenery and an abundance of mouth-watering foodie adventures to embark on, it's safe to say we're already packing our bags. To discover more about an escape to Wairarapa, click here.
Editor's note: This article is sponsored by WairarapaNZ and proudly endorsed by Urban List. Thank you for supporting the sponsors who make Urban List possible. Click here for more information on our editorial policy.
Image credit: Tourism New Zealand