Home to the Beehive, Peter Jackson, and a fountain made of buckets, Wellington is the perfect mix of modern innovation and eclectic spaces, places, and people.
Come closer, because here is a list of the top things to do in Wellington.
Get Amongst Some Street Art
If the weather's on your side, hit the streets and check out some of the ever-changing street art. From the shark wall to the David Bowie mural, Wellington's streets are splashed with the work of a ton of talented artists—and best of all, the walls make for a sweet Instagram pic backdrop.
Visit The City Gallery Wellington
If you're in the mood to get cultured, then City Gallery Wellington is the place for you. Adjacent to Civic Square, the gallery's ever-changing exhibits cannot be missed. Showcasing national and international contemporary art, the gallery works with artists, other galleries, collectors and an extensive range of organisations and businesses to make sure that the exhibitions and events are relevant to modern life. Pop in at midday on a weekend for one of their exhibition tours, or swing by on the first Thursday of the month for 'Tuatara Open Late'—the perfect blend of art, food, music, talks, and beer, what more could you want?
Experience New Zealand Wildlife At Zealandia
Zealandia is 225 hectares of urban eco-sanctuary, and home to a huge variety of native New Zealand wildlife. Head there during the day to see some of New Zealand's most special critters in their natural habitat, or pop in later on for one of their night tours for weta, glow-worms, and if you're lucky, one of their 130 little spotted kiwis.
Paekakariki Escarpment Track
Also known as the 'stairway to heaven' walk, the Paekakariki Escarpment Track is a great way to spend an afternoon... and have an epic workout. The track is on the Kapiti Coast and about a 35-minute drive from Wellington CBD. The 10km track will take you around three to four hours to complete and can be walked in either direction. You'll climb a steep and narrow track to 220 metres above sea level where you'll be rewarded with spectacular views—bring your camera.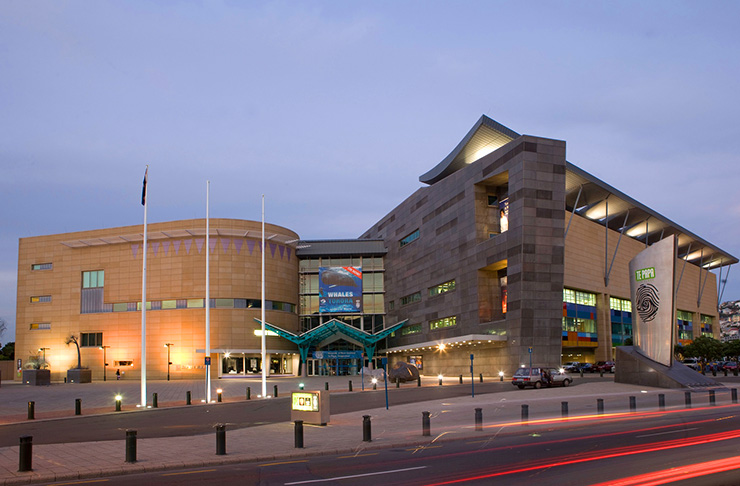 Immerse Yourself In Te Papa's Exhibitions
Te Papa Tongarewa literally translates to "container of treasures", and that's exactly what it is. Our national museum is interactive, innovative, informative and—best of all—entry is free. Spend an afternoon in Te Papa and you will most definitely emerge feeling not only a little smarter but also super proud of our cool little country. Be sure to check out the moving Gallipoli: The scale of our War exhibition that tells the story of Gallipoli through the eyes and words of eight New Zealanders. The most stunning part of the world-class exhibition is the models of the eight subjects created in mind-blowing detail by Weta Workshop—they're 2.4 times human size.
Be Delighted By Cuba Street
At the heart of Wellington's CBD is the famous Cuba Street. As a haunt for all things weird and wonderful, Cuba Street is in a league of its own. Showcasing a sprinkle of Bohemia, it is dotted with some of Wellington's best cafes, vintage stores and buskers. Pop into Fidel's Cafe for one of their famous milkshakes, lounge in the courtyard at Olive, and shop up a storm at all the swoon-worthy vintage stores. Cuba Street can make you feel hipper just by being on it.
Treat Yourself To Some New Threads
Speaking of shopping up a storm, Wellington provides the goods when it comes to clothes. If you're looking for something ethical, fashion-forward and comfy, then look no further than Wellington label Kowtow. In Te Aro, you'll find the brand's dreamy flagship store with high ceilings, polished concrete floors and—of course—an abundance of beautiful clothes. Wellington is also home to the likes of ENA, twenty-seven names, Emporium and Madame Fancy Pants.
Catch A Flick At Boutique Light House Cinema
Okay, we've got to be honest—sometimes, even in summer, Wellington weather leaves much to be desired. Because of this, it's always important to have a plan B for when a nice day turns into gale-force winds and horizontal hail. Next time you get caught in the rain, make a beeline for one of Light House Cinema's boutique theatres. Not only do they screen a wicked range of indie and blockbuster films, but they also have comfy couches, frozen pineapple lumps, and a very tidy wine and beer range.
Wander Around The Botanic Gardens
Catch the historic bright red cable car up the hill to the Botanic Gardens and soak up some vitamin D in amongst native bush, rose gardens, and the greenhouses. If you're in Wellington for the warmer weather, make sure to visit the Botanic Gardens for their annual 'Gardens Magic' events. With three weeks of light installations and free concerts hosted under the trees, the gardens make for a perfect post-work picnic spot.
Spend Sunday At The Harbourside Market
Wellington's Harbourside Market has been providing the goods each and every Sunday since 1920. The market boasts not only fruit and veggies, but also artisan goodies, delicious baked goodies and bunches of fresh, vibrant flowers. Come armed with your reusable bags and stock up for the week with produce, free-range eggs and meats direct from local farms. Don't make the rookie mistake of having breakfast before you arrive—you'll want to eat your way around the numerous food trucks that join in on the fun.
Soak In Panoramic Views From Mount Victoria
Let's be honest: no round-up of the best things to do in Wellington would be complete without mention the city's famous Mount Victoria. Pop on your activewear (or hop in your car) and head to the summit of Mount Vic for the city's most spectacular views. Rising almost 200m above the city, the lookout showcases panoramic views of Wellington city, the harbour and beyond. For an extra picturesque experience, head up at sunrise or sunset with a picnic and take it all in.
Sip On A Craft Beer
Claiming the prestigious title of 'Craft Beer Capital of New Zealand', Wellington is home to daring and crafty brewers, an abundance of beer bars and New Zealand's biggest beer festival: Beervana. Sip your way around the city and check out 91 Aro (aka Garage Project's Taproom), The Third Eye (aka Tuatara's 'temple of taste') and wrap things up at Heyday Beer Co on Cuba Street. The latter is known for its welcoming, laidback vibes and chips with Kiwi onion dip—yum. If cocktails are more your thing, head to The Arborist's rooftop bar for a tipple in the sun.
... And Make A Brew Of Your Own
Total beer connoisseur? Then you've got to put your money where your mouth is and brew some of your own beaut bevvies at The Occasional Brewer. Here they've got 16 purpose-build brew stations for your craft your own beer from scratch. No prior experience is necessary and the experienced staff will talk you through the ins and outs. The best part? You'll walk away with the 40 litres of craft beer you produce.
Wander Along Oriental Parade
Last but not least... Is there anything more Wellington than a meander along Oriental Parade?! Great for dog spotting (and sometimes whale spotting), make the most of the good weather and wander along to Oriental Parade Beach. Buy an ice-cream, soak in the views, and you'll realise why the locals love to brag that you "can't beat Welly on a good day!"
Image Credit: Leo Trafford, WellingtonNZ, Pivot