Asian fusion is taking over Auckland, and we can't get enough of the deliciousness. Crispy roti, moreish dumplings and slurp-worthy curries… we want it all and we want it now.
But not all Asian fusion is created equal. It takes a special kind of restaurant to stand out from the rest. Enter Ponsonby fave: Mekong Baby.
Specialising in Southeast Asian fare, this one-stop restaurant is perfect for any occasion. Whether it's a family feast, romantic date or work do, Mekong Baby caters to everything and everyone. Here's why we're so obsessed.
1. First Things First, They Do The BEST Pork Belly In Auckland
It seems backward to kick things off by highlighting a particular dish. But trust us, Mekong Baby's pork belly deserves the first (and final) word. There's a good reason why this deliciousness is the restaurant's most-popular dish—it's oh-so divine. Think tender meat and crunchy crackling, dripping in a mouth-watering caramelised chili sauce. Yep, the pork belly alone is enough of a reason to visit.
2. … And The Rest Of The Food Is Equally Divine!
Pork belly aside, the rest of Mekong Baby's menu is lip-smackingly good. Serving up some of the city's best Southeast Asian fare, your taste buds are in for a whooole lot of flavour. No shortcuts are made in the kitchen, with hand-ground spices and fresh produce sourced daily. Devour everything from crispy soft-shell crab and Kingfish sashimi to red beef cheek curry and not-to-be-missed pad see ew. Order a bunch of dishes to share and brace yourself for a feast. Or, better yet, go for the 'let's eat!' option for a selection of chef faves.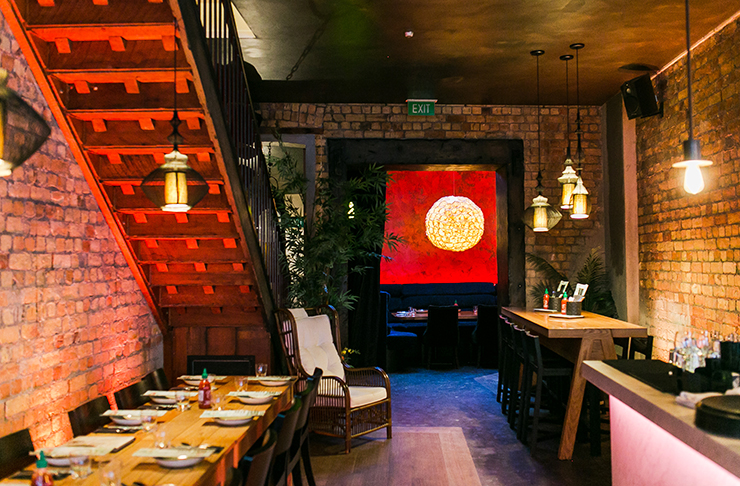 3. The Restaurant Is Beautiful
Perched on Ponsonby Road, Mekong Baby is an intimate oasis away from the hustle and bustle outside. The dim lighting creates warm, cosy vibes, with a hint of romance—table for two, anyone? You'll be enchanted by the exposed brick walls, sprawling murals and the stunning powder room (we know it sounds odd, but a trip to the bathroom is a must!). Have a casual meal and/or drink in the bar area, or nab a table in the beautiful dining room for a more formal affair.
4. They Have Your Next Event Sussed
Mekong Baby sure know how to throw a party, no matter how big or small. First, there are three impressive private dining areas. Pull back the curtain in their romantic 'opium den' booth, feast around a cosy fireplace, or head upstairs to find an expansive (and beautiful) function space. We're big fans of their table-bending banquets—seriously, you and your party-goers are in for a feast to remember.
5. Just Wait Until You See The Drinks List
Bring your reading glasses, because Mekong Baby's drinks menu is an impressive 30 pages long (!). The cocktails are innovative and original, infused with Asian flavours—we're talking chili ginger mojitos, rose lychee martinis and chili guava margaritas. There are also spirits, craft beers and an endless wine list curated by master sommelier Cameron Douglas. A lot of time and effort goes into creating the list—Cameron has the (very hard) task of drinking hundreds of wines to find the best of the best. You'll want to drink (and eat!) your way through all of Mekong's offerings.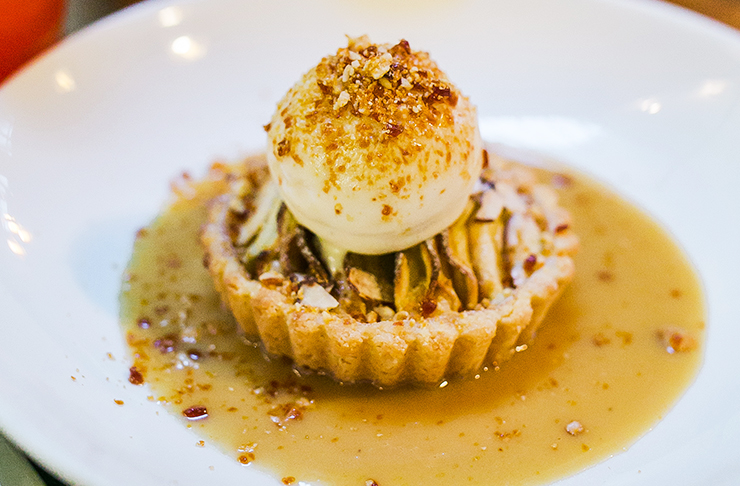 6. Stick Around For A Happy Ending
Mind out of the gutter, folks. We're talking about dessert (duh). Each dessert is as scrumptious as the next, with creations such as coconut sago, chocolate hazelnut mousse and a caramel chocolate sundae. Our pick of the bunch? The apple and walnut tart topped with the most divine miso butterscotch ice cream. If you prefer to drink your dessert, Mekong Baby has a beautiful array of dessert wines.
Want to experience the Asian fusion delight for yourself? For more details, including opening hours, click here. Oh, and don't forget to order that pork belly!
Editor's note: This article is proudly sponsored by Mekong Baby and endorsed by The Urban List. Thank you for supporting the sponsors who make The Urban List possible. Click here for more information on our editorial policy.
Image credit: Lydia Arnold