Us Auckland folk love three things: good food, good booze and lounging around harbourside. So, it's a good thing we've got an absolute abundance of A-MAZE-ING establishments that do just that. From floating pavilion restaurants to oceanside rooftop bars (that's kind of our thang, ya know?), Tāmaki Makaurau will leave you spoilt for choice!
To make things a little easier for you, we've done some research and scouted out some of the best oceanside hot spots. And, with the sun still out in full force, what better time to make your way down this list!?
So, without further ado, here are the best spots to drink by the ocean.
Cheers.
Bellini
Princes Wharf
Located on Princes Wharf, Bellini sits on the Waitemata Harbour (literally). The cocktail bar boasts floor-to-ceiling windows, showcasing views of Auckland's CBD and the glistening water. And, if stunning harbour views weren't enough, Bellini takes things next next level with theatrical smoking cocktails. Yep, dry ice takes their innovative concoctions from amazing to super amazing. Perfect for your next girls' day out, Bellini also hosts cocktail masterclasses and high tea paired with bubbly, cocktail teasers or whisky. We like their style!
Grangers
Half Moon Bay
If inner-city vibes aren't your thing, look no further than eatery-slash-drinkery, Grangers. Overlooking Half Moon Bay's marina, this drinking hot spot is a scenic ferry ride from downtown Auckland—no sober driver required. The bustling local is known and loved for its good, honest Kiwi fare and stellar views. Make an afternoon of it and graze your way through a mammoth seafood platter, Waiheke oysters (hand-delivered to the door by the ferry's crew) and their signature cheeseburger. Wash down with a spiced piña colada and you're away laughing.
Devon On The Wharf
Devonport
What's better than an amazing cocktail? An amazing cocktail with with equally amazing views, obvs! Experience the best of both at Turkish-inspired restaurant and bar, Devon on the Wharf. Perched on Devonport Wharf, the aptly named spot boasts views of the harbour and beyond. Pull up a stool and work your way through the extensive cocktail menu or go for a margarita on tap. No visit is complete without trying the flavoursome fare. The much-loved platter is a good place to start with hummus, falafel, olives, Turkish mussels and more.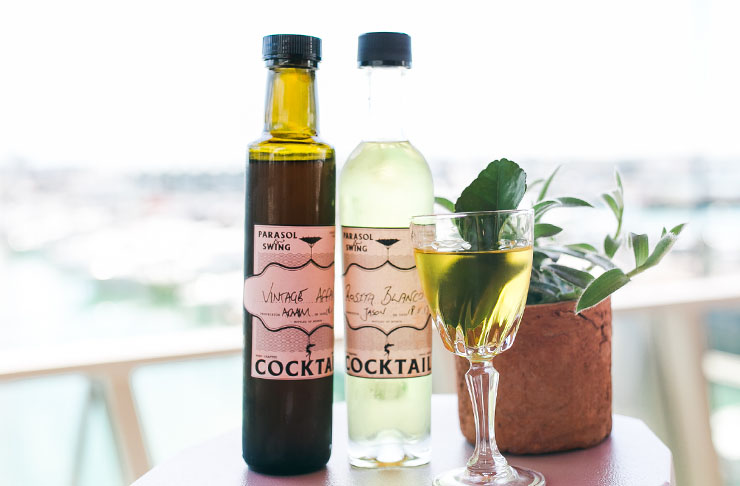 The Parasol & Swing Company
Viaduct
Sip on a cocktail or two at Auckland's oceanside bar The Parasol & Swing Company. Sister bar of Mea Culpa and nestled between the neighbouring bars of Dr. Rudi's and Soul Bar, it spans two levels and is the perfect little spot to soak up the afternoon rays. With an absolute winner of a hospitality team backing this bar, you'll find craft cocktails and beers as well as boutique wine and to match is an equally to-die-for menu created by O'Connell Street Bistro chef—Mark Southon.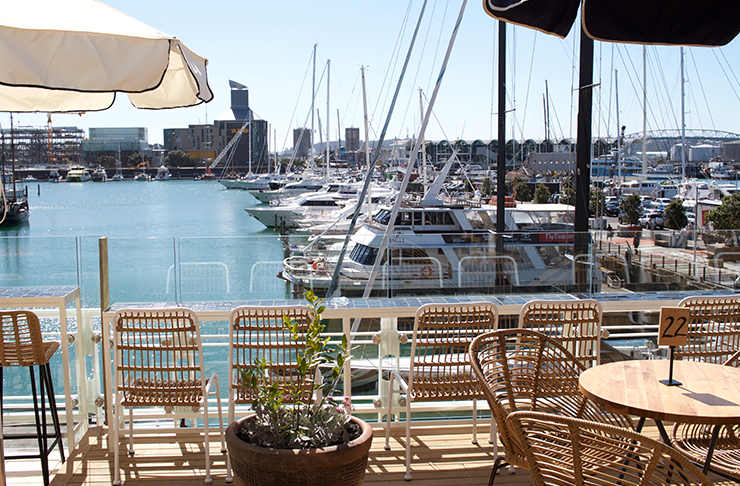 Dr Rudi's
Viaduct
Bowling alleys, craft beer and spectacular ocean views is what Dr. Rudi's is alllll about. You can be guaranteed a fantabulous time if you end up here, because this hot spot is humming from the moment they open to the moment they close. Perfect for yacht gazing the day away, they also have their very own on-site brewery serving up ice cold brews straight from the tank and into your glass. If craft beer's not your thing, that's not a problem, because they make a pretty damn good cocktail. Our pick is The Frisky Sailor, with spiced rum, feijoa puree, ginger syrup, fresh lime and kombucha.
Ostro
Britomart
Ostro is renowned for its spectacular ocean views and epic menu created by the über-talented chefs, Josh Emett and Daniel Na. You'll find options like crispy skin poussin, beef wellington, Ora king salmon and seared tuna. And you better believe they've got an equally-epic cocktail menu and wine list to boot. Whether it's a girl's night out, or a business lunch in the sun, Ostro is a winner all round.
Jack Tar
Wynyard Quarter
This lively, alfresco style eatery and bar is a hot spot among oceanside diners. Situated in Auckland's Wynyard Quarter, Jack Tar's offers up a vast array of bevvies, with epic craft beer creations, a fab wine list and a cocktail menu to get excited about. Featuring options like the berry colada with Malibu, crème De Cassis, coconut cream and berry juice and the Rogue Gin Fizz with Rogue society gin, lemon juice, sugar syrup and soda garnished with orange and mint, it's delightfully delicious!
Euro Bar & Restaurant
Quay Street
Another humming Viaduct eatery for people wanting to take in the stunning views of the Waitemata Harbour is Euro Bar and Restaurant. This trendy little spot has been a staple in the Auckland Viaduct scene for many years and shows no sign of slowing down! Their menu offers creations like smoked Te Mana lamb rump, free range pork belly and whitebait fritters and of course we can't forget about the drinks, which have a Champagne list to put any other to shame! We'll take a bottle of the Louis Roederer 'Cristal Rosé', thanks… coz dreams are free.
The Lula Inn
Viaduct
Ahhhh Lula's. We really do love you! If it's a refreshing drink you're after, then park yourself in their floating pavilion outdoor bar and sip away on a cocktail or two. Their original Lula-style menu includes Lady Lula with Finlandia vodka, Cointreau, egg white, blueberry, lime and granny smith apple. Personally, we can't go past the summery Pacific Punch with Mount Gay silver rum, pineapple and dairy-free coconut ice cream. Better yet, this stylish little spot whips up Kiwiana fare with a twist. Pair your drink with smoked local oysters, beer-battered fish or an unmissable fish Kokoda with wasabi coconut chips.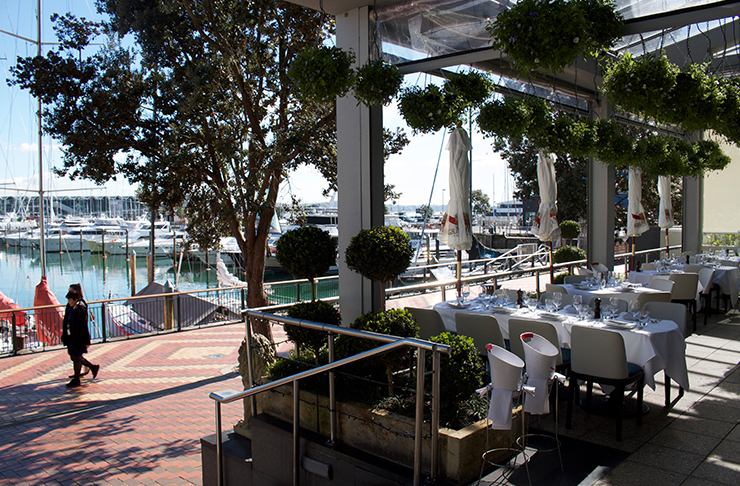 Soul Bar and Bistro
Viaduct
For the life and soul of the party, check out another one of Auckland Viaducts staple venues—Soul Bar and Bistro. Another establishment that's been around for years, you'll find quirky options like the Jude's Law with activated charcoal-infused gin, raspberry gomme, mint and lime or the 10-year-old monk with yellow chartreuse, green chartreuse, laphroaig 10 year, maraschino liqueur, lemon and peach bitters. Sip on a few of these bad boys while taking in some of the epic live music Soul Bar has to offer and you've got yourself one hell of a night out—oceanside, of course.
The Conservatory
Wynyard Quarter
The Conservatory is a picture-perfect spot to park up on a sunny afternoon and lounge the day away in their indoor-outdoor area. Lap up their ocean views while sippin' away on classic cocktails such as the Moscow Mule, Long Island Ice Tea or an Espresso Martini. Or, for something a little different, wrap your mouth around their martini featuring, vanilla vodka, Chambord, passionfruit, lime and orange juice or their Margarita sunrise with tequila, Grand Marnier, lime and orange juice. Pair any of these drinks with a delectable platters and you're afternoon is good to go.
Regatta Bar
Takapuna
This nautical bar is a fave among Takapuna locals, sitting oceanside, with a stunning view of Rangitoto Island. It's the perfect little spot to sip away on a wine or three in the afternoon sun, dining on options such as the wood-fired market fish, shellfish risotto, Orere point lamb and the classic fish 'n' chips. Pair them with a bottle of red, white or rosé and take in the stunning North Shore views all day long.
The Nightingale
Viaduct
The Nightingale is another trendy hot spot among harbourside drinkers. Brought to you by the creators of über-cool, Cassette Number Nine, you'll find a relaxed menu featuring options with sharing platters, burgers, beer battered fish and buffalo chicken wings. Wash them all down with an epic craft beer from the bar. The amazing food and beer isn't the only thing to get excited about here though, these guys also offer up live music, DJ's and comedy nights all week long! So, for great food, great booze and great entertainment, you know where you need to go.
White + Wongs
Viaduct
Asian fusion is the name of the game at White + Wongs and did we mention they have a pretty sweet seaside area for eating and drinking the day away!? Their menu features exotic options like dumplings and buns, soups, Peking duck, Roti rolls, curries…. the list just goes on! And, they have mouth-watering Asian-themed cocktails like the Jade Slipper with Absolut vodka, Midori, Britett coco liqueur, pineapple and lime juice, the Blushing Buddha with Arette Blanco tequila, Cointreau, lime juice and mango and the super sweet Mandarin Daquiri with Havana Especial, Cointreau, mandarin liqueur, lime juice and bitters. Ahhh, yes please!
De Fontein Belgium Beer Cafe
Mission Bay
Last but certainly not least on our picks for where to drink by the ocean is De Fontein Belgium Beer Café, serving up—yep, you guessed it—beer! These guys really know their stuff, with a complete menu dedicated to pages and pages of craft beers from all over the world. Whether you're a craft beer enthusiast or a beginner beer drinker, you'll be sure to find something to tickle your palate on this menu. Not only is their beer to die for but their menu is a winner as well. Dine on options like meaty sharing platters, Belgium sausages, spicy pork ribs, Sirloin steak frites and chicken Vol Au Vent, all while soaking up the spectacular views of Rangitoto Island and Mission Bay from their outdoor patio area. It's the perfect place to soak up the afternoon sun.
Sand Bar
Waiheke
Just a hop, skip and jump away from Auckland's CBD, on the laid-back Island of Waiheke, is where you'll find Sand Bar. This friendly and relaxed spot offers primo sea views out to the Coromandel as well as a top notch bar-style snack menu, featuring mouth-watering options like the smoked pulled pork sliders, chilli beef nachos, black bean salad and mac'n'cheese spring rolls….. droooooool. To accompany the bar menu is an equally awesome cocktail list— our pics are the Wai apple pie with apple and pear liqueurs, cinnamon whiskey, apple juice and whipped cream and the Smoke on the water with Joven Mezcal, Stolen smoked rum, cucumber, lime, fresh mint and ginger beer.
Sunset Restaurant And Bar
Bucklands Beach
Sunsets, sea views and cocktails are what this Eastern beach establishment offers up. Their delicious sea food based menu features options like the Fisherman's Basket with crumbed prawns, scallops, salt and pepper calamari and tempura fish bites, they've also got the Mussel Marinière with mussels steamed in white wine, shallot, garlic, cream and herb sauce…. It's pretty damn amazing! Wash your meal down with a cocktail or three from their menu, all while soaking up the magical sea views and stunning sunsets at dusk and you've got yourself a picture-perfect place to spend an evening with that someone special.
Cove
Waiheke
Located on Waiheke Island is Cove— Part of the Deep Creek Brewing family. This ocean side bar is a fave among craft beer enthusiasts, featuring a "bites and brews" menu, with a tasty selection of their own Deep Creek brewed beers and an equally tasty menu to match. Their bar style menu features easy snacking options like chicken wings, burgers, tacos, mussels and ribs and the view of Oneroa beach is second to none.
Deep Creek Brew Bar
Browns Bay
Another of the Deep Creek brewing family is Deep Creek Brew Bar, situated in Browns Bay right across from the beach. It's the perfect place to park up for the afternoon, to enjoy a meal and a brew then head across the road for a dip in the sea. They're open for breakfast, lunch and dinner, they have live music every Friday and Saturday night aaaaaaand their beers are pretty damn amazing! They've got 18 rotating taps of award-winning beer, so you can be sure there will be somethin' to tickle every taste bud!
Coast
Orewa
The final addition to the Deep Creek Brewing family is Coast, located in the heart of Orewa and dishing out stunning ocean front views! Like its sister bars, Coast offers up a "bites and brews" menu featuring easy options like fish'n'chips, soft shell tacos, BBQ rib bites, fishcakes and fritters and of course, it wouldn't be a Deep Creek bare without the brews! You can bet that they've got an epic line-up of hand crafted brews ready for drinking and from the top deck of their two story digs, it's one of the best spots to watch the sunset over Orewa beach!
WANT MORE? Check out Auckland's Best Decks To Wine And Dine On.
Image credit: The Conservatory, Kellie Blizard, Parasol & Swing, Dr. Rudi's, Soul Bar & Bistro
SaveSave