Hello lovers. Valentine's Day is just around the corner—14 February to be exact—so if you haven't made plans yet, you'd better hustle. Whether you love one or many, you're looking to sweep your fellow lovebird off their feet, or you're thinking about taking your situationship to the next level, a romantic Valentine's Day date is sure to have them catching all the feels. Cupid's at the ready and we're crossing our fingers for fireworks.
Here are the most romantic places to wine, dine and treat your lover in Auckland this Valentine's Day.
Come Share the Love at Eatery At Eastridge
Kohimarama
Need a plan that doesn't require actual formal plans or pre-booking? Pop by The Eatery at Eastridge—aka one of the best places out East to get spoilted to seven types of cuisines under one roof—for their Valentine's Day takeover from lunch through to dinner. Watch as the place gets a, quite literal, candy-coated takeover courtesy of cute candy hearts galore, and be wooed from 5pm by soulful grooves, a live saxophonist, spot prizes—oh, and your date of course. Bring your friends, family, main squeeze, or your mum, love is for everyone after all.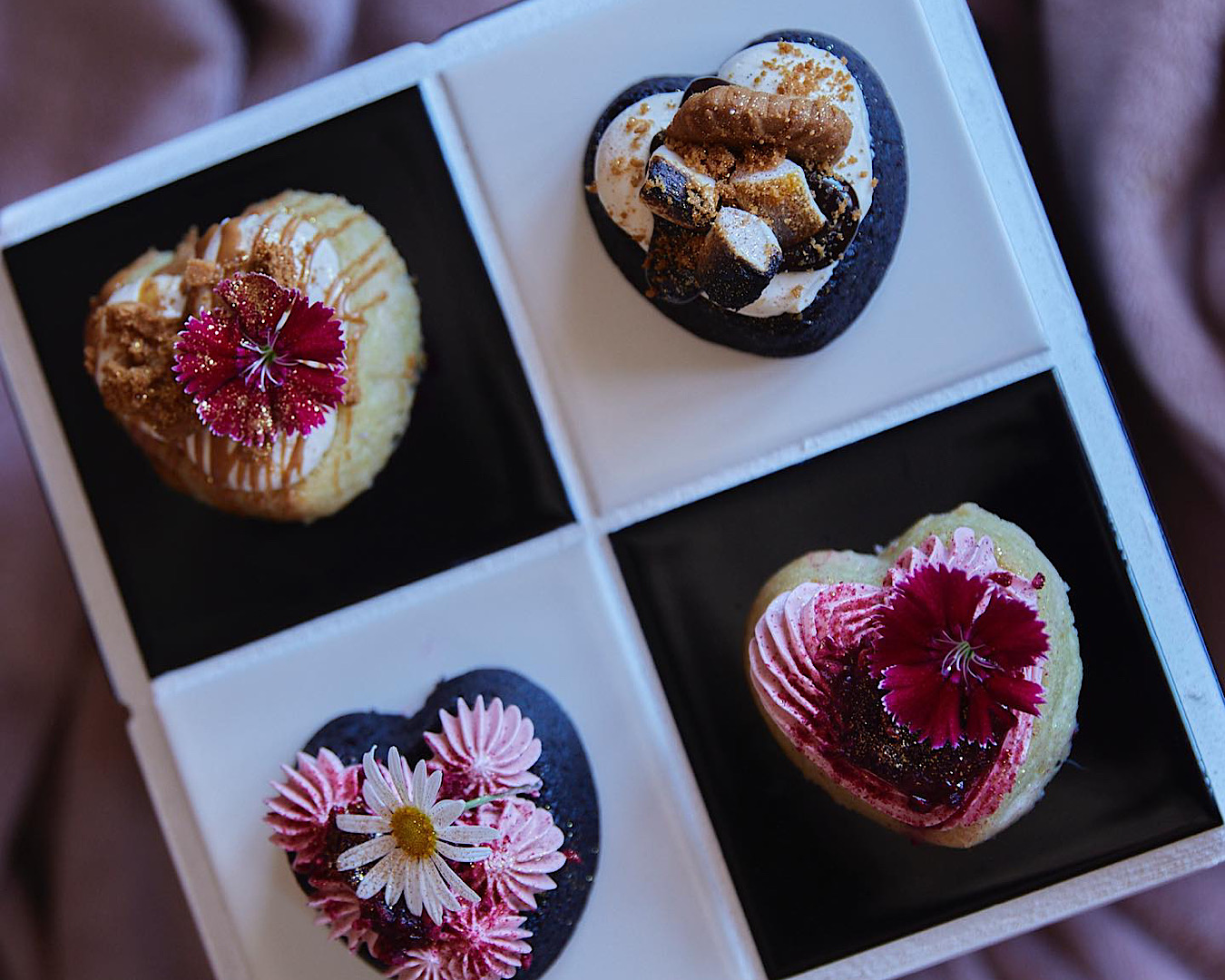 Valentine's Day By Neat.
Pick Up From Dominion Road
If the love of your life has a sweet tooth and you're looking to make a gesture that'll leave them weak at the knees, you're going to want to order a sweet somethin' somethin' from the plant-based Valentine's Day lineup by Dominion Road newcomer, Neat. Choose from a 'Heart Attack' s'mores cake filled with vanilla buttercream, chocolate ganache, biscoff pieces and toasted marshmallows; a vintage 'Cherry Bomb' heart cake or a box of cuties in assorted flavours (above). 'Cause boo definitely deserves to have their cake and eat it too.
Deliciously Unromantic Dining By Shop 23
St Kevins Arcade
For something completely different, head to St Kevins Arcade to attempt to hand-feed your Tinder date in a hilarious tonic to Valentine's sometimes overwhelmingly loved-up vibe. Part of Karangahape Road's iconic Anti-Valentine's party you'll be served a bunch of sharing plates and an assortment of utensils to get the mahi done. PSA: this is free and you'll score a delicious gift for the road.
Valentine's Day Set Menu By MoVida
Tyler Street
Score a table at MoVida this Valentine's Day and you'll receive sangria when you waltz through the door. How delightful. Next, you'll enjoy a selection of aperitivi including Spanish olives, lightly cured Big Glory Bay salmon and Jamon Iberico. But the party doesn't stop there, no no. You'll then be treated to a whirlwind of delectable tapas and larger plates before finishing with churros and Spanish drinking chocolate, flan and a selection of petit fours. All this is for just $135 per person.
A Special Valentine's Offering By Bar Magda
Cross Street
Subterranean with exposed brick and lit in sultry reds, Bar Magda is an intimate setting that makes for the most romantic Valentine's dinner and that's even before the swoon-worthy food arrives at your table. This Valentine's Day Bar Magda is serving two three-course journeys—one featuring kai moana and the other a meat lover's paradise. Both menus include two aperitifs and a cocktail each or bottle of wine to share, all of which are guaranteed to enchant your taste buds and bewitch the ​senses as you stare into each other's souls. Swish.
Valentine's At Gochu
Commercial Bay
If you've had the good fortune of spending a Valentine's Day at Gochu already, you'll know they hold nothing back from their special Valentine's Day menu. The only thing to do next? Book in for round two. This year's feast comes as a set course of $75 or $95 with a glass of bubbles on arrival, and you can be absolutely certain to be stoked with every single bite.
Vale Day By Atelier
Karangahape Road
Always a treat, if you're looking for a Valentine's Day meal where the food is elevated and the vibe is a beautiful mix of relaxed and boujee, you can't go wrong with Atelier. French cuisine is the foodie language of love after all. Speaking of, their Le French Love cocktail with vodka, Chambord, cranberry, apricot and Méthode Brut would be the perfect starter. As for food, you can order an array of sharing plates but we'd recommend opting for the Trust The Chef Selection and sitting back as all the most delicious dishes arrive at your table.
Valentine's Day Dinner By Andiamo
Herne Bay
Does the ultimate Valentine's Day dinner begin with a glass of G.H. Mumm Cordon Rosé Champagne on arrival? We think so. Book you and your boo into Andiamo's Valentine's Day dinner for a three-course menu worthy of Cupid himself. Each course will showcase seasonal ingredients with a distinctly Andiamo twist. Think melon-spiked burrata or oysters, market fish 'puttanesca' or ricotta agnolotti with burnt butter and mint, and Andiamo's iconic pistachio pannacotta cannoli. It'll be love at first bite.
Valentine's Day By The Caker
Pick Up From Karangahape Road
The Caker is a classic choice when it comes to Valentine's Day treats and this year is no exception. Serve your better half one of these heart-shaped Valentine's Day cakes, and they'll be very happy indeed unless, of course, you accidentally eat it before you can give it to them. Choose from strawberries and cream, dark chocolate amaretti (gluten-free friendly) or banana cinnamon peanut butter (vegan-friendly) in single-layer mini heart, double-layer heart or mega-iced large heart sizes. Delightful!
Broken Heart Gin
In A Glass Near You
For a Valentine's Day date that's whimsical and more than just a little bit boozy, why not bequeath your beloved a bottle of Bella - Wild Plum Gin Elixir? Created in collaboration with Annabelle Langbein and distilled in Queenstown by Broken Heart Spirits, this cheeky tipple was a sell-out at the recent Auckland Gin Festival and it's easy to see why. Tangy plums married with notes of rounded spice, pepper, liquorice with a hint of almond and, of course, premium gin, one sip and your date will be all a-flutter.
Valentine's High Tea By Cordis With TWG
Symonds Street
Planning on whispering sweet nothings to your beloved? Get super cute with a dainty Valentine's High Tea date at Cordis' Chandelier Lounge. This cute-as-a-button collab between Cordis and luxury tea brand TWG is pulling out all the stops. Expect sweet corn and honey pannacotta, zucchini roulade, strawberry and pistachio tarts, freshly made scones with clotted cream, a glass of champagne and a couple of other surprises too.
Valentine's Day Dinner By Cordis
Symonds Street
High Tea not filling enough for your lover? Unleash them on Eight's tantalising buffet instead. With eight unique kitchens slingin' everything from freshly rolled sushi to authentic Indian curries, and don't forget the dedicated dessert station (there's a chocolate fountain mmmkay?), this is foodie heaven. And for just $189 per person, not only can you eat to your heart's content, but you'll also receive a complimentary glass of Louis Roederer Brut Premier Champagne, chocolate and the chance to offer your date The Final Rose (don't pretend you don't know what we're talking about).
DOE-lentines Day Box by DOE Donuts
Grey Lynn
Woo your lover with donuts this Valentine's Day. Specifically, the DOE-lentines Day box collab from by DOE Donuts and Floral Stylist. Each box comes topped with a gorgeous rose and one or both of a chocolate ganache-dipped heart stuffed with sweet vanilla custard or a white chocolate ganache-dipped heart filled with strawberry mascarpone cream. The best part? Optional candy message toppers ILY!, Be Mine, XOXO and the ever-classy 'You up?' ensure every base is covered.
Valentine's Day Feast For 2 By Home Spice
Wherever You Like
If you keep getting V-blocked (that's V for Valentine, obviously) by booked-out restaurants, Home Spice's Valentine's Day Feast For 2 might be just the ticket. With a single click, you could have a meal of epic proportions delivered to your door so you can focus on creating a romantic setting. On the menu? Vegetarian curry, dal, rice, sides, flaky roti, and a bottle of paired organic wine from Everyday Wine. Better still, your meal will be delivered in a stainless steel dabba that can be used over and over again. A tick for love and a tick for the planet.
Valentine's At Ahi
Commercial Bay
Ahi means fire and we don't know about you, but that's definitely something we want to feature on our Valentine's Day. Besides, if you met your lover on Tinder, it'd practically be rude not to head here. The ever-evolving seasonal menu showcases suppliers and growers from all over Aotearoa so you know it's going to be top-notch. Choose your own adventure from their menu or get amongst their set menu. Just be sure to partake in their gorgeous Naked Mallowpuff. It'll be the second-best thing you put in your mouth that night…
Looking for some last-minute romantic getaway inspiration? Right this way.
Image credit: Cordis, Neat., Bar Magda, Andiamo, Cordis, Home Spice.