Let's be honest, the dullest people in life are those who say, "I'll just have a tiny slither of cake". Ain't nobody got time for that. When it comes to cake, bigger IS better.
Nobody knows this better than The Garden Shed. Located in the heart of Mt Eden Village, the restaurant whips up mammoth burgers, toast-your-own s'mores and what might be their most epic creation yet: metre-long cheesecake.
Yep, that's right. Their decadent cheesecake is taking over Auckland—one delicious metre at a time. The beast of a dessert stars not one, not two, not even three but TWELVE individual cakes lining a metre-long wooden board.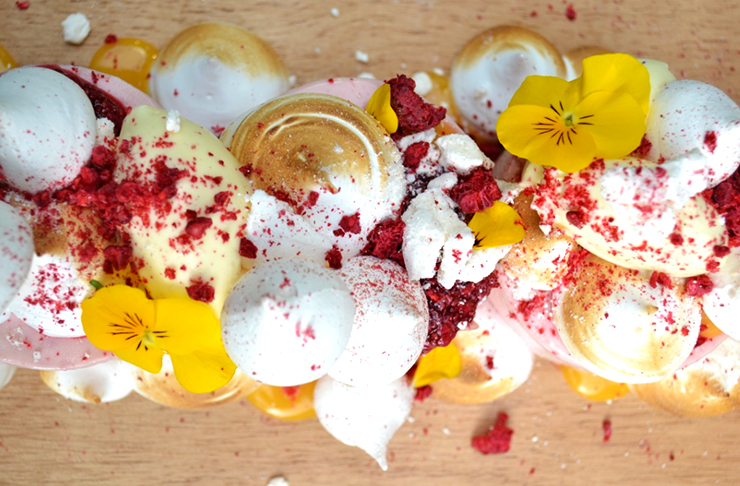 At one end, you'll find a vanilla base topped with divine raspberry cheesecake. Decorated to impress, the berry delight stars raspberry chia jam, lemon curd meringue and Chantilly crème. For added Instagramability, it's lovingly sprinkled with freeze-dried raspberries and yellow pansies.
The other end caters to Auckland's peanut butter obsession in the most glorious way. The peanut butter cheesecake is complemented with oodles of chocolate. We're talking a choc base, ganache and chocolate curls for good measure. We're not one to play favourites, but you'll totally find us loitering down this end of the cake. The PB obsession is real.
Want one for yourself? The insane cheesecake must be ordered 48-hours in advance—good things take time, y'know? And, if you fancy a different flavour, The Garden Shed is only too happy to make your wildest cheesecake dreams come true. Better yet, they're well stocked with wooden boards meaning you could totally order multiple cakes. Anyone for four metres of cheesecake?!
One thing's for certain: there's no "tiny slithers" around here. Grab a fork and dig in, Auckland!
The Deets
What: Metre-long cheesecake!
Where: The Garden Shed, 470 Mount Eden Road, Mount Eden
Click here to contact the friendly team and order yours. You know you want to.
Image credit: Natasha van der Laan