If you ask us, there's really nothing better than sinking into a warm tub at the end of the day. Especially when you've set yourself up outside in a stunning location with a bottle of wine and a good book.
If you haven't used up your annual leave yet, book yourself into one of these Airbnbs and stays with stunning outdoor baths or spas. You'll be feeling relaxed in no time.
The Cabin Margaret River
Forest Grove
Being completely off-grid within 75 acres of farm and bushland means there's plenty of privacy to dip into a warm bubble bath on The Cabin's verandah. After a relaxing sunset soak, you can pour yourself a drink and sit at the patio's bar, or cosy up by the outdoor firepit. As for the house, you'll be forgiven for thinking you've been transported to the Swiss Alps, with this timber-laden home reminding us of a cosy ski lodge.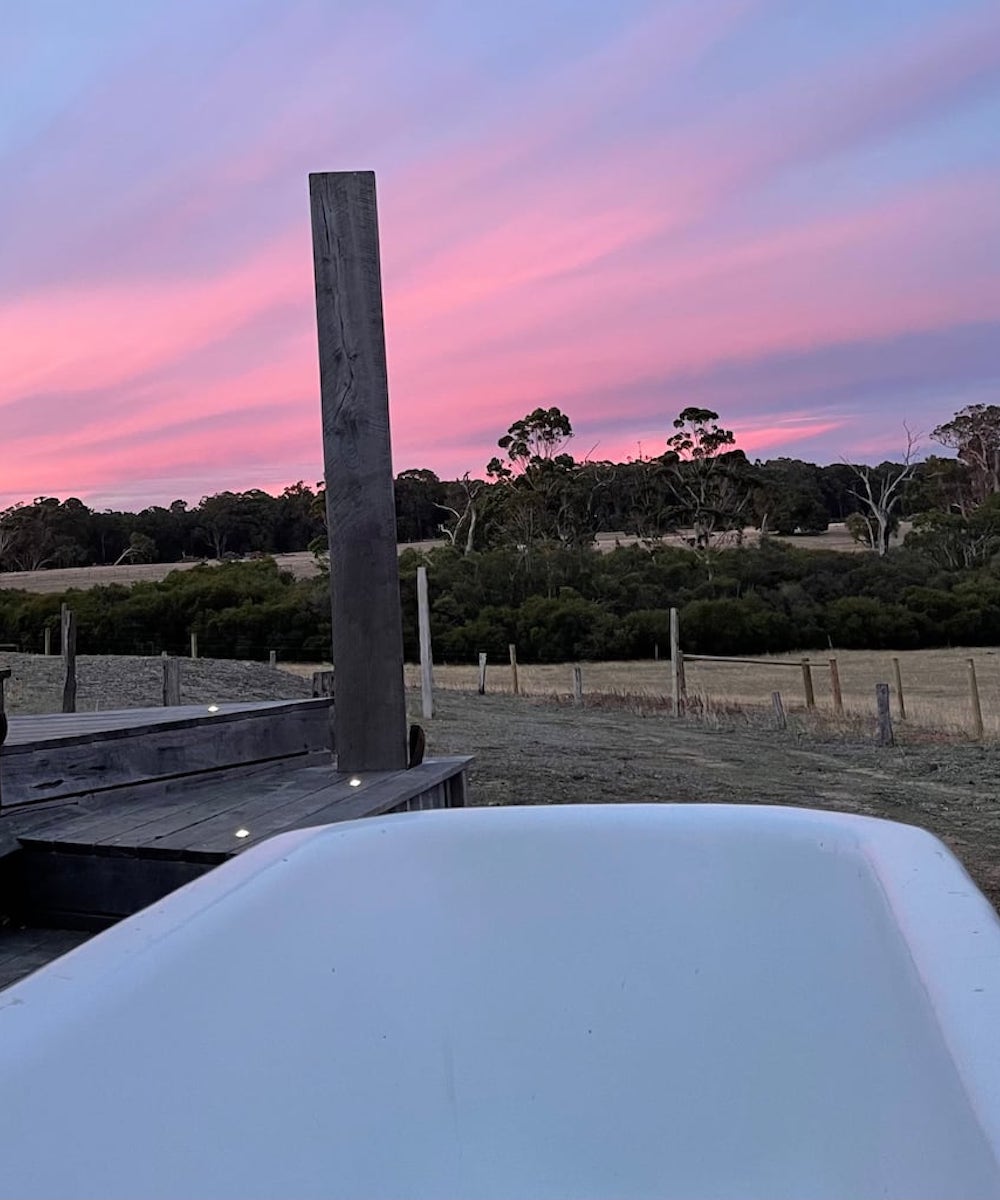 Petit Eco Cabin
Yallingup
Perfect for a romantic getaway or a solo trip to treat-yo-self, this quaint timber cabin is the ideal place to unwind with a glass of vino. Nestled within an organic vineyard called Windows Estate (quite convenient, we think), this cabin's rustic bathtub sits under eucalyptus trees and faces a serene lake. We think you'll find it hard to resist the urge to 'gram this tub—especially when you're lying back with a glass of red in hand.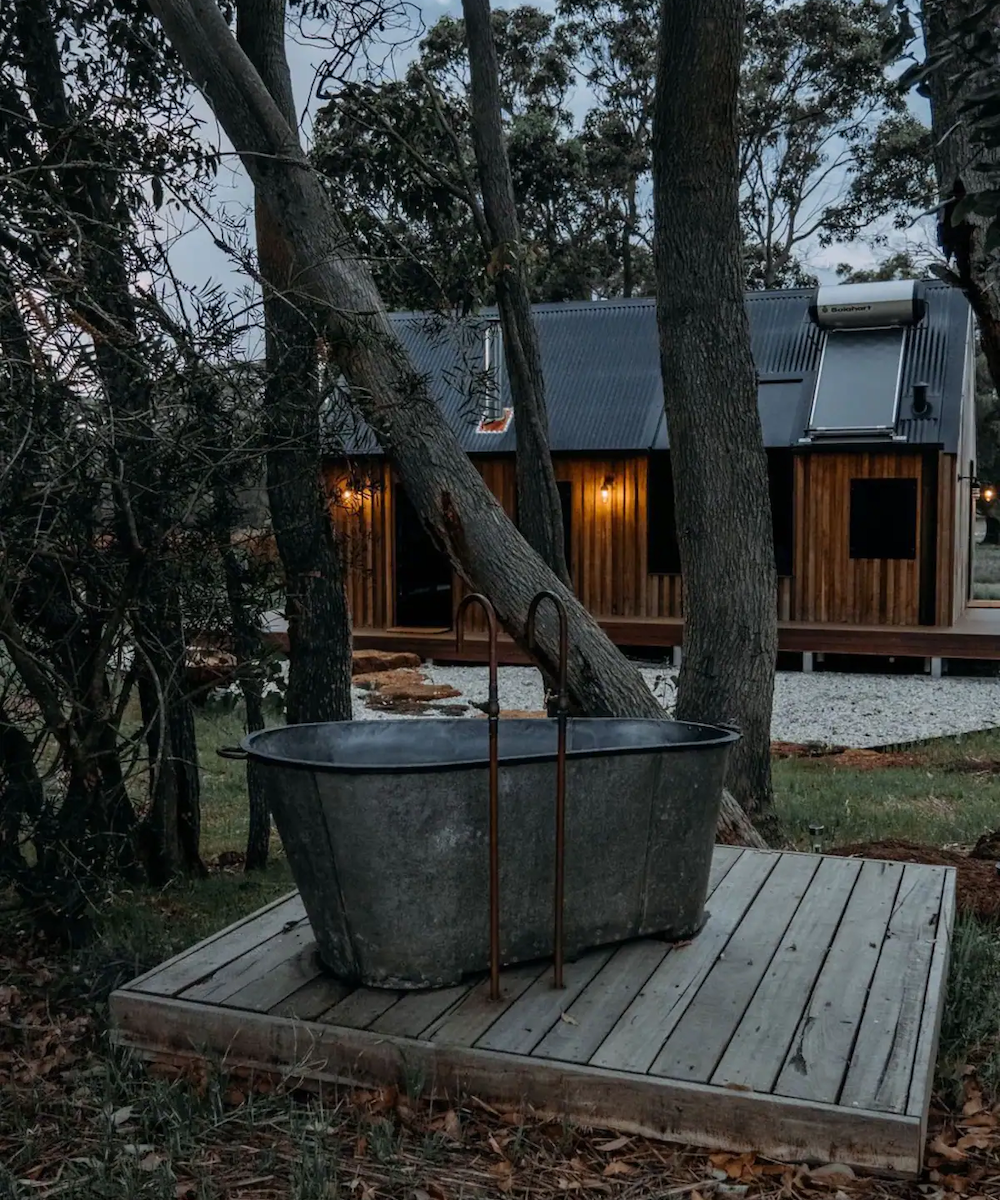 The Grove At Ryans Rest
Quinninup
This tiny house stay in Quinninup is the perfect spot to slow down and reconnect with yourself, nature and that nice bottle of red you've been saving for a special occasion. The special occasion being that you're in a tiny house, equipped with a candle lit, woodfired bath. It's the perfect end to a day exploring the three-kilometre walking trail through river, lake and farm landscapes. After your bath, sit next to the outdoor firepit and remember how great a country night sky is.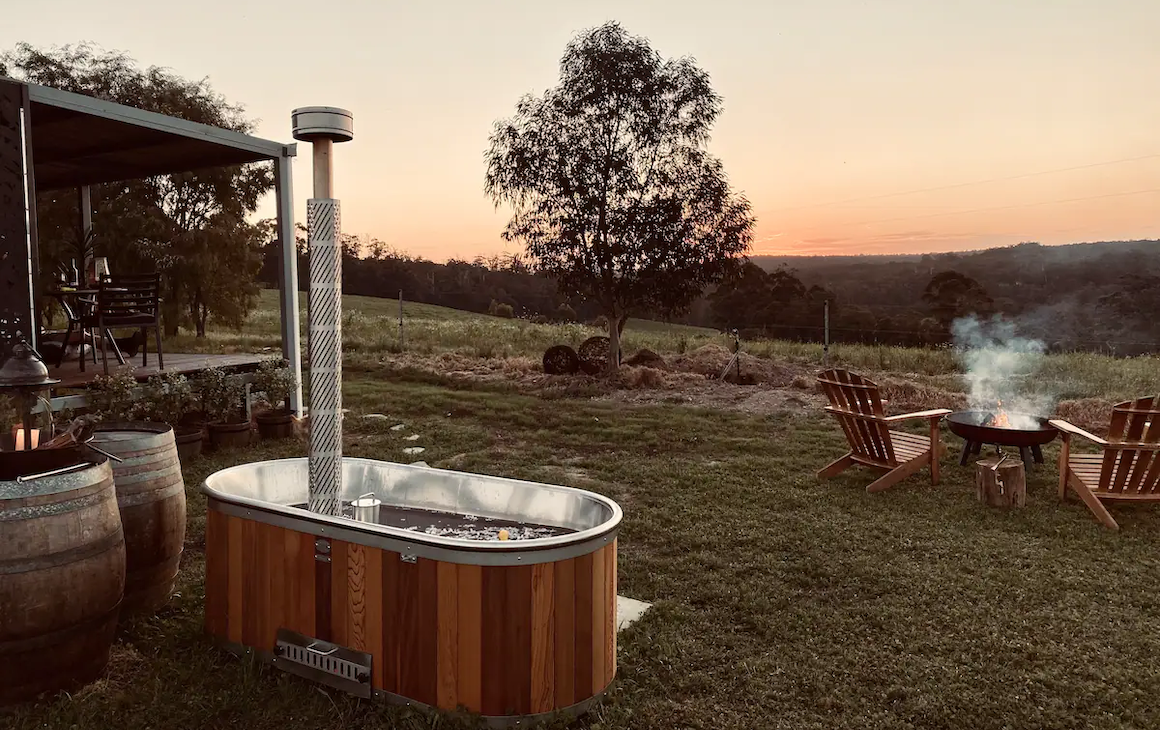 Stillwood Retreat
Shadforth
Five minutes away from the Denmark township, you'll find Stillwood Retreat. And retreat there we shall. This secluded Airbnb is tucked into the naturescape of the southwest, among the Karri trees and next to your own private dam. The outdoor bath is the real reason we're drooling though. Soak yourself and someone else in the two-person bath whilst looking out at a panoramic view of the Karri Forrest.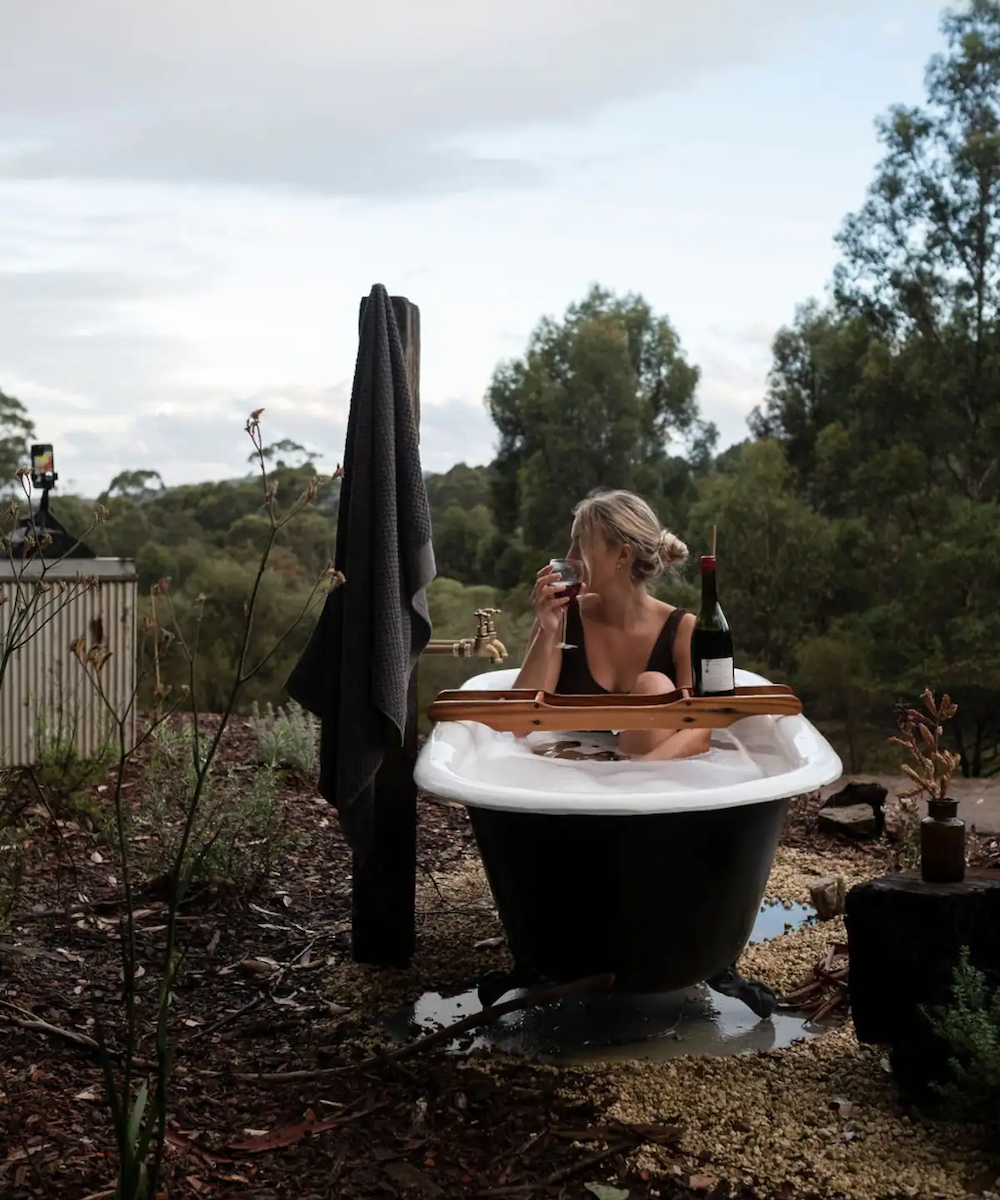 Millars By The Lake
Quinninup
Just a short drive from Manjimup (hello, truffles) you'll find this secluded and heritage-listed cottage. Stargaze from the porch in the outdoor bath by night or bird watch and soak up the mill settlement views when the sun is shining. During warmer weather, we'll be testing how youthful we really are with a few bombies off the pontoon in the private lake. If it goes badly, you'll find us on the verandah with a vino.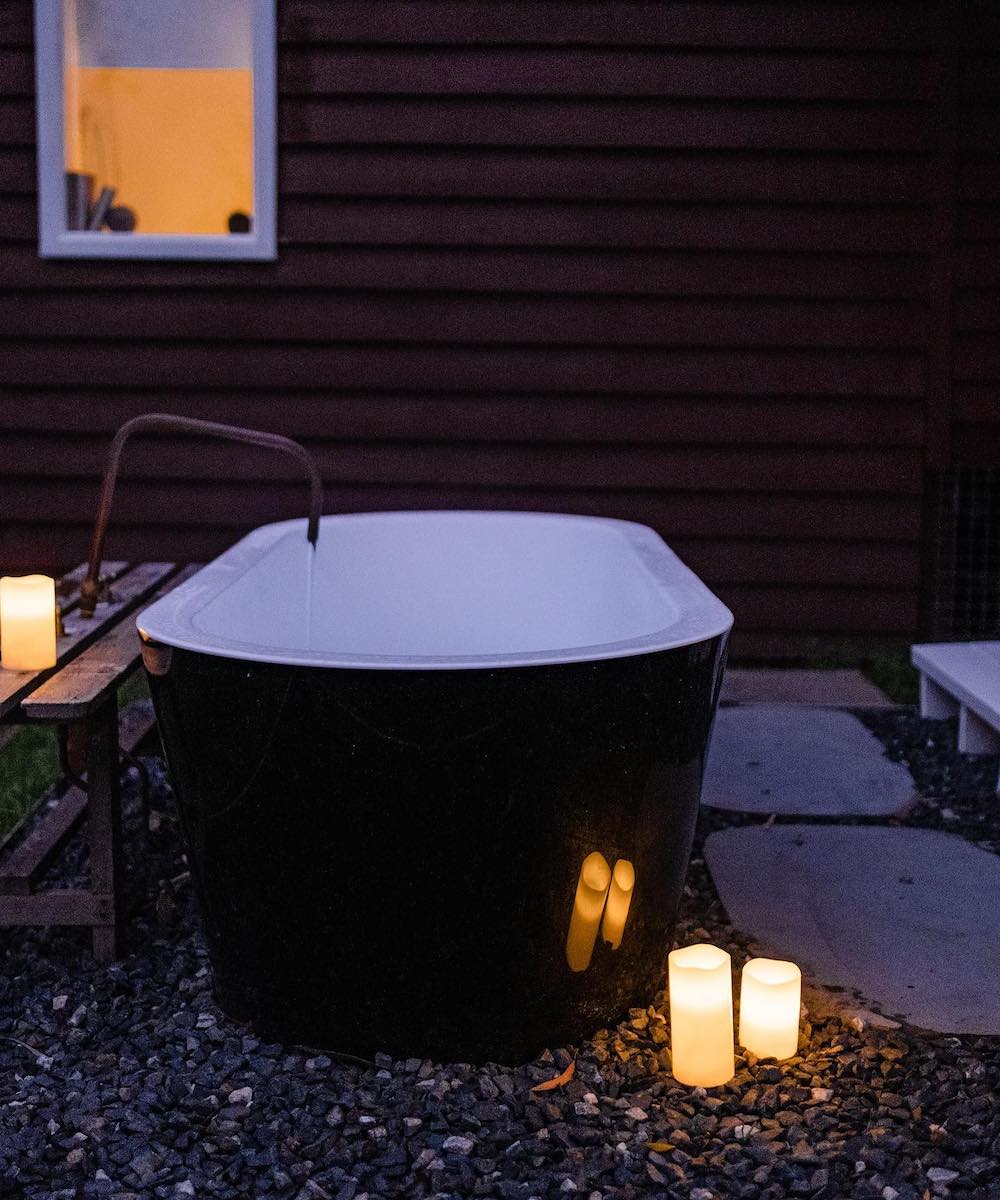 Little Hop House
Beerlerup
There's something about a winter getaway that feels like it accomplishes more in the way of rest and relaxation than a summer holiday. Little Hop House is one of the places that does a winter getaway like nowhere else. You'll find it in Beerlerup, a stone's throw from Donnybrook and about an hour away from Dunsborough. This quaint, two-person cabin with an outdoor bath, fire and verandah is the perfect spot to let the hair down, take in the view and soak in a steaming hot bath.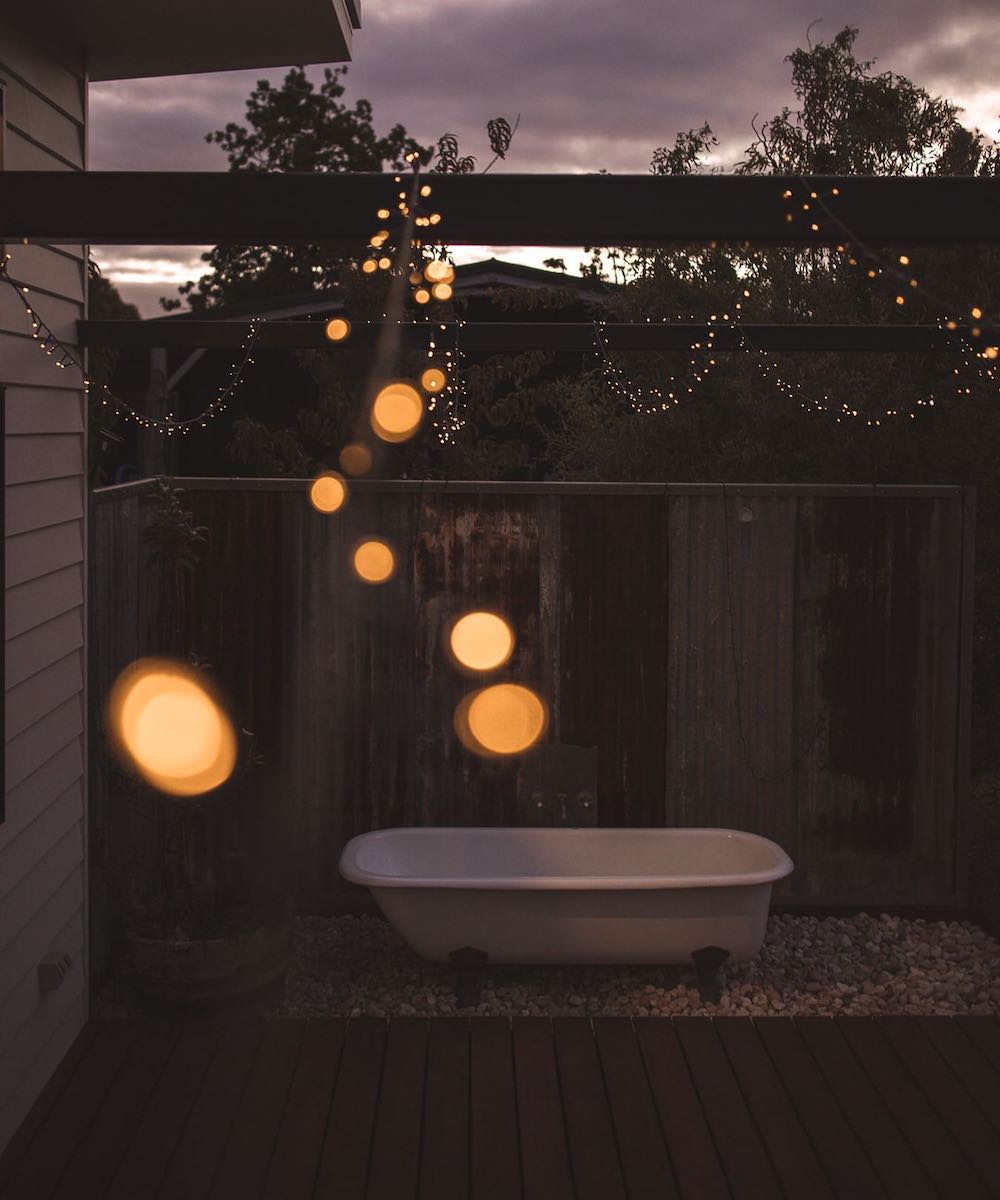 Swan Valley Retreat
Henley Brook
For those who need to unwind but time is of the essence, let us introduce you to Swan Valley Retreat. Still in the metropolitan area, this relaxing sanctuary houses an outdoor wine barrel spa and sauna, sweeping views of the lake and round timber cabins that will make you think you're kicking your feet up in a lodge, apres ski. Bookings can be made here for you and someone lucky, as long as their hands don't get too wrinkly in the spa.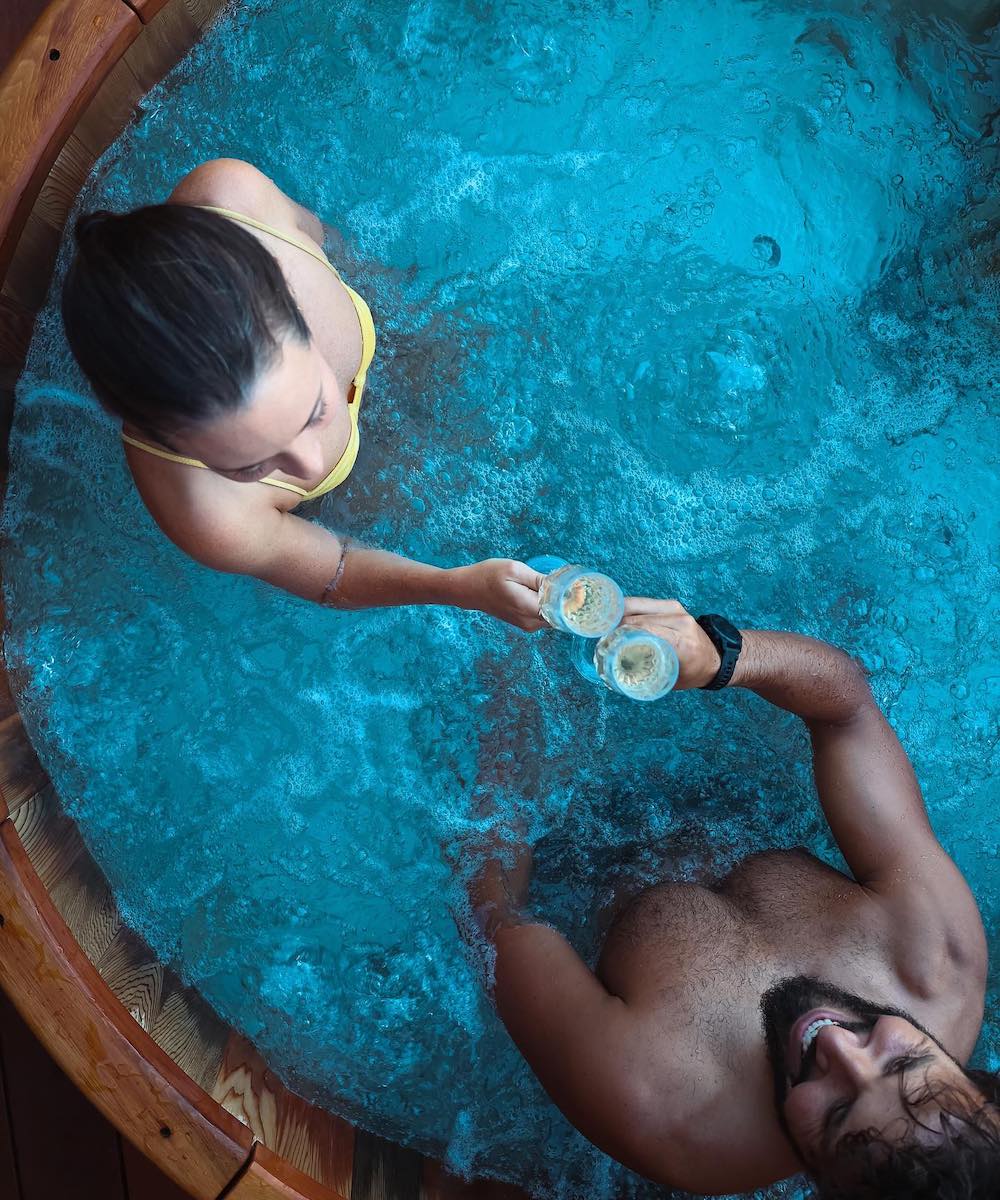 Hidden Valley Retreat
Carbunup
Located in Carbanup, between all the action of Dunsborough, Busselton and Margaret River, Hidden Valley Retreat is the perfect base for your next down south escape. There are a few self-contained cabins to choose from here (so you might have better luck actually locking in a booking). Don't worry though, it still feels incredibly secluded thanks to the lush surrounding bushland. The best part? Every cabin at Hidden Valley Retreat has its very own outdoor bath to soak in at the end of the day.
Treehouse In The Australian Bush
Swan Valley
Nestled high on a ridge overlooking the Swan Valley, this jaw-dropping treehouse is surrounded by stunning views from every angle—whether you're chilling in the jacuzzi, enjoying a wine on the huge lofty deck, cooking up a feast in the outdoor kitchen or just chilling by the pot-belly fireplace. The spacious home sleeps up to 10 and is only 40 minutes from Perth, so it's perfect for a relaxing weekend with a few friends. Book here.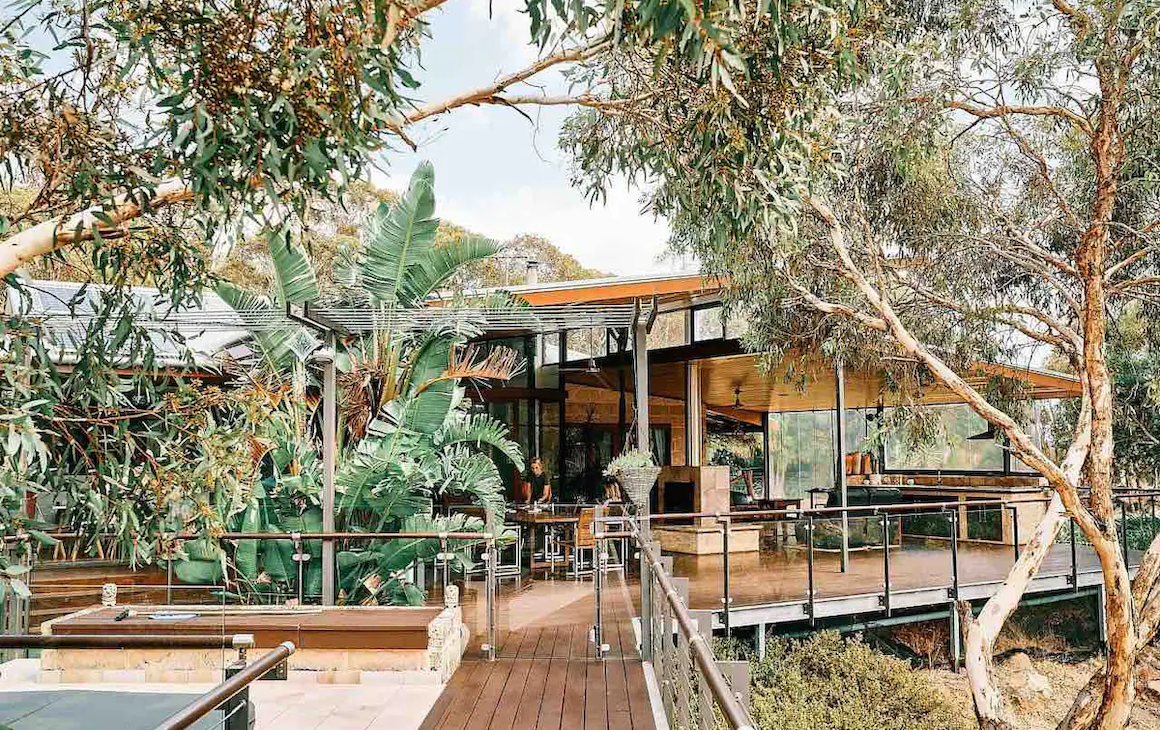 Burnside Organic Farm
Margaret River
Prepare to soak yourself silly at this romantic farm stay in Margaret River. There are two toasty little cabins to choose from and they both deliver big in the bath department. We can't go past the two-bed, which has a deep stone bathtub with rustic copper and brass tapware set outside on a wooden deck overlooking the beautiful rural landscape. If you prefer to bathe indoors, the one-bed option has a stunning tub inside with great views too. Either way, we can't think of a better place to relax after a day on the farm.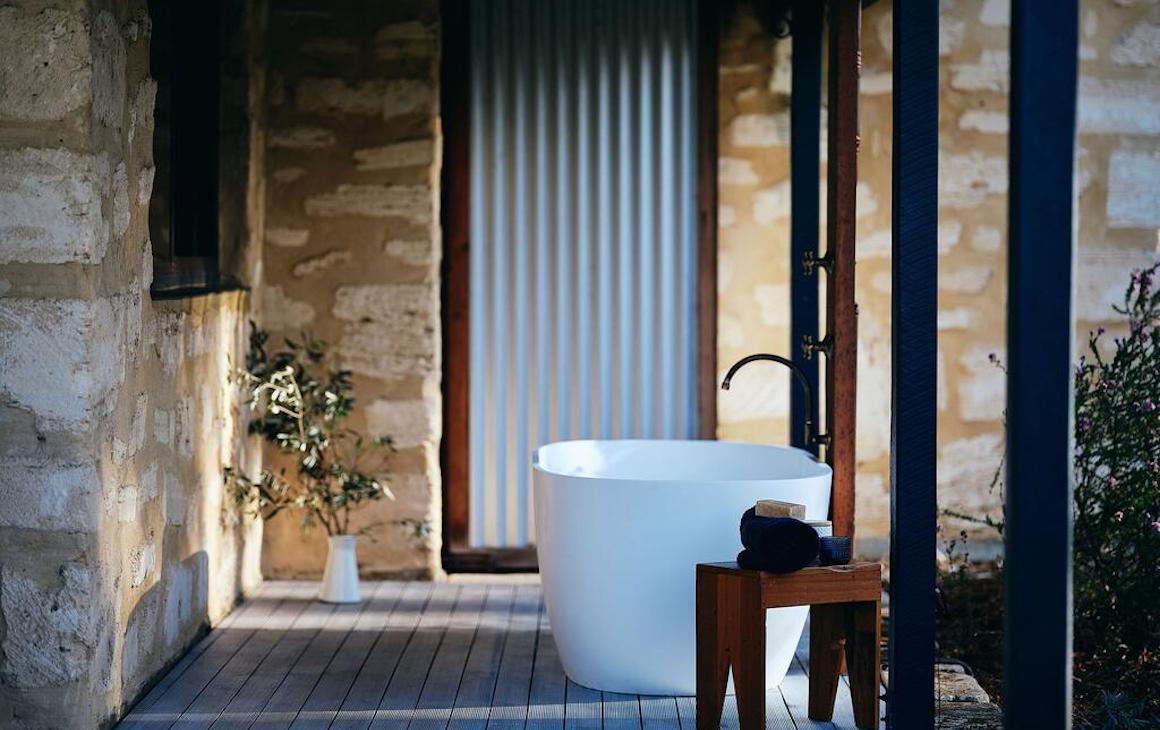 Margaret River Glamping
Margaret River Glamping
If only year 10 camp was in the same realm as Margaret River Glamping. This luxe, cosy and secluded glamping experience is the perfect way to unwind away from the bustle of the 'burbs. Complete with a bell tent, campfire and bush bath to soak in with a book and a cuppa. The tent itself has a queen bed, electric blankets and an electric fireplace for those who need the extra help. After you've had an (understandably) long bath, cook dinner and have a wine in the outdoor kitchen and forget all about whatever work is waiting for you on Monday.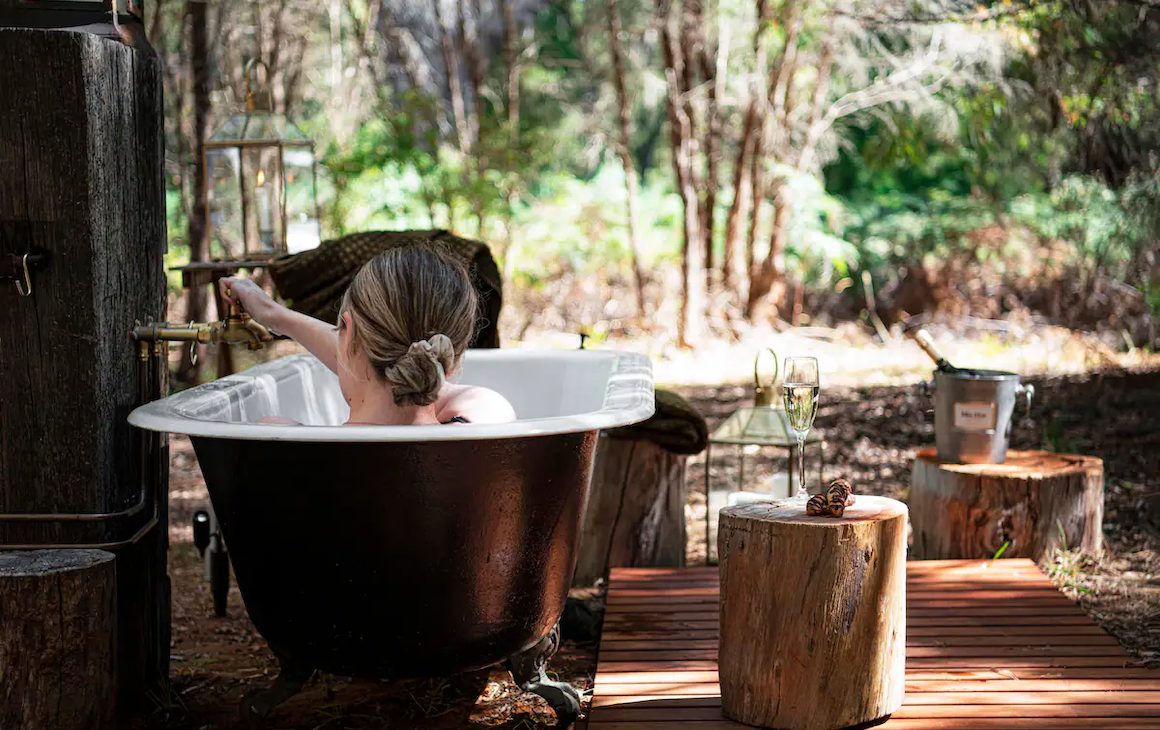 The Edge Retreat
Lower Chittering
Under an hour north of Perth, overhanging a granite ridge in the Chittering Valley you'll find The Edge Retreat. Open during winter only, this is the perfect place to have a cosy weekend with the girls, the boys or your squeeze. Warm-up around the campfire, or sit happy as a clam in the outdoor baths. Come the evening, you'll have a view of the sunset over the treetops from the balcony accompanied by our good friends cheese and wine.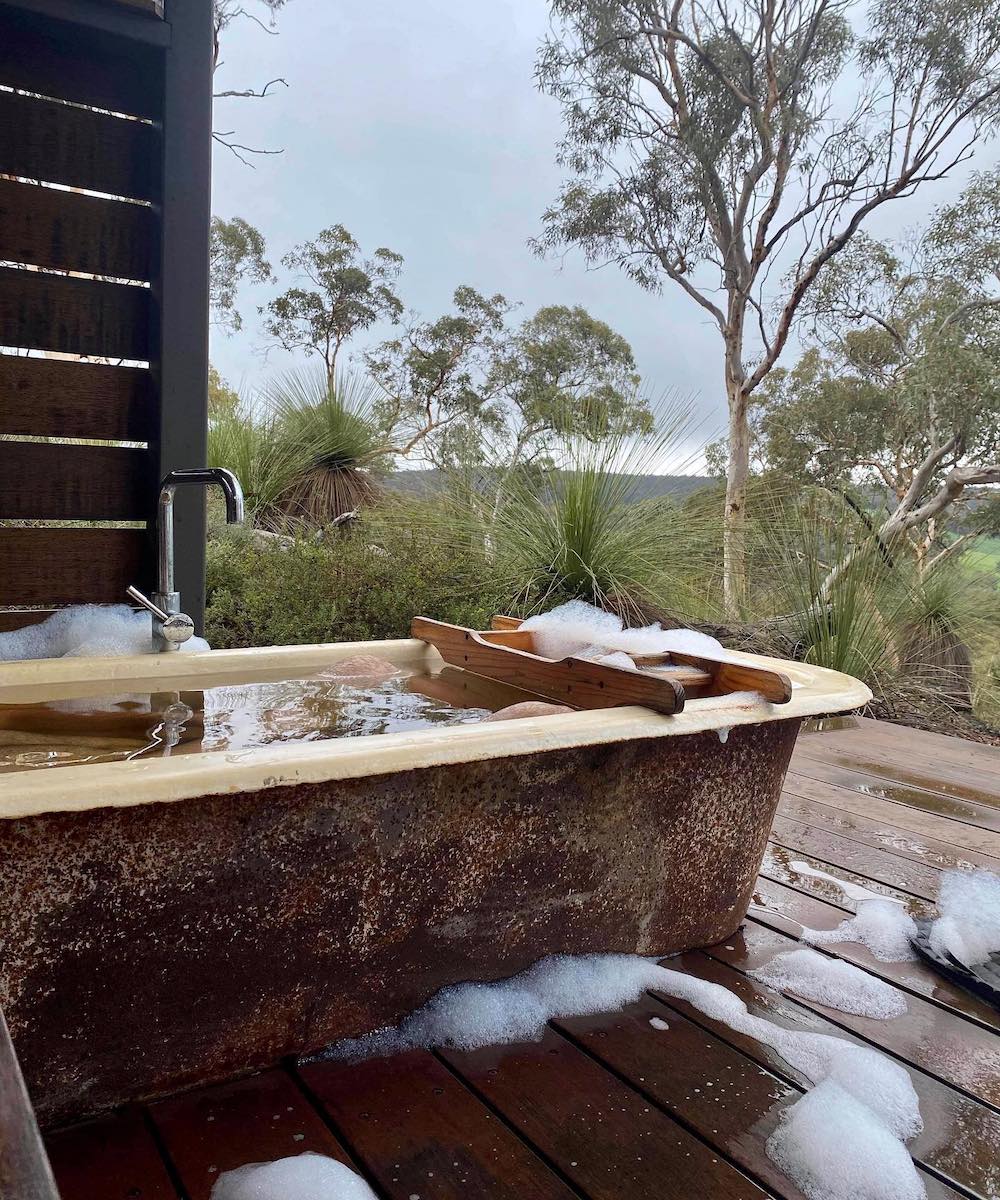 Kangaroo Valley Homestead
Perth Hills
The pool stay that sent you guys into a spin, there's no doubt this lush country oasis within the Perth Hills has risen to the top of our Airbnb list, thanks largely to those two stunning outdoor stone baths. Surrounded by native bushland and beautifully maintained gardens, the rustic character-filled estate is perfect for your next group getaway or romantic escape. If you get tired of lounging by the resort-style pool and bathing under the stars, you've also got a chesterfield movie lounge, billiard room and full bar to keep you entertained. Book here.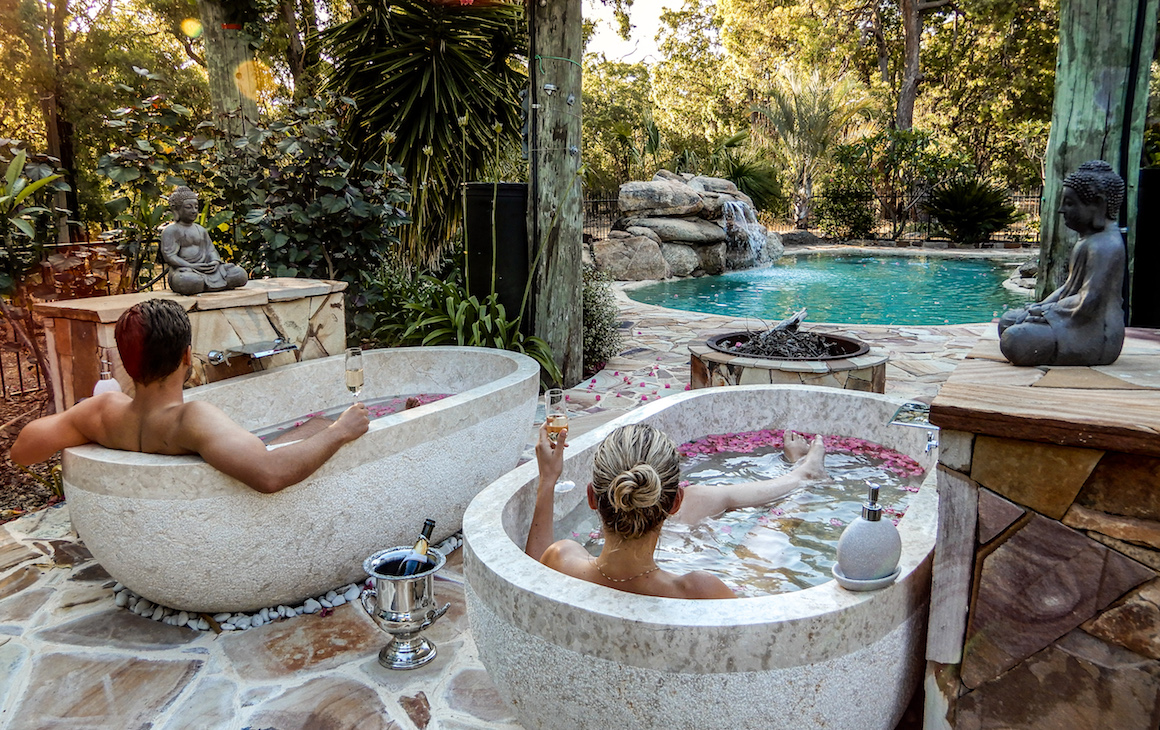 River Blue
Margaret River
We've said it before and we'll say it again... We. Love. Outdoor. Baths. This one, in particular, feels super special thanks to the insane views of rolling hills and the picturesque river. But beyond providing a beaut bath moment, River Blue also scores bonus points for its contemporary interiors—think polished concrete floor and bespoke timber cabinetry—and sustainable straw bale construction. It's basically like stepping into a cool design magazine for a weekend. Book here.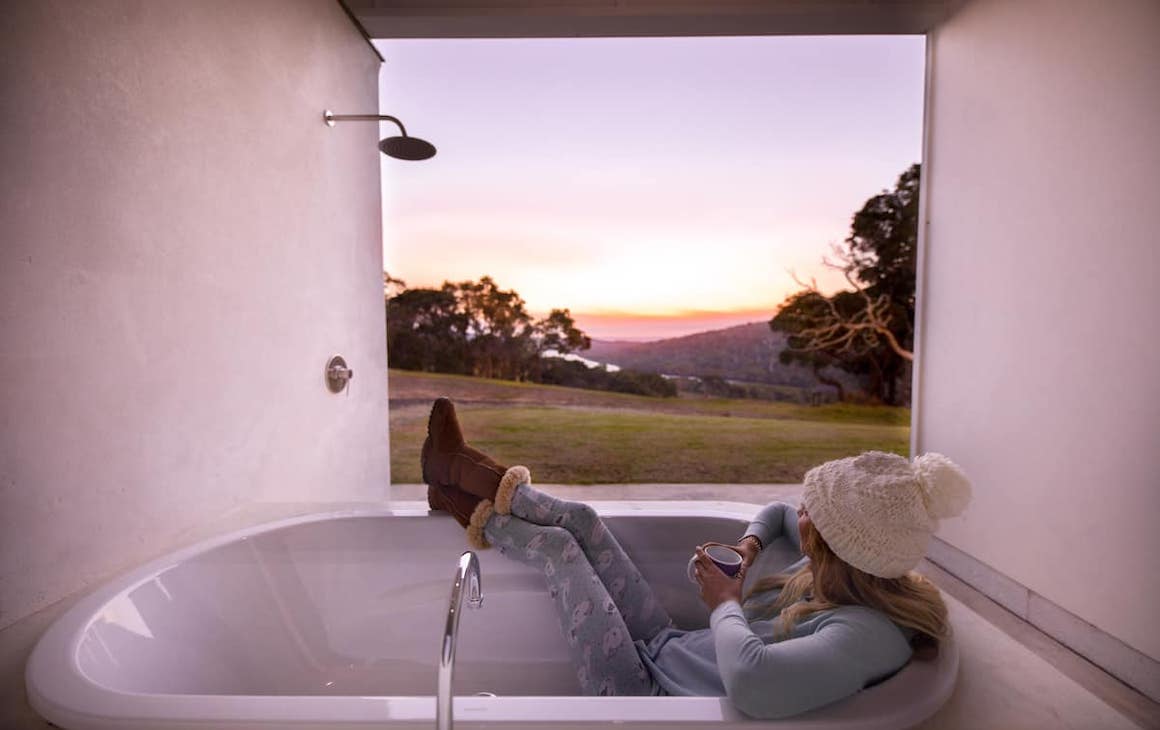 Woodlands Retreat
Porongurup
Surrounded by the Porongurup National Park, this spacey, light-filled timber abode ticks all the boxes. The massive spa sits in a window-lit room that faces the picturesque Porongurup Ranges. This spa room then spills out onto the balcony, where deck chairs also face this superb sight. If you manage to drag yourself away from this Airbnb, you'll be able to explore the Porongurup region, which is home to plenty of walking trails such as the Castle Rock Granite Skywalk and many wineries that meander right to Mount Barker.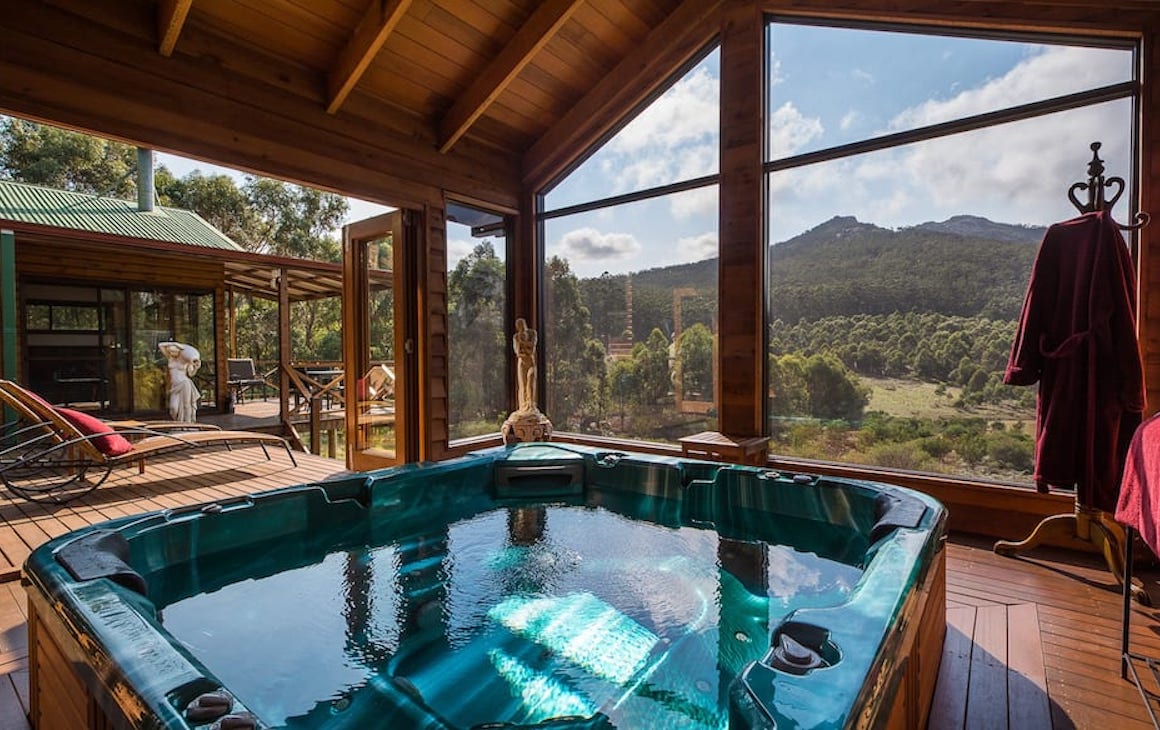 Glauder's Cottage
Pemberton
A spa lies within the timber decking of Glauder's Cottage, where you can sit back and take in the surrounding karri forest. In the late afternoon when the sun starts to filter through the trees, a few friendly kangaroos might pop out to say hello as you're sitting back for a soak. This house is an old settlers' cottage built in the early 1900s, and since it can sleep up to 8 guests, it's a great option if you want to get a group of friends together to explore the quaint town of Pemberton.
If you're on the hunt for more epic stays, check out this Kalgan River Farmstay in Albany.
Image credit: Petit Eco Cabin, The Grove At Ryan's Rest, Stillwood Retreat, Millars By The Lake photographed by @fieldnotes__, Little Hop House photographed by @tessomewhere, The Cabin Margaret River, Swan Valley Retreat, Hidden Valley Retreat, Treehouse In The Australian Bush, Burnside Organic Farm, Margaret River Glamping, The Edge Retreat, Kangaroo Valley Homestead, River Blue, Woodlands Retreat
Editor's note: Urban List editors independently select and write about stuff we love and think you'll like too. Urban List has affiliate partnerships, so we get revenue from your purchase.