This is just about the only thing that will actually make you excited about going into the office. Co-working spaces in Perth aren't just places to park your laptop for the day and plug away at work. These spots are committed to building community, with the added bonus of some pretty awesome perks.
Whether you're starting your own business or just looking for some sweet digs to get the job done, there are some pretty incredible co-working spaces popping up all over Perth. So soak up the creativity in the room and get networking with your desk buddies, these are Perth's best co-working spaces.
WeWork
Perth CBD
Located over multiple floors within the Central Park building in Perth CBD, WeWork's Perth outpost is seriously stunning. Think wrap-around windows that flood the space with natural light and epic views from every angle, backed up by casual-cool decor, an open kitchen, and a mix of hot desks, lounge areas, break-out meeting rooms and private offices. They've even got an onsite barista slinging free coffees 'til 3pm every day and on Fridays, you can get around after work drinks.
LEVEL NINE
Perth CBD
With sweeping views over Elizabeth Quay, LEVEL NINE (in Quay Perth hotel on the Esplanade) is a 24/7 co-working space that you'll never want to leave. Home to eight window desks with floor-to-ceiling views, communal workstations, private phone booths and super comfy, stylish furniture, LEVEL NINE also takes care of all your printing, scanning and charging needs. The Pantry will keep your coffee and tea addiction at bay and you can even order barista-made coffee and snacks from Community At Quay downstairs. When it's time for after work drinks, HQ Bar & Kitchen on level 10 has you sorted.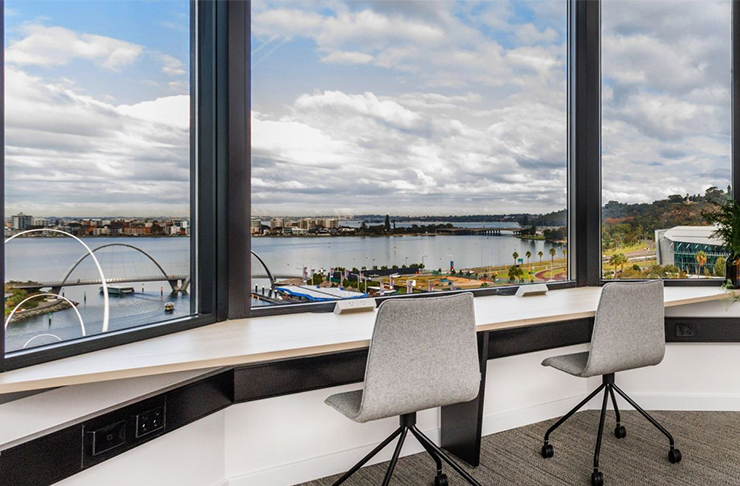 Studio Startup And TechHub
Perth CBD & Northbridge
Studio Startup is perched above Toastface Grillah in the CBD. Yep, your dream of grilled cheese all day every working day has just become a reality. The space itself is super cute and includes an area to host events that holds up 40 people. Their second space, TechHub, looks like the little brother of Google or Facebook. The collaborative and creative setting is the perfect place to build your own successful startup.
Claisebrook Design Community
Claisebrook
This space is a designers dream. With a modern interior and plenty of room, you can tailor the space to all kinds of creative projects. They've also got the basics covered with conventional offices and boardrooms, plus an event space for hire for screenings, workshops, launches and whatever else you can think of. And the all-important lunch break is sorted with its very own cafe (plus discounted coffee).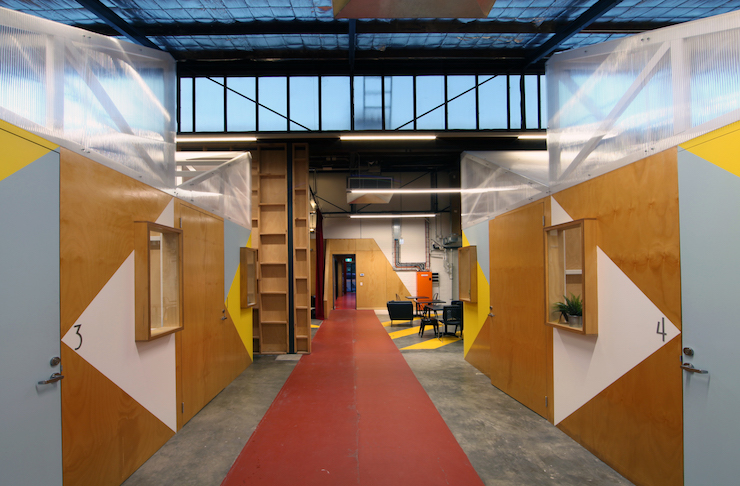 Cleaver St & Co
West Perth
Forget the office space, this little gem of a co-working space offers FREE COFFEE. And don't worry, you won't be sipping on some machine-made monstrosity but instead the real deal from Cleaver St Coffee Shop (barista and all). On top of that, this converted warehouse in West Perth is simply stunning. The only drawback is you'll be so busy Instagramming the incredible space that you won't get any work done. If you feel like dropping in, they offer daily and weekly rates.
Regus
Perth CBD and Osborne Park
Are you hunting for a little bit of luxury with your office space? Regus provides more than just a desk—they've got a gym, 20-metre swimming pool, BBQ and even a tennis court thrown in to spice up your working day. They have four co-working spaces in Perth's CBD and one in Osborne Park with all the bells and whistles, so there are plenty of options depending on your needs. We'll be taking our lunch break lying by the pool thank you very much.
fSpace
Fremantle
The crew at fSpace have created an inspiring community of like-minded creatives and professionals. The space itself puts you straight into the Freo mindset with a massive mural, huge windows and refreshing sea breezes, all with dazzling fibre optic wifi speeds. fSpace also has an innovative Business Development Program with the City of Fremantle to help get your business off the ground.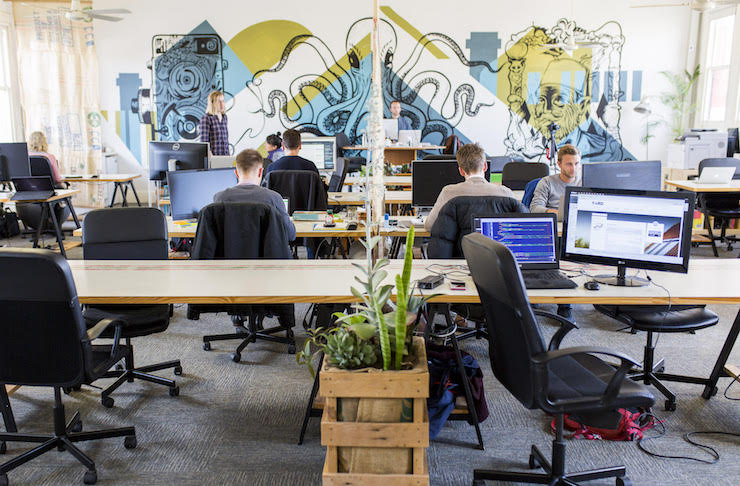 SpacetoCo
All Over Perth
If flexibility is your thing and you like to mix it up, SpacetoCo offers plenty of choice for co-working spaces right across Perth. It's basically Airbnb but for space, and will connect you directly with people looking to rent out their offices and studios. There are some absolute gems on offer. While you're at it you can also suss out a spot for your next tennis match, garden party, wedding... the list goes on.
Maison—A House To Create
West Perth
Get those creative juices flowing in this boutique co-working space in West Perth. The converted warehouse includes a workshops and training area, a showings area and space for events, so it has all the goods to get your creative venture off the ground. You'll be sharing with SilQ Interiors, Un/Done Perth and M & Co so there'll be no shortage of artistic inspiration.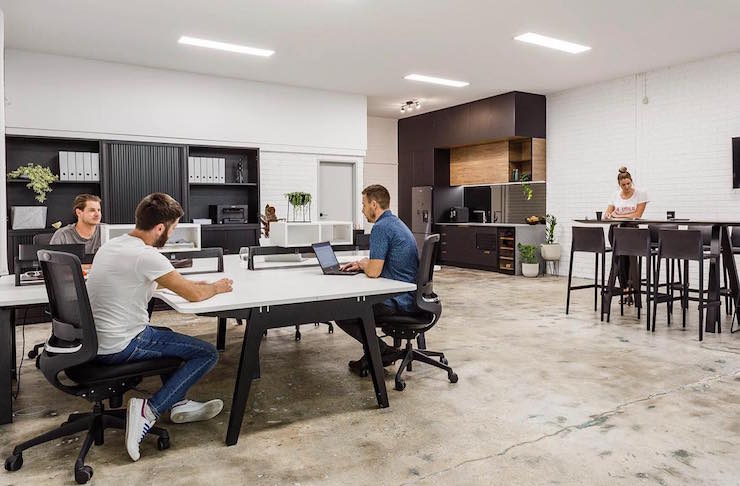 Flow Space
North Beach
Who wouldn't want to start every day with an ocean swim? It's one of the most beautiful spots in Perth, and now you can work just streets away from the coast and make North Beach your very own office. Boasting commercial internet speeds and allowing 24/7 access you can get stuck into work no matter what time of day. You can book a permanent desk or stay flexible with hot desking.
Riff
Perth CBD
I'm tempted to start my own side hustle just so I can pull up a chair at this stellar co-working space, located in the heart of the CBD. Riff has it all; meeting rooms, event space, a mentoring program and a massive network of more than 800 businesses, so you'll be ready to hit the ground running.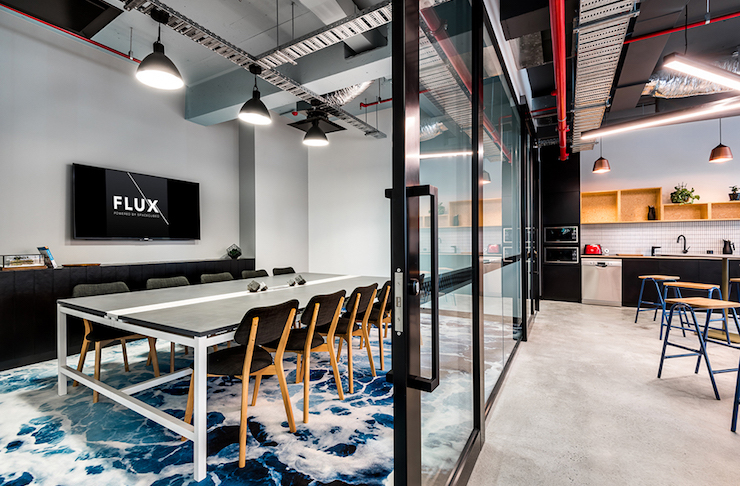 Flux
Perth CBD
Just down the road is Flux, and this super modern space will definitely get you excited to come into work every morning. They've got plenty of co-working space, plus stunning offices for a little bit more privacy. Got a work event coming up? Flux has got you covered. Head up to the Deck and look out over St George's Terrace while sipping a cocktail or two. Work never looked this easy.
Tank Stream Labs
Perth CBD
This place is all about fostering tech start-ups and building networks. Tank Stream Labs is home to more than 400 start-ups across the country so you know you'll be rubbing shoulders with some exciting companies that are starting to spread their wings. They're also partnered with some pretty big names in the business world.
The Bureau
Cottesloe
If you're on the hunt for a trendy workspace in Cottesloe, look no further than The Bureau. This little office has it all; comfy leather seats, wifi, printers, coffee and tea facilities, air conditioning and everything else you'll need to feel super productive. The space is also decked out in lush greenery and enough unique artwork to have you inspired and ready to work.
Keen to get your creative on? Click here for some of Perth's best workshops.
Cleaver St & Co | Image credit: Quay Perth, Cleaver St & Co, Jonathan Trask at Claisebrook Design Community, fSpace, Crib Creative at Maison, Spacecubed