Alright, WA's best country pubs. The rules are, if it's got Swanny D on tap, an epic chicken parmi worth your weekly calorie intake, or a cosy fireplace—we rate it.
Country pubs are the bee's knees and it's not just because they know a thing or two about plating up wholesome feeds. It's because they ooze that all-Aussie no-frills air you simply can't dig up anywhere else. They're all about supporting local producers, brewers, and musical talent plus, they never fail to reel in a crowd that serves up some solid bants.
Hit the road for 10 of the best country pubs in WA to visit this winter.
Settlers Tavern
Margaret River
Known locally as the Tav, Settlers Tavern has everything you want in a top-notch country pub—good food, plenty of booze, and loads of local live music. Their extensive wine list features over 600 local and international varieties (I mean, it is WA's wine capital), plus their food is locally and sustainably sourced so you can enjoy a guilt-free feast. Freshly shucked oysters, anyone?
Nannup Hotel
Nannup
Established way back in 1899, you might have some fuzzy memories of this beaut historical hotel/pub if you've ever made the pilgrimage south for the annual Nannup Music Festival (which, hot tip, you should). It's the perfect spot to pull in for a pint and some bants, with cosy interiors loaded with classic country charm, footy on the tellie, and parmis cooked to perfection. You can even book a room at the old-school hotel if you want to stick around for some live tunes and late night fun. Yep, go ahead and order another round.
Divers Tavern
Broome
Just steps away from the magnificent Cable Beach, Divers Tavern is perfect for anyone wanting to escape the cold completely this winter. Pop into the open-air Beach Bar to spend your days downing ice-cold bevvies under the sun, or head on down to the Sports Bar if you're looking for an air of excitement. Of course, you'll find us holed up in the Divers Bistro, the home of the Kimberley's best steaks and seafood, not to mention the tavern's signature rack of ribs. Mmmm, ribs.
Mundaring Weir Hotel
Perth Hills
Pick up a hearty steak sandwich and wash it down with a pint at the Mundaring Weir Hotel. The turn-of-the-century establishment is the perfect venue to host a murder mystery dinner, so book yourself in for a night of crime, chaos and laughter (not to mention a three-course meal) by heading to their site. And once the murderer has been led away in handcuffs, save yourself the Uber fare by sleeping the night off in the hotel's accommodation. Trust us, a cooked pub brekky is the perfect hangover food.
Palace Hotel
Kalgoorlie
Located in the heart of Kalgoorlie, The Palace Hotel has been an important historical landmark ever since it first opened its doors in 1897. The hotel once made a regular of American mining engineer Herbert Hoover, who went on to become the 31st president of the United States. Far from its only claim to fame, the Palace Hotel has a long and fascinating history, with the relics from its past lining the walls of every room. Surround yourself in old-world charm by sipping whiskey in Hoover's Bar and Bistro, or get gold fever by knocking back a XXXX Gold in the Gold Bar.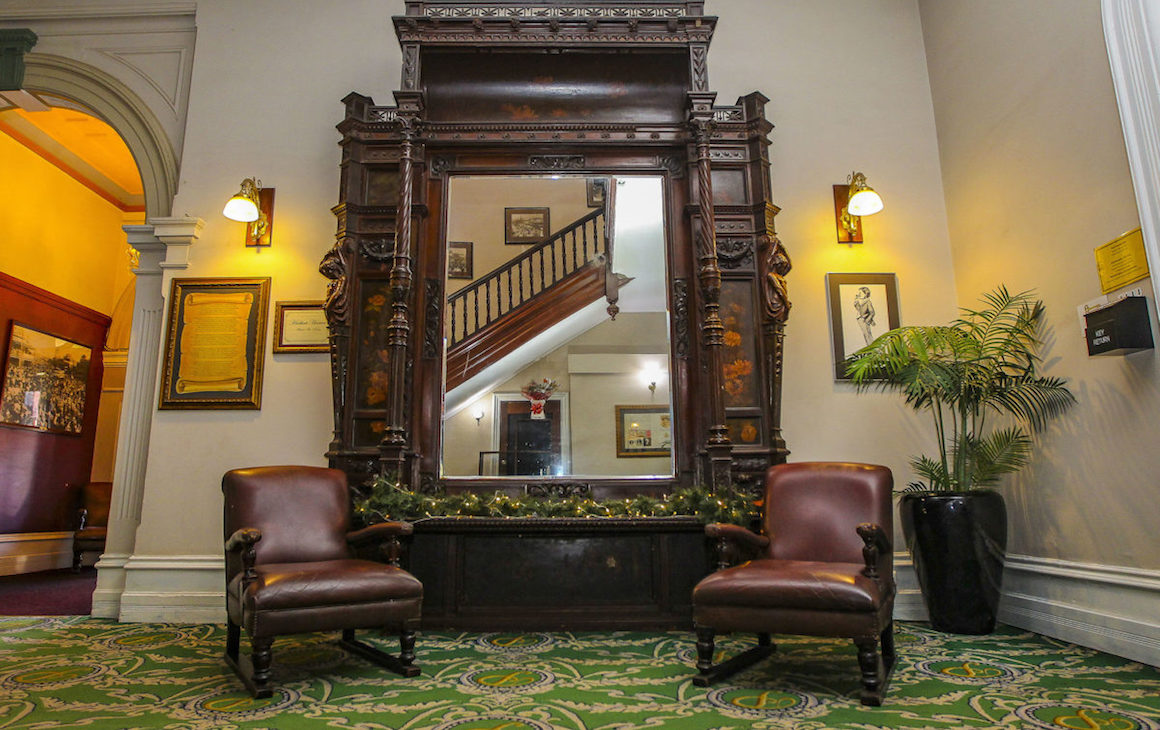 Caves House
Yallingup
Sunlight streams through the trees surrounding Yallingup's Cave House, setting the dining area alight with a golden glow. This iconic heritage-listed hotel has an Art Deco ambience reminiscent of simpler times, and gorgeous gardens to distract you from the worries of modern life. Grab a drink under the shade of peppermint trees out on the deck, or head inside for cake and coffee at the black-and-white themed Nigligi bar. For true blue classic pub vibes, challenge your mates to a game of pool on the fully restored 1903 Tasmanian snooker table—loser shouts the next round.
Pemberton Hotel
Pemberton
Nestled amongst WA's finest national parks, forests, rivers and sand dunes, The Pemberton Hotel promises your favourite pub fare along with a heaping serve of good ol' fashioned hospitality. Step back through time with a meal at the federation-era lounge bar, or enjoy a spot of breakfast at Cafe Mazz. Fight the chill by curling up near the open fireplace before heading out to explore the tall karri trees of Gloucester National Park to the tune of the bubbling Cascades.
Imperial Homestead
York
Indulge on the diverse (and delicious) produce of the Avon region by sitting down to a meal at Imperial Homestead. Their extensive menu features mouthwatering starters like pork belly bites and halloumi dippers, before moving on to mains like kangaroo loin, pan-seared barramundi and confit duck leg. If you're craving more typical pub food, don't stress—you can still pick up a steak sandwich and a chicken parmi by flicking to page two of the menu. Still not convinced? How about ordering a curry taste plate, a seafood platter or even a ribs and wings combo? Yeah, we knew that would seal the deal.
Endeavour Tavern
Lancelin
Enjoy front-row views over crystal blue water and pristine white sands by sitting down to a meal at Endeavour Tavern. The perfect place to relax and unwind, the tavern offers you the chance to have bevvies in the beer garden while watching the sunset over the ocean. And once the night kicks off, enjoy live music and fresh seafood to your heart's content. Did we mention it's dog-friendly?
Victoria Hotel
Toodyay
Simply put, the newly-refurbished Victoria Hotel offers pub fare without pub vibes. So if your style borders on bougie without the ultra-refined palate (guilty), this is the pub for you. Blending old-school country charm with sophistication and class, the hotel will soon offer boutique luxury accommodation, and after seeing the photos, we can't wait! Until then, we'll bide our time eating Wagyu beef burgers and arancini balls—followed by a choc lava cake for dessert.
Looking for something a little closer to home? Scope out more Perth bars and pubs here.
Image credit: Caves House, Kelsey Reid (Palace Hotel)