Living in Western Australia certainly means there's no shortage of places to swim, and we're not just talking about the beach. Yes, we know, we're obviously spoiled for choice when it comes to our pristine coastline, but venture inland and you'll be surprised at just how many natural pools there are to discover.
Whether you're up for a long weekend away or a quick day trip, there's a swimming hole out there with your name on it. Here's where to find the best natural pools near Perth, as well as a few that are a little further afield.
Natural Pools Near Perth
Black Diamond Lake
Collie
As one of the most Instagrammed natural sites around Perth, you've no doubt heard of Black Diamond Lake; famous for its sparkling blue water that just screams, 'blow up your inflatable flamingo and take a damn photo'. You'll find this beauty two hours outside of Perth, just west of Collie. Be sure to check whether you're ok to swim before you dive in.
Lane Poole Reserve
Dwellingup
With the Murray River winding right on through, Lane Poole Reserve is a picturesque landscape of outdoor activity heaven. At a very reasonable one and a half hour drive from Perth, it's the perfect place for a weekend camp-out, complete with swimming, picnicking and hiking.
Rocky Pool
Kalamunda National Park
Being accessible only on foot, Rocky Pool is relatively untouched and a nice secluded spot for a swim surrounded by granite boulders and bushland. You'll have to go on a bit of a hike to get there, but once you do you'll find yourself surrounded by all the natural serenity you could possibly ask for.
North Dandalup Dam
Whittaker
Despite Water Corp signage discouraging visitors from swimming, there doesn't seem to be any enforcement of this rule at North Dandalup Dam. They do, however, monitor the number of visitors to avoid overcrowding, which is awesome. It's a super popular place for a day trip, with a nice grassy area for picnics overlooking the water.
Honeymoon Pool
Collie
Part of the Wellington National Park, we're in love with Honeymoon Pool. It's got a glorious swimming platform, BBQs and picnic spots all under the shade of peppermint trees.
Lake Navarino
Waroona
If you're after a hassle-free weekend of swimming, fishing, water skiing and such, Lake Navarino ticks all the boxes. There are plenty of lakeside campsites available, or you can turn it up a notch and head down for a romantic weekend of glamping.
Indijup Natural Spa
Yallingup
A little rock traversing might be required to slip into Indijup Natural Spa, but it's well worth the effort once you're there. The crystal clear rockpool is surrounded by smooth boulders, and as the surf hits it pushes through the cracks and into the pool, creating a natural spa-like experience. Forget expensive spa treatments and treat yourself to the real deal.
Lake Leschenaultia
Chidlow
What was previously an old railway dam is now Lake Leschenaultia; yet another scenic spot for outdoor enthusiasts. Being super close to the city it's an easy day trip, but if you're looking to camp there are a bunch of facilities available, including campsites (obviously), a kiosk, toilets, barbecues and everything else you need for an easy weekender.
Barrabup Pool
Nannup
Naturally formed and bordered by shady trees and the peaceful sounds of the bush, Barrabup Pool is the perfect place to float around feeling at one with nature. There's plenty to take in if you're up for canoeing, otherwise enjoy a relaxing day of photo-snapping, swimming and lunching.
Lake Brockman
Cookernup
Just outside of Harvey, hidden among the leafy state park is where you'll find the clear waters of Lake Brockman. Whether you want camping, swimming, water skiing, canoeing or paddleboarding, you can do it all here. You can even fish for trout year-round.
Serpentine Falls
Serpentine
At just an hour outside of Perth, Serpentine National Park is another great spot for a day trip. Take a hike and explore the national park, check out the dam, then cool off in the natural pool at Serpentine Falls. If you're hungry there are facilities available in the park, but we'd have to recommend heading to the nearby Millbrook Winery restaurant for some seriously good eats.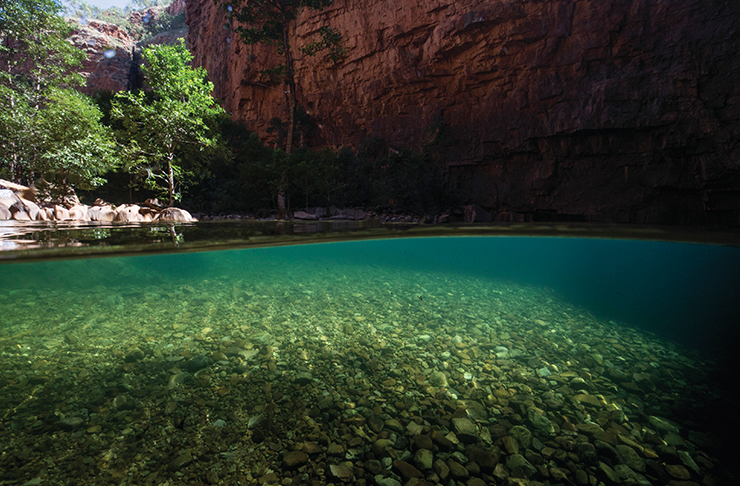 Natural Pools Further Afield
Fern Pool
Karijini National Park
If you're headed up to the Pilbara you really can't miss out on Fern Pool, nestled in the beautiful surrounds of Karijini National Park. There are a number of pools in the park, with Fern Pool being easily the most accessible, but there's nothing to stop you throwing on your hiking boots and heading out on a little swimming hole adventure.
Ellendale Pool
Greenough
Off Yamaji Drive, Ellendale Pool is the perfect spot for a waterhole swim or, for the daredevils among us, a cliff jump from the beautiful rocky gorge that hugs one side of the pool. We didn't tell you that, though.
Zebedee Springs
El Questro
You could spend your entire time up north at El Questro, it's so beautiful, but if you're short on time you've got to make it to Zebedee Springs. The thermal rock pools are just as glorious to take a dip in as they are to look at.
Handrail Pool
Karijini National Park
Getting to Handrail Pool requires some manoeuvring over rocks and through water, but once you arrive fresh water bliss awaits. The pool is located in Weano Gorge and is accessible via two routes, one shorter than the other. We know which we'd choose.
Python Pool
Karratha
Millstream Chichester National Park is a picturesque oasis sitting right in the middle of the desert. Nestled into the park, Python Pool is a great place to go for a swim, especially when the waterfall is flowing.
Little Lagoon
Denham
Perched on the west side of Peron Peninsula, Denham is home to a glorious natural pool called Little Lagoon. Perfect for swimming and fishing, if you have a drone you might want to pack it because it's quite spectacular from above.
Emma Gorge
El Questro
Emma Gorge is not easy to get to, with the nearest town 100 kilometres away, but it is absolutely jaw-dropping. Think: a 65-metre droplet waterfall surrounded by cliffs and greenery. It's the kind of place you need to hike into and out of, but it's totally worth it.
Perth has no shortage of places to cool off. Here's where to find the best secret beaches.
Image credit: Australia's North West and Tourism WA