The power wine and cheese have to turn a bad week around cannot be underestimated, especially when coupled with some fresh air and secluded vibes! We Perthlings are surrounded by greenery (and no shortage of delis), which means we're spoilt for choice when it comes to this ritual.
Scattered all over our fair city are secluded, leafy parks, manicured gardens and wide open lawns on which to lay down a picnic rug (and a cheese board), plant ourselves and pop a bottle (of kombucha, because drinking in public is illegal and we're good law-abiding citizens here).
So bookmark this list for the next time you're in need of some picnic inspiration: here are the most beautiful parks in Perth for (not) drinking wine and (obviously) eating cheese!
Cottesloe Civic Centre Main Lawn
Cottesloe
If ocean views are what you need to top off a picnic, the Cottesloe Civic Centre Main Lawn is calling you. This beautifully kept lawn looks out over the tops of the iconic Cottesloe Pine Trees and the glorious Indian Ocean; the perfect backdrop for a sunset cheese date.
Langley Park
Perth
One of Perth's most well kept plains along the Swan River, picnics at Langley Park situate you nicely between the palm-tree-lined Riverside Drive and the city skyline. Stock up straight after work and walk down for a debrief over the creamiest, softest cheese and driest white grape juice you can find.
Sir James Mitchell Park
South Perth
Right on the South Perth foreshore sits this beautiful stretch of green grass, complete with a small lake, scattered trees and white sandy river banks. The place is accessible via some great walk and bike trails, too, so if you want to burn up some calorie space for the cheese you're about to inhale, this is a great option!
Hyde Park
Mount Lawley
It's hard to go past Hyde Park as the perfect spot to devour a cheese platter. It's a slow-paced, leafy city park with a beautiful lake, surrounded by flame trees that reflect onto the water, and old Moreton Bay Fig Trees arch their branches over walking paths as you wander around the water to find a spot to set up.
Harold Boas Gardens
West Perth
The perfect inner-city escape, the Harold Boas Gardens are lush and leafy, and bordered by a variety of different trees that change colours with the seasons and serve to block the surrounding roads from view! Even if you're not a regular city dweller, the gardens are well worth visiting to enjoy some cheese—maybe with your friends who slave away in the city?
Stirling Gardens
Perth
Bordered by tall palm trees and a stone wall, the Stirling Gardens are Perth's oldest public gardens—not to mention one of the most ideal for cheesy picnics. The beautiful Jacaranda trees are a sight for sore eyes in late Spring!
Market Square
Subiaco
The fact that Unwined Festival chooses this as their annual location speaks volumes for how ideal Market Square is for wine and cheese lovers. Particularly beautiful in the late afternoon sun, this park will do you just fine for a picnic dedicated to indulging.
Matilda Bay Reserve
Crawley
If you'd like to share your picnic with twenty bottlenose dolphins, Matilda Bay Reserve is the place to do it. Of course, we don't actually mean give them your cheese to consume—that's all for you! But you might just get to see them while you feast.
Jualbup Lake Parkland
Shenton Park
This beautiful little suburban lake and parkland holds many spots for cheese consumption! Whether you want to park up ('scuse the pun) at a picnic table, or just relax on the grass by the water, Jualbup Lake Parkland has got you.
Kings Park & Botanic Garden
West Perth
You knew it was coming. No round up of the best parks in Perth would be complete without Kings Park, and you know it. Catch views over the city on the Fraser Ave Lawns, or find somewhere more secluded by heading down Hackett's Path (the views from Jarrah Pavillion are arguably the best in the park) or Federation Walkway. Somewhere near the Pioneer Woman's Fountain could also be byouitful!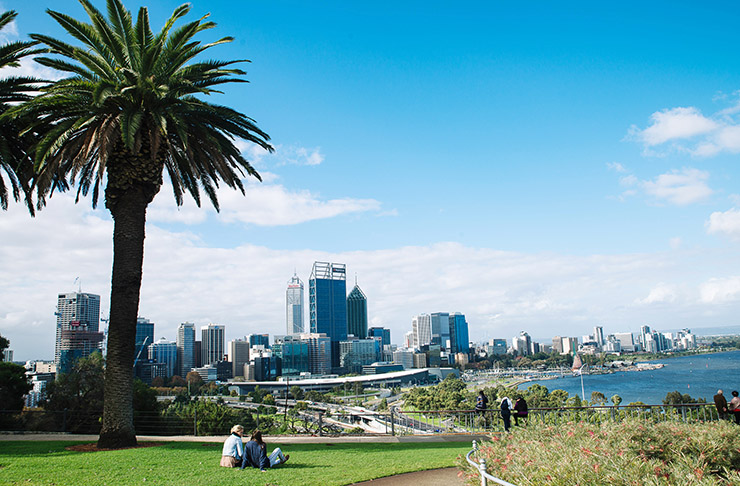 Lake Monger Reserve
Wembley
Another iconic Perth park, sun-down at Lake Monger Reserve is seriously epic. Even though it's an extremely popular spot for runners, there's heaps of space so we're sure your cheese you'll be safe from judging eyes (cheese > running amirite?)
Clarko Reserve
Trigg
Clarko Reserve is the perfect place to picnic at the beach but without the sand (cheese and sand are not friends). Tuck into a smelly blue, all with million dollar views of the big blue right in front of you!
Tropical Grove
Crawley
This incredible oasis on the UWA Crawley Campus is by far one of the best spots to enjoy a good salty camembert. Towering palms, ferns and tropical plants surround you inside this little grove, so you and your cheese can enjoy your own little world.
Pine Tree Park
Mount Claremont
Tucked into suburbia just behind Mount Claremont Primary School is Pine Tree Park, a very green and very shady little enclave that is perfect for a quiet little cheese date with friends. It also connects up to Lake Claremont (via Mount Claremont oval) which is a beautiful spot for a walk beforehand (but not ideal for eating and drinking—it's a popular dog exercise area!).
Esplanade Park
Fremantle
The iconic Esplanade Park in Freo is full of towering pine trees that provide cute little spots to set up your picnic. The sunsets here are stunning, but the best part is that just because the sun leaves doesn't mean you have to—plenty of light is provided by surrounding restaurants and the place is a pleasure by night!
Monument Hill Memorial Reserve
Fremantle
The highest point in Fremantle, Monument Hill Memorial Reserve provides incredible views of our beautiful port city and beyond to the ocean (sometimes you can even see Rottnest). You'll feel like a king while devouring your cheese board here!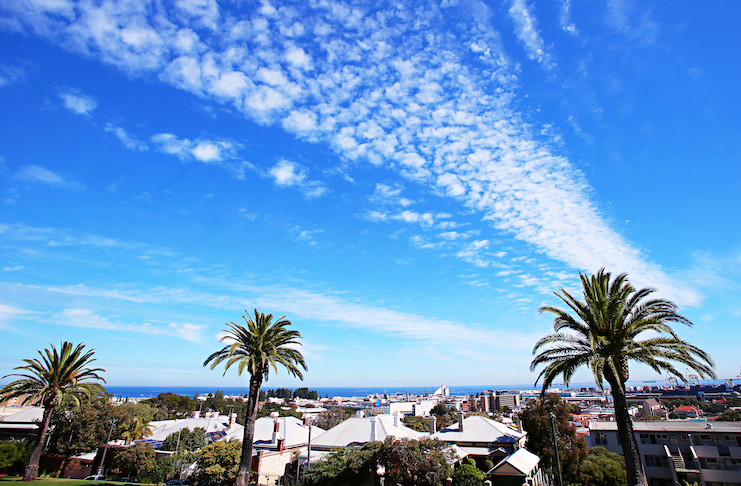 Point Walter Reserve
Bicton
This locally loved piece of our river bank is a great picnic spot and provides access to the Point Walter Sand Back which makes for a delightful little walk pre-cheese.
Stirling Square
Guildford
Stirling Square is a beautiful park in the heart of Guildford, surrounded by big trees that outline the park for privacy. You can take a walk down the pioneer trail and learn about Guildford's heritage before setting up to eat your cheese-filled heart out.
Can't get enough of wine and cheese? Click here for the ultimate guide for pairing the two together.
Esplanade Park | Image credit: Louise Coghill, Elle Borgward, Nancy Hanna