When it comes to road trips, most Perth peeps immediately think of the beautiful South West, and how could anyone blame us? The beaches and lakes are stunning no matter the weather, the gourmet food and wine options are plentiful and there's a never-ending list of walking trails and Insta-worthy natural scenes to take in.
And while you might usually stick to the coastal route, we think it's high time you veered inland a little to check out all the amazing things to do in Collie.
Head on a drive roughly two hours south (and ever so slightly east) of Perth and you'll find yourself in the Shire of Collie, home to bucket list locations like Black Diamond Lake and Honeymoon Pool. Pack your bathers, inflatable ride-on pool toys, tents and even your four-legged friends, start the car and get ready for the ultimate road trip to Collie.
Get Caffeinated At This Pop-Up Cafe In A Heritage Train Wagon
With all of the swimming and exploring you've got teed up for later, the first you're going to want to do is stop for a coffee at Wagon 537. Tucked away in a restored railway wagon in Collie's Central Park, this cafe is the perfect place to grab a drink and a snack before you spread out a picnic rug on the lawn and devise a plan for the rest of your trip. Enjoy a coffee made with Margaret River Roasting Co beans, or sip away on a fresh fruit smoothie or cold pressed juice—they also do superfood lattes made with ingredients like turmeric, beetroot and matcha which are too cool not to try. Bring your appetite and you'll be spoilt for choice with all of the cupcakes, muffins, pastries and salads they have on offer.
Go For The Most Serene Swim Ever At Honeymoon Pool
If you follow at least one person from Perth on social media, you'll probably know what we're talking about when we say Honeymoon Pool is a hot spot for Instagram pics. Located in Wellington Natural Park, this tranquil pool is shaded by overhanging peppermint trees and it's the perfect spot for a swim or a paddle by kayak. A large wooden deck extends out into the river providing easy access, and in summer it acts as the perfect place to sunbake. Honeymoon Pool has 20 tent-only sites if you're considering setting up camp in this picturesque spot—the campgrounds can book out on long weekends and school holidays, so secure your spot by booking here.
Blow Up The Inflatables And Float Along Black Diamond Lake
Make sure you bring your inflatable pool toys, SUPs, kayaks and most importantly a camera when you head to Black Diamond Lake—this spot is home to the most Instagrammable body of water in WA. If the sun is out, this former open cut mine turned artificial lake will dazzle you as the light reflects off the water and treats you with views of its vibrant, clear blue colours.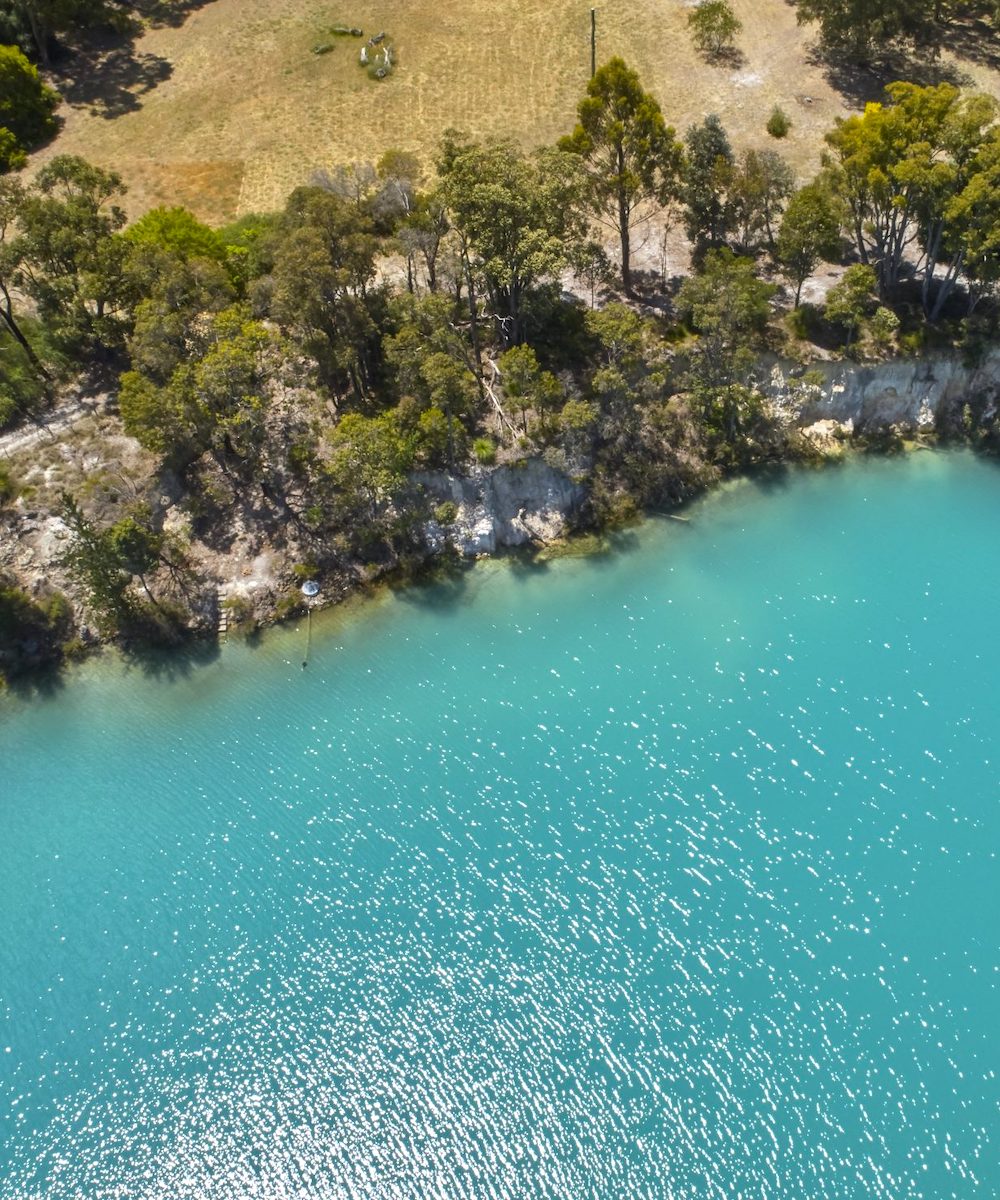 Set Up Camp At The Beautiful Stockton Lake
Stockton Lake is another old open cut mine that's been converted into an artificial lake, and a jaw-dropping one at that. Unpack your tents and swags and set up right on the water's edge at this paradise for campers—there are no reservations, so it's first come first serve. This can make staying here tricky in summer and on holidays and long weekends, but if you're lucky enough to nab a spot in this huge sprawling campground you'll be spoilt with the most amazing lake views. If you're travelling here in larger groups, the fact that there are no set bays makes it easy to set up together—just make sure you bring your own camping showers (and toilets, for that matter) if you're staying a while because the amenities are on the minimal side. Once you're set up, you can adventure out onto the calm waters for some swimming and kayaking. Stockton Lake is dog-friendly, so it's a spot that's fun for the whole family.
Put On Your Walking Shoes And Explore Wellington National Park
If you bring your hiking shoes, Wellington National Park will provide the views with a huge variety of walks and trails to be taken through its forests and valleys. Trails suited to varying fitness levels are located between Honeymoon Pool and the Quarry picnic area, with loop lengths ranging from 9.5km up to 20km. Set off on the Kurliiny Tjenangitj (come and see) walk trail—it's a 9.8km loop through the jarrah forests, with views of the lower Collie valley. Stroll north from the kiosk past Potters Gorge and slowly make your way back once you reach the picnic area there. You can read up on the other walks and trails here.
Fuel Up With A Feed At Harris River Estate
There's no better way to finish off your Collie road trip than with lunch at Harris River Estate Winery. Choose from tapas dishes like sundried tomato and parmesan croquettes, tangy meatballs and crispy chicken wings and wash them all down with handcrafted beer, cider and award-winning wines. The estate is family-run, and includes a 24-hectare vineyard, a micro-brewery and self-contained chalets, so you'll be in the right place if you want to extend your trip on a last-minute whim.
Done Collie? Here are all the best things to do in Dwellingup.
Image credit: Supplied