Holiday season is upon us and while we've got a few months until our state borders are wide open, there's really no need to go any further than Crown Towers Perth if you're looking for luxe vaycay vibes.
Sitting pretty overlooking our beautiful Swan River and the Perth CBD, Crown Towers is the perfect staycay when you just want to relax by the pool, eat world-class food and perhaps treat yourself to a bit of pamper time.
When you're booking, we'd highly recommend treating yourself to the Crystal Club upgrade. Not only will you get to skip the queue when checking in and save yourself precious time that is much better spent in your room or by the pool, you'll also get to make the most of happy hour. From 5:30pm each day, you can head up to the 22nd floor to be wowed by the beautiful views as the sun sets, and let's not forget the complimentary drinks and canapes which are the perfect way to start any evening at Crown. The upgrade also includes a delicious breakfast so it basically pays for itself if you ask us.
When you arrive, you might be tempted to jump into the cloud-like bed, but resist the urge and head to the pool instead. Undoubtedly one of the best pools in all of Perth, you can either reserve a cabana or simply stroll down and grab any of the free sun loungers. Order yourself a drink from the Enclave pool bar and then go from the spa to the heated pools to your heart's content.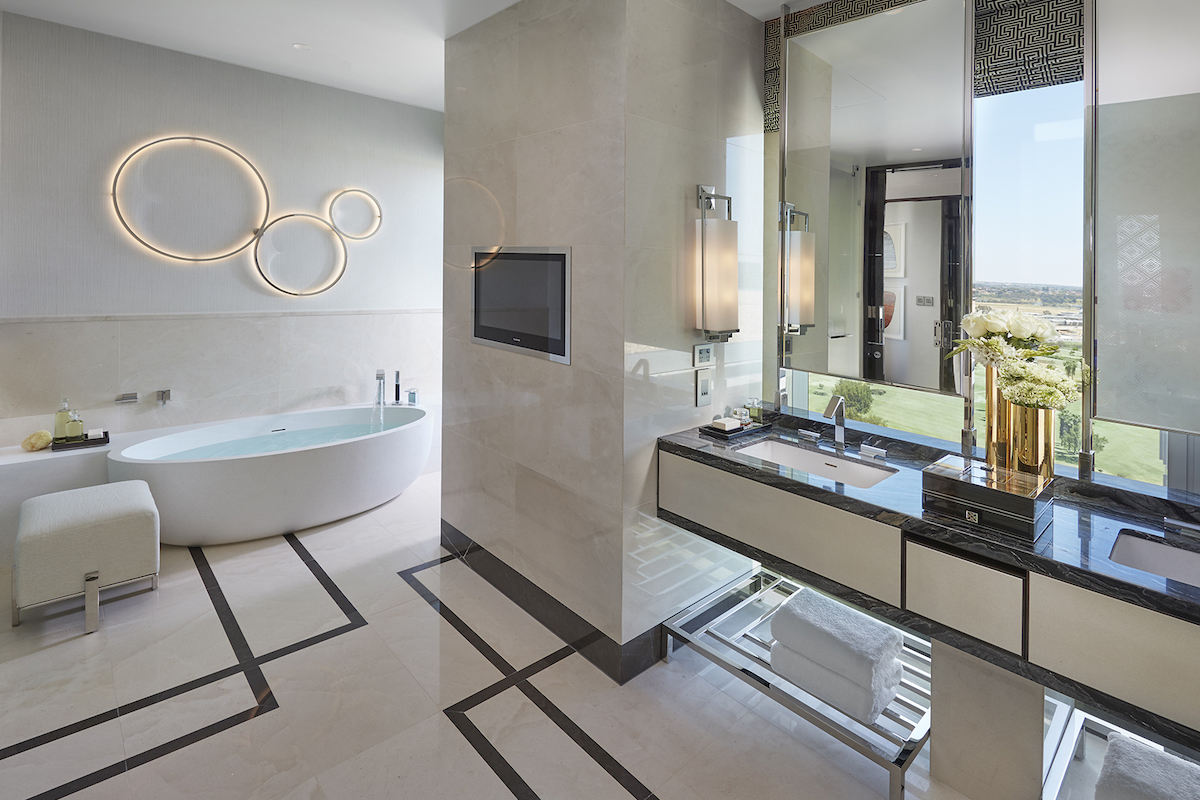 Before long it will be time to head to the Crystal Club, but be sure to leave yourself enough time for a long relaxing soak in the huge tub. Dim the lights and turn on some music, or grab the remote and watch the wall-mounted TV right from the bath.
When dinner time rolls around, you'll want to have made a booking at one of Crown's best restaurants and we just can't go past Nobu. When it comes to food and service, it can't be beaten. The cocktails are unmissable and while anything you order will be great, may we recommend the yellowtail sashimi and the black cod miso. Just remember to book early or you might miss out!
After eating yourself into a food coma, your uber comfortable bed—turned down with a delicious little Koko Black truffle—is just what the doctor ordered.
In the morning, if you can pull yourself out of bed, you can head to the gym to sweat out last night's cocktails, but our preference is to make the most of the Swan River on your doorstep and go for a leisurely stroll in the sunshine to work up your appetite.
If you've gone for the Crystal Club upgrade, you'll have complimentary breakfast which includes a very impressive buffet as well as your choice of one of the dishes from the a la carte menu which includes everything from pancakes and omelettes to congee and a big breakfast. Back at the buffet, you can take your pick from a huge variety—think scrambled eggs and mushrooms, dim sum, charcuterie, and of course a great selection of fresh fruit, muesli, yoghurt and more. There's also never-ending barista coffee, so you can start your day right.
If you're lucky enough to be able to snag a booking at the spa, now is the perfect time for that, otherwise it's back to the pool for one final relaxation sesh before you need to check out.
While you're there, you might want to check out the incredible high cheese at TWR.
Image credit: Supplied
Editor's note: Urban List editors independently select and write about stuff we love and think you'll like too. Urban List has affiliate partnerships, so we get revenue from your purchase.