Unpretentious, warm, and full of life, there really is something about a good Irish pub which makes you feel instantly at home. And while Perth has its fair share of beaut Irish institutes, there's one place in Leederville which punches way above its weight in the dining department.
Opened in 1998, Fibber McGees Irish Pub and Steakhouse has become a Leederville mainstay with locals flocking into the classic Irish themed venue for round the clock live sport and a good selection of affordable beers on tap. But yes, while the Irish craic is on point, what really sets this place apart is the food.
Not only is 90% of their produce made in house—we're talking cultured butter, sauces, glazes, pickles, bread, sausages, and more—but they also own and operate their own certified organic farm in Perth Hills where they raise their own cattle, and also dry age, butcher and cure their own meat in house. No wonder their steaks are some of the best in Perth.
In case you haven't already clued on to it, owner John Little is very committed to quality and works closely with Head Chef Matt McClernon and Sous Chef David Conlan to ensure they're always serving up the very best at Fibbers.
With Saint Patrick's this week, we took the opportunity to suss out the popular Irish eatery last weekend, and let us tell you, our stomachs were stuffed to the brim by the time we left.
On the menu, alongside the dry aged steaks they're known best for, you'll find plenty of classic Irish dishes—from the famous steak and stout pie with creamy colcannon mash, to homemade Irish sausages with pea mash, bacon and rich onion glaze.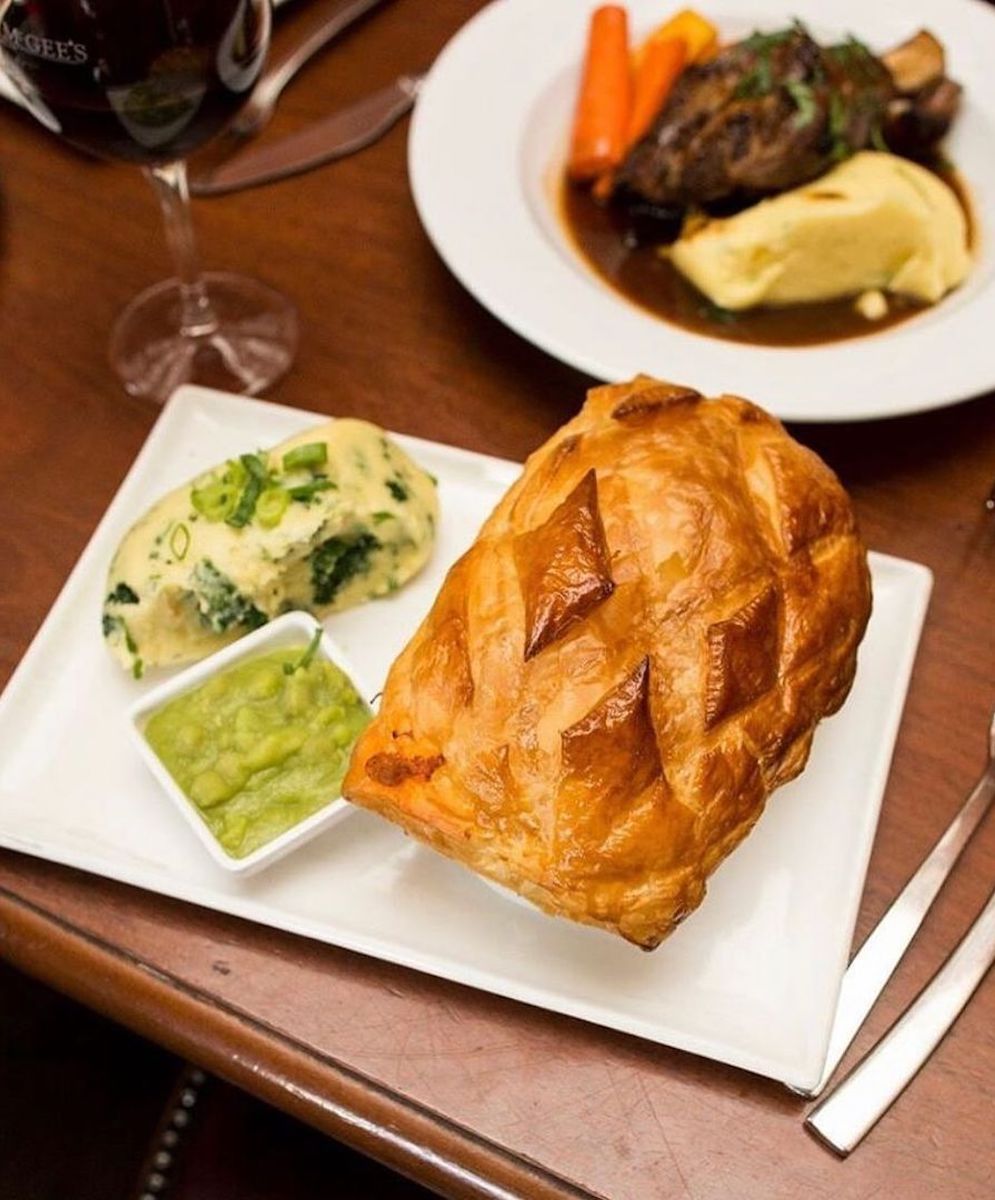 Never one to pass up some nibbles, we decided to go big with a shared starter and mains— opting for the organic pork terrine and chicken liver pate served with toasted homemade bread and apple chutney to kick things off. This was insanely good so we were pretty glad we went with the waiter's recommendation and wasted no time polishing off every last bit.
On the mains front we obviously had to try the steak, and the 500g dry aged rib-eye did not disappoint. Served with hand cut potato chips, onion rings, green beans, mushrooms and your choice of homemade sauce, it was honestly enough to feed two people. But damn, one bite of that juicy slab of meat and you will want it all to yourself.
We also couldn't go past the fish of the day, which was a beautifully cooked piece of crispy skinned Tasmanian salmon, served with a generous serving of mashed potato, salad and a beurre blanc sauce. Again, it was well-cooked, delicious and huge. Looking around the dining room, turns out every meal was just as generous (and equally appealing) so rest assured you won't leave hungry.
After failing to finish the last of our mains we had to pass on desserts, although that sticky date pudding was pretty darn tempting. Instead we sat and finished off the last of our drinks in a complete food coma before finally rolling ourselves out the door.
Having gone in expecting a standard pub meal, we were pretty blown away by the offering at Fibbers. From the fresh produce and hearty servings to the attentive service and easy-going vibe, it's the kind of place that you can easily take the whole family.
And honestly, if you call yourself a steak lover, you really have to give this place a go.
Keep the craic going with a pub crawl through all our favourite Irish pubs in Perth.
Image credit: Fibber McGees