Many people write-off Japan as nothing more than a bustling, crowded cluster of chaos, but when you look beyond the crossings and skyscrapers, there are endless hidden gems both in big city Tokyo, and just a quick shinkansen high-speed train ride away in Kyoto, Hiroshima, Osaka and Nagano.
While it would be impossible to list every brilliant little underground izakaya or unmissable temple, we thought we'd get your travel plans rolling with a list of some of our absolute must-dos in the melting pot of culture that is Japan.
Read on for the best things to do in Japan.
The Best Things To Do In Tokyo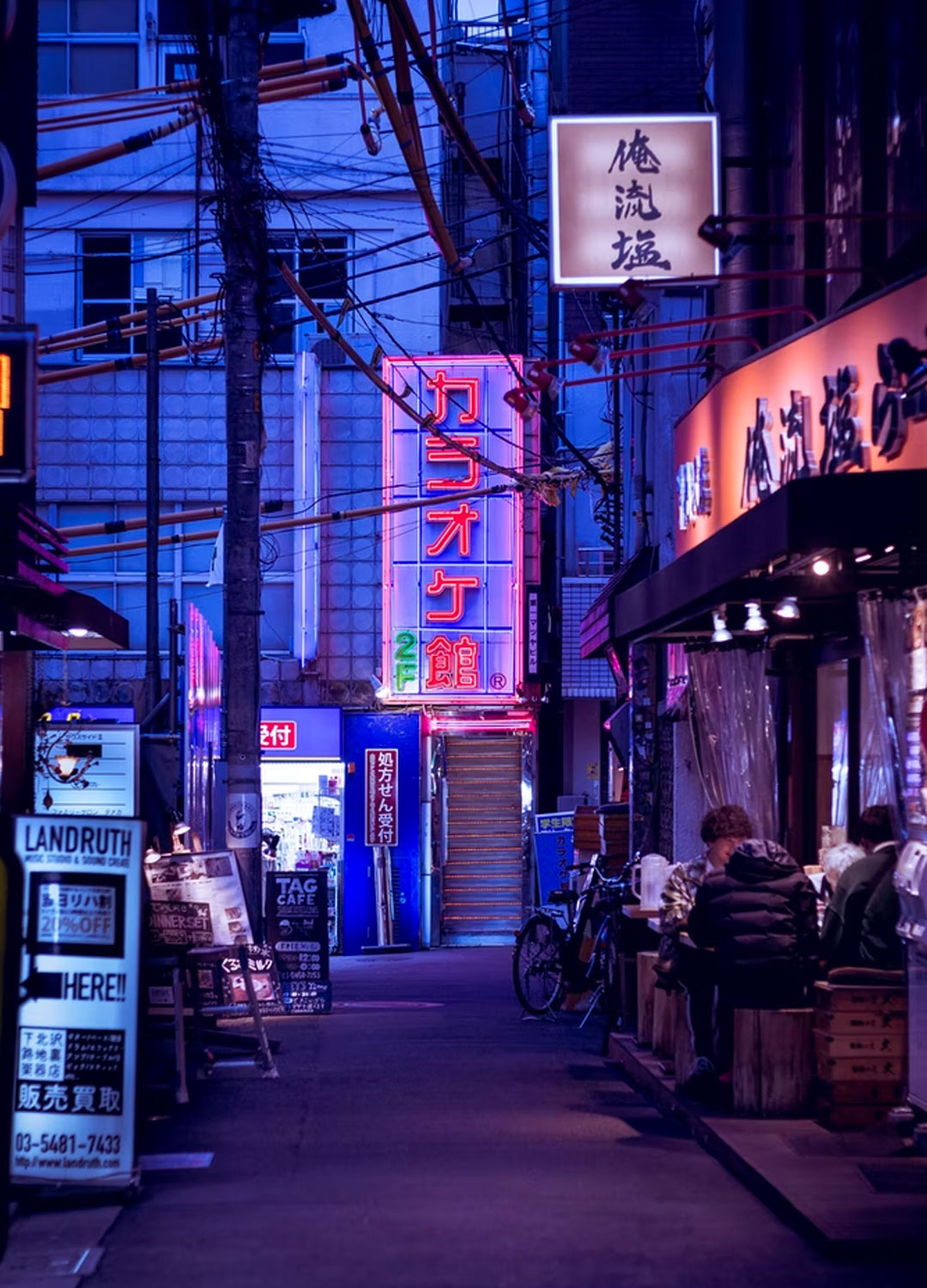 Explore Ghibli Park
In 2023, one of the biggest destination magnets of Japan is no other than Ghibli Park. Studio Ghibli needs no introduction, the animation studio hails as one of the most acclaimed in the world and has gifted us with anime goodness such as Spirited Away, My Neighbour Totoro, Princess Monokoke, Ponyo, Howl's Moving Castle and a whole heap more. Not to be confused with Ghibli Museum (located in Mitaka, Tokyo and featuring exhibits and displays showcasing the art, animation and creative process behind Studio Ghibli's films), Ghibli Park is a new venture heavily anchored in creating outdoor spaces that mimic a bunch of Ghibli-esque worlds with an emphasis on nature and environmental sustainability.
For the last few years, Ghibli Park has long been hailed as an extravagent theme park that should be on front and centre of any travellers bucket list. However, you won't find big attractions or adrenalin-enducing rides here. Instead, you can expect to spaces like 'Ghibli's Grand Warehouse', a display of all things Ghibli with a dedicated screening room, exhibitions, shops and a cafe. There's also the 'Hill Of Youth', an outdoor oasis boasting The Rotary (a roundabout like the one int he town square from Whisper Of The Heart), Th Cate Bureau (a cat-sized single-story wooden building from The Cat Returns) and even the World Emporium (an antique repair and resale shop that Shizuku Tsukishima stumbles upon in Whisper Of The Heart stocked with antique furniture, cuckoo clocks, dolls, wooden horses and more).If being transported into the world of My Neighbour Totoro is hot on your list, you'll want to make sure you swing by Dondoko Forest.
Ghibli Park is still yet to expand, with the Valley of Witches and Mononoke Village planned for construction in the future too. International ticket sales will be on a gradual rollout, you can scope them here.
Slurp Up Some Ramen
There's no better antidote to a frosty Japanese afternoon than a big steaming bowl of salty bowl of soupy magic. We believe that sometimes the best ramen can be found in the dingiest of alleys and whilst we would never dare choose a definitive favourite, we suggest Kiraku at Shibuya Station with its 70 years of mouthwatering chewy homemade noodles; the Michelin-Starred Nakiryu celebrated for its three kinds of melt-in-the-mouth pork chashu (definitely worth the two hour lines) or Ushio who offer more contemporary takes on the classic dish - think soy smoked duck ramen.
Experience A Sensory Overload At A Robot Restaurant
Whatever illusions your mind creates about this experience, you'll still be completely shocked. People describe Robot Restaurant as an amalgamation of the most tripped-out real life sci-fi experience you'll ever have with lasers, trance music, exotic dancers and giant robotic dinosaurs all part of the fun. Most people don't actually eat here as the food is considered pretty average and overpriced, but the experience is unforgettable.
Wander Piss Alley
Despite it's dubious name, Piss Alley should absolutely be on your hit-list. Hidden amongst the chaos of Shinjuku Station is this tiny magical lantern-lit alleyway of seven-seater bars, yakitori restaurants and street food stands that take you back to post World War II Japan. The name spans back to when the quarter was known for its illegal selling of alcohol where men would stay until they passed out, urinating on the streets in their inebriated states. These micro-bars offer some of the most authentic food in the city alongside some unique delicacies, so make sure to set aside an afternoon to stumble down this enchanted rabbit hole.
Become A Sake Connoisseur
Sake is a mild and slightly acidic Japanese spirit made through fermented rice usually sipped, and Kyoto just happens to be the second-largest producer in Japan so it would be a waste not to hop around to some of their brilliant local breweries and bars to try it out! We love the old-school Kizakura Brewery known for its Kizakura Piano sparkling sake and Fushimi University who take the art of sake very seriously offering sake lectures and tasting flights.
Visit The Golden Temple
We've all been privvy to the iconic image of Kinkakuji Golden Pavilion, the Zen temple whose top two levels are completely covered in gold leaf and were once home to Shogun Ashikaga Yoshimitsu. Once you've taken 'the shot' of the shimmering gold illuminating across the pond, you're able to visit the private quarters, light candles to wish for the prosperity and health of your loved ones, then spend the afternoon at the teahouse or wandering through the luscious gardens.
Spend The Day On Two Wheels
Kyoto's majestic beauty is best seen on two wheels, and fortunately most hotels and Airbnbs now offer free bikes to allow you to spend the day cruising down the Kamo River at your leisure, stopping to admire the cherry blossoms and picturesque landscapes along the way. If you're keen for some guidance, great companies like Kyoto Bike Tours have a range of areas to bike through (we love the Bamboo Forest adventure) or if you're riding solo, we suggest you pack a picnic and book, then perch yourself on the riverbanks to watch the lovers and locals pass by.
The Best Things To Do In Hiroshima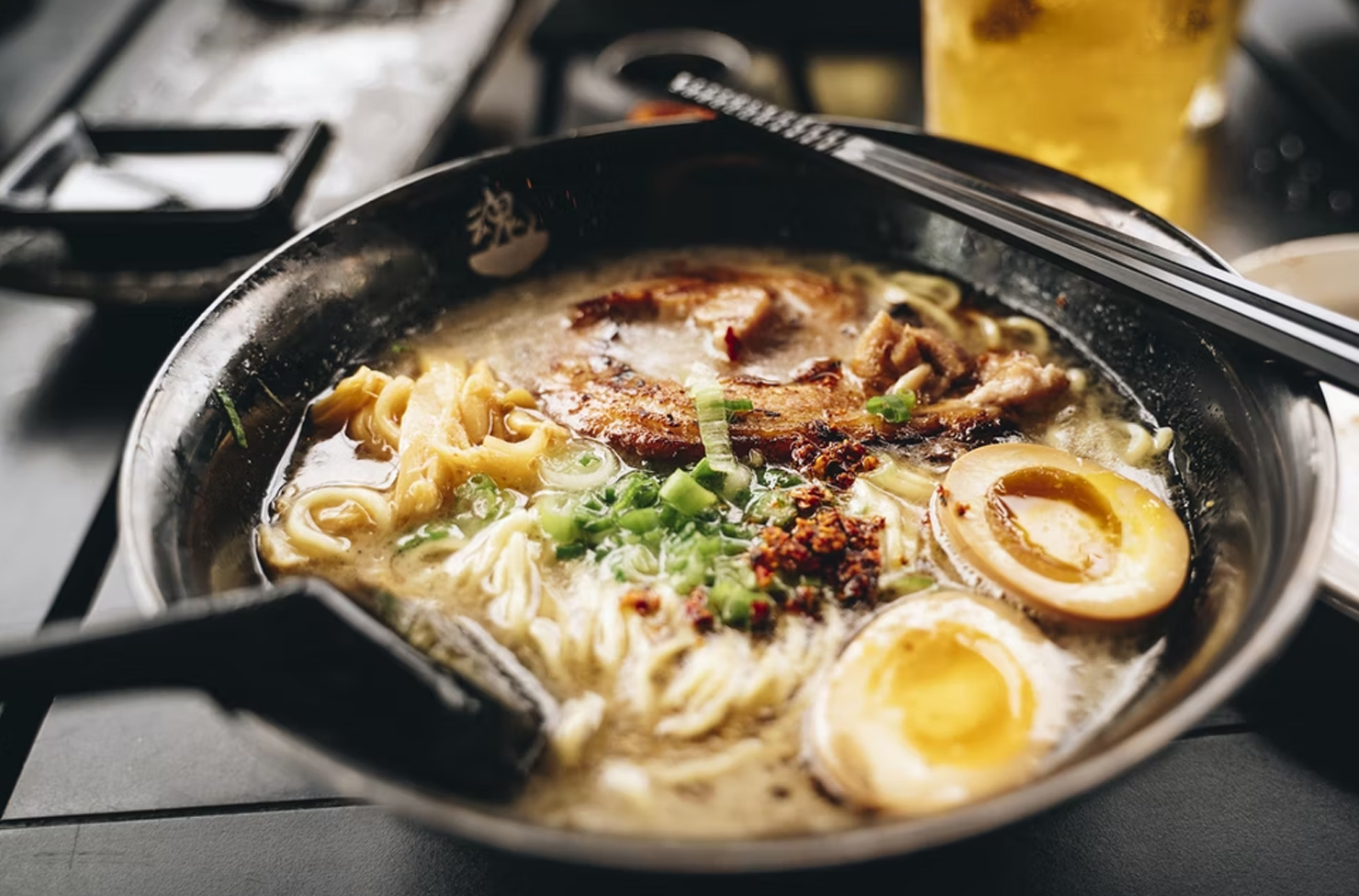 Visit The Atomic Dome And Hiroshima Peace Memorial
It's bizarre to witness the iconic Atomic Dome perfectly retained in its destruction amongst the hustle and bustle of busy locals passing by. The Dome was deemed a UNESCO World Heritage site back in the 1990s and stands tall as a reminder of the atrocities that occurred in 1945. Just further down the path, you'll find the Peace Memorial Museum that gives a facinating insights into the lesser known lives and stories behind the bombings, as well displaying some overwhelming artifacts and pieces from after the explosions. A truly moving experience.
Spotto Some Paper Cranes
You'll notice origami paper cranes or orizuru everywhere you go around the city center of Hiroshima. This historic paper-folding technique has been reserved for ceremonies since 6th century AD and legend stemming from the story of Sadako believed that if you could fold 1000 paper cranes that you would be saved from illness or spared from great pain. The colourful cranes around the memorials serve as a metaphor of hope, and create the most beautiful sidewalk displays.
Be Your Own Okonomiyaki Chef
For those who haven't heard of it before, okonomiyaki is like Japan's version of a savory pancake mixed with batter, egg, cheese, cabbage and a wide array of meats and other treats. Okonomi Mura which translates to 'Okonomiyaki Village' is this strange and fabulous three-storey food heaven with 24+ individual okonomiyaki restaurants all boasting their own specialties and secret ingredients that allow you to sit at the bar and cook for yourself at your own personal hot plate doubling as your table top. Yum.
The Best Things To Do In Osaka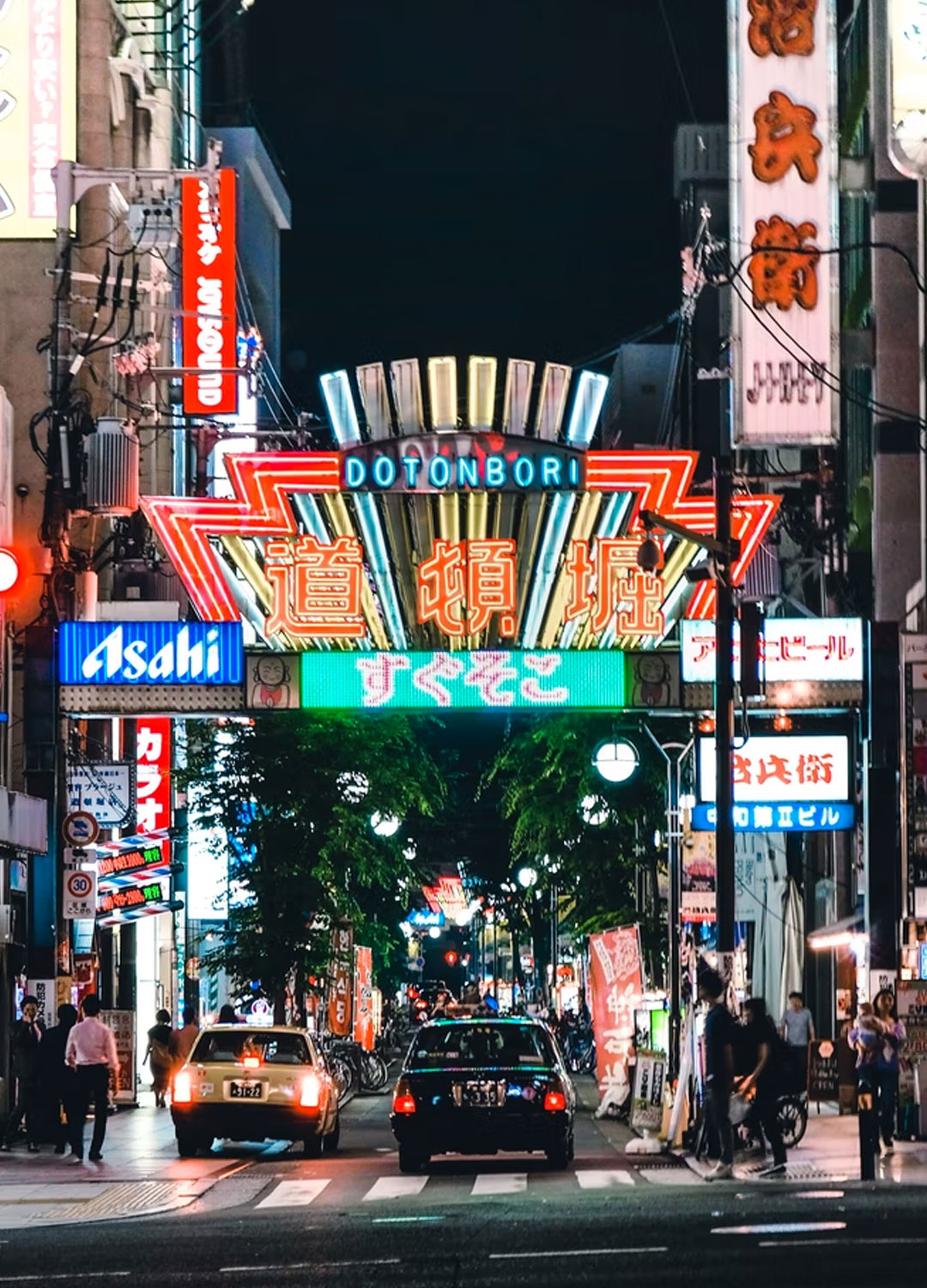 Walk The Neon Streets Of Dotonbori
Often labeled as Japan's version of Time Square, Dotonbori is a sensory explosion of bright lights and fun-loving young people everywhere with karaoke bars and great bars all around. Pop on some comfy shoes and spend an evening strolling down the river making sure to step into one of the endless strings of game arcades, take some photo booth shots as souvenirs and then book yourself into a private karaoke booth and sing your heart out with a few highball cocktails.
Destress At A Scenic Onsen
If you want the ultimate form of relaxation from all of that exhausting walking around, then you must visit one of the local onsens (Japanese hot springs) scattered within an hour of Osaka. The onsens consist of an outdoor open-air large spa that uses the natural springs to soothe your aching muscles and calm your tired mind. With a massive spectrum of budget to luxe options, we suggest the serene ​​Okumizuma Onsen surrounded by stunning scenic valleys; the quaint historical Amami Onsen Nanten-en designed by a renowned architect Tatsuno Kingo of the Meiji dynasty or, if you're in for a little more of a drive outside the city, then the panoramic Osaka Sansuikan Onsen set amongst the Settsukyo Gorge is a whimsical place to let yourself melt away.
The Best Things To Do In Nagano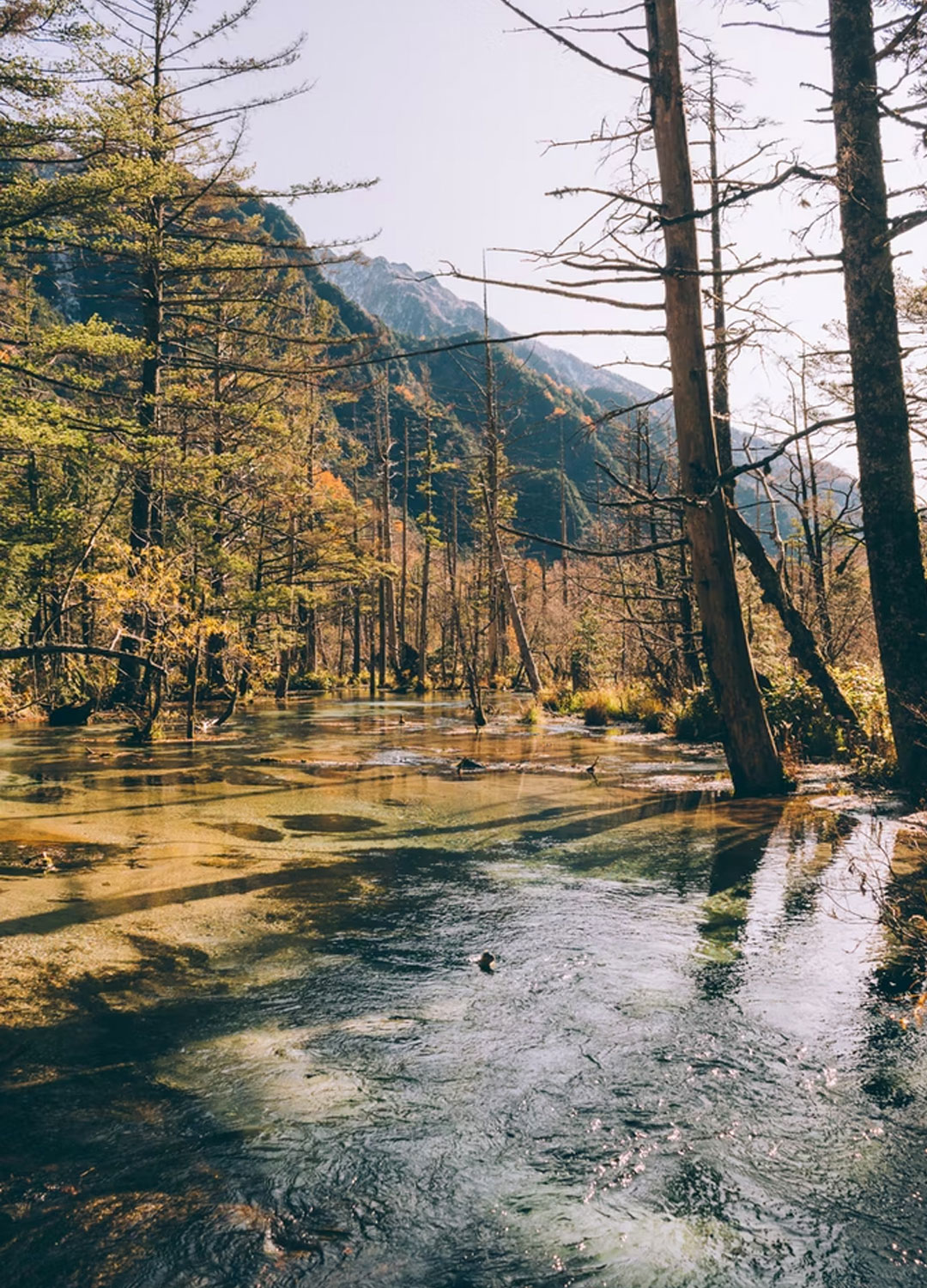 Hit The Slopes
Nagano has been known consistently over the past decade to report the highest levels of daily snowfall making for some of the greatest natural slopes in the world. Happo One Resort is an extremely busy resort once used for Olympic training popular with Aussies and party-people, Hakuba 47 Ski Resort offers a quieter more family-friendly experience with a great versatility of slope difficulty, and Nozawa Onsen Resort is nestled in a traditional village with a range of small bed and breakfast stays perfect for couples if you're after a more authentic Japanese ski adventure.
Apres-Ski Drinks
Whilst some of the local eateries can be wildly touristy, there are some super trendy underground bars to grab a much-needed digestif after a big day in the snow. The Nagano Club Junk Box is an edgy retro industrial space that celebrates both local and international musical talent known for its lively crowd; The Beach Bar is loved for its quirky bold cocktail list and fun nautical-themed interior or the new secret speakeasy Holy Smokes offers a ridiculous fine Japanese whiskey selection that will have you sipping away in the ambiance all night. Cheers!
Now, read on for your foodie guide to Niskeo.
Image credit: Renée Ardon-Coppinger, Nomadic Julien, Greg Jeaneau, Diego Lozano, Chapman Chow, Atul Vinayak
Editor's note: Urban List editors independently select and write about stuff we love and think you'll like too. Urban List has affiliate partnerships, so we get revenue from your purchases.