Local & Aesthetic may have been a year in the making, but they've hit the ground running since opening up their cool new digs in Mount Lawley last week. Located at 769 Beaufort street, the new cafe meets retail space co-founded by two local hospo pros is a love letter to WA in every way—so no surprise to see it's already attracting plenty of locals.
When you first step through the heritage style tiled entry into the huge light-filled character space complete with concrete floors, crisp white walls, and splashes of green plants, there's plenty to take in. The building's home to not just the cafe but also local vinyl slingers Rhubarb Records; the retail outlet for FISH (Foundation for Indigenous Sustainable Health), which showcases amazing Indigenous products; and a spacious art gallery at the back of the building, which currently displays a selection of stunning Aboriginal art but will rotate regularly to feature more local artists. Plus, also worth noting are the team's trendy tees (which we hope to see up for sale one day) and all the cool branding decals throughout the cafe, which have been thoughtfully designed by local legends Made In The Pile and printed by Pogo Press.
Before you get too distracted by everything, though, we suggest you grab a menu and take a seat at one of the timber cafe tables inside or out on the chilled decked area to mull over your choices—you can go for more of a gander once you've placed your order.
Developed by head chef Mitch Strickland, the food menu is packed full of nostalgic Australiana eats like the 'Polony and Sauce', an adult version of your childhood fave with layers of shaved mortadella and a good heaping of tomato relish between two pieces of fluffy white bread; the 'Numbat Toast', an amped up take on the classic vegemite and cheese on toast; or the 'B&E Damper Roll', an Australian spin on the bacon and egg brekky delight. There's also plenty of vegan and vego friendly options as well as loads more dishes showcasing native ingredients and bush tucker. Honestly, it all looks pretty darn good, though, so don't overthink it too much. Just make sure you pair your brunch of choice with a cup of coffee—their beans are supplied by the local award winning coffee roasters at Kaltiva, so you know it's good.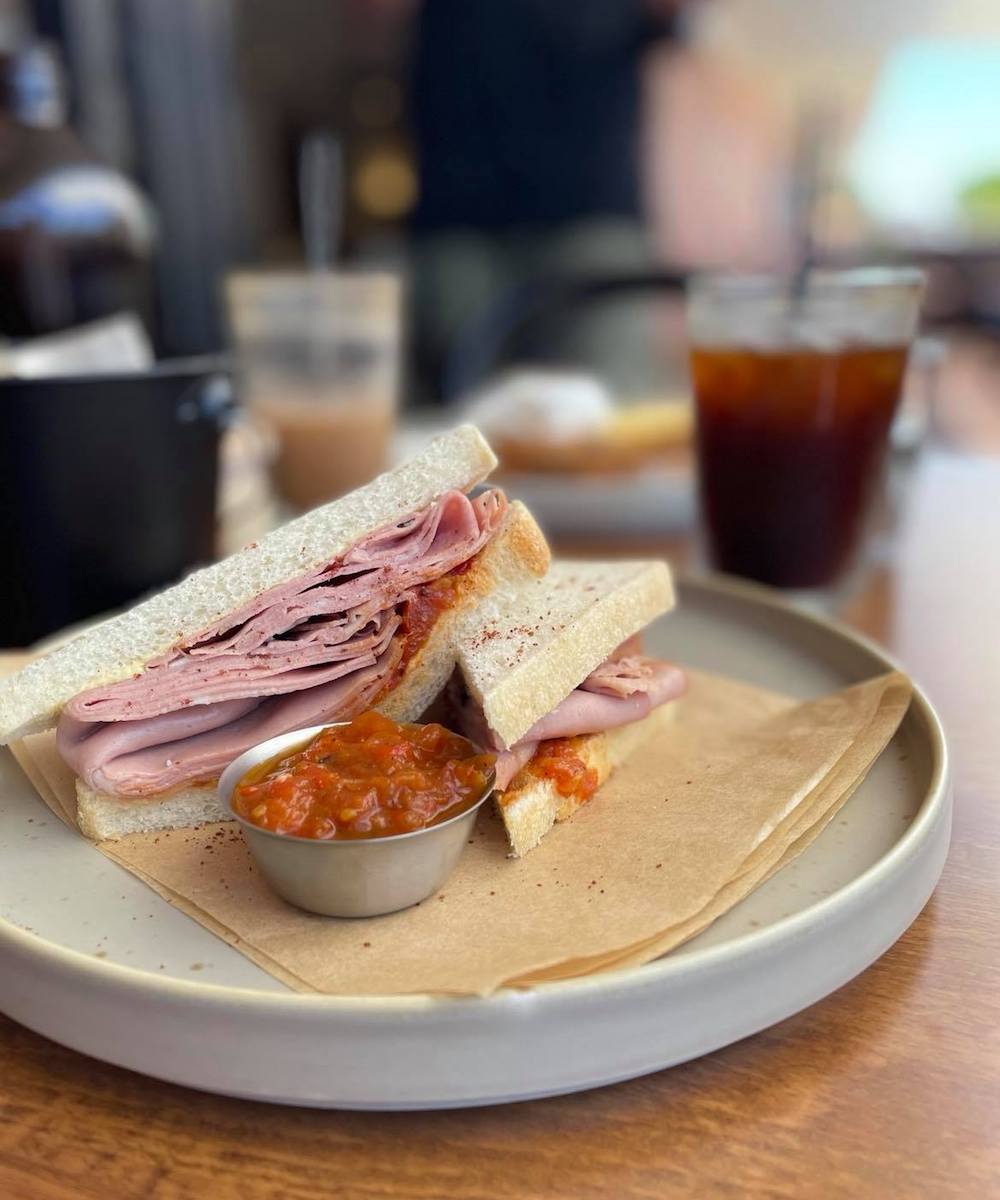 Co-founders Liam Young and Dominique Rae have worked hard to create a space that speaks to the best WA has to offer, and they've definitely hit the nail on the head here. Local & Aesthetic is packed with genuine West Australian charm and overflowing with the kind of community vibes that make you feel right at home from the moment you walk in. And we're keen to see what and who else they invite into their home over time, with Liam hinting that some cool local takeovers, collabs, and pop-up market events could all be on the cards. For now though, we'll just have to wait and see.
The Local & Aesthetic cafe is now open from Tuesday to Saturday 7am 'til 4pm and Sunday 7am 'til 3pm, with the retailers open from 9am Tuesday to Sunday. Swing by for a coffee and some crate digging next time you're in the area.
While you're in the area, why not kick on to the new Clarence's Company Store.
Image credit: Local & Aesthetic, Claire Logan