Perth's seen its share of sandwich and toastie shops pop up over the last couple years but this latest opening, really double downs on everything we love. Located at the corner of Market and Leake Street in Fremantle, Peggy's is the new sandwich bar and eatery from chef Harry Peasnell and partner Harriet Roxburgh, and just quietly, we're kinda obsessed with it.
The fit-out is retro-inspired yet still cool and contemporary, with a slick New York-style deli aesthetic that feels incredibly at home within the 1890s heritage building it's housed in. Picture jarrah floorboards, exposed brick walls with the lightest lick of white paint, large heritage shop-front windows decked out with a couple of lo-fi decals, light timber furnishings and a vintage-style diner menu hung above a terrazzo bar wrapped in white tiles. And don't even get us started on the quality merch… it pretty much all sold out within the first few days of opening, so thank god they're planning on dropping new styles regularly.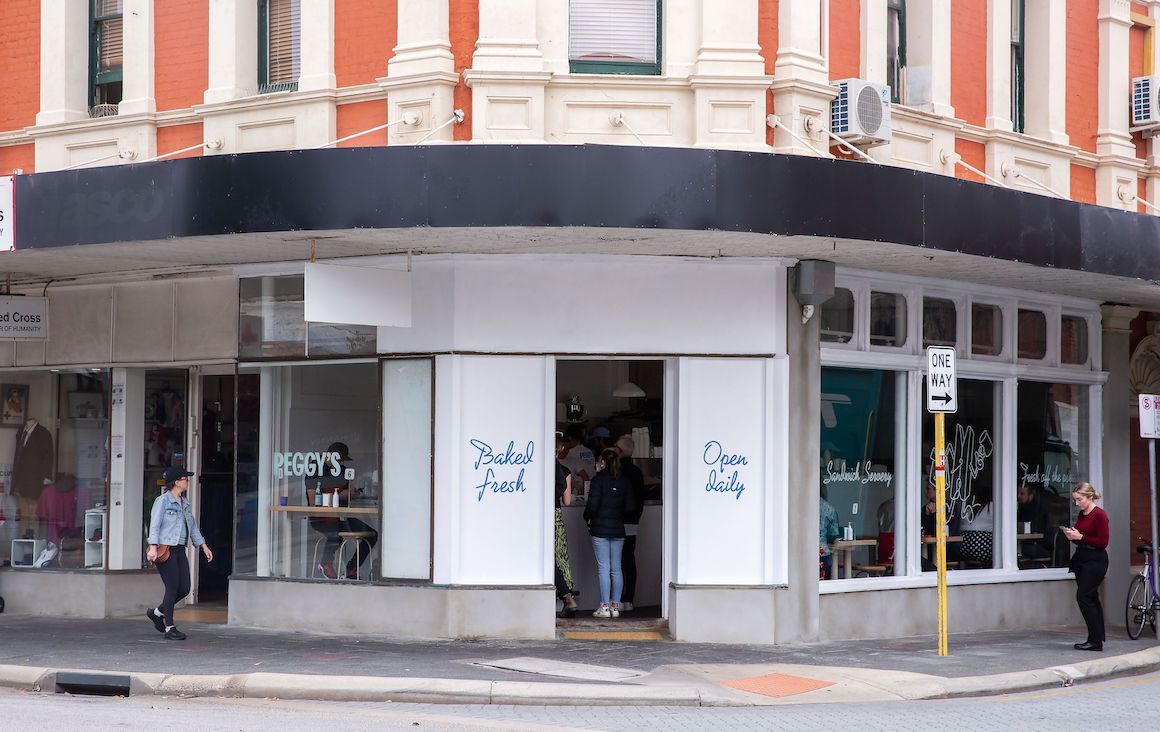 But while the new-wave vibe may draw you in, it's the food that will keep you coming back. From Cubanos and sausage and egg muffins to schnitty and egg salad sangas, there's no doubt Peggy's does nostalgic classics extremely well. But make no mistake, these are a step above your ordinary sanga, with special care put into each and every sandwich filling—no surprise considering Peasnell spent the majority of his career working in high-end kitchens with heavyweights like Andrew McConnell.
In the mornings, you'll have to fight off the morning rush of tradies and professionals to get your hands on one of their two brekky options: a cracking four-cheese sanga, which gives off major umami flavours thanks to the special dusting of dehydrated kimchi, and their play on Macca's classic sausage and egg muffin, made fresh to order on fluffy muffins baked in house and only $9 a pop.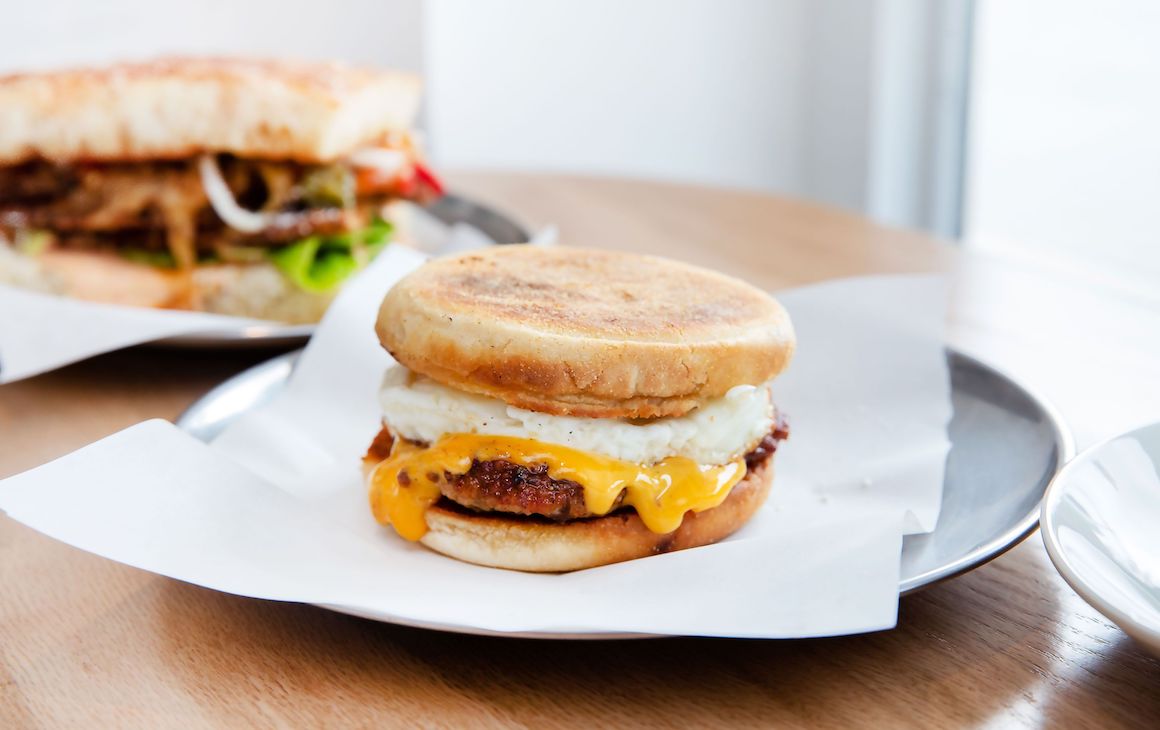 Come 10am you'll have a few more options to play with on either a sourdough focaccia or white sesame sub, again both baked fresh in house. On the focaccia, you'll be choosing between delights like the Cubano, made with two types of pork (a smoked ham and citrusy mojo pork), provolone cheese, onion, mustard and pickles, and the Parm, which features a crispy panko-crumbed eggplant parmigiana, spicy sugo and parmigiano cheese. Don't overlook the Egg Salad either; Peasnell said it's low-key probably one of the best on the menu.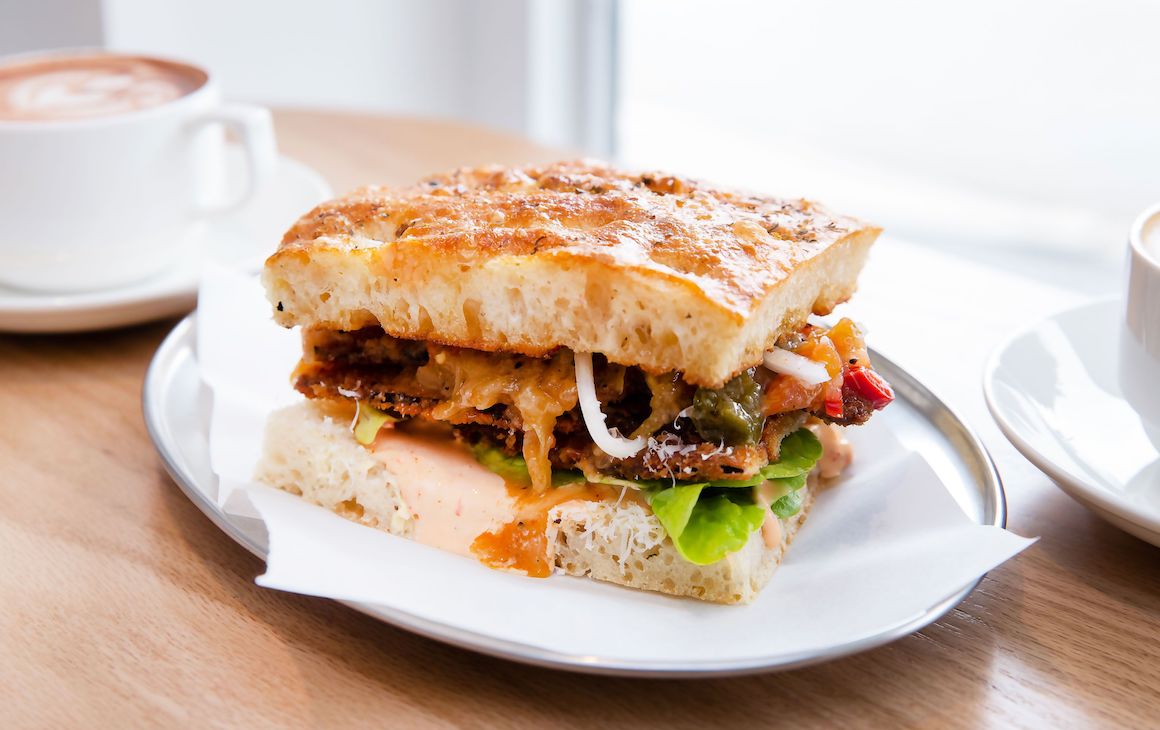 On the white sesame hoagie style sub you've got a moreish (and extremely popular) chicken schnitty, complete with crisp lettuce, thinly sliced red onions and a good smashing of dill mayo, and the Antipasti (not to be confused with a conti roll), which is their take on an American/Italian submarine sandwich minus the lettuce. If you're feeling hungry, throw on a side of their chippies, served with a special sauce and a good sprinkling of chicken salt that'll take you right back to smashing hot chips as a kid.
Your sandwich can be topped off with a damn fine coffee, with espresso and filter brews made with beans from their mates over at Subiaco's Community Coffee Co. Although, come summer we might just have to trade that in for a Nippy's Iced Chocolate.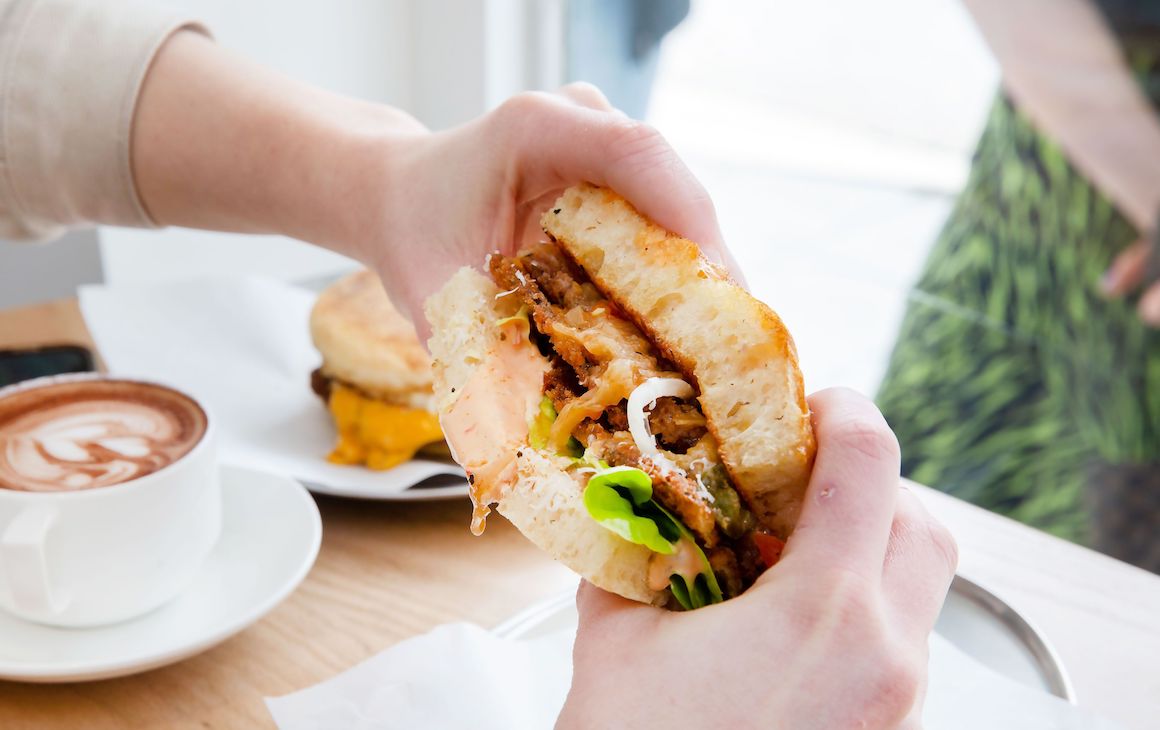 Speaking of summer, we're pretty stoked to hear they just got their alfresco approved (which will take it up to 40 seats) and are waiting on the booze licence to come through, with plans to open a little later come summertime. Think bite-sized nibbles like steak tartare and a contemporary wine list that caters to everyone from the pet-nat fanatics through to the mums and dads just chasing a good glass of riesling after a long day.
Peggy's (which fun fact: is named after the couples' daughter) is now open at 35 Market Street (corner of Leake Street) in Fremantle from 7am 'til 3pm Monday to Friday and 9am 'til 3pm on weekends.
If you're chasing more new stuff in Freo, you should also check out Niew Ruin.
Image credit: Emma Bryant