We don't know about you, but sometimes we feel like all we do is eat, drink, sleep and repeat. With so many fun new bars, restaurants and cafes in Perth, we get pretty used to all our social outing involving eating and drinking.
So it's time to mix it up. Let's make some of our social hangs of the outdoor, physical variety. Especially in a place as naturally beautiful as good ol' Perth. Instead of a brunch date this weekend, how about a spot of snorkelling? We thought so.
Here are some of the best snorkelling spots in (and near) Perth; and yes, you can definitely go get brunch afterwards.
Mettams Pool
Trigg
Mettams Pool is one of the most popular destinations for snorkelers in Perth. Why? Because the bay is sheltered from waves with a very handy rock formation that forms a bit of a ring around the 'pool'. This means that the water is generally pretty calm and that a treasure-trove of amazing marine life can happily reside in this lovely, protected pool. You'll likely find a variety of colourful reef fish hiding among the rocks, ranging from the size of your thumb up to hand-sized zebrafish.
Burns Beach
Burns Beach
Far, far up the deep north of Perth, you'll find a small, tranquil place called Burns Beach. Don't let the relatively small sandy area of this beach fool you, Burns Beach has a huge area of sheltered rocky reef that stretches north beyond the sand. You'll get to catch a glimpse of regular reef fish, and if you're lucky, some dhufish as well which have been known to get up to around 10 kilos. That's a big fish.
Rottnest Island
Rottnest
Pretty much every beach on Rotto is worth snorkelling at, isn't it? Being surrounded by reef, rocks and shipwrecks provides for an abundance of aquatic creatures. In fact, there are approximately 400 species of fish and 20 different species of coral within the Rottnest Island Marine Reserve. That's a lot of fish and coral to look out. Better get cracking ASAP, kids.
Coogee Maritime Trail & Omeo Shipwreck
Coogee
There's plenty to see on this unique trail centred around the iconic Omeo Shipwreck. Grab your snorkel and swim over to check out the thriving artificial reef packed full of marine life, as well as an underwater art gallery with plenty of mesmerising attractions including an old railway wheel, sculptures galore, and a replica Dutch cannon. Access the trail from the northern end of Coogee Beach via Perlinte View.
Boyinaboat Reef
Hillarys
Perfect for beginners, this snorkelling and diving hotspot is located just 75 metres from the sea wall of Hillarys Boat Harbour. There's plenty of aquatic life to explore and uncover across a mixture of caves and ledges, as well as a series of very handy info plaques about the local flora and fauna. With the best access point via the AQWA carpark, why not add a visit to the aquarium and round off your day of underwater fun.
Penguin Island
Rockingham
Penguin Island is the South's favourite spot for a snorkel. Between the coast and the island is a calm stretch of water with some pretty fascinating wildlife. Seals and dolphins tend to frequent the area, and if you're lucky, you may even see the resident sea lions or penguins taking a dip. Tip: because of the seals and the fact that it's deep water, not shallow water like most other snorkelling spots, Penguin Island sometimes gets a 'beware of sharks' label slapped on it. But just remember boys and girls, you have more chance of getting in a car accident on your way to your snorkelling adventure than you do getting eaten by a shark.
Shoalwater Islands Marine Park
Rockingham
The Shoalwater Islands Marine Park is another snorkelling paradise for those in the south. It includes the waters of Shoalwater Bay, Warnbro Sound and a small part of Cockburn Sound, as well as a few islands. Reefs in shallow waters around the islands are popular snorkelling spots, but make sure you're there before the sea breeze hits. You might catch a glimpse of Australian sea lions, bottlenose dolphins and even penguins.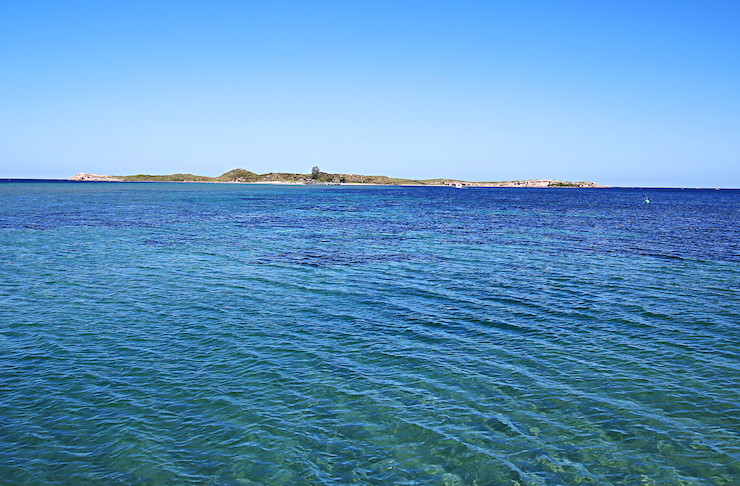 Jurien Bay Marine Park
Jurien Bay
Look, it's not necessarily 'Perth' but it only takes a couple of hours to get up to Jurien Bay, so we're including it. The Jurien Bay Marine Park extends from Greenhead to the south of Nambung National Park and is a snorkeler's delight. A huge shallow lagoon provides the perfect habitat for Australian sea lions, dolphins and fish, plus there are huge seagrass 'meadows' (yes, meadows that are underwater) inside the reef that are home to marine animals such as western rock lobsters, octopus and cuttlefish. AND within the marine park, there are dozens of magnificent islands that contain rare and endangered animals found nowhere else in the world. Totally worth the drive.
Busselton Jetty
Bussleton
Busselton is also a bit of a drive, but we think its definitely worth it for the snorkelling enthusiasts. The warm Leeuwin Current down in Busso supports more than 300 tropical and sub-tropical marine species around Busselton Jetty. That's a lot. As well as colourful fish, you'll get to see loads of different corals and sponges.
Want more? Check out Perth's Best Secret Swimming Spots.
Mettams Pool | Image credit: Penguin Island, Louise Coghill and Elle Borgward