There's something special about travelling during the cooler months. Being greeted by the crisp, energising air each morning, hiking through coastal and woodland trails hearing only the crunch of leaves beneath your feet, strolling along the beach without another soul in sight, and of course, winding down by the fire at night. It's hard to beat that feeling.
While we're all familiar with the charms of Wadjemup / Rottnest Island during the warmer months, there's more to discover under the stunning veil of the brisker seasons. With fewer crowds you'd be forgiven for thinking you've got the entire place to yourself.
Just a short ferry from the mainland, it's easy to slip away to this cosy paradise for a cheeky midweek overnighter or even just for the day, and even easier to slip into holiday mode—especially if some cheeky discounts are on offer. If you're planning a Rotto adventure be sure to book in your plans before May 28, 2022 to make the most of a bevy of offers valid from May to September. Sweeten your stay with offers of up to 30% off ferry tickets, accommodation and tours with participating businesses and put the dollars you've saved towards a tasty sundowner by the beach.
Here's your guide to seeing the other side of Rottnest Island during the chillier months.
Hit The Trails And Connect With Nature
From coastal sunrise strolls to wilderness hikes through the island's heartland, one of the best ways to discover the other side of Rottnest is by foot. Wadjemup Bidi is a 45km trail that is broken into several sections. Thanks to its spectacular scenery that comes alive as the temperature drops, the Gabbi Karniny Bidi section is the second part of the Wadjemup Bidi trail and one of the most popular. It's a 9.7km journey one way that winds you past Lake Herschel, through the lake systems, across the 'walk on water' boardwalk and along the coastline up to Bathurst Lighthouse. The Hike Collective offers several tours that cater for all difficulty levels, but their Lakes & Bays tour is a cool-weather favourite. The hike is over 12km, starting on the Gabbi Karniny Bidi and finishing back at the main Settlement. All in all, no matter where you go, you'll be greeted by breathtaking landscapes at every turn.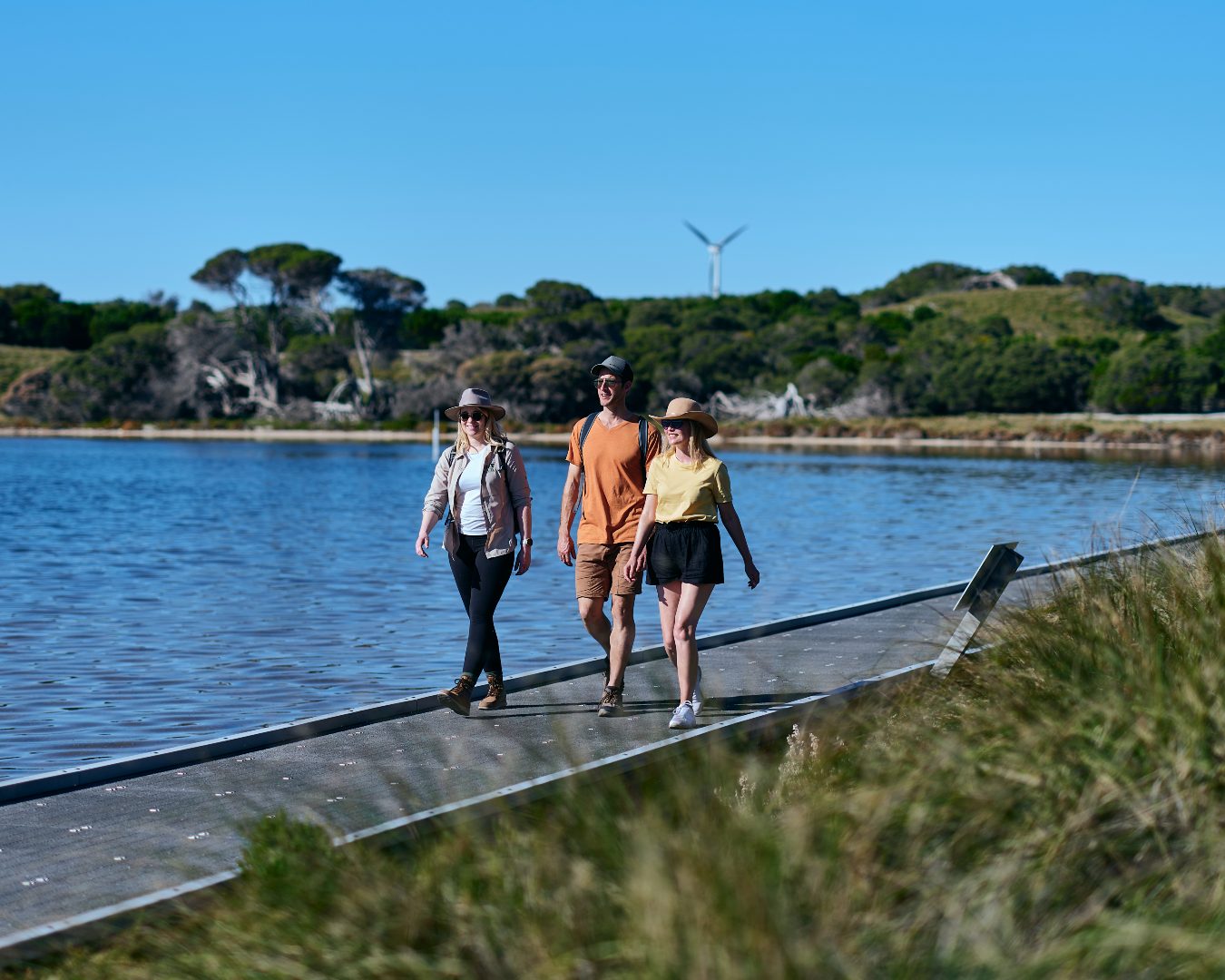 See Rottnest's Wildlife Wonders
The colder months are when the island's wildlife comes out to play and it's the best time of year when you can witness a joey quokka. Plan your trip accordingly because August is the best time to see a mother quokka carrying her babies in her pouch. As for marine life, Cathedral Rocks is the best place to spot long-nosed fur seals and dolphins and whales can be spotted on the west and south sides of the island during their annual migration north. For a closer look, hop aboard Eco Express Boat Tours will take you on a 90-minute journey along the island's coastline to hidden bays as you encounter wildlife along the way.
Connect With The Traditional Custodians Of The Land
Wadjemup, meaning 'place across the water where the spirits are' is the Whadjuk Noongar naming of Rottnest Island. Rottnest has a complex history with many stories to tell. The island was used as an Aboriginal prison from 1838-1904, and subsequent forced labour camp for Aboriginal prisoners until 1931. It's the resting place of the spirits, as well as a memorial place of Aboriginal prisoners. On your visit, take time to understand the history, reflect and pay respect to those that came before you. You can see the island from the Aboriginal perspective with a Go Cultural Aboriginal Tours And Experiences walking tour. The one-hour experience begins with a traditional Aboriginal sand ceremony at the first settlement, a Dreamtime story, a traditional song and learning about the Noongar language. The ​​Wadjemup Museum is another great way to connect with the island's history and the Noongar people.
Get Your Heart-Racing With These Epic Adventures
For those chasing a little action on their mid-year holiday, Rottnest has well and truly got you covered. Jump on a bike and cruise around the island while soaking in the sights, or if you're less into pedalling, Paul's Eco E-Bike Tours are a great way to discover the island. Want to try something totally new? Test your balance and go off-road with a segway tour.
With some of the best and most consistent surf breaks in Western Australia, Rottnest is a paradise for surfers and bodyboarders alike—and definitely worth stepping into a wetsuit for. In fact, Strickland Bay has been ranked in the top 50 breaks in the world with conditions at their best during the cooler months.
For a massive adrenaline rush, hop aboard a 20-minute flight over Rottnest Island before skydiving back down to the island. You'll freefall at a thrilling 200km per hour before parachuting back down, all while soaking in breathtaking views of Rotto's turquoise waters and rugged coastline. If you still want to enjoy the views from above but without the freefall, then a joy flight is for you.
Slow Down And Relish A Well-Deserved Break
There's no better feeling than rugging up after a day of exploring and Rottnest Island Authority has plenty of accommodation options for all tastes and budgets. Choose from one bedroom cedar-clad cabins and canvas-side heritage bungalows, heritage homes with the character and charm of the 1920s, or classic two and three-bedroom units with unobstructed ocean views. These standard, heritage, or premium units are located from Kingstown Barracks to Geordie Bay and have courtyards, BBQs, and heaters.
Samphire Rottnest on Thomson Bay is the perfect home away from home where you can watch the rain clouds roll in from the comfort of your beachfront bedroom. For those looking to immerse themselves in nature, Discovery Rottnest Island's glamping eco tents are for you. Each afternoon throw a blanket over your shoulders and watch the sunset from the dunes behind Pinky Beach before heading back to your tent to fall asleep beneath the stars. Take your relaxation to new heights at the Karma Spa. With treatments like Himalayan salt stone massages to facials and infrared saunas on the menu, you'll be forgiven for never wanting to leave.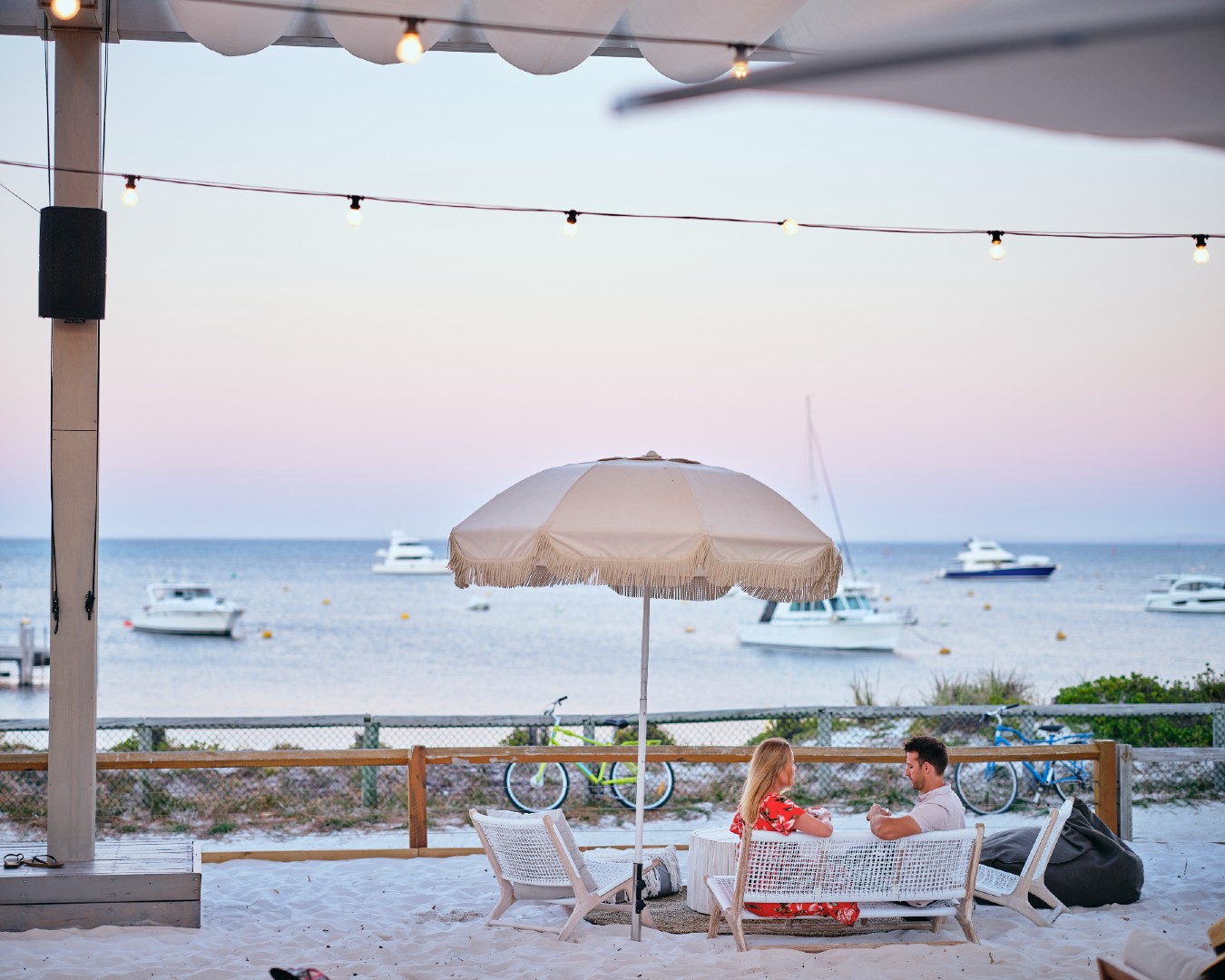 Get A Taste Of Rottnest Island
It's true that good food is crucial to any holiday and Rottnest can absolutely deliver. To fuel up for the day, pop into Lane Cafe for a steaming cup of coffee and brekky or cycle to Lexi's on Rotto, a vintage 1970s caravan located at West End, for a warm brew and snack.
During the cooler months, Pinky's Beach Club at Discovery Rottnest Island is the perfect place to rug up and enjoy the epic views overlooking Pinky's Beach while sipping on a warming cocktail. Hit up Bayside Bar, also located within Samphire, for their new winter menu that's available Wednesday to Sunday. For a luxe, seaside dining experience, Samphire's Lontara restaurant serves exquisite South East Asian dishes. Be sure to order the island's scallops that are paired with caramelised minced duck. To indulge in perfectly prepared comfort food with flair, Isola is a must-visit. The Agnello arrosto roast lamb shoulder with burnt honey will warm you through and the Taglierini al granchio Shark Bay crab boasts the best of the region's fresh fare. If you like a side of locally produced art while you warm up over a morning coffee, head to Geordie's Cafe and Art Gallery. For all other delish dining options, see here.
Already packing your bags? Beat the cool weather blues and find your adventure on Rottnest Island. With fine foods, rich culture, wild encounters and more, we reckon it's about time you discovered the other side to Rotto. Download the full guide to see the other side of Rottnest Island and discover how you can save up to 30% on ferry tickets, accomodation and tours with participating businesses here.
Image credit: Tourism Western Australia, Rottnest Island Authority
Editor's note: This article is sponsored by Rottnest Island Authority and proudly endorsed by Urban List. Thank you for supporting the sponsors who make Urban List possible. Click here for more information on our editorial policy.