If you hop in the car and drive about five hours south of Perth (or just an hour by plane), you'll arrive in the coastal town of Albany—the largest town in the rugged, breathtakingly beautiful Great Southern region.
With a population close to 40,000 people, Albany is big enough to have first-class restaurants, boutique shops and cracking coffee, but is small enough to retain the favourable elements you'd find in a county town, including a small but mightly hub of local businesses that all support one another.
With amazing wineries to farm-fresh produce, coastal walks and cosy cafes to check out, we asked a few locals to show us around and help us hunt down all the best the region has to offer.
So without further ado, here are the best things to eat, see and experience in Albany, Western Australia.
Where To Stay In Albany
Hilton Garden Inn
Albany recently scored a beautiful new Hilton Garden Inn, located in a prime spot by the harbour and Entertainment Centre. As the only hotel in town, it's the go-to if you're chasing those little extra comforts like a delish buffet breakfast and 24-hour shop for when you're chasing a late night snack. The contemporary in-room decor and insanely comfy king bed will also make you feel right at home from the moment you plonk your bags down, but the real magic is when you draw back the curtains to reveal stunning views over the bay or hillside. As for amenities, it's got everything you'd expect from such a well-known name, including a gym, restaurant, bar and lounge. It's also walking distance from all the good stuff in town so there's nothing stopping you from reaching for an extra round of drinks (or two) after dinner.
Historic Cottage
This cosy, charming red cottage is just a stone's throw from the centre of town, decorated with beautiful vintage wares, a roaring fireplace, a free-standing bath, an outdoor shower plus luxurious linens for the ultimate night's sleep. Cook up a feast with veggies straight from the farmer's markets (which is just around the corner) and sit on the front patio or under the stars in the rear garden to dine. Absolutely blissful.
Marine at Middleton
Close to both Middleton Beach and the town centre, this white weatherboard cottage is filled with eclectic, vintage decor, reminding us of both a rustic farm cottage and a luxe beach house. After walking to the nearby beach, cafes and boutique shops, come back to curl up with a book in the light-filled lounge room or plonk yourself down on the front deck to crack open a bottle of local wine.
3 Parade Street
This seriously stunning Airbnb has easy access to the main strip in town, not to mention a cheese platter and brekky supplies at check-in. We love the timber lined rooms and lookout over the sparkling harbour.
River's End Retreat
This mighty little shipping container home is proof that good things do indeed come in small (and incredibly luxe) packages. Completely self-contained and set on a working farm, this spot is perfect for couples or solo travellers looking to go off-grid and get back to nature for a bit. Just remember to BYO marshmallows for the deckside firepit (conditions permitting)
Majuba Country Lodge
The team behind Majuba Bistro also have this dreamy lodge out in Kalgan, and if you've dined there, you know the decor is pretty special and sophisticated. But one of our favourite features of this suite would be the views over the lake, featuring roaming kangaroos and spectacular sunsets.
Where To Eat And Drink In Albany
There are soooo many great places to eat and drink in Albany, but if you take home one piece of advice, let it be to BOOK AHEAD! During peak times, the city's bustling dining scene can fill up a week or two in advance if you're trying to walk in on a Friday or Saturday night. And as happy as we are to end up with a parmi and a pint at the pub, there's nothing worse than being turned away from all the places you've been dying to try. Don't make our mistake, people.
Liberté
Housed in the historic London Hotel, this Parisian inspired bar and eatery dishes up meals with a Vietnamese twist. But to start off your culinary experience, firstly order a cocktail (try the Pink Galah if you're a fan of musk) and a serving of the Albany Rock Oysters, 'cause they're as fresh as can be from the waters around you. From the share style menu, we can recommend the crudo with kaffir lime leaf, basil, pickled radish and sriracha mayo, and the crab noodles with garlic and chilli, which we're honestly still having dreams about.
Monty's Leap
A new addition to the Albany food and wine scene, this cellar door and restaurant is perched on the lush green hills of Kalgan. After your wine tasting, dine on super fresh fish, kangaroo and lamb rack, alongside heirloom tomatoes and squash that's straight from the family-run Piacun Farm. As another plus, after lunch, you can easily drive to the best beaches in Albany, including Little Beach and Gull Rock.
Majuba Bistro
Once you step inside Majuba Bistro off York Street you'll be whisked away to a classy European bistro, fitted out with intimate tables and plush red booths under moody lighting, walls covered with black and white framed photos, a stocked wine wall and a long inviting bar. Known for its Spanish and French cuisine, you can expect juicy scallops, roast duck in a port wine sauce and rich tomato Bouillabaisse with fresh seafood.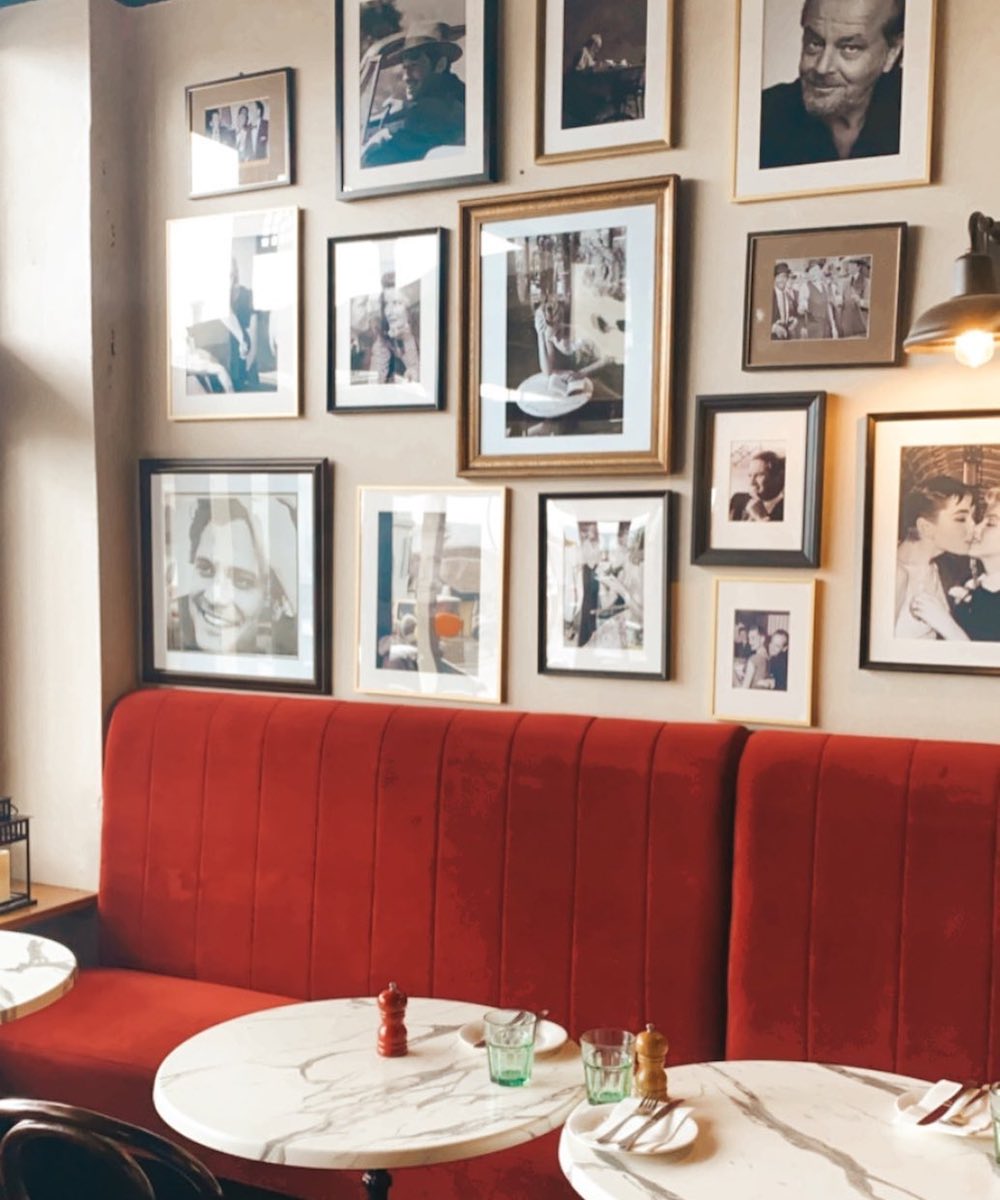 Garrison
Located by the acclaimed National Anzac Centre (also worthy of a visit) and with views over Princess Royal Harbour, a stellar cocktail list and an extensive menu ranging from bao buns to Akoya oysters (also an Albany speciality), crispy pork belly, duck fat potatoes and salt and pepper popcorn chicken, you really can't go wrong with a feed at Garrison. Especially once you throw on some of the delish cocktails. Hot tip: head here for sunset if you want to soak up some stunning views and get a cute pic.
Fredericks Cafe
If you're looking to rest your legs after walking up and down the main hub of York Street, we suggest parking up at Fredericks Cafe, an ideal spot to people watch as you sip your coffee. This cafe serves faves such as eggs benny, steak sandwiches, shakshouka eggs and chicken Thai salad. We also give them bonus points for their sheltered alfresco-style tables.
Emu Point Cafe
You'll find this cafe at Emu Point beach, where the Southern Ocean meets Oyster Harbour. This cute cafe boasts sweeping vistas from its large windows and has a flavourful breakfast and lunch menu. A favourite dish is the Cilbir Eggs with dill labneh, paprika butter and pickled chilli chimichurri on Turkish bread. If you're a seafood lover, graze on the Albany Sardine Board, loaded with grilled sardines, tomato jam, pickles and a tasty baguette from Bred Co.
Dylan's
This charming retro diner is about as cute as it is iconic. We can't think of a much better place to load up on pots of tea, scones smothered in cream and jam, and a slice of cake in the afternoon as you debrief about your day. It's also serving one of the best damn ceasar salads around if you're into that kind of thing—you can even buy bottles of the swoon-worthy sauce to take home.
Bay Merchants
Just up from Middleton Beach, Bay Merchants is a cosy cafe and wine store decked out with beautiful chandeliers, wine stocked walls and marble-style tabletops, serving up brekkie and lunch dishes including french toast with bacon, banana and strawberries, a salmon potato stack with grilled asparagus and a whole cabinet chock-a-block with freshly made sandwiches, wraps and burgers.
Vancouver Street Cafe
Easily mistaken for a cute cottage amongst rows of houses, Vancouver Street Cafe is a corner cafe serving up the likes of brekkie burgers, fish and chips, lightly toasted wraps, Turkish sandwiches, bruschetta and decadent salads. If the sun is shining, sit on the deck with a coffee and cake to lap up the street's heritage charm.
Gourmandise & Co
This French-inspired cafe on the historic Stirling Terrace is adorned in rustic country touches—dried flowers, assorted framed photos, hanging saucepans and baskets of fruit—all centred around a long communal table, although there are a few secluded tables with red checkered tablecloths in the corners. Order the French onion soup if it's available, otherwise choose from their cabinet of tarts, baguettes, quiches, croissants, cakes and pastries. Hot tip: come first thing in the morning, because once their limited selection of homemade goodies is sold, they close up for the day.
Bred Co
Originally a stall at the Albany Farmers Market, Bred Co has levelled up to a bustling brick and mortar store in the centre of town, where locals flock daily for their bread hit. They specialise in sourdough bread and pastries (croissants, brioche, cinnamon scrolls and Danishes) and a special mention go to their sausage rolls, baguettes and sandwiches, filled with local greens and veggies. Bred Co sticks to their roots though, and you'll see them set up weekly at the Albany Farmers Market.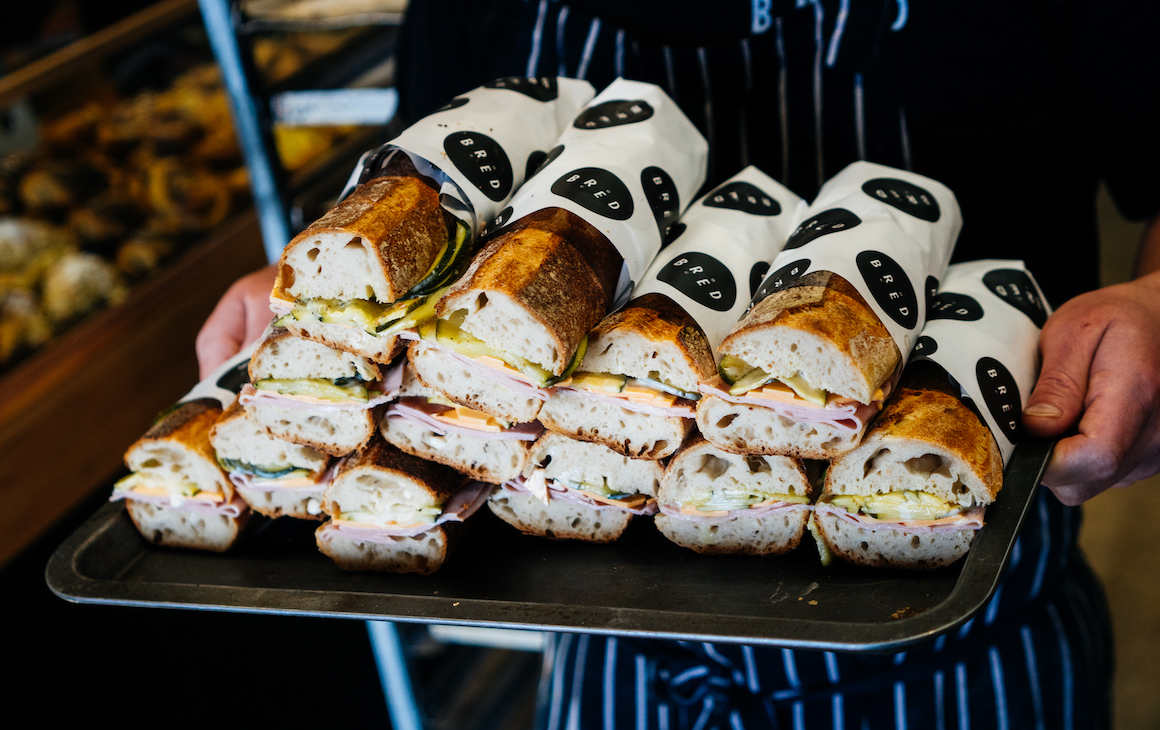 Solomon Merchants
Solomon Merchants is both a cafe and bulk food store, so after dining in for a tasty light lunch (think toasties, soups and savoury muffins) and top-notch coffee, browse the whole foods section for dried fruit, nuts, spices, chutneys, honey and tea. It's a good spot to stock up on picnic items if you're planning to take lunch down to the beach.
Due South
Sitting on the edge of Princess Royal Harbour and close to both the bustling port and main street is Due South, a massive tavern known for yummy woodfired pizza, a good range of pints and the occasional session of live music. It also has an adjacent bottle shop with lots of local wines if you fancy taking a bottle back to your accommodation.
Six Degrees
With lots of nooks and crannies, including a beer garden, alfresco sidewalk and funky laneway, this bar and eatery has an array of dishes to suit all tastebuds, including burgers, nachos, porterhouse steak and halloumi salad. They're also known to host live bands, and can make some really quirky cocktails.
Things To Do In Albany
Taste Great Southern | 5 To 15 May
Taste Great Southern is an 11-day foodie festival of long lunches, degustations, cooking classes and wine tastings spread out between Albany, Denmark, Mount Barker, Porongorup and Kendenup. Over 20 renowned chefs come down to the region too, cooking up a storm at various wineries, restaurants, hotels and markets. Must-visit Albany events will see you eating fresh Albany oysters, vermouth and tapas, a sandalwood nut high tea and sipping from a selection of over 100 Great Southern wines while listening to live music. Scope out all our top picks here.
Shop At The Local Markets
If you're in Albany on a Saturday morning, pop by the Albany Farmers Market to pick up fresh fruit, veggies, honey, bread and eggs that have come straight from the source. Grab a takeaway coffee and stock up on goodies to take home, and once you've worked up an appetite head to York Street for brekkie. On Sunday mornings swing by the Albany Boatshed Markets down by the harbour, filled with homemade wares and yummy farm produce.
Hit The Beach
Albany has around 36 gorgeous bays, and unlike Perth, they're facing different directions so if it's windy at one you can usually head around to find a quiet, blissful beach. You've probably heard of Misery Beach for being named Australia's best beach of 2022, but there are plenty of other worthy beaches to visit. Frenchmen Bay and Goode Beach are close to the popular lookouts at The Gap and Natural Bridge, and stunning Gull Rock is on the way to Little Beach and Waterfall Beach within Two People's Bay. If you don't have time to stray far, Emu Point and Middleton Beach are close to town with nearby cafes, but otherwise, jump in the car and explore Greens Pool and Elephant Rocks in Denmark.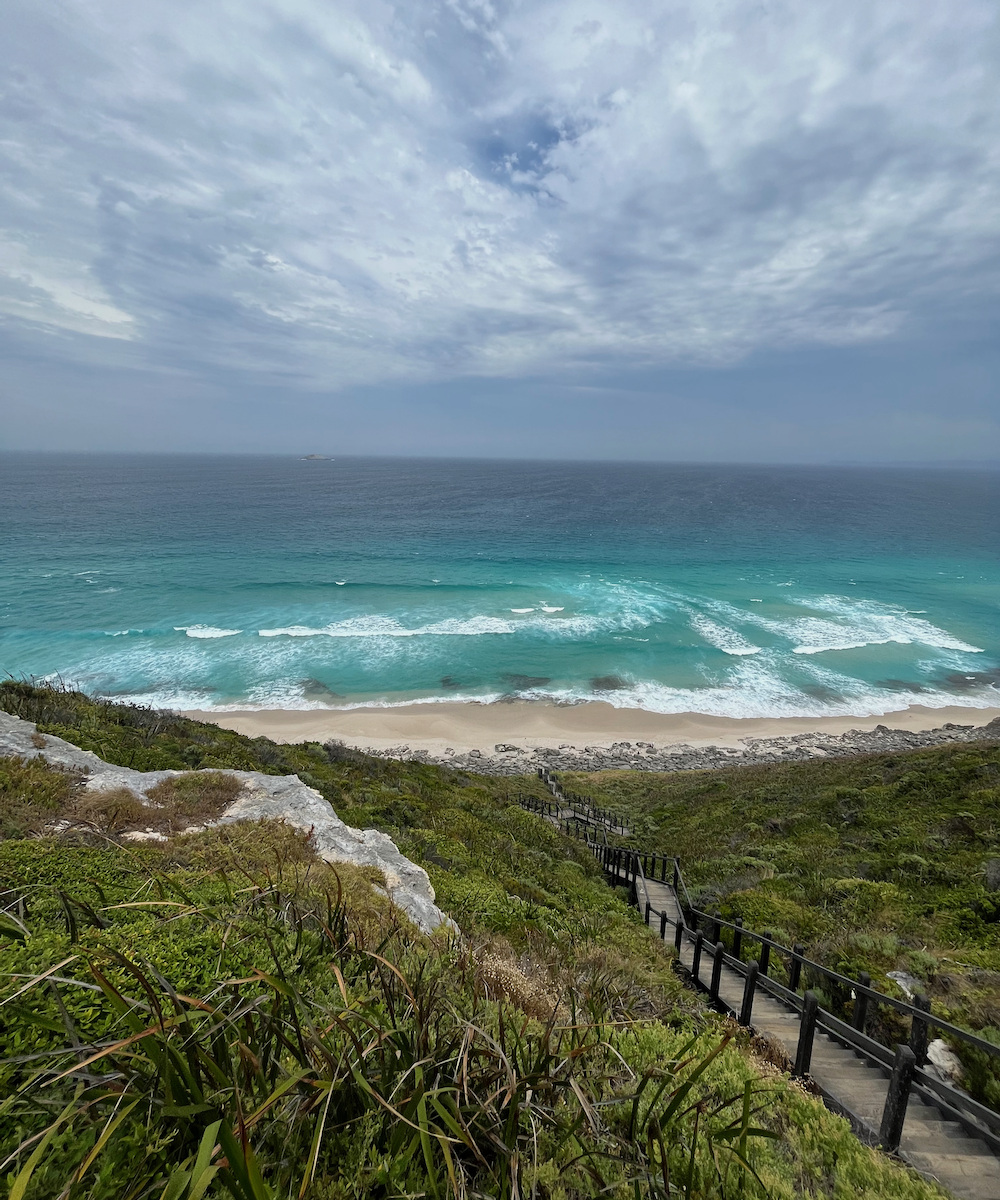 Go For A Hike Or A Leisurely Walk In Nature
Albany is the ideal place to get immersed in nature and see the region's incredible coastline. To do this, lace-up and go on one of the many walks and hikes in the area, suited to all kinds of abilities. For a more leisurely stroll head along the Ellen Cove Boardwalk, a paved path that extends from Middleton Beach to the Albany Port. But for a longer hike try Bald Head, Uredale Point Heritage Trail (previously called Point Possession), Luke Pen Walk, Mount Martin Botanical Reserve or Albany Wind Farm to Mutton Bird Island. You could even head out of town to the Stirling Ranges (Bluff Knoll is a good walk to tackle) or Castle Rock to see the jaw-dropping Granite Skywalk at its peak.
Taste The Local Wines, Beers And Spirits
After all that walking you've definitely earned yourself a drink, so quench your thirst at one of the top wineries and breweries of the Great Southern. Oranje Tractor is an organic vineyard that produces small-batch wines and vermouth, Wignalls Wines has won multiple awards and Monty's Leap has a picturesque cellar door just out of town. For craft beer, pop into Wilson Brewing Co, and for a superb single malt whiskey try Great Southern Distilling Co, which also run distillery tours (depending on Covid restrictions). Denmark, Mount Barker and Porongorup are laden with cellar doors, breweries and cideries so day trip out there to find some really top-notch producers, including Singlefile, Castle Rock Estate, West Cape Howe Wines, Boston Brewing Co and The Dam.
Planning a day trip from Albany? Jump in the car and check out the best things to do and see in Denmark.
Image credit: Tourism Western Australia, Kate Jones, Majuba Bistro, Bred Co
Editor's note: Urban List editors independently select and write about stuff we love and think you'll like too. Urban List has affiliate partnerships, so we get revenue from your purchases.