Though it's a little further than Dunsborough and Margaret River, what you get in return for a little extra time at the wheel makes Denmark an incredibly worthy local escape.
Whether you're looking for a quiet getaway or you're desperate to get outdoors and explore the beautiful Wagyl Kaip and Southern Noongar Region, you will not be disappointed.
From romantic cabins and top-notch food to world-class attractions and loads of wine, here are the best things to do in Denmark.
Things To Do In Denmark
Kick Back At Denmark's Beautiful Beaches
Home to some of WA's best beaches (heck, the whole of Australia, if not the world), Denmark is the place to go if you love getting sand between your toes.
Most probably know about the turquoise paradises of Greens Pool and Elephant Rocks, but it's also worth popping by Madfish Bay and Waterfall Beach while you're driving through the William Bay National Park.
For surfing Ocean Beach and Parry Beach deliver, for bright white sand and majestic rocky outcrops head to Shelley Beach and if you're looking to head out to Young Siding, Cosy Corner is the place to go.
If you bring your furry friend along on the ride, definitely take them to Lights Beach, and check out Prawn Rock Channel, which is seasonally connected to Ocean Beach.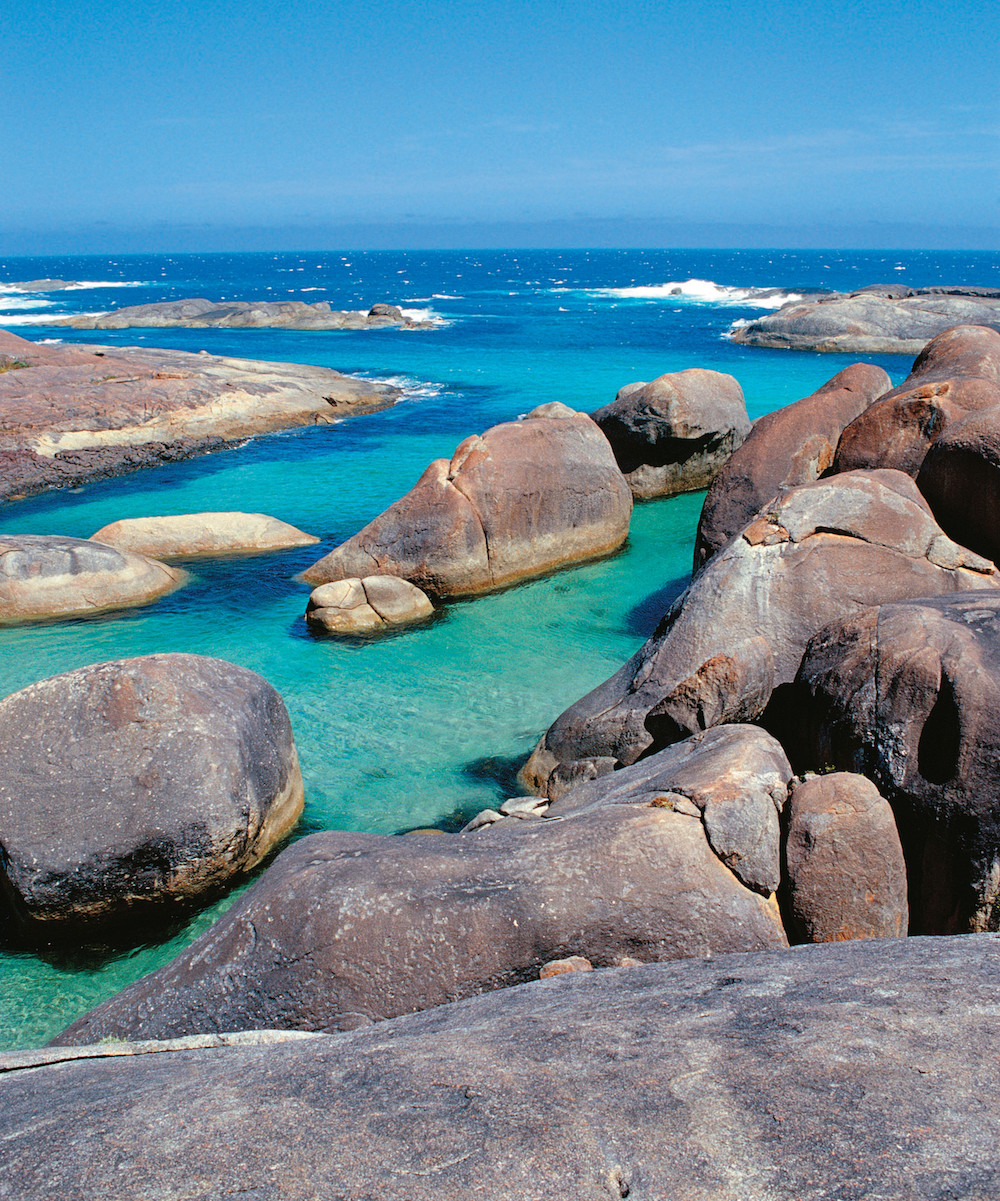 Treat Your Sweet Tooth At These Local Providores
What's a holiday without indulging your inner sweet tooth? When the time comes to reward your tastebuds, Denmark presents plenty of delectable options.
There's sweet honey at Bartholomews Meadery (definitely try one of their honey ice creams!) and artisan truffles at Dark Side Chocolates.
When you're heading along South Coast Highway in the direction of Greens Pool, check out the Denmark Good Food Factory for quality toffee and the licensed chocolate lounge Denmark Chocolate Company.
Tick Off The Valley Of The Giants Treetop Walk
Experience life as birds do from 40 metres above ground as you wander through the treetops of an ancient tingle forest. It's no wonder people travel from all over the world to experience the Valley of the Giants. The huge eucalyptus trees are unique to the area and some have been standing tall for hundreds of years. If you're afraid of heights, the entire boardwalk is just 600 metres long, so you're not sky high for too long. The views are worth a little dose of fear, trust us.
Get Your Steps In On A Denmark Hike
Keen to stretch those legs? This slice of WA has some beautiful walking trails and hikes to tackle. Our fave might just be Monkey Rock—a fairly steep 4km round trip that rewards you with spectacular views east over the Wilson Inlet, Ocean Beach and Nullaki Peninsula as well as views west over William Bay National Park. For a more laidback route try the Harewood Forest Walk. It's a lush little 1.3km trail ten minutes from Denmark town that'll take you through towering trees, with a shady picnic spot at the turnaround point. Most of the beaches mentioned also have incredible walking trails too if you're keen to soak up the coastal scenes.
Visit Denmark Animal Farm And Alpaca Stud
Denmark Animal Farm & Pentland Alpaca Stud is a hands-on farm and wildlife park where you can snuggle, feed and pat everything from alpacas and baby rabbits to chickens and joeys. Help feed some of the farm's baby animals at 3pm, and give some love to the friendly camels. Your $15 entry fee includes a bag of feed.
Sip Through Denmark's Best Wineries
When people think of wineries in WA their mind most likely harks back to the Margaret River region but Denmark boasts some pretty speccy vineyards too. Most will be familiar with The Lake House, but there are plenty more to uncover.
Singlefile is known for its chardonnay, Harewood Estate will treat you to pinot noir and more, visit the five star Rockliffe winery and you'll get to taste delightful gelato alongside your vino, and the sweet Ducketts Mill Wine will blow you away with rieslings, cab merlots, rosé and tawny port which can be enjoyed with a delectable Denmark Farmhouse Cheese platter.
Other honourable mentions include Silverstream Wines, Castelli Estate, Forest Hill Wines and Rising Star. If you have a taste for cider, try Monkey Rock Winery and Cider, Denmark Heritage Cider Co., Black Pig Cyder and the drink selection at Denmark Good Food Factory.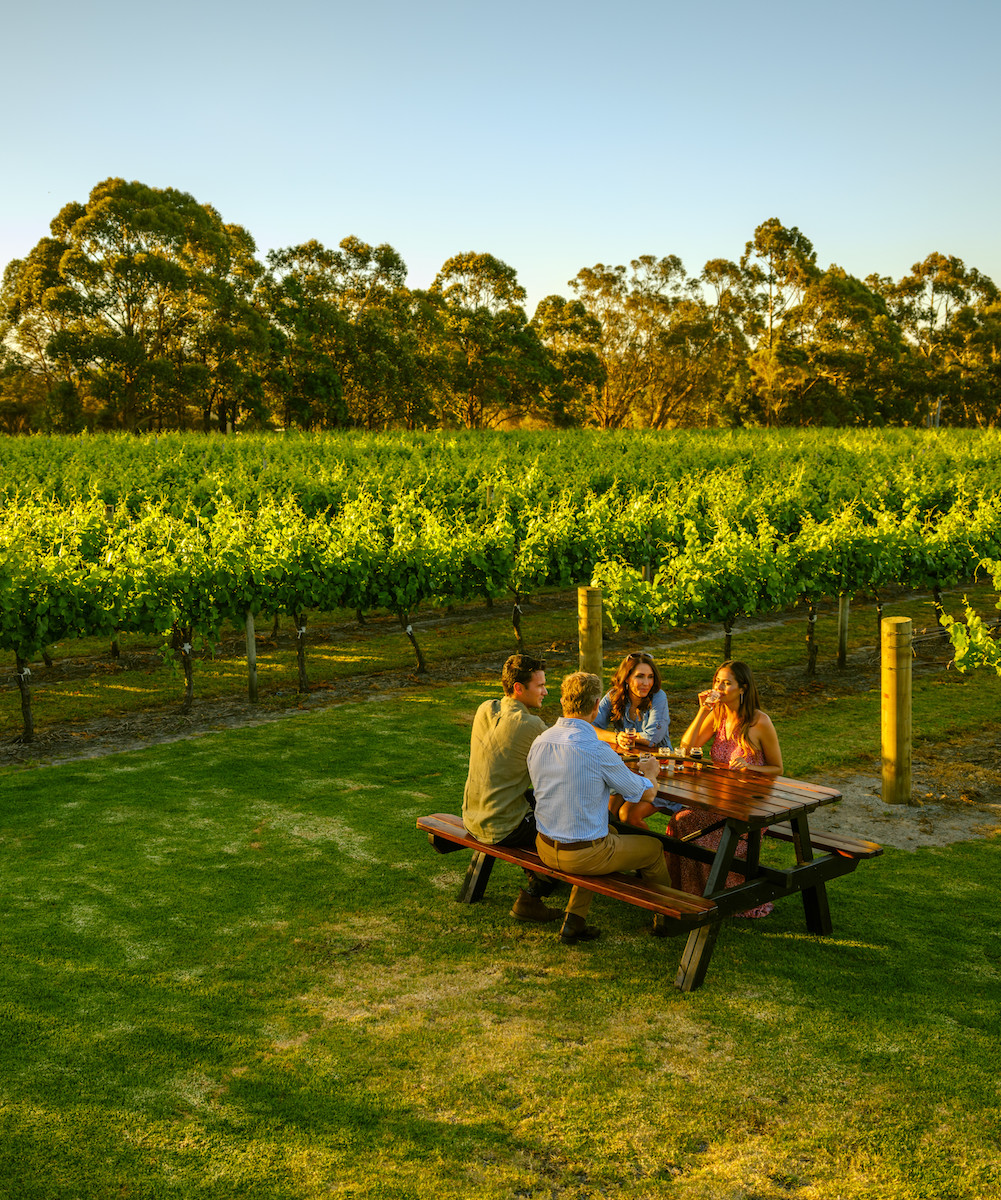 Where To Eat And Drink In Denmark
The Dam
Denmark's newest restaurant and distillery, The Dam, overlooks a beautiful large dam (go figure), with vibrant green hills and eucalypts framing the background. The food here is as stunning as the views—no surprise considering the kitchen is headed up by Jason Jujnovich, who some of you might recall from his days as co-owner and executive chef at Mt Hawthorn's award-winning Italian restaurant, Divido. To accompany your eats, you've got drinks distilled on-site at the Cannabis Botanical Distillery—one of the first in WA to use cannabis sativa to make its spirit base (and before you ask, no, you won't come across any THC in these drinks).
Mrs Jones Cafe
An outstanding brekky and lunch spot, Mrs Jones Cafe has your coffee cravings covered. They're slinging goodies like eggs benedict, breakfast panna cotta, thyme roasted tomato salad and a decadent full English breakfast, and their lunch menu has ever-changing specials and a lovely wine list. The cabinet is stocked with goodies like rolls, cakes and other sweet treats, and everything can be grabbed to go.
The Lake House
For relaxed long lunches, The Lake House doesn't disappoint. Set on the banks of a lake, surrounded by trees and beautiful gardens, this multi-award-winning winery specialises in lavish platters designed for sharing. Kick-off with a wine tasting at the cellar door before tucking into the gourmet vineyard platter. Jam-packed with local produce, including Vinofood condiments that are small batch made on site, you likely won't need dinner. Think Mt Barker smoked chicken, prawns, antipasto, Dellendale double cream brie, Vinofood beetroot and shiraz relish, house-baked bread and vegetable frittata. Be sure to pick up a few cases of wine and some wine-infused preserves before leaving. If you want to take your platter to-go, you can order a takeaway picnic hamper for your day at the beach, or to have cosied up at your fireplace.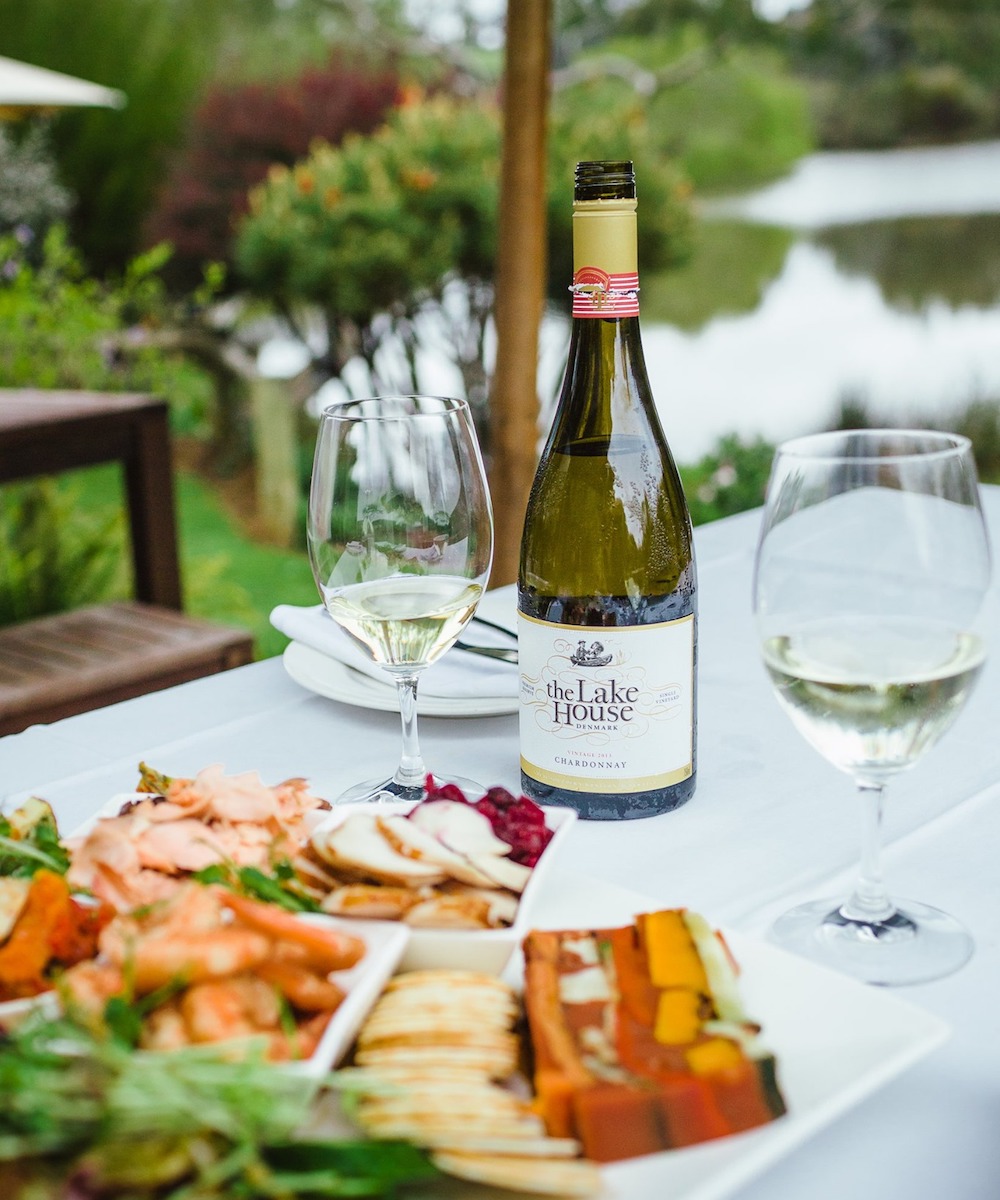 Pepper & Salt
With Silas Masih at the helm, expect a mashup of local-inspired cuisine with a traditional Fijian twist at Pepper & Salt. Open for lunch Thursday to Sunday and dinner on Fridays, the restaurant is situated on the grounds of Forest Hill Vineyard, meaning you can enjoy cool climate wines with your food. Devour everything from Moreton Bay bug with glazed pork belly, jackfruit with pumpkin and pandan curry leaf samosa, duck leg rendang with roti and a seven-spice aged beef eye fillet with duck fat potatoes, not to mention decadent chocolate ganache or lemon curd tart for dessert. Apart from being recommended by locals and tourists alike, last year Pepper & Salt was highly ranked in TripAdvisor's Travellers Choice Best Fine Dining Restaurant in all of Australia.
Ajar Restaurant
Ajar on Shadforth has arguably the best views in town. With sweeping vistas of green rolling hills and the distant coastline, be sure to request a table near the floor to ceiling windows. Their lunch and dinner menu has plenty of hearty and delicious options, from pork and truffle dumplings in chicken broth to house-made gnocchi with braised beef brisket and cumin-spiced roast cauliflower. If you time your visit close to sunset, you might be lucky enough to witness fairy floss skies as you wine and dine the night away.
Boston Brewing Co
Break up all that wine drinking with a visit to Boston Brewing Co. Perch yourself under an umbrella on the manicured lawns and kick back with a beer tasting paddle featuring their Tingletop ginger beer, Devilslide red IPA and Shark Eye stout. Serving classic pub grub, comfort food and woodfired pizzas, if you time it right you'll get to enjoy some live music while you're there.
MJ's Wine Bar
MJ's is a cute and intimate wine bar located right in town, where you can sit back with a local wine or beer, enjoy a few share plates such as olives and dips, and debrief about your jam-packed day. You'll be able to enjoy some gorgeous Denmark drops, which is handy if you didn't get a chance to visit all your favourite cellar doors.
Ravens
A specialty coffee roaster and cafe in the centre of town, Ravens is the place to go for a warming cup of coffee, paired with brekkie, brunch or lunch. You'll find healthy salads, quiches, paninis and juices, as well as a menu dedicated to lunchtime treats.
Rockcliffe
This stunning winery has to be added to your Denmark itinerary stat. Producing some of the Great Southern's most delicious wines, a trip here the cellar door for a spot of wine tasting is one not to be missed. The vineyard has recently celebrated its 20th birthday and received awards set to rival any of its competitors. There's also a gelateria onsite so you'll be winning all round.
Where To Stay In Demark
Stillwood Retreat
Five minutes away from the Denmark township, you'll find Stillwood Retreat. And retreat there we shall. This secluded Airbnb is tucked into the naturescape of the southwest, among the Karri trees and next to your own private dam. The outdoor bath is the real reason we're drooling though. Pour a glass of wine and soak yourself whilst looking out at a panoramic view of the Karri Forrest.
Upland Farm
Set on a working cattle farm and home to three cabins is the picturesque Upland Farm. The largest abode is the Guest House, with two bedrooms and two bathrooms, outdoor areas for warmer nights and breathtaking views over the lush farm, and the two smaller yet equally as charming cabins are called Wren and Forest. These cabins are fitted out with modern touches and sleek kitchens, with rustic timber and earthy tones throughout. It's the place to stay to truly unwind, and you'll feel miles away from the hustle and bustle of the city.
Ark Of Denmark
Nestled into two acres of bushland and only three kilometres from the Denmark town centre and beach, Ark of Denmark is the perfect spot for an excluded getaway not too far from civilisation. There are two properties to choose from, Due South and The Yurt, both of which abound with cosy cabin vibes, fireplaces, big windows making you feel at one with nature and wood and stone detailing. Relax with all the creature comforts, including claw-foot baths, self-contained kitchens, WiFi, flat-screen TVs and DVDs for when you've chewed through all that Netflix has to offer. Ark of Denmark welcomes dogs upon request.
Aiyana Retreat
Aiyana Retreat is home to four luxury, eco-friendly villas, all with unique details and personal touches. Hosted by Gadi and Lalita Barak, choose between the Tao, Mira, Leela and Rumi villas, all of which feature luxury appliances, handcrafted ceramics, local furniture and artwork and comfortable living spaces. Three of the villas boast king beds and spa baths, and the Leela has two bedrooms. Perfect for a romantic weekend away, the retreat is home to the Aiyana Spa where you can book in for a relaxing Hahana hot stone massage or reflexology, and if you need to centre yourself they also offer private yoga sessions.
William Bay Cottages
Your perfect home base for exploring Greens Pool and Elephant Rocks, William Bay Cottages makes for a tranquil escape among a karri and peppermint forest. Featuring seven cottages packed with character, with one, two and three-bedroom options available, the property is also home to a working farm that guests are invited to explore. Each cottage offers something different, but Settlers Tavern has stolen our hearts thanks to its romantic touches, wood-panelled ceiling, roaring wood fireplace and a double spa looking out to the forest.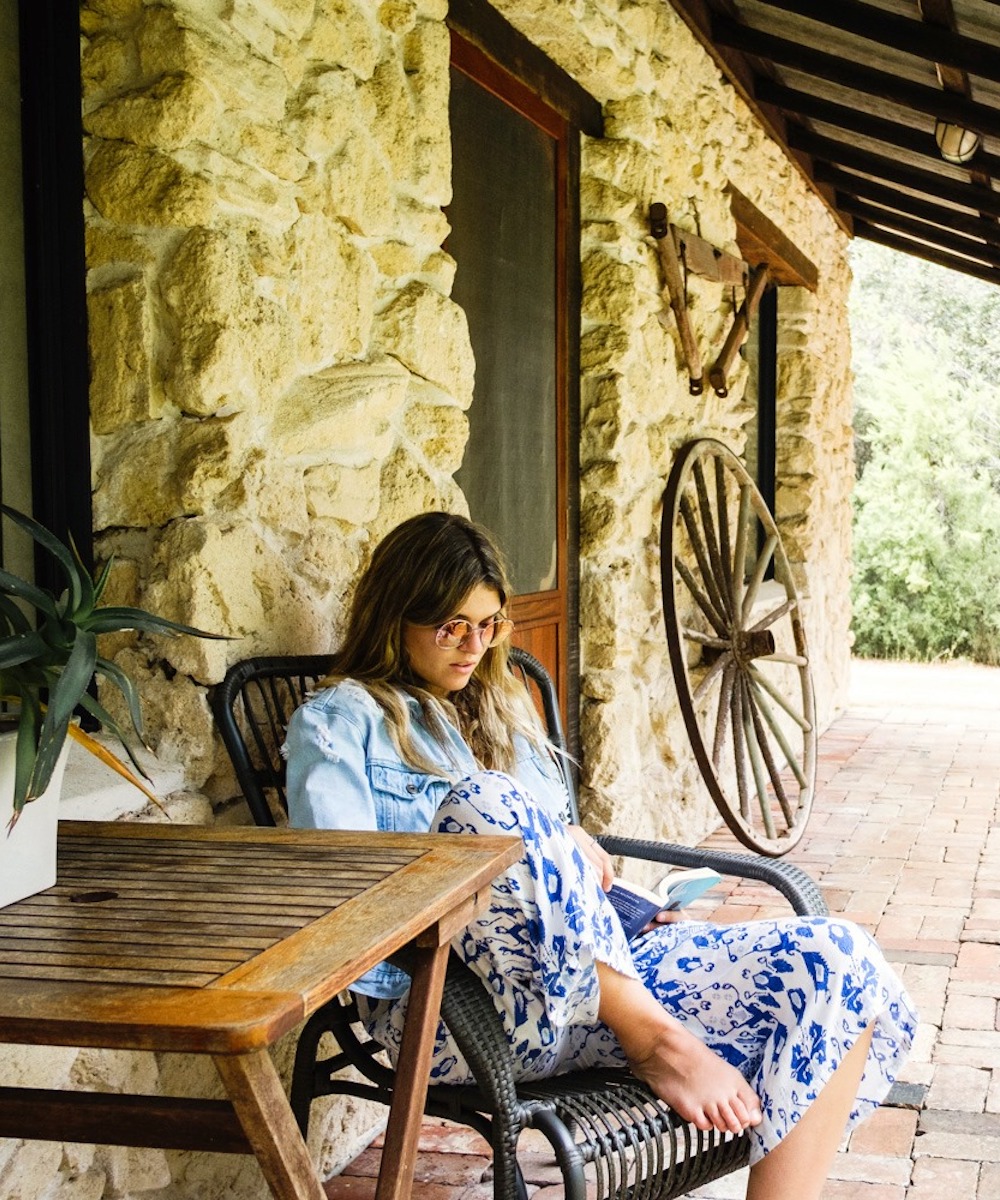 The Birches
If you're planning a getaway with your best couple friends, The Birches is the place to go. With two rooms that make like private oases, each with private sitting areas, luxury bathrooms and views out across Mount Shadforth, your only tense discussion will come when deciding who gets the room with the spa. The kitchen is fully stocked with all the appliances you'll need to whip up gourmet feasts and there's even a balcony to break out onto when the weather is warmer.
The Tree House
Surrounded by granite boulders and towering karri trees, The Tree House offers the best parts of a secluded escape while being just two kilometres from town. The living area is even built around a boulder, making you feel that little bit closer to nature. Climb the stairs to the tin-lined house and you'll be met with an outdoor deck, wood burning heater, bespoke built-in furniture and a loft bed adding to the fun. There is a double spa bath and separate shower, as well as aircon for those warmer days, and come night time the surrounding trees light up adding to the atmosphere.
If you're keen on a day-trip from Denmark, check out Albany's best things to do or for something closer to home, here are our favourite Swan Valley wineries.
Image credit: Tourism WA (Valley of The Giants), William Bay Cottages, The Lake House, Tourism WA