It feels like forever since we've been able to hop on a cheap flight and live out our ultimate foodie dreams in Bali. And god do we miss it! Thankfully, though, Will Meyrick, the chef-owner behind super popular Balinese establishments Sarong and Mama San (to name just a couple), is here to fill those cravings with Will St, a dazzling new restaurant now open in Leederville.
And while the circumstances that lead Meyrick and his family to relocate to Perth (we're looking at you, rona) are nothing to cheer about, we're excited to see one of Bali's most renowned chefs and king of street food set his culinary sights on the old La Vida Urbana site in Leederville.
The 120-person bar and restaurant will bring diners on a tasting trip through Meyrick's extensive Asian travels—he's lived in Indonesia for almost 20 years and travelled through regions in India, Sri Lanka, Morocco and many more, exploring local food culture and the distinct dishes, spices and ingredients that have shaped their food stories. Since relocating to Perth, he's also wasted no time tapping into our rich migrant and Indigenous communities, seeking out the vibrant food hubs scattered throughout Perth's suburban neighbourhoods and exploring the wonderful native ingredients on offer.
It's this passion for uncovering and sharing Asian street food that has guided much of the menu. Expect delicious Asian share plates that showcase regional classics in a way that feels authentically in the here and now—with local ingredients and inspiration front and centre.
"I'll be taking quality Australian produce like West Australian beef and seafood, and using it to create sophisticated dishes that not only taste great but educate too, substituting Asian spices and ingredients with some of the wonderful native ingredients available to us here where possible," said Meyrick.
Think small plates like Akoya Oyster, Smoked Eel Betel Leaf, Kelp Aged Kingfish or Grilled Venison and Pork Fat Chiang Mai Sausage, to larger dishes such as Muslim Style Goat Nihari, Woku Wood Roasted Marron Curry and Meyrick's signature main, Char Siew Pork Hock, served with braised miso cabbage, Sichuan pickled cucumber, Davidson plum, hoisin, and a side of Mandarin pancakes.
Moving into desserts, you can find sweet delights like Indonesian Ronde, a rice dumpling stuffed with macadamia and wattleseed with butterscotch, caramel and sesame ice cream; a
Coconut and Chocolate Ganache Gelato Bowl; Black Sticky Rice; and Pistachio Ice Cream
served with date and almond crumble and a rose petal infused syrup.
Inspired by the Australian landscape, the timeless interiors designed by Paul Lim of Mata Design Studios will also pay respect to where we are. Think earthy outback tones, sandstone walls and Blackbutt timber flooring as well as a jaw-dropping porcelain tiled bar flecked with rust and topped with perfectly preserved native wildflowers suspended from the ceiling above. Guest will also enjoy cosying up by the feature fireplace in the waiting lounge and peering into the open kitchen from the generous bar and dining space which is primed for both bookings and walk-ins.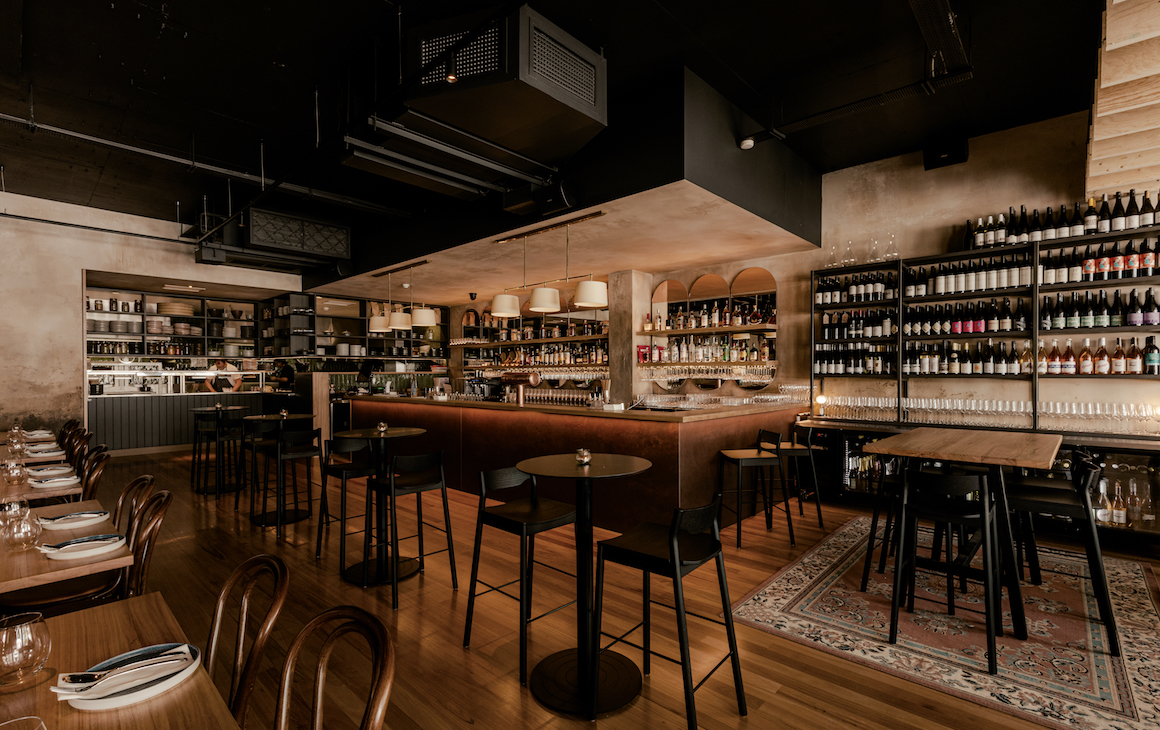 In the kitchen, Meyrick will be joined by Tim Bartholomew (head chef and business partner at Billy Ho Canggu and Hujan Locale Ubud), while on the floor Californian hospitality pro and ex bar manager for Bread In Common, Audrey Ruckhaber, will be leading the front of house service and in the bar Laurie Eaton (Eau-de-Vie, Melbourne) who won the title of the Cayman Islands Diageo Reserve World Class Champion in 2015 has you covered.
Speaking of the bar, we have to talk about the top-notch drinks on offer. Yes, you'll have an exciting selecting of quality cocktails, wines and boutique beer on offer, but on top of that Will St has also introduced its own range of gin and rice lager, specially produced by Fremantle brewery and distillery Running With Thieves and designed to pair perfectly with Will St's menu.
Meyrick's new restaurant, Will St, is now open at 228 Carr Place in Leederville, so we suggest you snap up a booking quick smart.
And in the meantime, why not scope out more of Leederville's best restaurants.
Image credit: Supplied