Alabama Song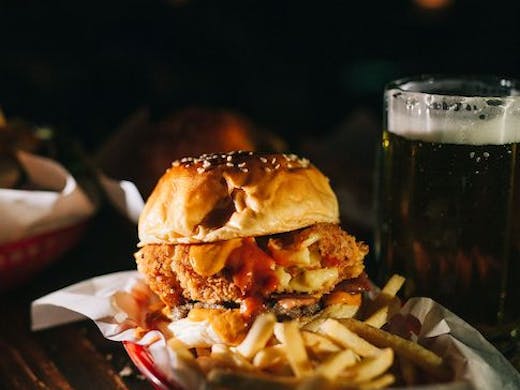 The Verdict
You'll feel like you've been thrown into an episode of True Blood in the new bar that is Alabama Song…just without the vampires and stuff. This awesome Northbridge dive bar brings all the elements of America's deep south to Perth, and we are loving it.
With over 120 different types of bourbons, whiskies and ryes to choose from, you'll be in heaven. The menu at Alabama Song isn't huge but they've got plenty of bar snack goodies to keep you going well into the night and they don't mind the odd burger special.
Speaking of burger specials, this September they've teamed up with Joe's Juice Joint to bring us a deep-fried mac and cheese burger. Think a huge slab of deep-fried mac and cheese, a beef patty, crispy bacon and loads of cheese and you're on the right track. It'll set you back $17 usually, but on Thursday nights you can get it for just $10 at both Alabama Song and Joe's Juice Joint.
So go on, grab an old school, leather-bound booth and enjoy the live music with a burger and whiskey in hand.
Image Credit: Alabama Song
---