Hearth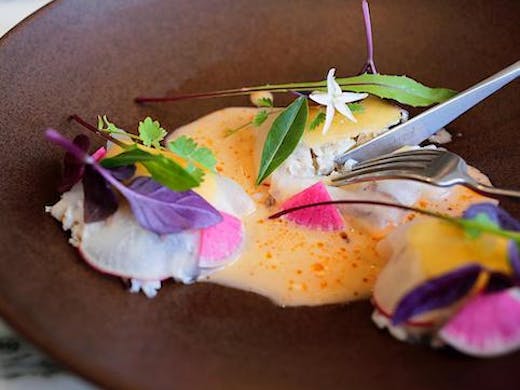 The Verdict
Hearth is the jaw-dropping restaurant that's attached to The Ritz-Carlton Perth at Elizabeth Quay, but it couldn't be further from what you'd traditionally think of as a hotel restaurant. At first sight, Hearth is quite simply breathtaking. While you might imagine deep, dark colours in a place that's named after a fireplace, the fit out is light, bright and uber-relaxing thanks to the cool blues and views of our beautiful Swan River. If it's a fine day, you might want to get a table outside and do some people watching but come dinner time, try and snag a booth inside for ultimate comfort.
When it comes to the food, expect only the best WA produce with a good smattering of native ingredients thanks to Executive Chef Jed Gerrard of Wildflower fame. The menu changes each day depending on what's available but it's all delicious, so you don't need to worry too much about what you're ordering. We'd recommend starting with the bread which comes with a honey glaze and native thyme butter before moving onto Manjimup heirloom tomatoes for something fresh, then the abalone served with an unexpectedly mind-blowing shitake custard. Once you've had a nibble, you can grab some big plates to share—think dry aged Wagin duck, Lancelin crayfish or Futari wagyu—or go for individual mains. There's something for everyone here with wild line caught local fish, Lake Preston beef, Berkshire pork, Mottainai lamb and, of course, a vegetarian option that's well thought out and just as delicious, if not more so, as the rest of the menu.
The salads and sides are worth a look in with the shredded youlk—a native root vegetable—getting a lot of attention and the brassica salad with Cambray cheddar dressing that will convert even the biggest brussel sprout skeptics.
The entire menu is an ode to WA, so it's the perfect spot to take your out-of-town guests, but we say don't wait for them; get there and treat yourself now.
Image credit: Elle Borgward
---