From white linen fine dining to cosy neighbourhood eateries, there are a lot of contenders for Perth's best restaurant.
Regardless of what you're in the mood for, one of these places should have you sorted. It's a tough list to narrow down, but here are fifty of the very best restaurants in Perth.

Bivouac Canteen & Bar
Northbridge
Perfectly suited to its William Street digs, Bivouac offers Eastern-inspired share plates that go well with a cheeky wine or one of their delicious cocktails. The gnocchi is insane.
Il Lido
Cottesloe
The perfect combination of fine and casual dining, Il Lido's food is a hug on a plate. Lovingly crafted, produce driven Italian fare in a warm and welcoming canteen style setting. That's without even mentioning the award-winning wine list…
Bib & Tucker
North Fremantle
Bib & Tucker has gained legendary status in Perth for its incredible food and bangin' beach views. Offering a spot-on modern Australian menu and spectacular views over Leighton Beach, this place sums up why living in Perth is so special.
Cantina
Mount Lawley
The very best of Italian and Spanish cuisine meet in this casual modern European eatery. An O.G. on the Beaufort strip, Cantina is still wooing diners with winners like their duck liver parfait and fig jam ten years on.
La Cholita
Northbridge
Possibly the first 'best Mexican' joint in Perth, La Cholita is always fun for dinner. Just as good for a bowl of guac and a margarita as it is for a full blown fiesta meal, this is definitely one of the best restaurants in Perth.
Kitsch Bar Asia
Leederville
Strongly influenced by the hot and sour flavours of traditional pan-Asian street food, Kitsch is a fun and funky place to share food among friends. Get the pork belly!
George Street Quarters
East Fremantle
Well known for their incredible all-day brekky, George Street Quarters do a damn fine lunch and dinner, too. 'The Quarters' (as they're affectionately known) are a local's go to. The duck fat potatoes are certifiably insane.
The Flour Factory
Perth
If you're from Perth, you've been to The Flour Factory and had a spin of the gin wheel, but if you haven't sat down and had a meal you're doing life wrong. The Spanish inspired menu is out of this world.
Habitue
North Fremantle
Oozing Freo cool, but relaxed and intimate, Habitue is dishing up excellent Mediterranean fare made from fresh, local produce. Their 'thing' is chargrilling, so expect some tantalising smells and flavours to emanate from the kitchen!
The Prophet
East Victoria Park
The place where all Lebanese food love affairs begin, The Prophet has been dishing out Middle Eastern fare full of pride in a simple but warm space since way back in 2001.
Brika
Perth
Beyond their delectable filos, Brika boasts a delicious meze style menu, designed for sharing. Think warm pita loaded with tzatziki, pan fried cheese, and mussels in white wine.
The Apple Daily Bar & Eating House
Perth
Named after Hong Kong's popular newspaper, Apple Daily does exotic South East Asian street food with a contemporary twist. Must-orders include the papaya salad, saltwater duck, and the Massaman curry.
Bread In Common
Fremantle
Bread is the main game here, and with a menu designed to accompany their doughs, you'll be (unregretfully) eating a lot of it. The menu is seasonal, but expect winners like rustic lamb ribs or ricotta and broad beans to emerge from the long, open kitchen.
Duende
Leederville
Roll into Duende for a laid-back glass of wine and delicious Spanish tapas. MYO platter from their cured meats (the chorizo sidra is a house fave) and queso, or go all out with the six-dish chef's menu.
Lalla Rookh
Perth
Unarguably one of the CBD's most loved restaurants, Lalla Rookh is as good for after work drinks as it is for a satisfying Italian meal. Those who know what they're doing generally go for the il Capo (aka the chef's menu).
Vans
Cottesloe
Something of an institution, Vans has gone from deli to cafe to the fully fledged contemporary eatery it is today, serving up an Asian inspired menu in stylish digs well-suited to its Napoleon Street location. Get the wok fried brussel sprouts and thank us later!

The Standard
Northbridge
Great for rooftop views over Northbridge, a refined Modern Australian meal and a cocktail, The Standard is the perfect spot for dates, group dining or to kick off a night out in Northbridge.
Hadiqa
Perth
It might be brand spanking new, but after two visits in two days (it's just that good) we're 110% sure Hadiqa will be one of the best restaurants in Perth for years to come. Get the cauliflower, get the lamb, get the prawns, and definitely get hot chips!
Francoforte Spaghetti Bar
Northbridge
The menu is short, but when you nail every dish you offer there's no need for much else. Francoforte is a casual Italian hole in the wall where the only problem you'll face is whether to order the small or large serve of your favourite dish. BYO to boot!
No Mafia
Northbridge
Perfect for a casual bite and an intimate catch-up, No Mafia is doing southern Italian shared eats and choice wines in a narrow little space with a fully open kitchen.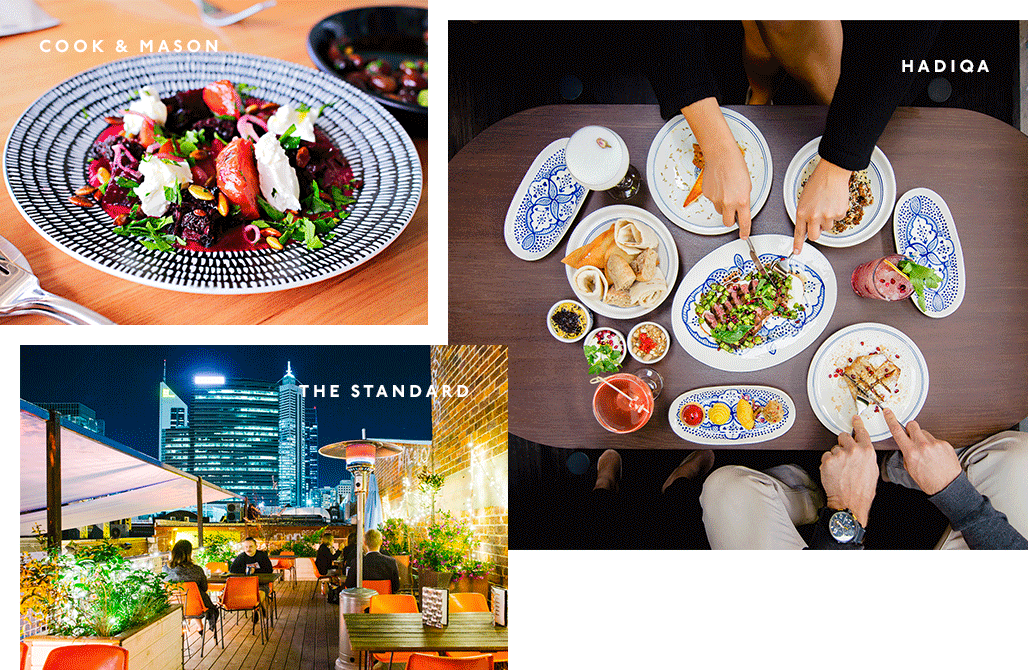 Long Chim
Perth
The Perth population collectively died and went to heaven when David Thompson brought us Long Chim. Set in the converted basement of the State Buildings, you'll enjoy the exposed brick and plumbing just as much as your chicken larp. Don't miss the papaya salad, the prawn and fish dumpling laksa or the fried banana roti for dessert!
Petition Kitchen
Perth
The epitome of relaxed dining has emerged in Petition Kitchen. The menu is seasonal, with an emphasis on showcasing the very best of WA's local produce which results in one part rustic, one part quirky dishes made to share.
Lulu La Delizia
Subiaco
Receiving a lot of attention lately, this ever-so humble and intimate Italian osteria is crafting Perth's best handmade pasta. Be brave and try the pig blood pasta when it's on offer, but also grab the meatballs, tagliatelle and the tiramisu (obvs).
La Vida Urbana
Leederville
If La Cholita was the first best Mexican, La Vida Urbana is the newest. Sister restaurant to El Publico, expect the same delicious favourites with just that little something more, set in a lively and light-filled spot on Carr Street. The nachos are crazy good!
Canteen Pizza
Cottesloe
The best pizza in Perth with a dedicated Spritz menu. Need we say more? From the simplicity of an excellent Bufala to the oozing goodness of burrata on the Nduja, you can't go wrong at Canteen. Throw in the baby cos and the white anchovies for good measure, and do not leave without devouring the tiramisu.
New Normal
Subiaco
A self-proclaimed 'radically transparent', produce driven eatery serving up delightful Modern Australian share plates, New Normal is as charming as it is delish. Get the cracked potatoes!
Lady Of Ro
Subiaco
From the white wash walls and the dry floral arrangements to the archways and chalked up menu, one visit to Lady of Ro will land it as one of your favourites. They dish out rustic chargrilled plates from their open kitchen (think whole King Prawns, octopus and eggplant). Don't leave without a piece of the chocolate ricotta cake or soufra. BYO is the pistachio on top.
Stable Hands
Fremantle
Offering everything from precision made coffee and breakfast fare to creative cocktails (their G&T has sorbet in it!) and a daring dinner menu, Stable Hands has quickly established itself as a Freo staple. Read: lamb ribs with jalapeño, ricotta gnocchi ragout and salt baked barramundi.
Island Market
Trigg
A bonafide neighbourhood joint, Island Market's 'thing' is their filled pitas with lamb or chicken shawarma, pork belly and falafel as filler options. Or, grab a cocktail and just try to narrow down your order from the shared plates menu.
Neho Asian Tapas
Victoria Park
The only thing more fun-filled than Neho's strange neon signs (one translates to 'please present your octopus') is their delicious South-East Asian tapas menu. The 36-hour rendang short ribs speak for themselves.
Lucky Chan's Laundry & Noodle Bar
Northbridge
Popcorn chicken and killer ramen demand a constant line down the street outside Lucky Chan's, a modern Chinese restaurant that doubles as a bar, open late. Finish the Godzilla bowl and get your photo up on the wall!
Propeller
North Fremantle
Food served from an old garage has never tasted so good. Propeller combines the best Australian produce with Middle Eastern flavours to create a menu that's as inventive as it is delicious.
Cecchi's
Inglewood
This charming little family-owned and run spot at the northern end of Beaufort serves up some of the finest Italian fare in Perth. From small plates like parma ham croquettes to bowls full of squid ink pasta and ragu, enjoying a meal in their rustic front courtyard makes for a memorable evening.
Neighbourhood Pizza
Mount Hawthorn
Spacious and stripped back, Neighbourhood Pizza's BYO policy isn't the only thing you'll love. Their creative pizza menu features favourites like Number 9; sweet potato, potato and rosemary with feta and maple syrup; or the trusty Number 5 with kale, spicy salami and pecorino.
Swallow Bar
Maylands
While finding a seat might've once stopped you from travelling to the locally-loved Swallow Bar, its expansion means we can all enjoy in their divine French-inspired menu. Their croquettes are the best in Perth, and the Swallow Daily is the most reliable ever-changing menu item going around.
Rossonero Pizzeria
Maylands
If you're not interested in having a good time, don't go to Rossonero. This BYO pizza joint set in an old garage is dishing out pizza that might furrow Nonna's brow, but certainly keeps punters happy, plus good times on tap.
Cook & Mason
East Fremantle
Another East Freo favourite, Cook & Mason has a changing menu that makes the most of fresh produce and an Australian focused wine list that favours those which are minimal-intervention or natural.

Wildflower
Perth
Sublime CBD and river views, world-class service and a menu that's a cut above make this the pinnacle of Perth dining. Wildflower's menu responds to the six Noongar seasons with contemporary flair. Trust in the chef: get the tasting menu and you'll agree with us in no time that this is one of Perth's best restaurants.
Nobu
Burswood
The obvious choice for the most reputable Japanese food going around, Nobu has to be on your Perth dining bucket list. Grab the omakase menu that suits your hunger, sit back and devour. The yellowtail sashimi will blow your mind as it melts in your mouth.
Balthazar
Perth
Around since the '90s (albeit under a few different ownerships), Balthazar is an institution. Somewhat ironically, share plates in an upright atmosphere were swapped out for a structured menu and casual vibes in 2016 by newish owners from No Mafia. Perfect for a long lunch or a fancy date!
Rockpool Bar & Grill
Burswood
Full of old-school grandeur, Rockpool hasn't lost its status as one of Perth's favourite spots to celebrate, nor its penchant for extremely good steak.
Perugino
West Perth
A tribute to classic Italian dining (there's even a dessert cart), Perugino is elegant, traditional and, above all, tantalisingly good in the food department. This is proper fancy.
Petite Morte
Shenton Park
French sophistication embodied, Petite Mort uses the freshest and finest ingredients to delight and surprise with thoughtfully curated small plates, which explode with colour and flavour. The 10-course degustation is bucket-list worthy if we've ever seen it.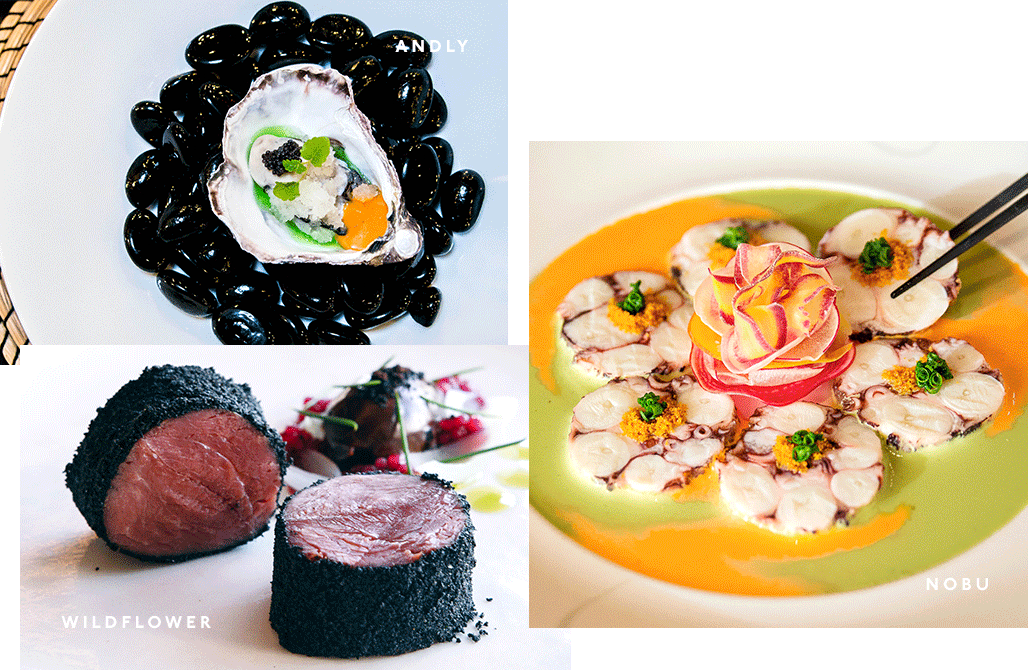 Post
Perth
For a seasonally-driven taste of Italy, Post is an all-day osteria in a space that's simple, but polished. Choose from pasta, risotto, fish or meat for your main, and finish things off with their signature buckwheat cannoli.
Shadow Wine Bar
Northbridge
Shadow's passion for classic European dining is reflected in dishes like kingfish ceviche, heirloom tomato and fig, gnocchi with tomato sugo and crab spaghettini. Don't leave without devouring the pear tarte tatin!
Marumo
Nedlands
Bookings open for Marumo only one day every few months for a reason: and that's the unparalleled seven course Japanese feast that they serve up for the almost unbelievable price of just $70. Linger over each incredible dish as you marvel at the one-man open kitchen and enjoy a bottle of wine brought from home.
Andly Private Kitchen
West Leederville
Follow the rules and be rewarded at Andly Private Kitchen, where a highly authentic Chinese degustation is served up in a very special, intimate setting. The food is a work of art!
Tsunami Ko
Mosman Park
Tsunami Ko represents the peak of experiencing teppanyaki in Perth. If you're lucky enough to get one of only 16 seats in the place, enjoy the teppanyaki theatrics over your omakase menu and one of their 50 different sake varieties!
Feeling like something specific? Check out Perth's best Italian.
Brika | Image credit: Nancy Hanna