Whether you're chasing white linen fine dining or a cosy neighbourhood eatery, there are a lot of contenders for Perth's best restaurant.
It's an incredibly tough list to narrow down, especially with all the new restaurants popping up around town. But regardless of what you're in the mood for, one of these places should have you sorted.
From the old faithfuls you should have tried by now to the new gems on every foodie's list, here are our picks for the best restaurants in Perth...in no particular order because common that would just create too many arguments.
Vin Populi
Fremantle
Brought to us by the same legends behind No Mafia, Vin Populi (Italian for 'wine for the people') is a light, breezy and sophisticated wine bar slash restaurant serving up antipasti, fresh made pasta and beautiful local meats alongside a cracking 160-bottle Italian-Australian wine list and sexy Italian cocktails. Start with a few tasty morsels to share then dive head first into a bowl of pasta before finishing with some Italian doughnuts and a nip of Frangelico.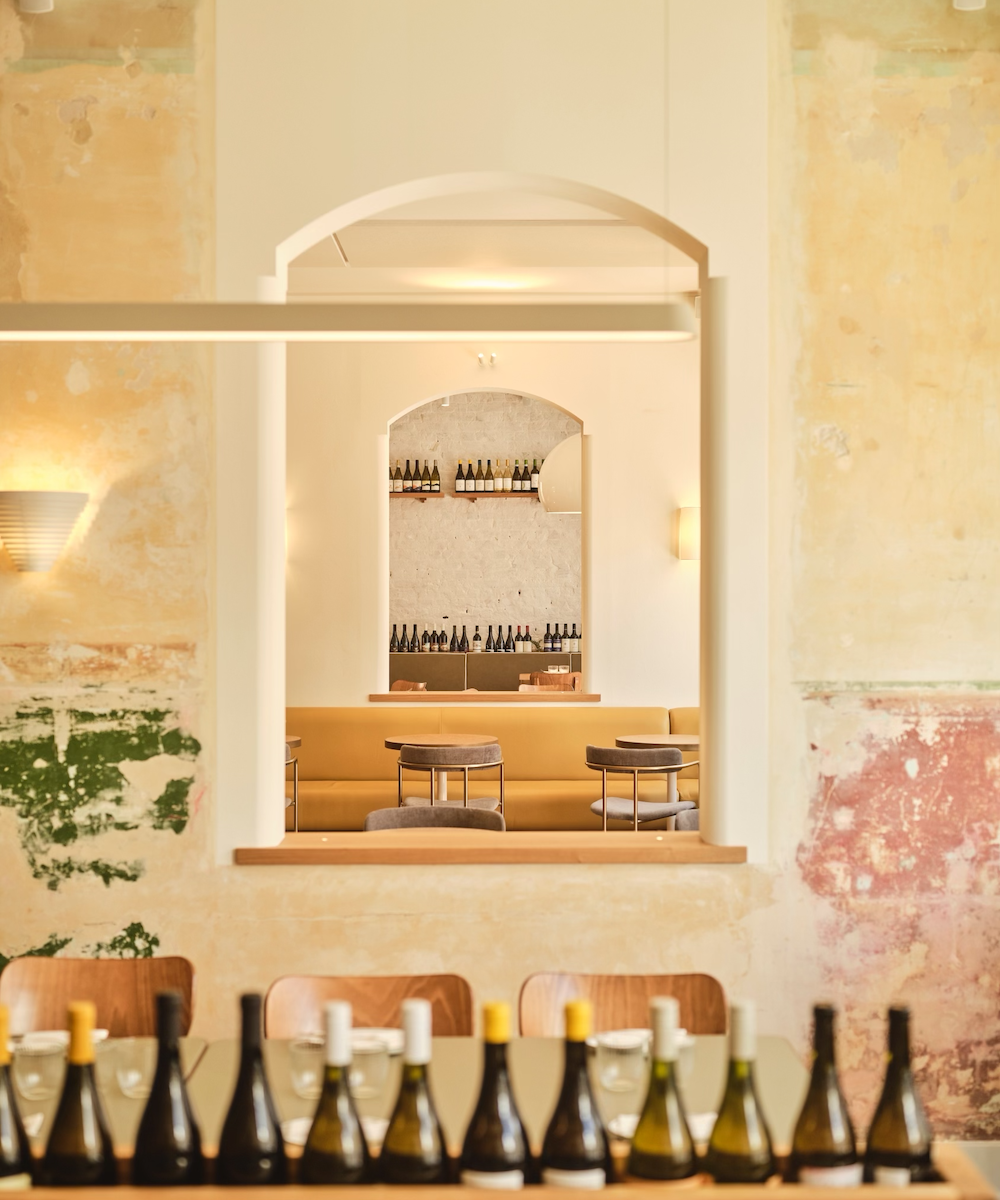 Shui
Subiaco
With mouth watering menu items like prawn crumpets, hot hoi sin duck air doughnuts, beef tartare with fried shallot ice cream and wood roasted pork belly served with mien "crack" sauce, it's easy to over order at Subiaco's charming new modern Asian eatery, Shui. But hey, when the food's this good you may as well go all in. Throw on a Coco Bananas or Only Fams Martini from the cocktail list and don't leave til you wipe those plates clean.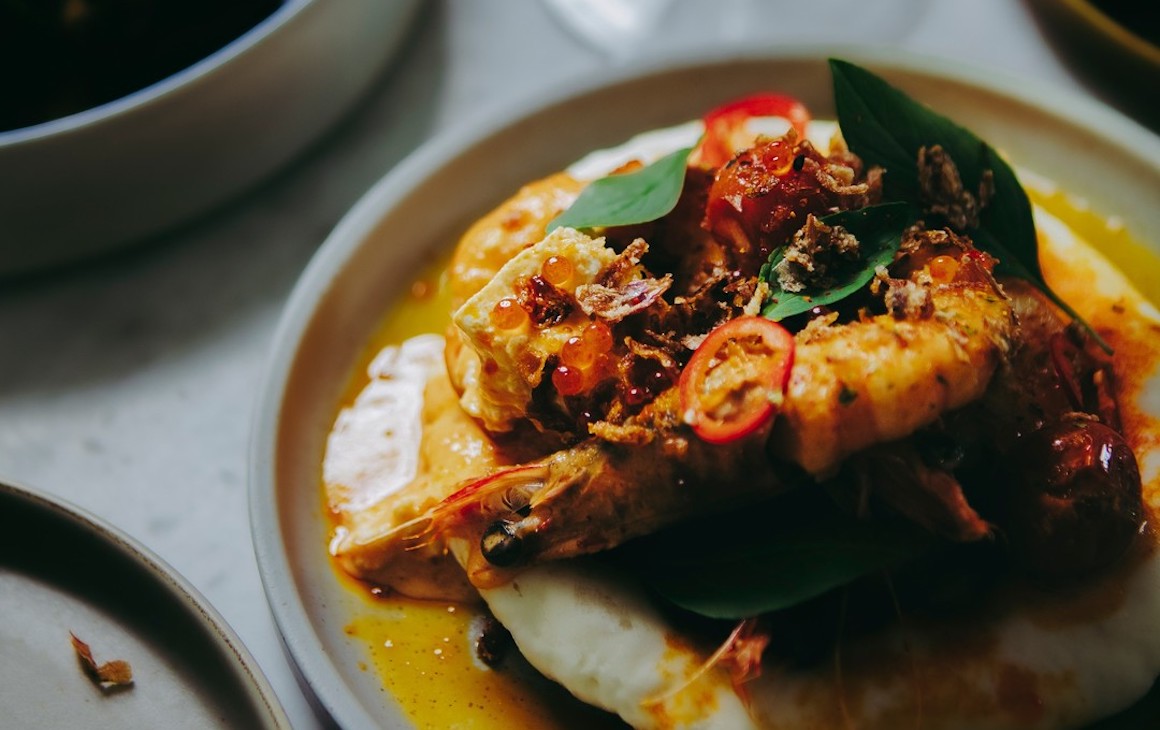 Lucy Luu
Mount Hawthorn
The dumpling queen herself, Miss Chow's, has expanded her empire with a whole new family-run dining experience in Mount Hawthorn. It's called Lucy Luu, a sleek bar and bites-style joint serving quality wine and gourmet South-East Asian delights infused with the finest WA produce. On the share-style food menu, look out for dishes like Wagyu Shanghai dumplings, Szechuan spiced beef tartare and an Asian-style burrata dressed in soy and yuzu. Throw on a few rounds of drinks and work your way through each one.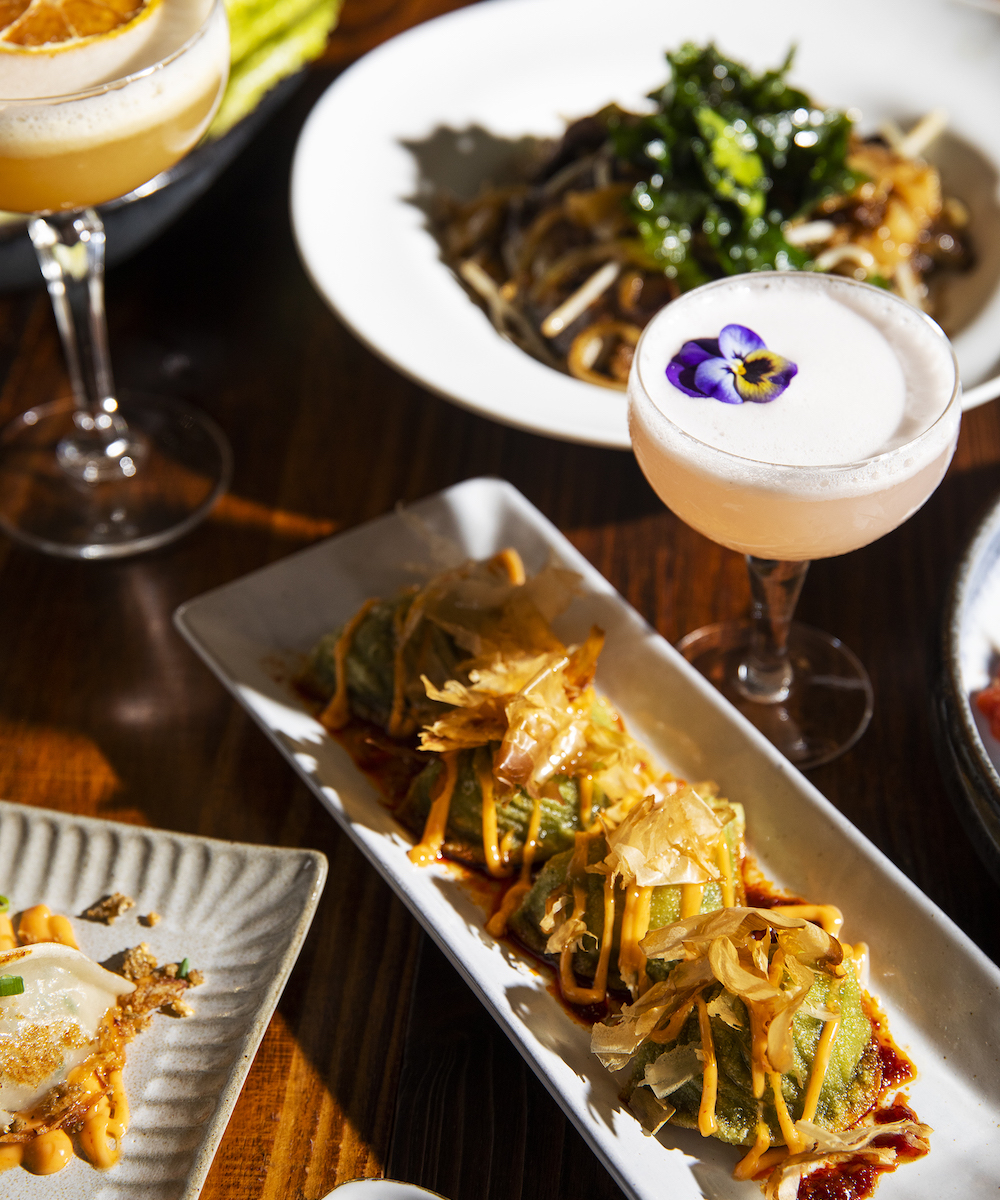 La Condesa
Subiaco
For some of the best margaritas in Perth and an unbelievably delish array of tacos, quesadillas and vibrant share plates, you can't go past La Condesa—the slick new Tulum-inspired Mexican cantina from Clint Nolan. It only takes one sip of their spicy passionfruit and jalapeno marg to see why this place has been booked solid since opening.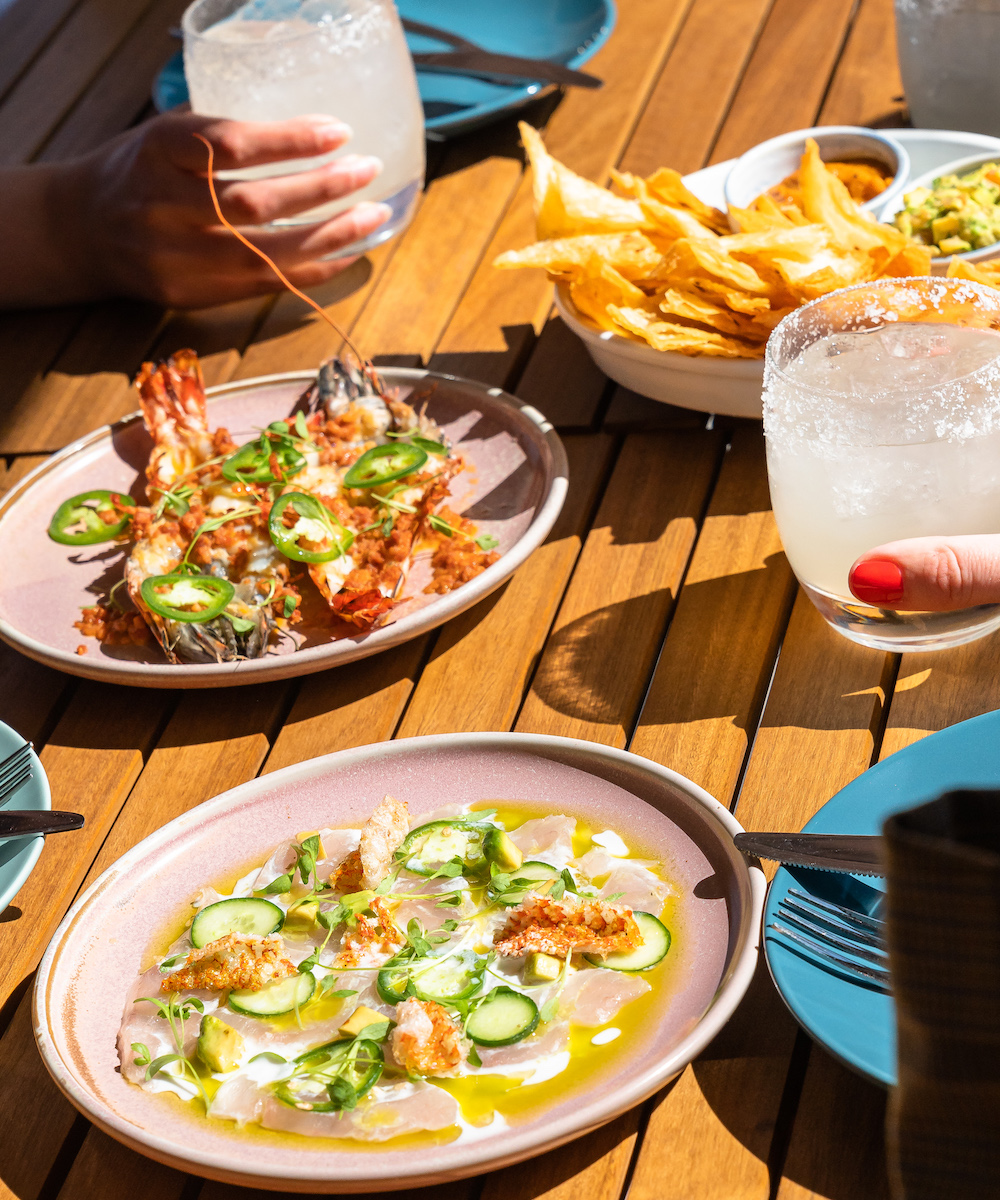 La Lune
East Fremantle
Located in a charming heritage building on George Street in East Fremantle, La Lune is arguably the most beautiful of all Perth's new openings this year. And thankfully, its Parissiene-inspired food and beverage menu is just as impressive. Our recommendations? Get started with a round of martini parisiannes as you tuck into steak tartare, swimmer crab vol-au-vents and potato rosti topped with smoked salmon and cultured cream. Then move on to French wine with succulent duck breast, steak frites and dauphinoise potatoes.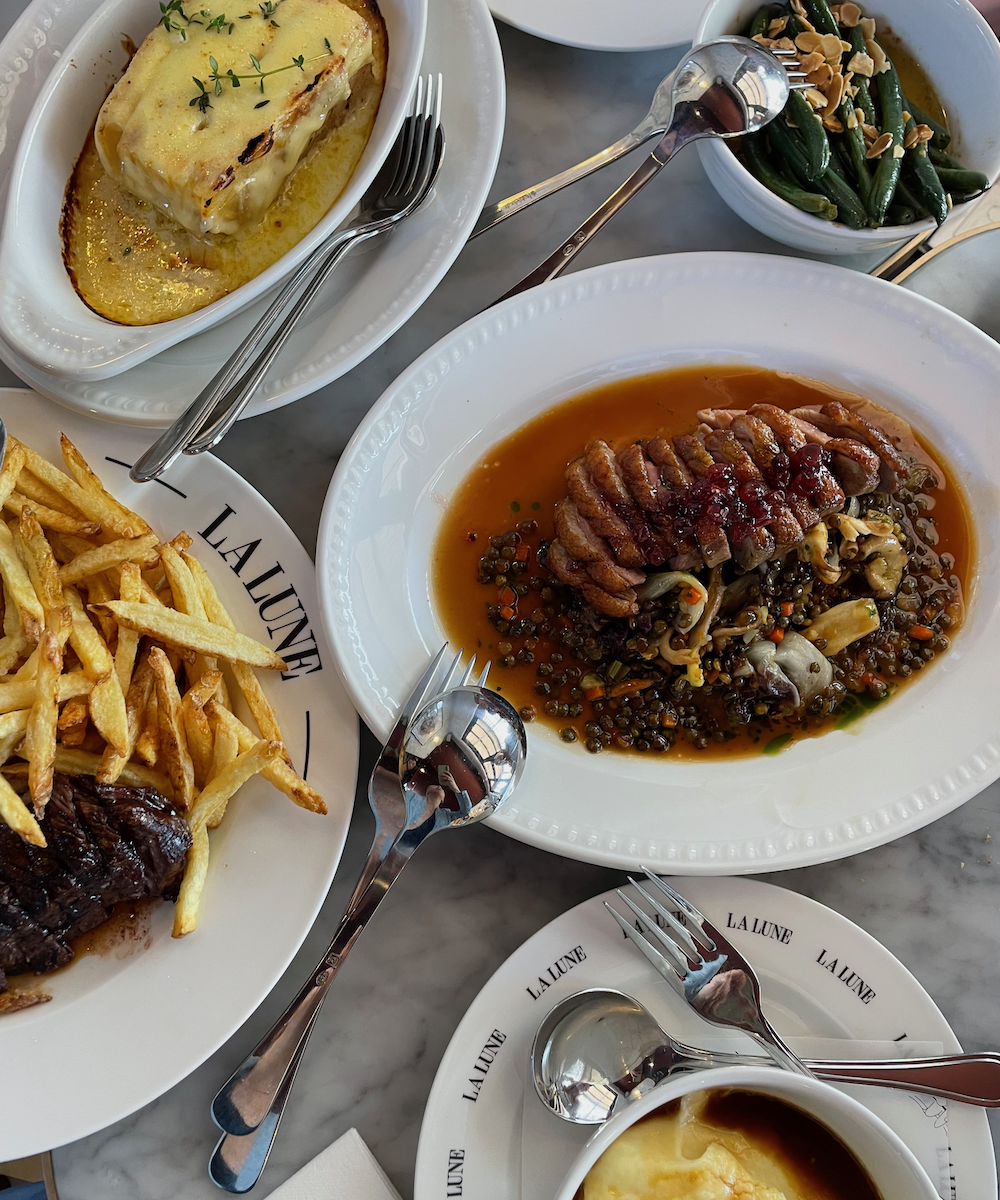 Testun Bar
Inglewood
Unapologetically loud, full of life, with an eclectic look that combines nonna's drapes with bright pops of green and funky art—the vibe at Testun is playful and a little offbeat, but that's all part of its charm. The neo-italio osteria and bar is brought to us by the younger half of the family behind the long-loved Threecoins Italian just down the road. It's a space for them to break away from tradition while still serving up the kind of food they love to eat at home. Expect unique, contemporary Italian goodness fused with global flavours and plenty of sass.
Dandelion
Karrinyup
Brought to you by John Parker—the same name behind long-standing faves The Standard, The Royal and fleur—we had an inkling this new joint was going to deliver, and that it does. The decadent multi-level bar, kitchen and distillery is the shining jewel in Karrinyup's swanky new food and dining precinct and definitely worth the drive if you're not lucky enough to live nearby. Order a cocktail and a bowl of salt and vinegar cassava chips then get your Insta snaps out of the way (trust us, the space is too beautiful not to) before you work out what other lavish South East Asian-inspired share plates to order.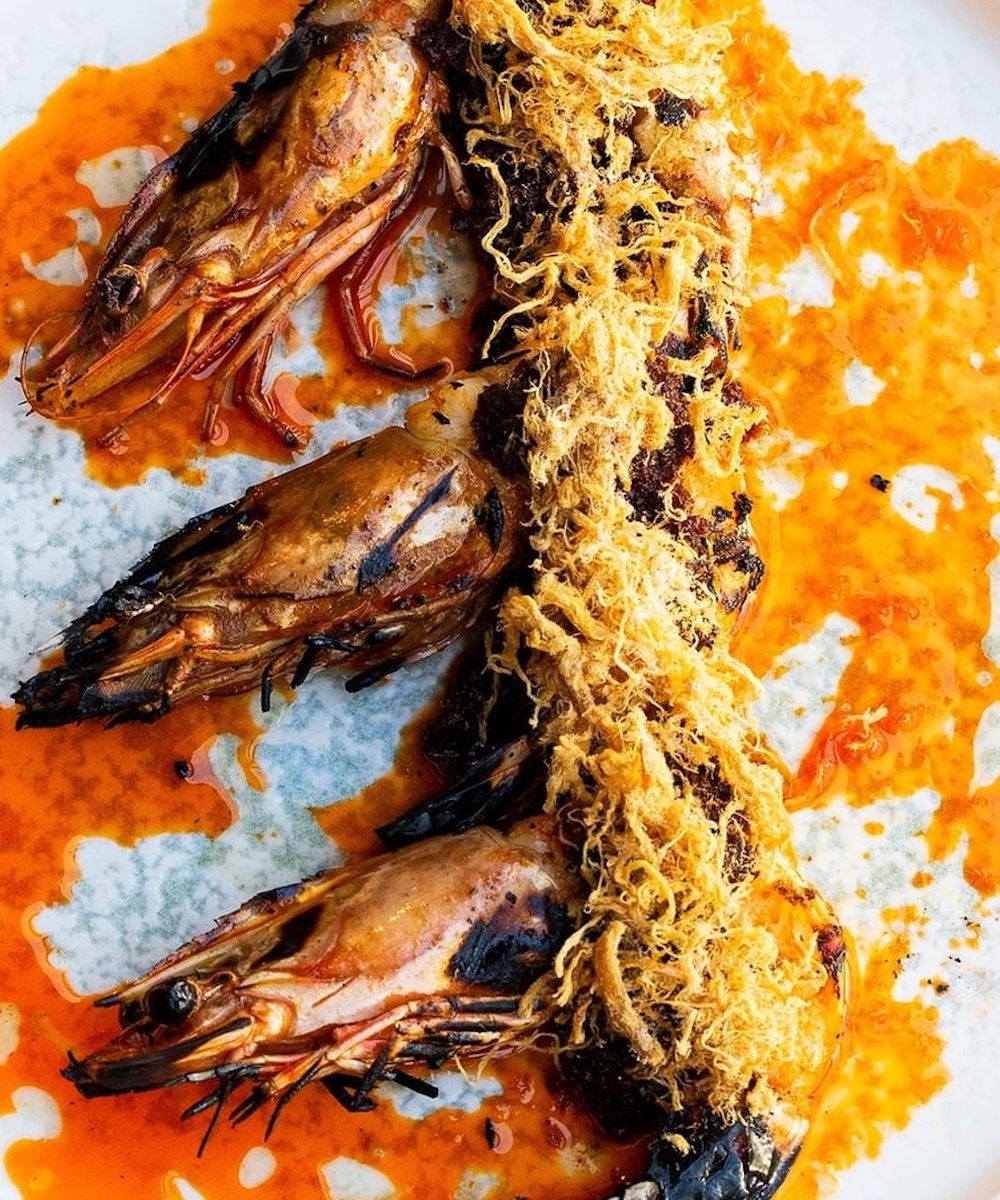 Nextdoor
South Perth
This moody suburban restaurant and bar is an offshoot of the neighbouring Olsen family butchers located literally 'next door' (get it) and offers up a unique butcher-to-plate experience unlike anywhere else in Perth. So yes, a next-level meat selection is kinda expected…I mean, it's pretty hard to ignore the open flame and wafting aroma of wagyu steaks sizzling on the wood fire grill as you walk in. But what you might not expect is the more sophisticated eats Head Chef Ashleigh Pattison and her team are putting up alongside the quality cuts. Book a seat at the intimate fire grill for one of Perth's best chef's table style degustations.
Wildflower
Perth
Sublime CBD and river views, world-class service and a menu that's a cut above make this the pinnacle of Perth dining. Wildflower's menu responds to the six Noongar seasons with contemporary flair. Trust in chef Michael D'Adamo: go in on the full degustation and you'll agree with us in no time that this is one of Perth's best restaurants.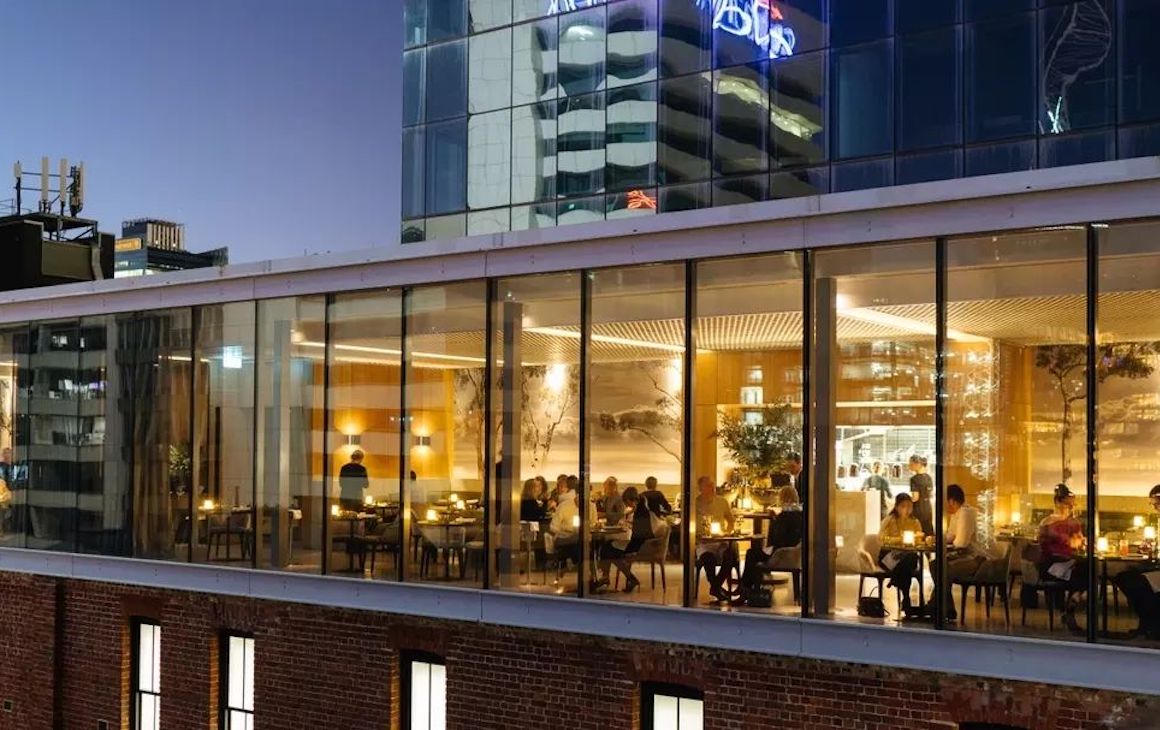 Casa
Mount Hawthorn
Infused with Si Paradiso DNA, no surprise to see this Italian-style bar slash restaurant has proven popular with the eager foodies in Mount Hawthorn. You can quite easily fill up on punchy nibbles like octopus al pastor toast with pineapple chutney and lardo or an epic scallop potato with yuzu cream and caviar, or choose to settle in for a decent bowl of handmade pasta. Either way, we suggest you wash it down with a few glasses from the European-inspired wine list.
Old Young's Kitchen
Swan Valley
With a chef of Rohan Park's calibre at its helm, Old Young's Kitchen has to be one of the best spots to eat in the Swan Valley, hell even the whole of Perth. He's really leaned into his experience working with native Australian ingredients (something he's well-versed in given his time at Fervor) to create a tight selection of contemporary share-style dishes that you'll no doubt be requesting again. Grey saltbush, samphire, Geraldton wax, lily pilly, quandong and more all find their place on plates, and given the team's dedication to sourcing ingredients responsibly, it's the perfect way to explore native produce and flavours. Pair the mind-blowing feast with a few tipples from the banging little cocktail menu (the clarified pina colada was our favourite), and you'll wonder why you don't go to the Swan Valley more often.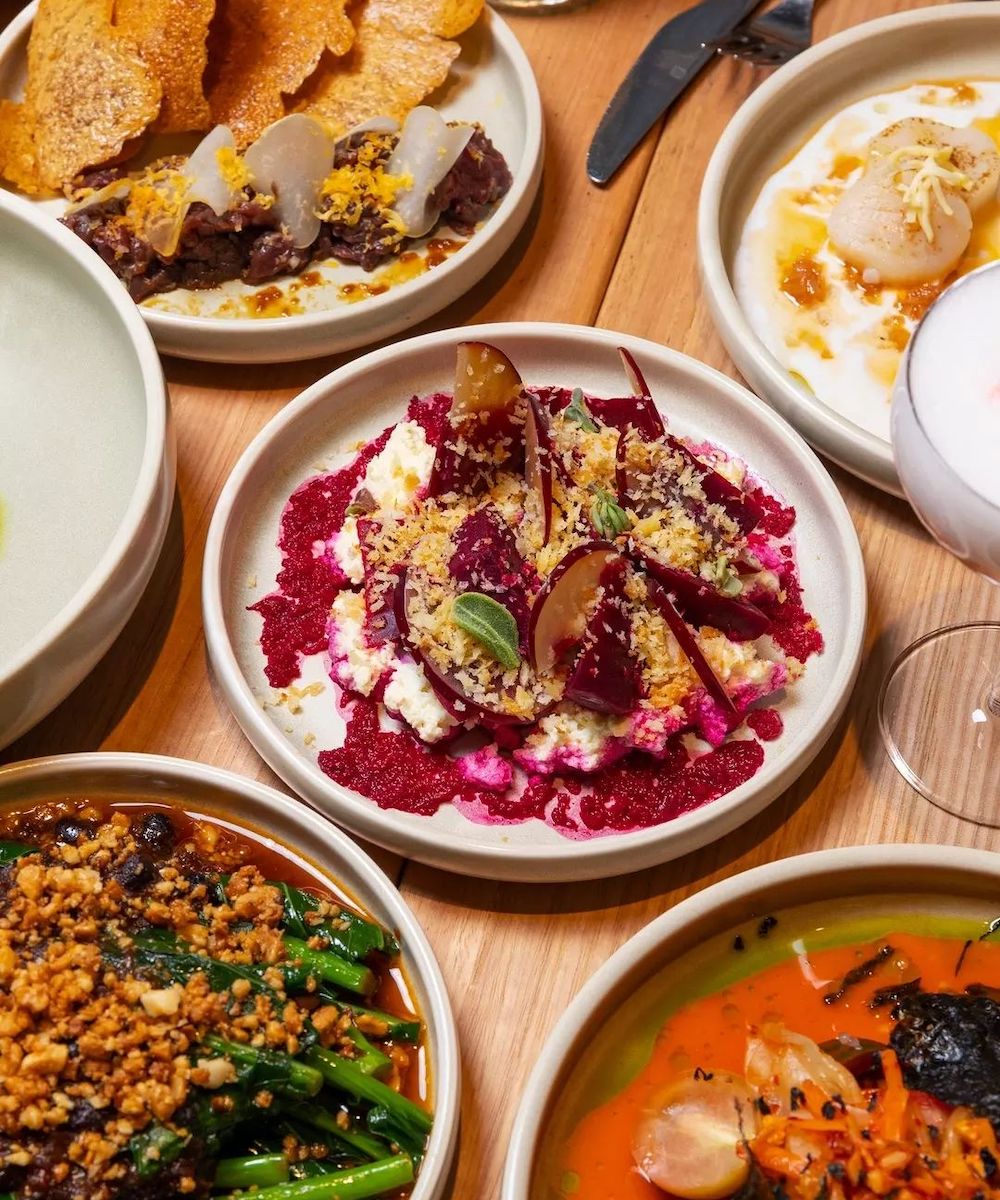 Cooee
Perth
If you're big on ambience, you can't go wrong with the riverside charm of Cooee. Grab a seat outside and kickstart your modern Australian dining experience with a plate of the house focaccia served with whipped eggplant and a serve of La Delizia's stracciatella before tucking into meatier options like the wagyu steak frites and roasted spatchcock chicken.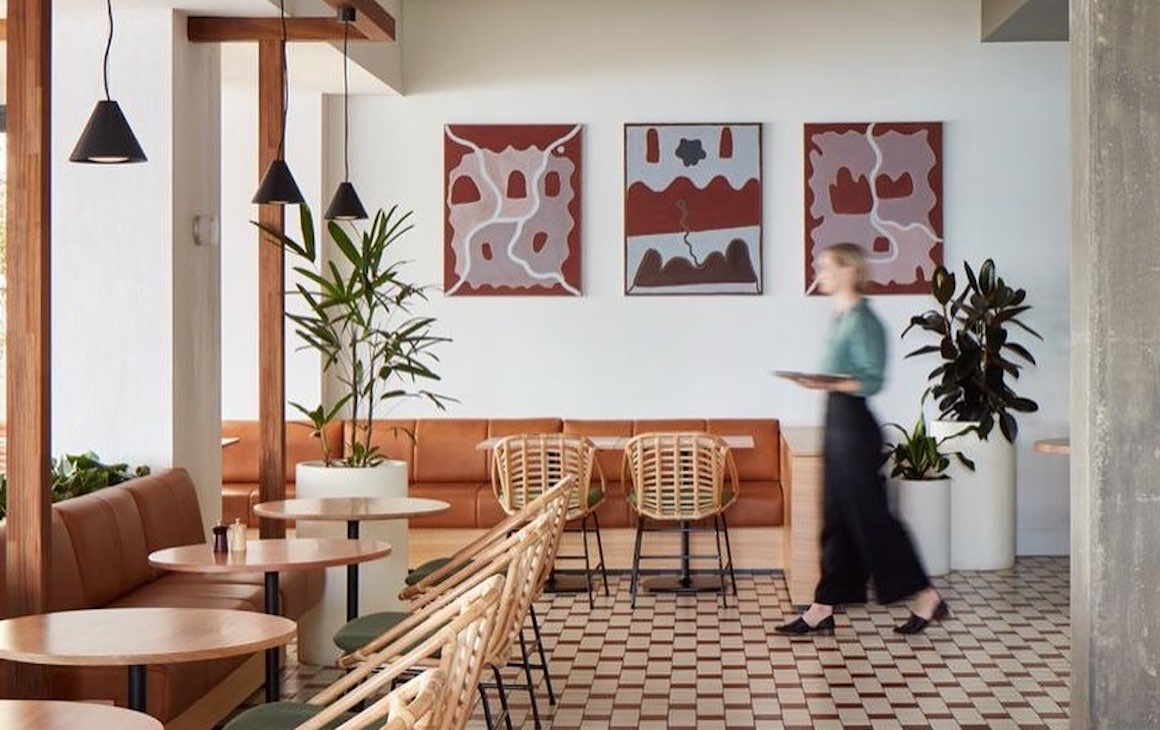 Daph's
Leederville
Unassuming, quaint and nestled right across from the Re Store on Oxford Street sits Daph's, a darling 20-seater restaurant that celebrates the power of fire through their six-course nightly degustation. They opened last year with a simple concept: choose the 5.45pm or 8pm sitting, wine pairing or no wine pairing and the rest is done for you. Head chef and owner Pepe frequently changes the menu based on the best seasonal produce and his newest creations, and we can guarantee that you will not be disappointed.
Will St
Leederville
Will St is one of the few silver lining to come out of COVID's endless border closures. Will Meyrick, the chef-owner behind super popular Balinese establishments Sarong and Mama San (to name just a couple), decided to bring a taste of Bali to us last year—opening his very own place in Leederville. The menu is loaded with authentic flavour-packed dishes inspired by Meyrick's travels, from little nibbles through to hearty curries.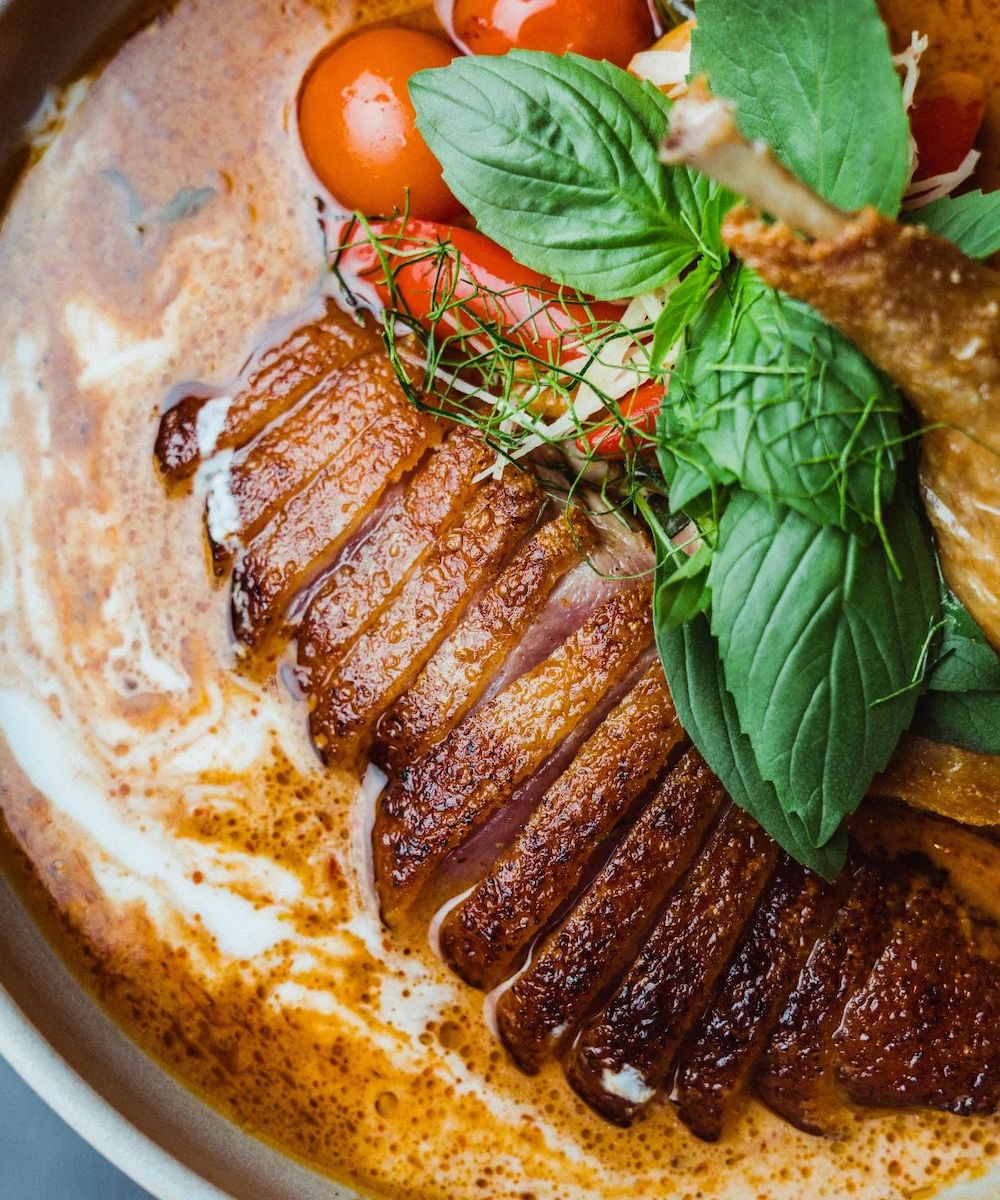 Nieuw Ruin
Fremantle
Brought to us by the same talented team behind Foxtrot Unicorn, Nieuw Ruin is fast becoming Freo's fave wine bar thanks to its mammoth list of 250+ bottles on offer and beautiful heritage cottage vibes. But it's the ground-breaking food menu from Head Chef Blaze Young and her all-female kitchen team that really has us hooked. From the salted Scott Reef monkfish "under a fur coat" and garfish rollmops to the deviled Wagin duck livers and Freo octopus with almond, blood orange and basil, you won't be bored with this menu.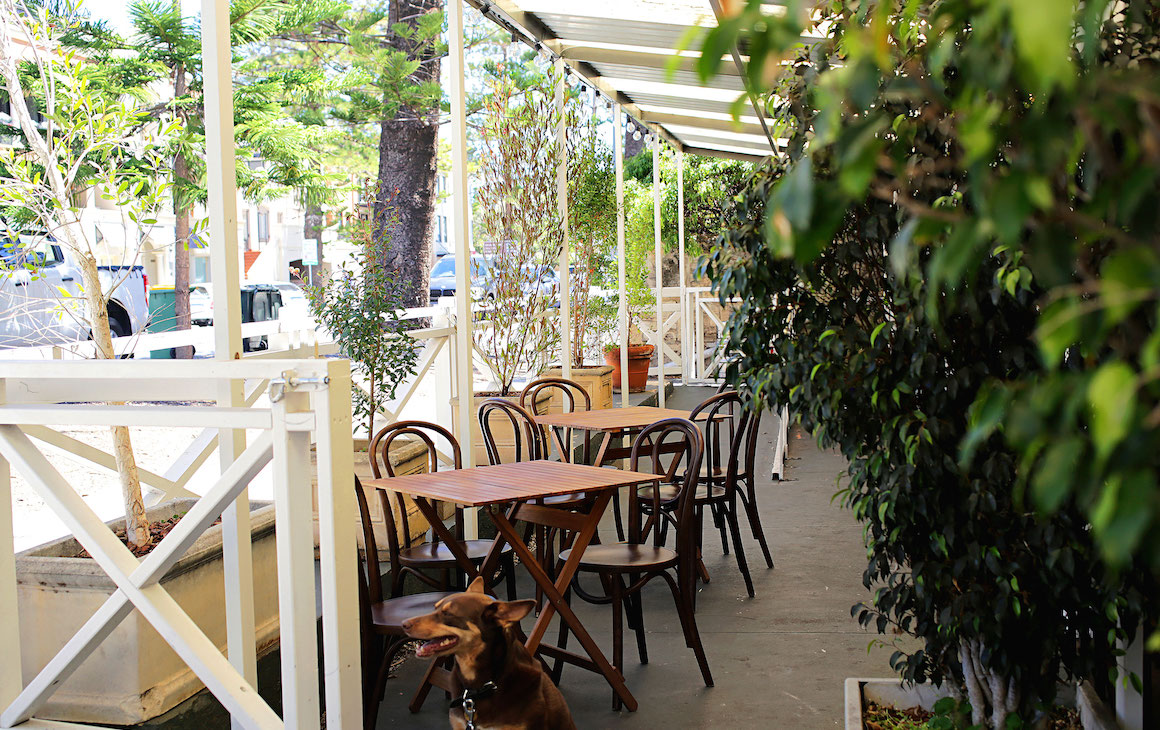 Monsterella
Wembley
Sitting pretty on the corner of Grantham and Jersey Streets in Wembley, Monstarella oozes rustic cool with its simple, stylish and classy interior. Pizza is the name of the game at this relaxed local, with handmade bases which are naturally risen for 48 hours and topped with insanely good flavour combos. There are also a few pastas (hand cut truffled pappardelle carbonara, anyone?), antipasti and salad options on the menu—don't miss the arrosticini abruzzesi (traditional lamb skewers from the Abruzzo region in Italy), they're to die for.
Lotus
Mount Lawley
The lush new Mount Lawley precinct from the team behind The Old Synagogue has multiple spots to eat drink inside. The standout for us, though, is definitely Lotus—the stunning South East Asian restaurant headed up by Head Chef Sundoo Kim (whose extensive resume includes the likes of Chin Chin in Melbourne). Our tip: just go the 'feed me' menu and let the kitchen make the decisions because it's all far too good to pick between...although if you do throw in one extra dish, let it be the flakey butter chicken puffs.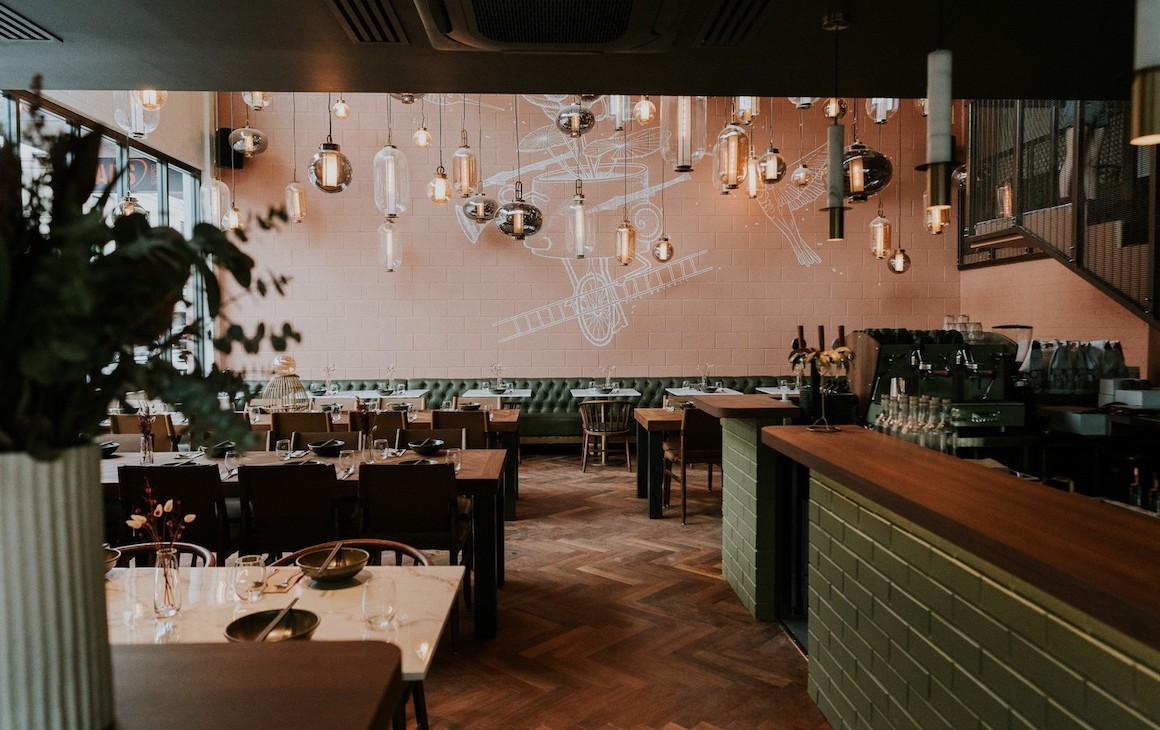 Lulu La Delizia
Subiaco
This ever-so humble and intimate Italian osteria is known for crafting Perth's best handmade pasta. Headed up by chef Joel Valvasori, Lulu La Delizia has earned its accolades as one of the best in the game, not only in Perth, but nationally. The vibe is rustic yet completely charming—perfect for a date night or wine-filled evening with friends. Trust us when we say, this is a very good place to start if you're looking for the best Italian restaurants in Perth.
Heritage Wine Bar
Perth
Heritage Wine Bar celebrates its roots thanks to its dazzling refurb of the iconic Royal Insurance building, complete with Italian marble floors, dramatic high ceilings and large windows overlooking Brookfield Place. Most of the food, which includes the likes of mortadella foie gras, Wagyu tartare and chicken and rabbit terrine, is inspired by European classics and underpinned by the finest local produce. It's refined, beautiful and downright delicious, and pairs perfectly with a bottle from their extensive range of international and local wines (which hot tip: you can also buy to go now).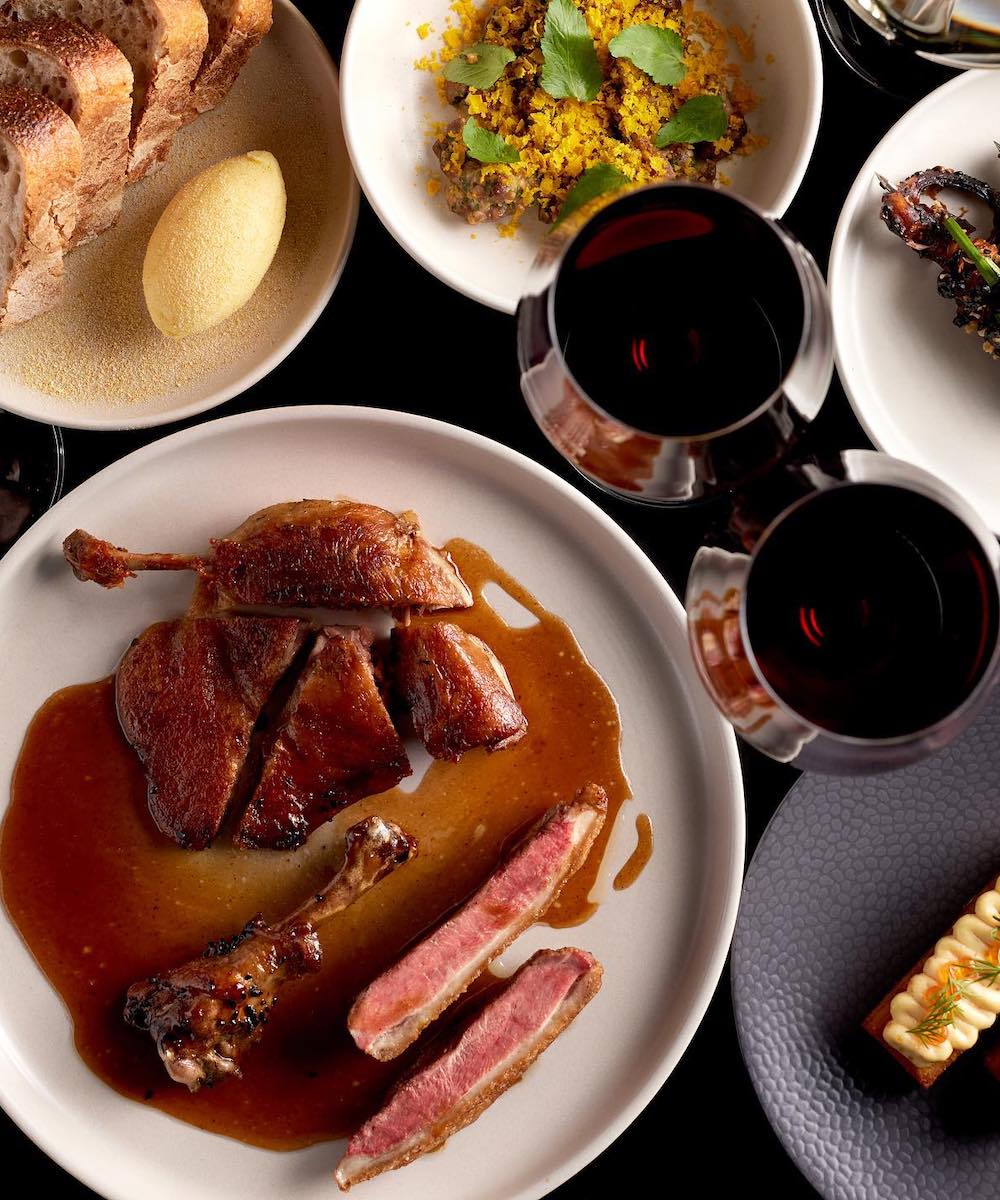 Hearth
Perth
Hearth is the jaw-dropping restaurant attached to The Ritz-Carlton Perth at Elizabeth Quay. The fit-out is light, bright and uber-relaxing with views of our beautiful Swan River. When it comes to the food, expect only the best WA produce with a good smattering of native ingredients. It's the perfect spot to take your out-of-town guests, but we say don't wait for them; get there and treat yourself to the new seasonal menu now.
Le Rebelle
Mount Lawley
Le Rebelle is an intimate restaurant and wine bistro bar, inspired by the old romanticism ('romantica') of classic Parisian and New York bistros. With beautiful and cosy interiors, atmospheric lighting and ace staff to guide you through your night, Le Rebelle is a breath of fresh air. The menu is full of 'classiques' like the much-loved crab toast, the duck liver parfait or the Wagin duck with frites, and the drinks program is just as phenomenal.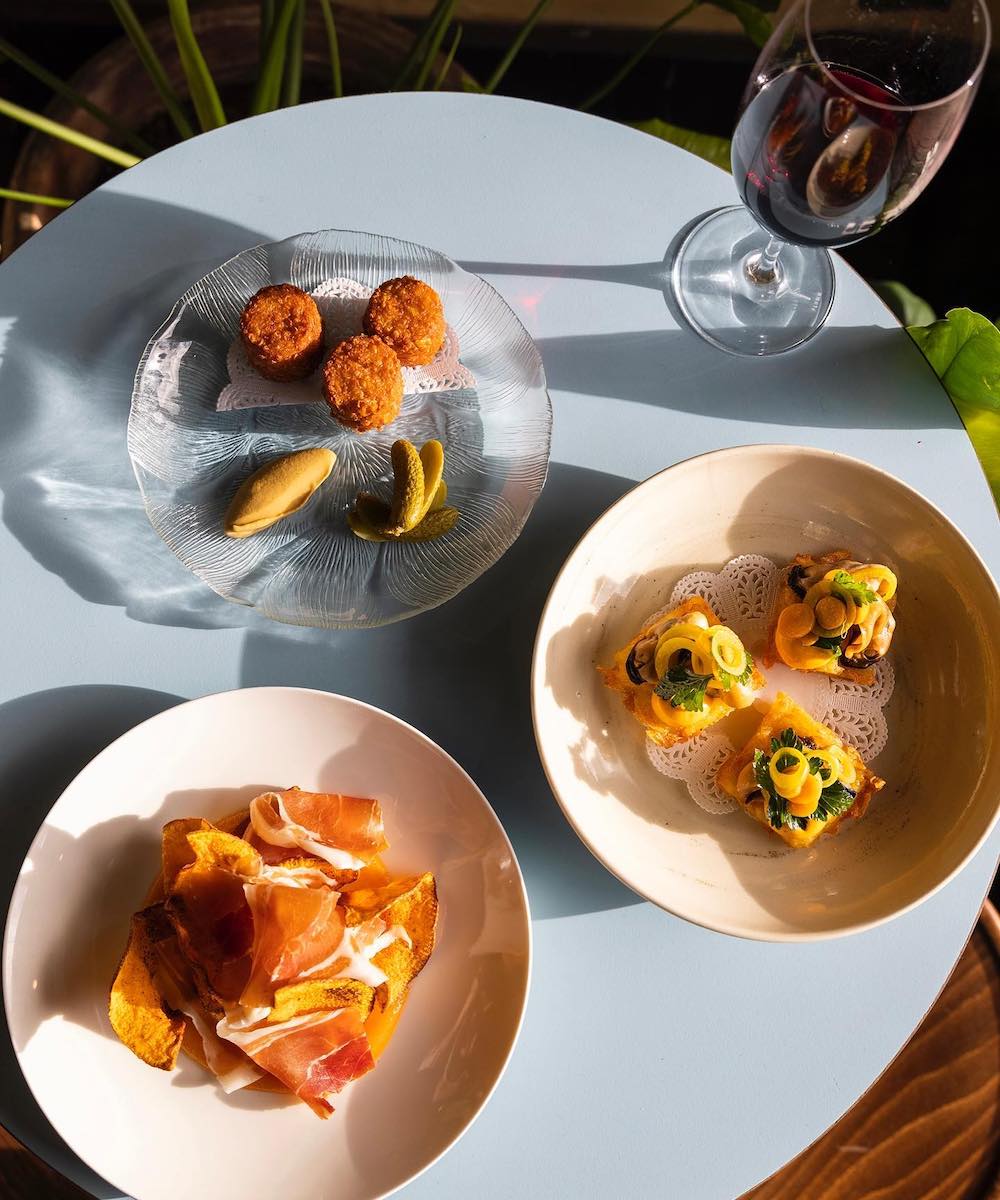 Long Chim
Perth
The Perth population collectively died and went to heaven when David Thompson brought us Long Chim. Set in the converted basement of the State Buildings (home to a few our favourite eateries), you'll enjoy the exposed brick and plumbing just as much as your chicken larb. Don't miss the crunchy prawns, charred noodles or the banana roti for dessert and be sure to wash it down with something from their exceptional new cocktail menu. And if you ever see ma hor (a tasty Thai morsel) on the menu, order a round immediately.
The Corner Dairy
Doubleview
Doubleview sure has done well this year, with The Corner Dairy adding another notch in the belt for this bustling little neighbourhood. The Corner Dairy serves up a stellar list of Aussie natural wines and craft beers in a casual "come as you are" setting. In the kitchen, Chef James Cole Bowen (formerly at Le Rebelle) impresses with brilliant share plates like kingfish ceviche with smoked tigers milk and Geraldton wax and a local stracciatella with witlof and kumquat marmalade.
No Mafia
Northbridge
Taking inspiration from the recipes of Southern Italy, the food at No Mafia is simple but delicious and bolstered by an impressive wine list featuring Italian and Australian drops, alongside selected cocktails (hello, spritzes) and local and international beers. Grab a cosy booth or sit at the outdoor balcony to people watch, while selecting from a menu that includes dishes like roman arancini, duck pappardelle, and triple cooked potatoes with garlic, chilli and aioli.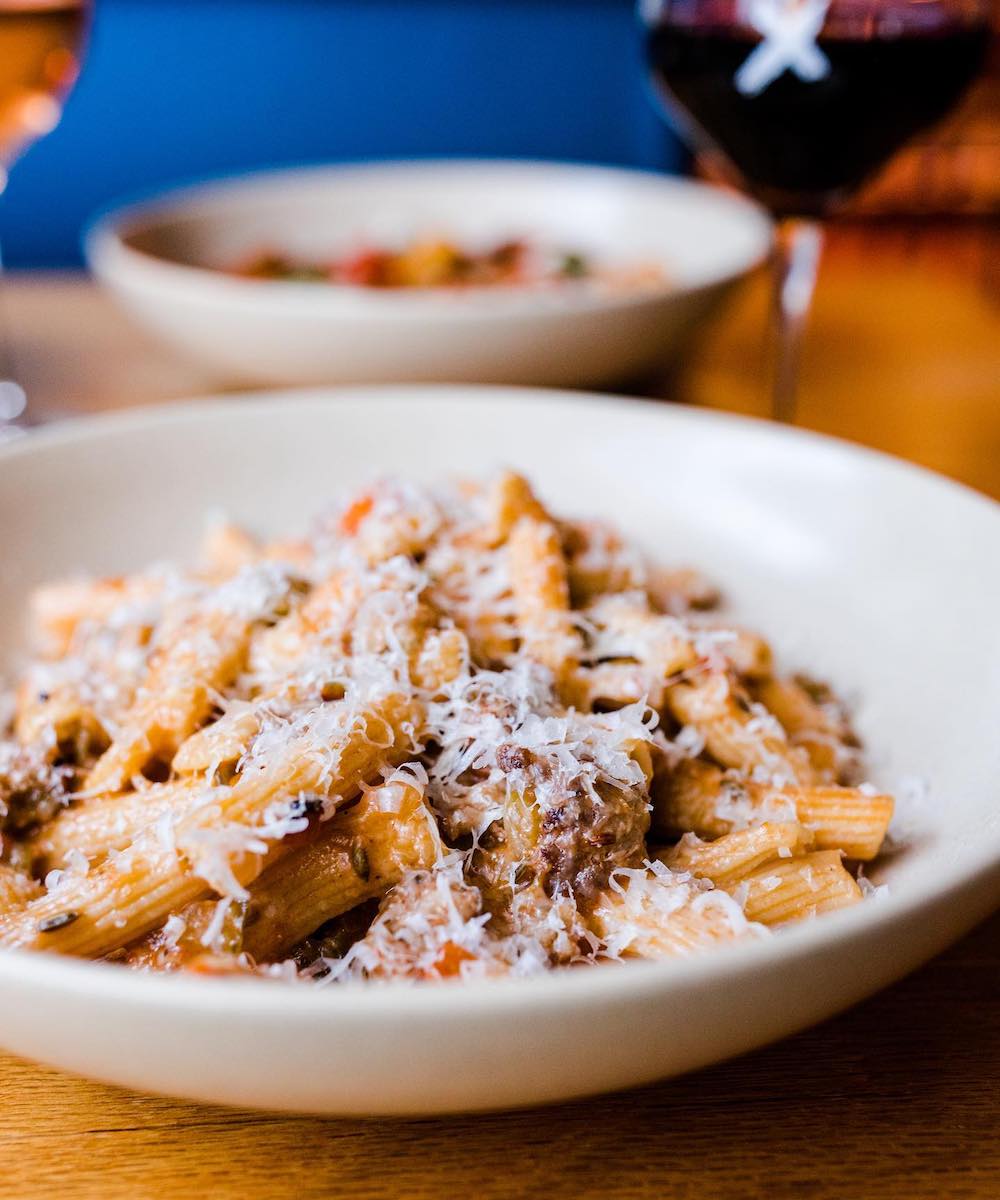 Nobu
Burswood
The obvious choice for the most reputable Japanese food going around, Nobu has to be on your Perth dining bucket list. Grab the omakase menu that suits your hunger, sit back and devour. The yellowtail sashimi will blow your mind as it melts in your mouth.
fleur
Perth
Sitting pretty inside The Royal Hotel, fleur is as beautiful and as fancy as she sounds. With local produce front and centre, there's always plenty to get excited about when it comes to the fine dining menu. Just think beef tartare with onion emulsion, egg yolk fudge and rye crackers, honey roasted wagin duck and roquefort ice cream. Paired with a curated wine list, some stunning cocktails and equally lovely interiors, this is one of the best fine dining experiences in Perth. Hell, there's even a caviar menu if you're really feeling extra.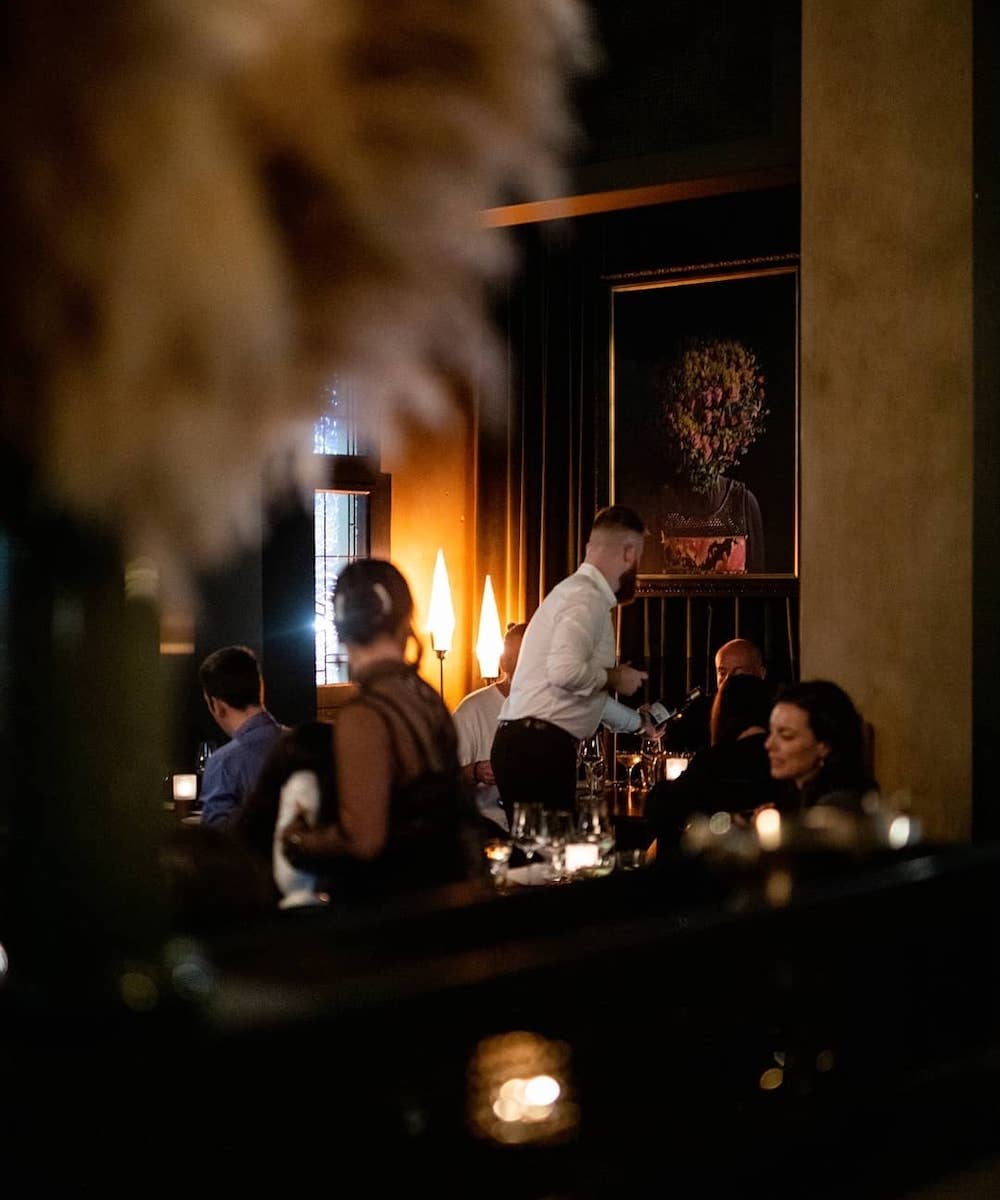 Manuka Woodfire Kitchen
Fremantle
For simple, honest and hearty food head to Manuka Woodfire Kitchen in Fremantle. Big supporters of West Aussie produce, one visit to this multi-award winning venue and you'll be coming back for more. The menu changes all the time, but when your food is roasted over coals or cooked in a woodfire oven you can guarantee it'll be delicious.
Bib & Tucker
North Fremantle
Celebrating its tenth birthday this year, Bib & Tucker has gained legendary status in Perth for its incredible food and beautiful beach views. Offering a spot-on modern Australian menu and spectacular views over Leighton Beach, this place sums up why living in Perth is so special.
Keen to visit Bib & Tucker in the future? Purchase a gift voucher here.
La Cabaña
South Fremantle
La Cabaña in South Fremantle brings authentic Mexican flavours to life by combining their expertise in Mexican cuisine with our own beautiful WA produce. Think tacos, ceviche and their trademark corn tentacles. La Cabaña is one of the few places whipping up epic tacos al pastor—that's spit-roasted pork—and if you've tried these in Mexico, that alone should be enough to get you there. Snag a seat in the cool courtyard and show them some love.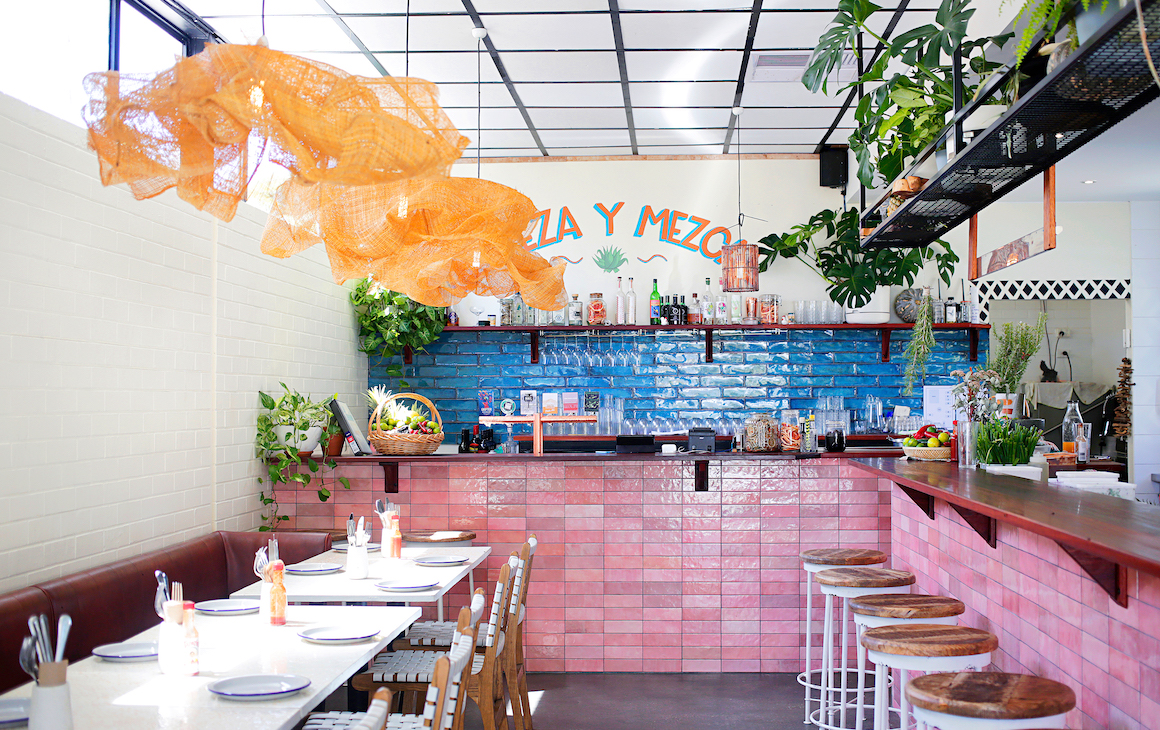 Rockpool Bar & Grill
Burswood
One of the most popular restaurants in the Crown complex, Rockpool Bar & Grill is an authentic steakhouse combined with a sophisticated dining room that delivers an experience like no other. Headed up by Chef Brendan Owens, the kitchen is hard to fault. Quality prime beef cooked over an open wood fire grill, fresh seafood roasted in a charcoal-fuelled oven, wagyu fat potatoes and quite possibly the tastiest steak tartare in town, all washed down with over 1350 Aussie and international wines and some of Perth's best desserts. It's not cheap, but there's a reason why it's been the go-to special occasion joint in Perth for years.
Coogee Common
Coogee
Housed in the Old Coogee Hotel, Coogee Common is brought to us from the team behind Bread in Common (which also scored a spot on this list of Perth's best restaurants, by the way). Head Chef Scott Brannigan has developed the seasonal menu around produce in their on-site garden so all dishes are simple, fresh and bursting with flavour. If you're just after a nibble, there are share plates available which are best enjoyed over a drink or two, whether it's a local wine, a botanical cocktail or their housemade elderflower soda. Green thumbs out there will want to book the garden tour which includes a welcome cocktail and a two-course meal for just $60.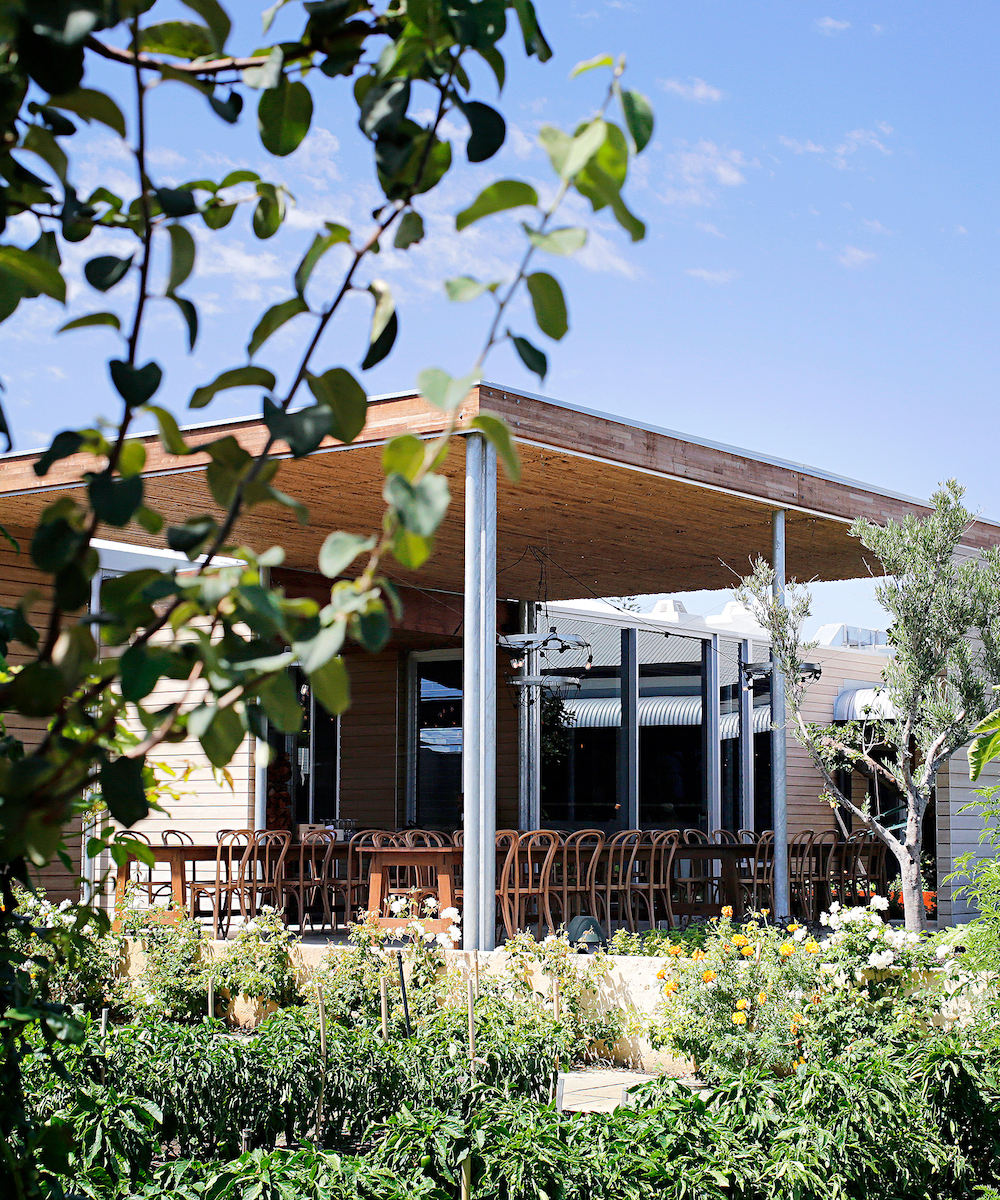 Young George
East Fremantle
Perth bar, Young George is a unique neighbourhood haunt which places much more of an emphasis on food than your local pub. Situated smack bang in the middle of the super cool George Street in East Fremantle, the folks here serve up scrumptious breakfasts, lunches and dinners, alongside inventive cocktails, refined wines, craft beers and ciders. But it's the dinner menu that they're best known for. Our suggestion: just make sure you get the milk buns with ramen fried chicken, fermented slaw and Caesar mayo. To top it all off, they're running a waste-free kitchen and make absolutely everything in house.
Si Paradiso
Mount Lawley
Si Paradiso's retro Italian vibes will have you feeling like vintage Amalfi has arrived in Perth. Expect epic drinks and a space you'll never want to leave both indoors and out, all backed up by their mouth-watering Italian eats—think share plates like kingfish crudo, burrata and cacio e pepe, banging gourmet pizzas and a couple of classic desserts to wrap it all up. Good luck choosing.
Lions And Tigers
Fremantle
Coming to us from the team behind Duck Duck Bruce, Lions and Tigers is the kind of place that Fremantle locals try to keep hidden from the rest of Perth. It's not exactly a secret gem—in fact, it's often booked out and always buzzing—but there are far too many Perth locals who haven't made their way yet considering it's undoubtedly one of Perth's best Indian restaurants. The team has perfected modern Indian cuisine and every dish we've ever tried is teeming with flavour. The sourdough naan is basically a right of passage and you don't want to go past the roti tacos—the filling changes on the reg so you can keep going back for more. The rest of the menu changes with the seasons, so trust your gut or ask one of the incredible staff to steer you in the right direction.
Balthazar
Perth
Around since the '90s (albeit under a few different ownerships), Balthazar is an institution. The swanky dining den is situated beneath the beautiful art deco Lawson apartment building in Perth and offers up a refined yet approachable menu packed with dishes that are equal parts art and deliciousness. Add on the cracking wine list and you'll see why this remains one of our favourite spots for a long lunch or a fancy date night.
Madalena's Bar
South Fremantle
A bar on the coast sounds pretty good to us. Add in some share plates full of local seafood and a bit of live music and you've got us sold. No wonder Madelana's Bar made such an impression on South Terrace when it opened in 2018, so much so they decided to open a little bar upstairs too. The team here has a huge focus on sustainability and work closely with guys at Fins Seafood to make sure they're only dishing up the freshest local bites. Who doesn't like a side of sustainability with their seafood?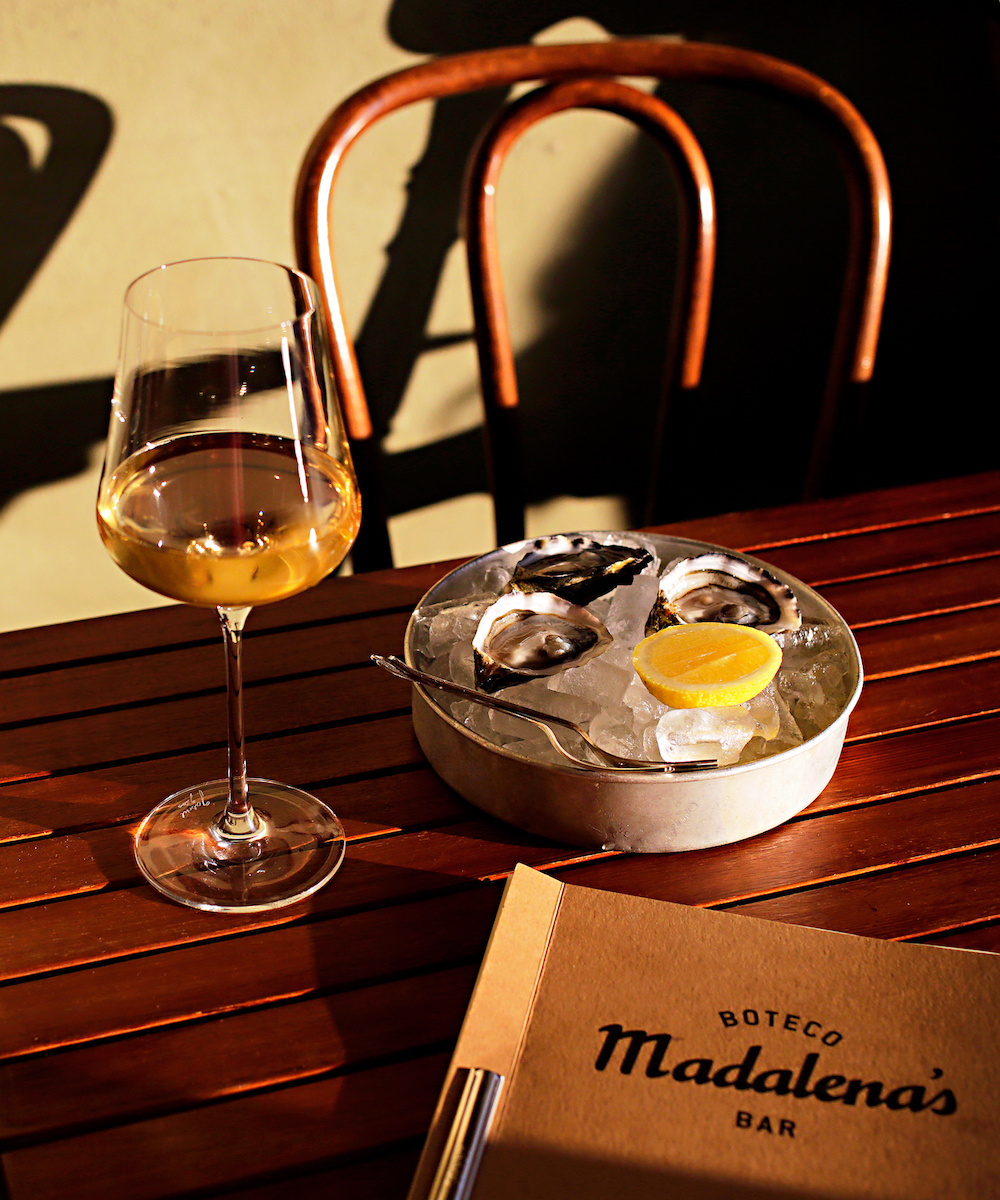 Authentic Bites Dumpling House
Northbridge And Karrinyup
If you haven't been to Authentic Bites Dumpling House then you must not like dumplings. While the vibe of this place is pretty casual, we still rate it as one of the best restaurants in Perth. The xiao long bao here are ridiculous and they have got the whole of Perth acting like crazy people lining up outside, rain, hail or shine. And the wontons in spicy sauce are up there as one of our favourite Perth dishes of all time.
Bread In Common
Fremantle
Bread is the main game at this lofty warehouse space in Fremantle, and with a menu designed to accompany their doughs, you'll be (unregretfully) eating a lot of it. The menu is seasonal, but expect winners like rustic lamb ribs or baked eggplant to emerge from the long, open kitchen.
Petition
Perth
Any serious foodie knows the State Buildings is the place to go for quality dining and Petition falls in line with the rest of the first class eateries within this stunning heritage complex. The menu is seasonal, with an emphasis on showcasing the very best of WA's local produce which results in one part rustic, one part quirky dishes made to share. You'll never leave disappointed.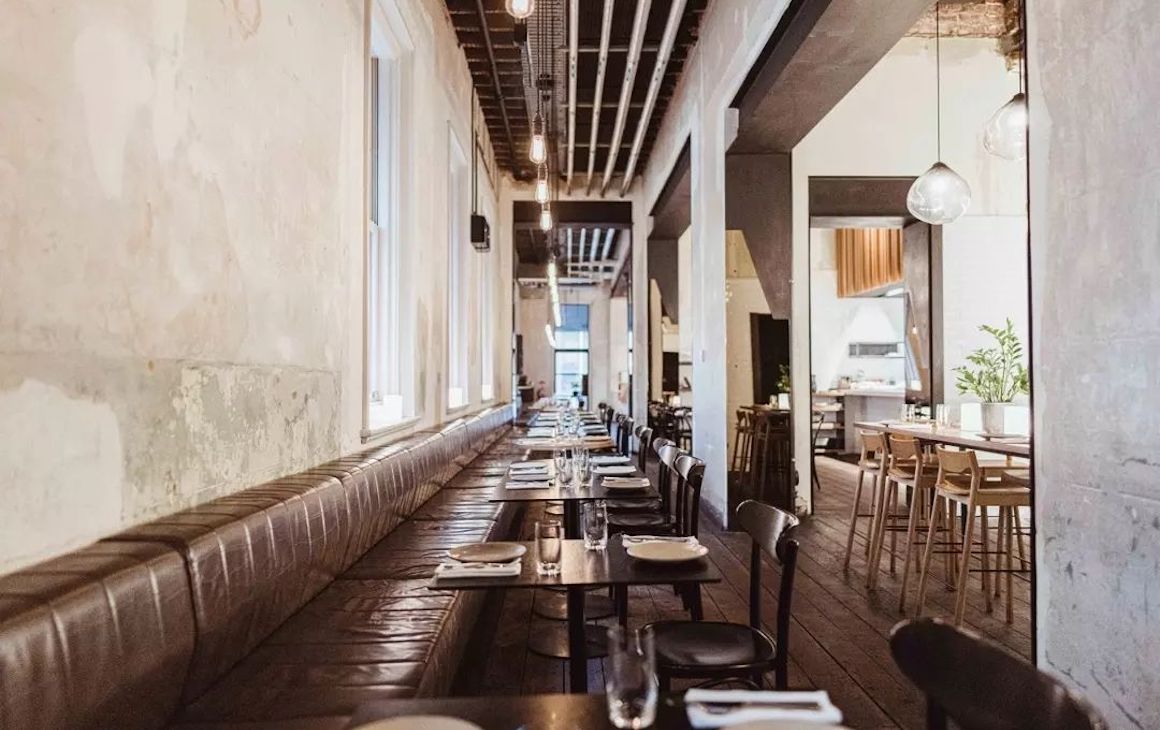 Now wash it down with our pick of Perth's best wine bars.
Image credit: Cooee, Duncan Wright (Vin Populi), Shui, Lucy Luu, Ryan Cubbage (La Condesa), Claire Logan (La Lune), Dandelion,Wildflower, Old Young's Kitchen, Will St , Elle Borgward (Nieuw Ruin), Lotus, Heritage Wine Bar, Le Rebelle, No Mafia, Elle Borgward (La Cabana, Coogee Common and Madalena's), Petition Kitchen.