While the origins of pizza actually go all the way back to Greece, the red-sauced, tomato-topped version we know and love today has got to have one of the most undisputed histories of any widely-eaten food there is.
Cheap to make, tasty and filling, pizza—basically flat bread at the time—quickly became the food of the masses across Naples. Its popularity is said to have spread after what we know as the Margherita pizza was made in honour of a beloved queen in the late 1800s who, understandably, couldn't resist the peasant fare.
Today there are of course many incarnations of pizza across the world, Perth included. We are lucky to be able to get a taste of Italy or New York, and even have our very own modern Australian spin on pizza too. But out of all the pizza places in Perth, there are a few standouts that make for essential eating.
We asked you what your favourite pizza places are, and boy did you deliver. We've combed through the hundreds of responses and compiled all the top suggestions to bring you the very best pizza places in Perth.
Maestro
North Beach
Owner Andrea Brunelli thought he'd start pumping out a few pizzas for friends and family during the first 2020 lockdown, but by the time the rest of the neighbourhood caught on that quickly turned into 60 plus a week, so he figured a real kitchen might be a go. Fast forward and Maestro is treating the whole of North Beach to those delish sourdough pizzas and has just been recognised amongst the best pizza in the world as the only WA pizzeria to claim a spot in the official 50 Top pizza guide—ranked #46 in the Asia Pacific region.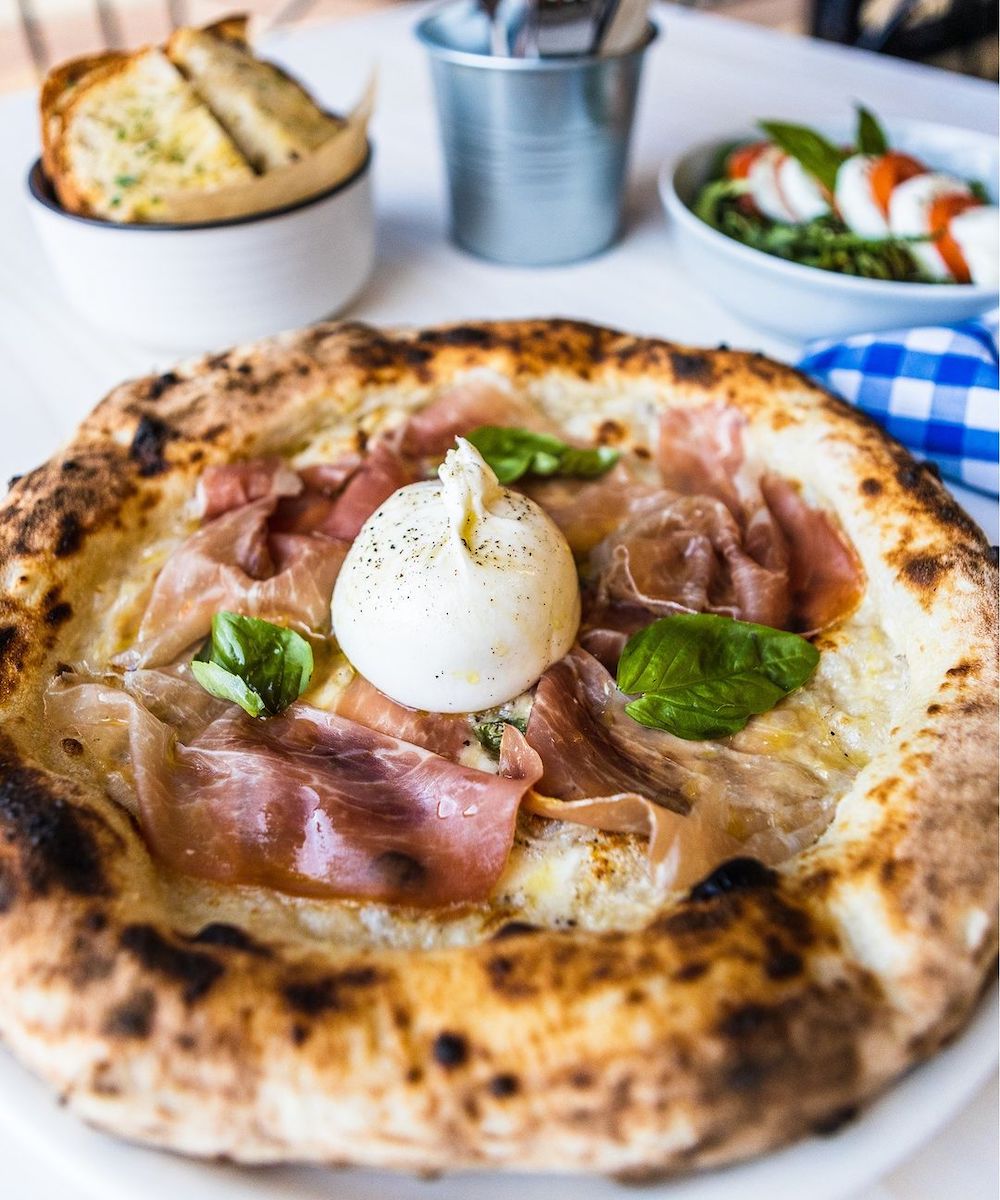 Pretty Good Pizza
Northbridge
Pretty Good Pizza is the Northbridge pizza shop that's popped up next door to Miles Hull's Berlin-inspired beer yard, Ruin Bar. You can grab a slice or a whole pie while sipping your craft brew in Ruin Bar with the option to order directly at the bar and have it delivered to your table or just grab one to go. We're big fans of the thin and crispy blistered bases (they also do great gluten free ones), exceptional toppings and special little dips you can get for your crust. We're also very fond of their new half-price pizza and drink specials when you dine in at Ruin on Wednesdays.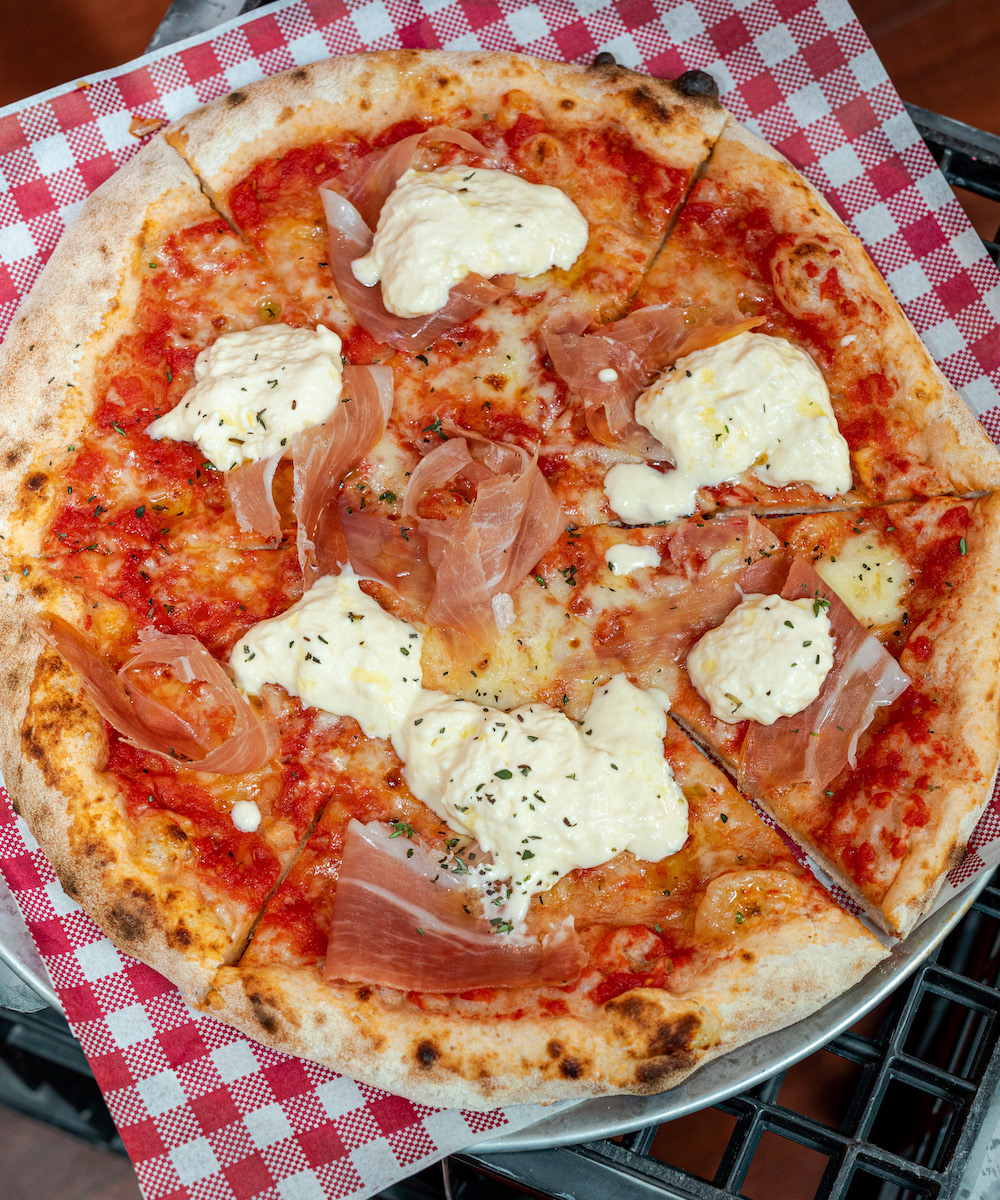 Monsterella
Wembley
One visit to this family-owned and run neighbourhood joint and you'll be wishing Monsterella was your local. Casual, BYO and serving up saucy pizzas, Monsterella is your absolute go-to for an effortless night out, if they've got room for you. The place is usually packed out every night of the week with avid locals and loyalists alike. Far from a bad thing, Monsterella's busyness is testament not only to the quality of the food served, but the warmth of the family-style service too. The Bufalina and Frankie combo is the go, and their gluten-free pizza is probably the best in Perth.
Tommasinos
Mount Lawley
This popular laneway joint is dishing up a little slice of Rome, right here in Perth. And when in Rome, make like the Romans…which in this case means it's all about pinsa, not pizza. Pinsa dough is made a little differently and is way more digestible and has less carbs and fats than other pizza doughs you'll find around town, so feel free to ditch any guilt. But aside from that, it's just really freaking delicious, especially the Tartufata, so do yourself a favour.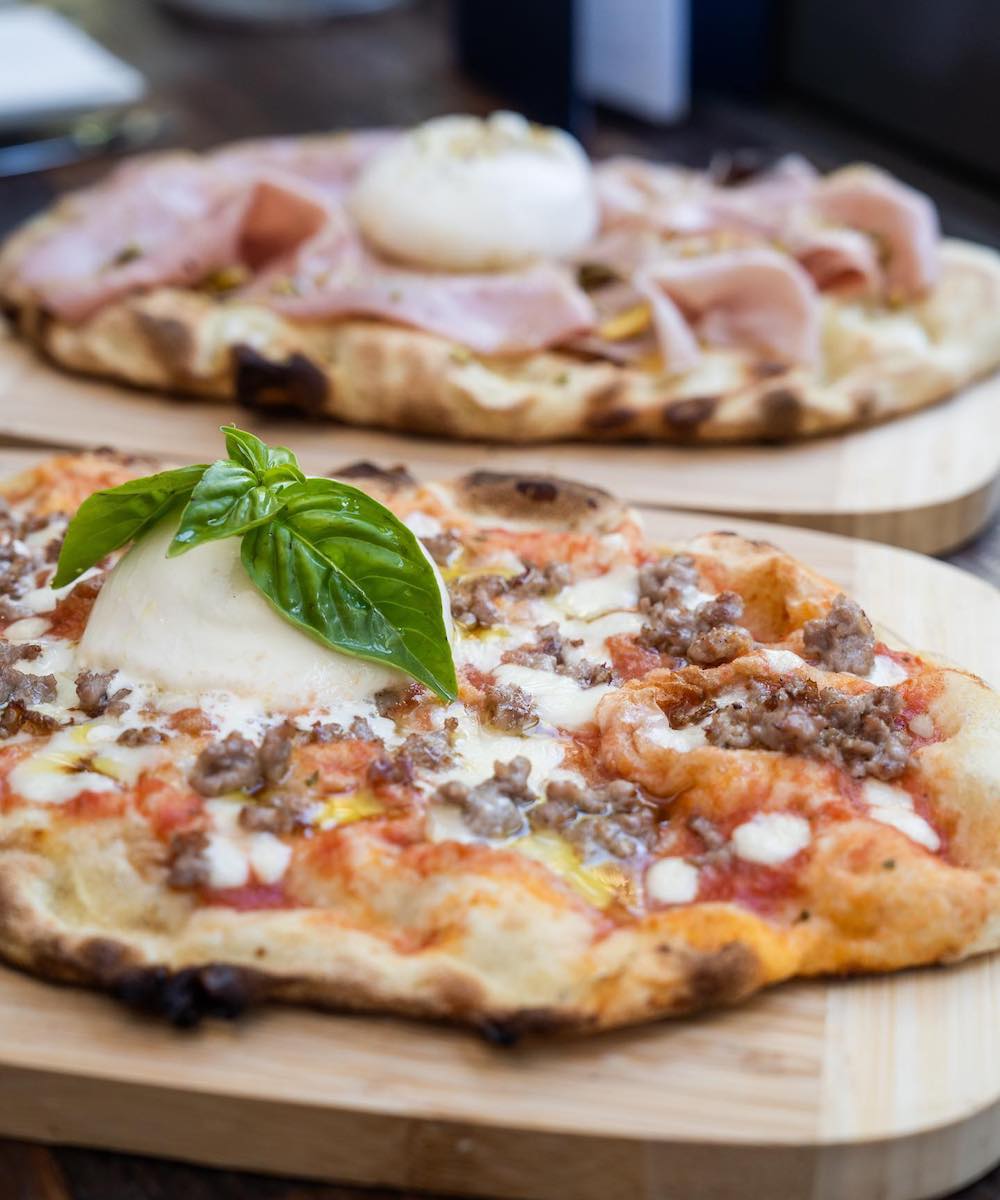 Rossonero Pizza
Maylands
If you like your pizza with a side of rollicking good times, Rossonero is about to become your new favourite spot in town. Here, it's out with the blistered wood-fired pizzas and in with lightly-baked, golden ones of equal deliciousness, topped with rich ingredient combos like brussel sprouts and pancetta.
Ischia
Mount Lawley
Dishing out carb-loaded Italian goodness like it's nobody's business is Ischia, who has a seriously tantalising menu full of absolute classics like spaghetti marinara, napoletana gnocchi and chicken parmigiana, plus a pizza menu that can be ordered by the metre. Combine a selection of their pizza types onto a maximum of 180cm of house-made base—perfect for keeping the whole gang happy.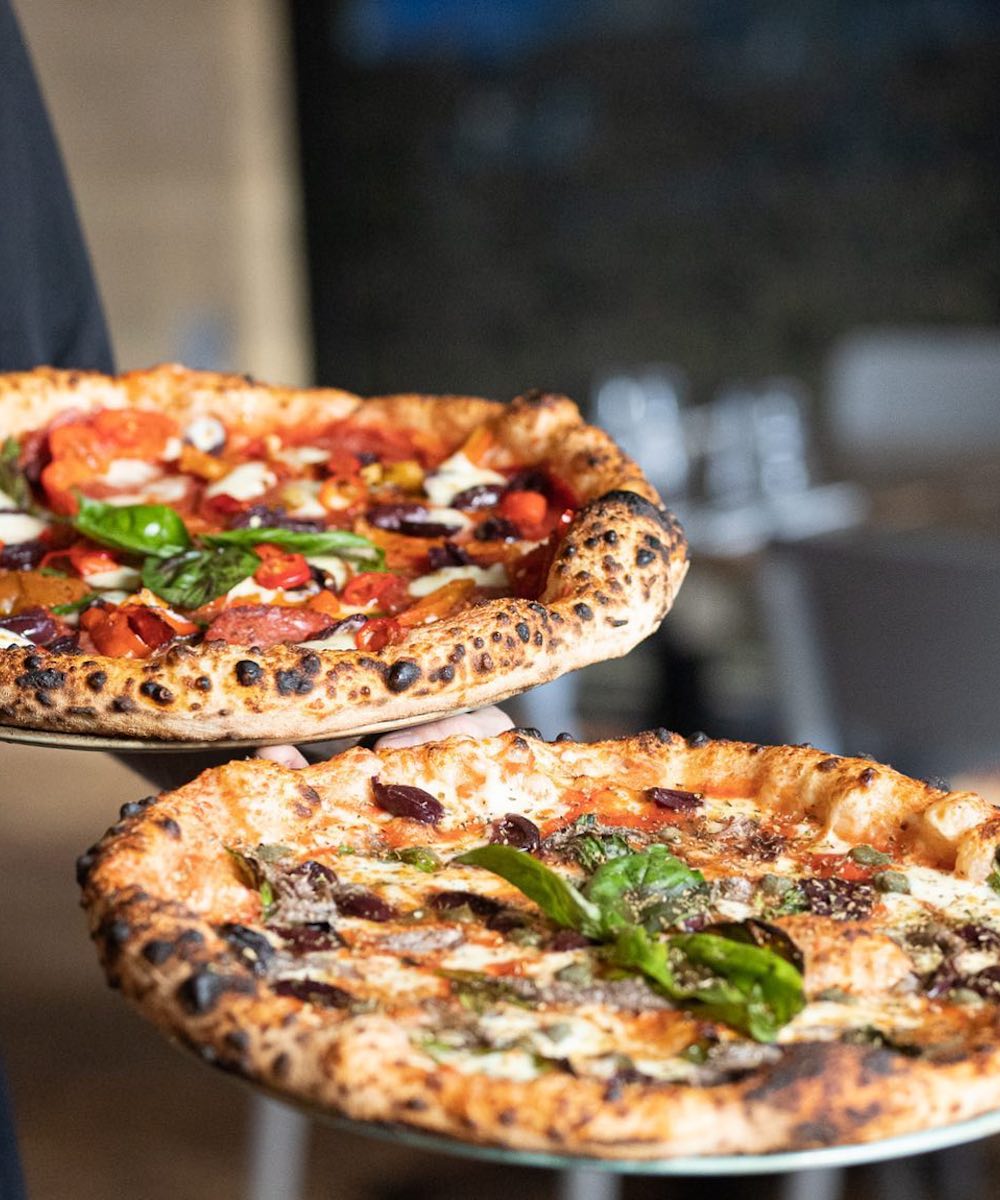 Pappagallo
Leederville
Importing their ingredients direct from Italy, Pappagallo spares no expense when it comes to serving up pizza that tastes like home. From Italian Flour Mill certified flour to San Marzano tomato and the freshest parma ham going around, you can get a taste of Italy here without forking out for the airfare.
General Public
Scarborough And Inglewood
Those familiar with General Public know it's all about their famous sourdough base. It's the perfect base for one of the world's finest foods—we're talking about pizza of course, and these guys do it a serious justice, with next-level choices like carbonara (yep, like the spaghetti) to meatballs, pulled pork, and even a play on your mum's classic Sunday roast. Yum!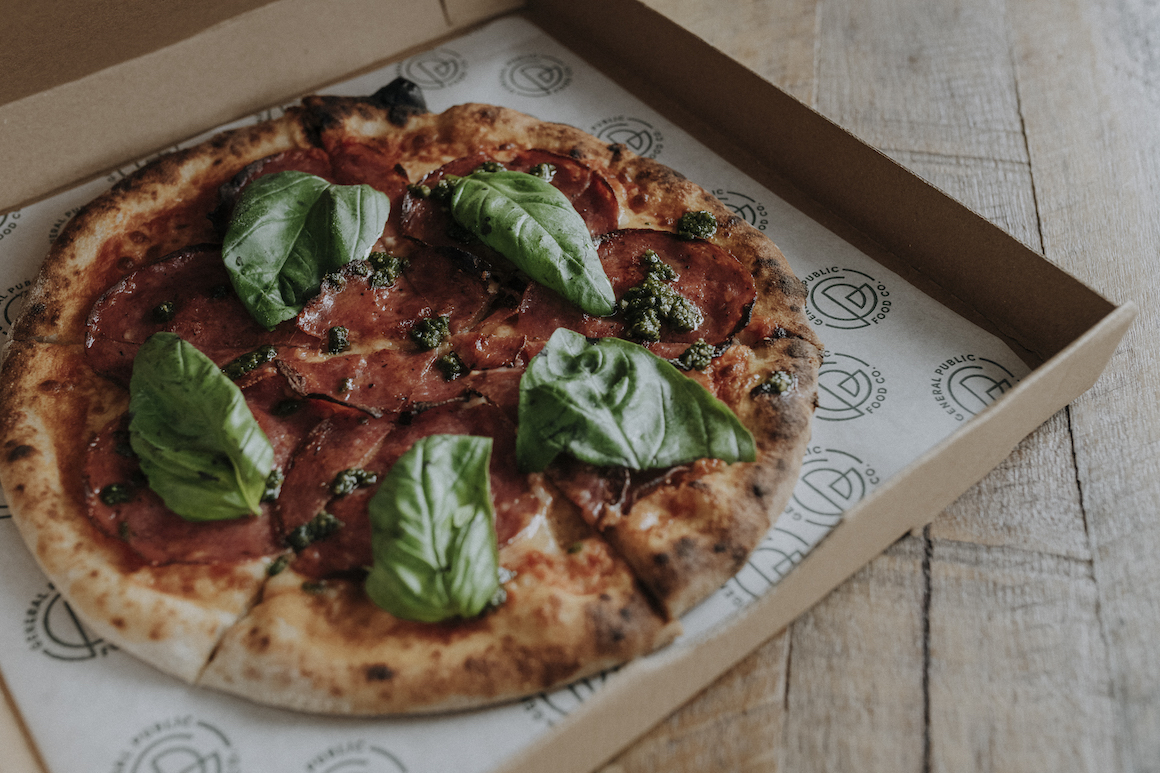 Il Locale
Scarborough and Subiaco
Scarborough joint Il Locale is offering up freshly woodfired pizza. Choose a delicious item of doughy goodness from either the Pizze Rosse (pizza with red sauce) or Pizze Bianche (pizza with cream sauce) menu, like the always epic Quattro Formaggi pizza, filled with juicy gorgonzola, mozzarella, ricotta and parmigiano. They've also just opened a second spot in Subi too.
Alfred's Pizzeria
Perth
Servicing the late-night crowd with appropriately greasy and cheesy pizza, Alfred's Pizzeria sure knows how to lure you down into their dungeon. If it's not the neon-lit 'Pizza Liquor Cheese' sign that looms above their descending staircase off Barrack, it could be the smell of pepperoni and BBQ sauce that emanates from within. Either way, late-night pizza, booze and good tunes are what you'll find.
Amore Mio
Maylands
It doesn't get much more authentic than Amore Mio in Maylands. The traditional thin-based pizzas are all hand stretched and stoned baked, with the dough given a couple days to rest before it hits the oven. As for the toppings, the options are endless so you're probably going to want to come back a few times to try them all, not that we're complaining.
Neighbourhood Pizza
Mount Hawthorn
Hidden away in a refurbished warehouse in a carpark behind a supermarket, it doesn't get much more 'Perth' than Neighbourhood Pizza. New York, Canadian and Modern Australian influences make the pizzas here more eclectic than traditional, but nonetheless delicious. While a pizza topped with sweet potato, potato, maple syrup and rosemary might turn up Nonna's nose, we reckon it's a goer.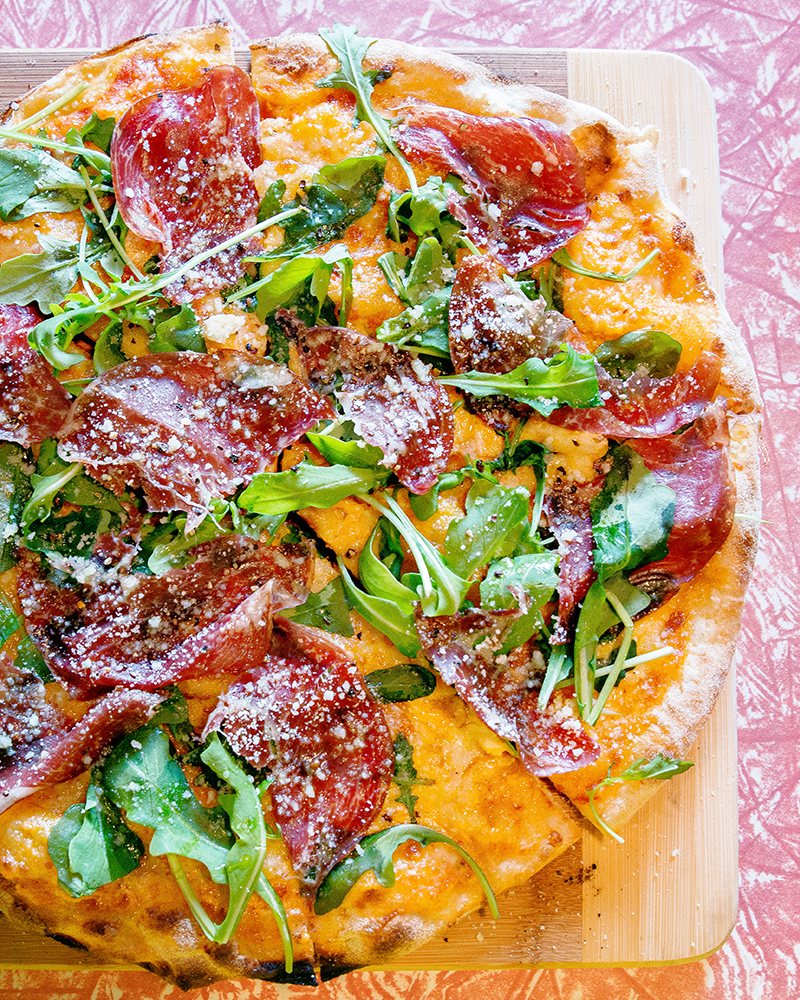 Old Lira
Bassendean
They're doing things a bit different at Basso-local Old Lira. Don't go here wanting a blistering base and a chewy crust—their hand-stretched sourdoughs are on the more minimalistic side, though nonetheless delicious. Keep it super simple and soak up the fresh flavours, or even try one of their 'fresca' pizzas which come served at room temperature.
King Somm
Bayswater
If you're looking for a killer wine list to go with your simple but delicious Italian style pizza, King Somm is the place to go. It's a small but mighty pizza menu and you can't go past the porchetta with kale, roast chilli, onions. There's also a weekly special which is always worth checking out.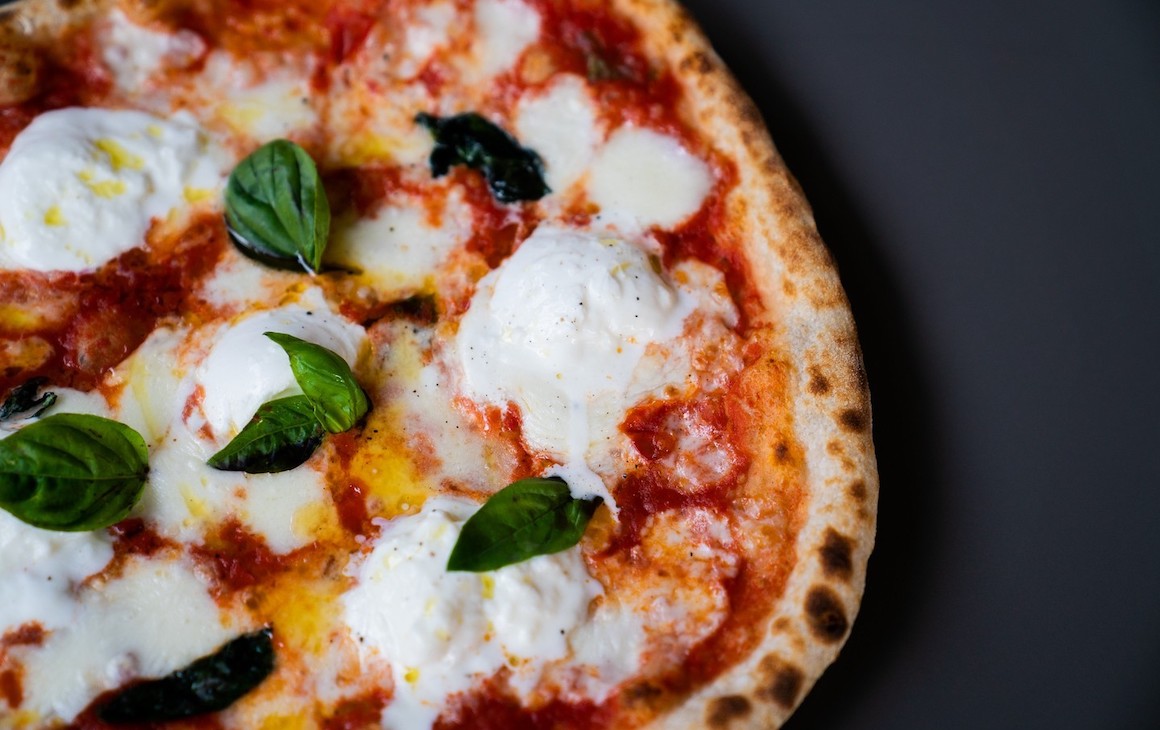 Mack Daddy's New York Slice
Mount Lawley
There's a lot of good pizza to be enjoyed in Perth, but few that really layer on the cheese and turn up the grease factor in true New York style. Mack Daddy's is holding it down at the southern end of Beaufort Street, and if you're looking for a bargain, you can grab an enormous pizza that'll easily feed two (if not three or four) for as little as $23.
Si Paradiso
Mount Lawley
Si Paradiso's retro Italian vibes will have you feeling like vintage Amalfi has arrived in Perth. Brought to us by the masterminds behind El Grotto and Cale Mason (the creative director and one of the legends behind Late Night Valentine) you can expect epic drinks and a leafy ampitheatre space you'll never want to leave, all backed up by their mouth-watering woodfired pizzas.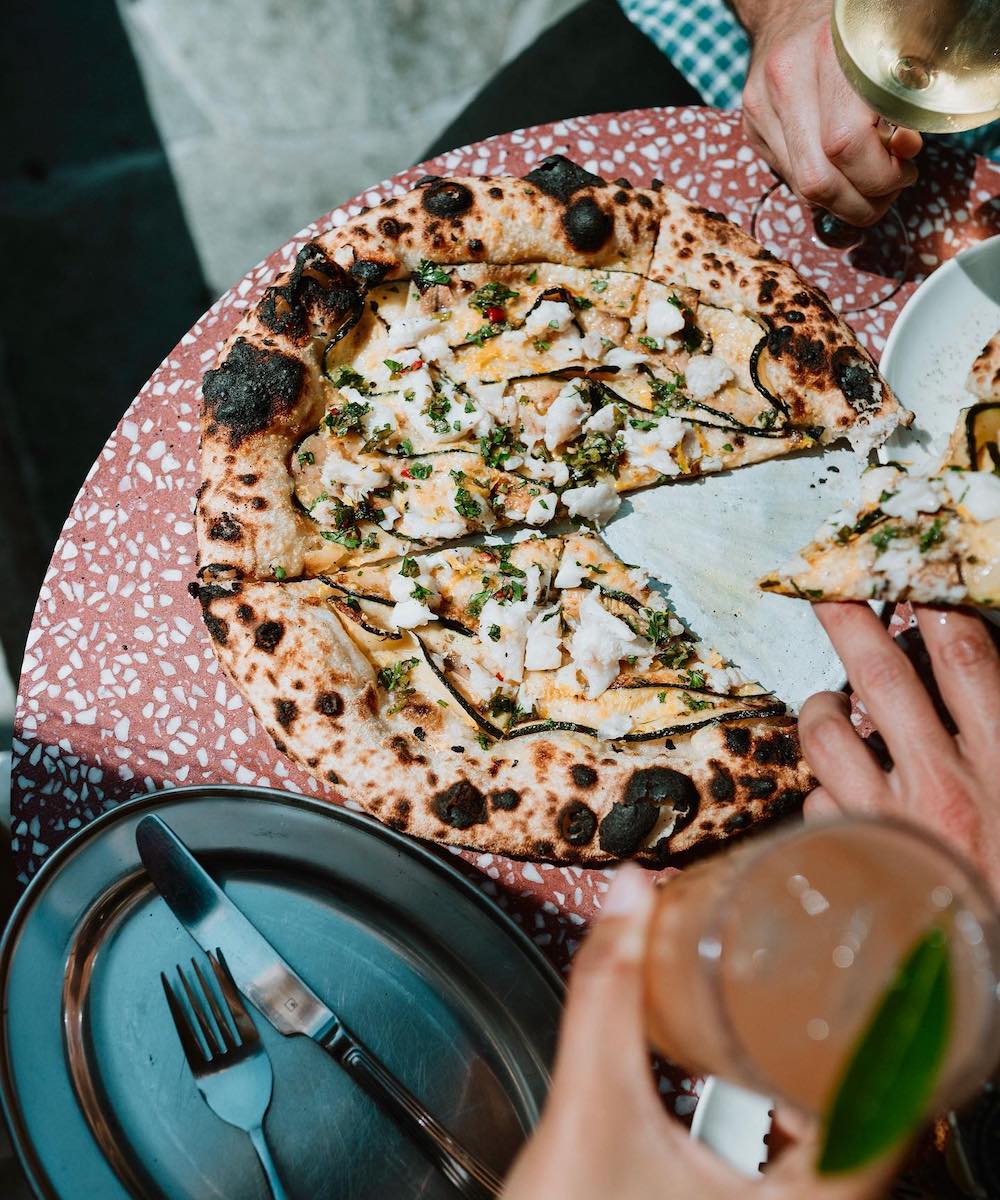 Marco's Organic Pizza
Joondanna
It's no surprise that Marco's Organic Pizza has become somewhat of an institution for those north of the river, doing business since 1976 and offering up a pretty insane number of pizza options. You'd be hard-pressed not to find something you like on the menu here—but just to cover bases (pun intended), they have an MYO option too. In fact, it's all about the bases here. Marco's philosophy is that starting with a more sustainable, healthier, organic sourdough base results in better tasting and more wholesome pizza.
Amici Miei
Carlisle
Dishing up that charred, blistering wood-fired pizza we've come to be pretty spoilt for here in Perth, Amici Miei is your best option that side of the city. In fact, it's a pretty darn good option no matter where you're coming from—classic, no-fuss pizza where the emphasis is on the ingredients.
Canteen Pizza
Cottesloe
When the team behind long-time Cottesloe resident Il Lido announced they were opening a beachfront pizza joint and flying over talented pizzaiolo Ettore Bertonati to oversee the pie-tossing, you could almost hear Perth carb-lovers' collective cheer of excitement. Between an expert wine list, fresh cuts of porchetta and the all-important and utterly delicious Napoli-style pizza, Canteen is absolutely essential Perth-summer eating.
Editor's note: Canteen Cottesloe has closed for now, but stay tuned as they'll be opening another location in Applecross soon.
Once you're done with those, check out Perth's best Italian restaurants.
Image credit: Maestro, Danica Zuks (Pretty Good Pizza), Tommasinos, Ischia, General Public, Nancy Hanna, King Somm, Si Paradiso