Is there anything that beats picking up a truckload of fried goodness from your favourite local fish and chip joint, heading to the beach and watching the sunset? Unless of course, you pair your feast with a nice cold beer. Now that's living.
We've rallied together a "best of" list in the past, but we figured it was time to hit refresh and hand the reigns over to the masses to pick Perth's top 10 fish and chips.
We asked you for your top spots, so we could pull together the ultimate fish 'n' chip shop bucket list for you to hit.
Here are 10 of the best fish and chip shops in Perth.
Fish Boss
East Victoria Park And Inglewood
Clearly Fish Boss is doing something right because their crispy fish and chips were the most suggested by a mile. Quality, friendly service, a great menu with a mix of healthy and battered options, not to mention those saucy fish tacos (which hot tip, you can get for $10 on Tuesdays)—yeah, we're not too surprised to see this at the top of your list.
Stone Jetty
Scarborough
A takeaway fish and chippery slash fresh fish market, Stone Jetty in Scarborough has earned a lot of love since opening its doors last year. They do seriously epic takeaways including fresh oysters and the most amazing gluten-free fish and chips, which you can very easily take down to the beach to enjoy.
The Groper And His Wife
City Beach And Claremont
The Groper and His Wife is a City Beach institution so we were super chuffed to find out they opened a second location in Claremont. We recommend digging into the fisherman's basket, but the grilled teriyaki salmon and prawn dumplings (available at Claremont only sorry!) are also winners.
Tankk Gourmet Fish & Chips
Como, Winthrop And Melville
With three locations south of the river, Tankk Gourmet Fish & Chips has got plenty of loyal followers, thanks largely to its insanely delish lemon pepper seasoning. Couple that with their killer $10 fish and chips deals on Mondays and Tuesdays and we completely get why Tankk's one of your top go-tos.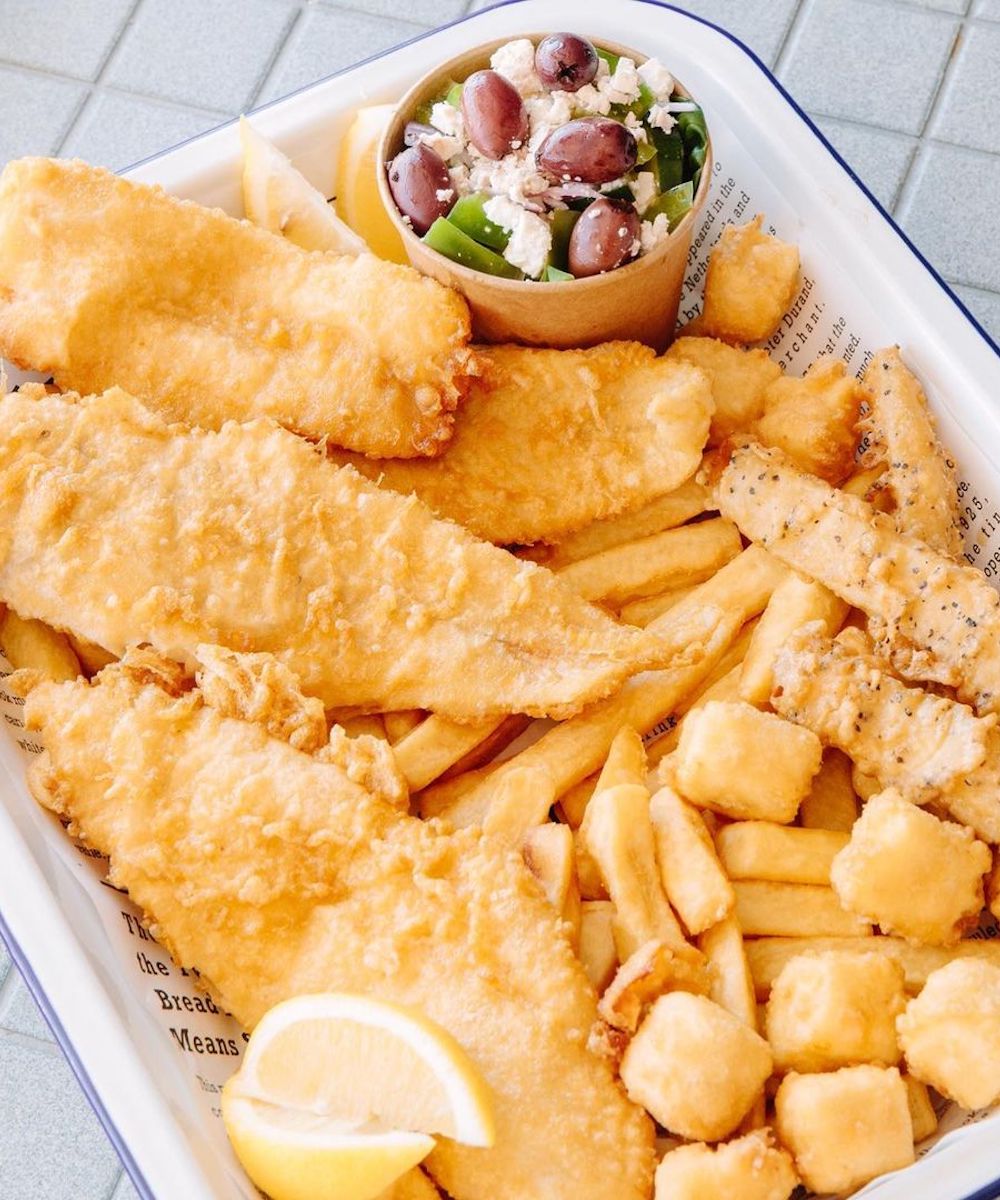 Grand Lane Fish House
Perth CBD
Grand Lane Fish House serves crispy Euro-style fish and chips from a laneway behind Barrack Street, so you can always get your fill of fish and chips in the Perth CBD. The fish batter is light and the handcut chips are next level, but honestly, it's the friendly, chatty chef at its helm that really keeps you coming back.
Trigg Canteen
Trigg
If you ask us, there's really no better place to enjoy your fish and chippies than by the waves, so no wonder Trigg Canteen's bountiful takeaway goodies are up there with the best of them. Big serves, a mix of traditional and healthier options and the tastiest fish, topped off with a heavenly sea breeze—it's pretty hard to beat.
Amberjacks
Cottesloe And Elizabeth Quay
Amberjacks is a Cottesloe institution, and they've backed it up with another beautiful view to enjoy our fish and chips with thanks to the opening of their second location at Elizabeth Quay. Whichever outpost you go to, the fish and chips are delish and if you time things right you can watch an epic sunset while gorging on salty chippy goodness.
Mount Hawthorn Fish And Chips
Mount Hawthorn
Secret menus, a salt and vinegar bar and some of the best fish and chips around, you can't go wrong at Mount Hawthorn Fish & Chips. Everything on the salt and vinegar bar is made in-house, and you can choose from flavours like spiced mixed chilli salt, super lemon, chicken salt, brown malt vinegar, lemon juice and apple cider vinegar. These guys also cook up deep-fried Oreos coated in cinnamon sugar (they taste like Oreos wrapped in a doughnut).
Brighton Fish And Chips
Innaloo
There were a few fearful fans of this place when they announced they were moving from Brighton Road to Innaloo but turns out they can still deliver the goods. With some of the freshest fish around, these guys go absolutely bonkers on the weekend so call ahead.
Woodlands Fish And Chips
WOODLANDS
While the name isn't the most imaginative, these guys can be forgiven because the fish and chips are just so good. The fish is super fresh and the chips are amazing, get the sweet chilli aioli and thank us later.
Want more? Check out our favourite secret beaches in Perth.
Image credit: Fish Boss, Tankk Gourmet Fish & Chips