Who can blame us for this enduring love affair with Italian restaurants? The true maestros have deliciousness down to a fine art.
Just don't waste your weekly carb quota on the sub-par. Finding authentic Italian requires due diligence. Lucky for you, we've done the legwork and sorted the stayers from the players. You can say grazie mille to us later. Unbuckle your belt, these are the very best Italian restaurants in Perth.
Lulu La Delizia
SUBIACO
Are you one of those delusional types who refuses to order pasta in a restaurant? Think you can just whip up a carbonara at home, huh? Sorry, but you'll soon be eating your words, along with a slice of humble pie after feasting on Joel Valvasori's creations. Lulu La Delizia has earned its accolades as one of the best in the game, not only in Perth, but nationally. If decisions aren't your thing, get the chef's menu and pray you get the burrata (or just request it!) Trust us when we say, this is a very good place to start if you're looking for the best Italian restaurants in Perth.
Galileo Buona Cucina
SHENTON PARK
Galileo is so authentic it's been recognised by the Italian Government with the Ospitalità Italiana quality seal—if that's not a big tick of approval then we don't know what is. With a strong focus on seasonal cuisine and ingredients sourced all the way from Italy, Galileo Buona Cucina is up there with some of the best Italian fare in Perth. Their wine list also boasts over 400 wines from around the world.
Ischia
Highgate
Located on the bustling Beaufort Street strip in Highgate, Ischia has impressed us from day dot with its no-fuss vibes and carbolicious eats. They've got plenty of cheesy delights like fondue, croquettes and burrata salad, as well quality classics like chilli mussels, gnocchi and pappardelle ragu, but honestly, we can't get past their epic pizzas which you can order by the metre.
Birraz Ristobar
Mount Hawthorn
Honestly, the fact it took us this long to get to Birraz is pretty shocking. First-class Italian tapas, sexy pastas, friendly vibes and killer drinks—this spot ticks all the boxes. If you still struggle to decide, though, just go with Egidio's special selection—starting at $55 per person for the meat option (or $65 for seafood) you'll get all the best stuff delivered straight to your table without the fuss of narrowing down options.
Mummucc
WEMBLEY
If you're on the hunt for authentic Italian goodness then look no further than Mummucc (pronounced ma-mooch) in Wembley. The menu is short and sweet, but we still struggle to pick a favourite. Not to worry, the staff here are super friendly and always wanting to help. The pastas are next level but special mention also goes out to the local tiger prawns with fermented chilli, bottarga butter and pancetta crumb. Be patient, this spot is walk-in only and it's generally busy, but oh so worth it.
No Mafia
NORTHBRIDGE
Perth wine bar No Mafia takes inspiration from the recipes of Southern Italy, the food is simple but delicious, and bolstered by an impressive wine list and Italian cocktail menu. We can't go past the cheese-filled roman arancini and the silky and delicious duck pappardelle, but it's all pretty darn delish. Grab a seat inside or if there's just two of you we suggest opting for a balcony seat so you can look out onto the street—what could be more European?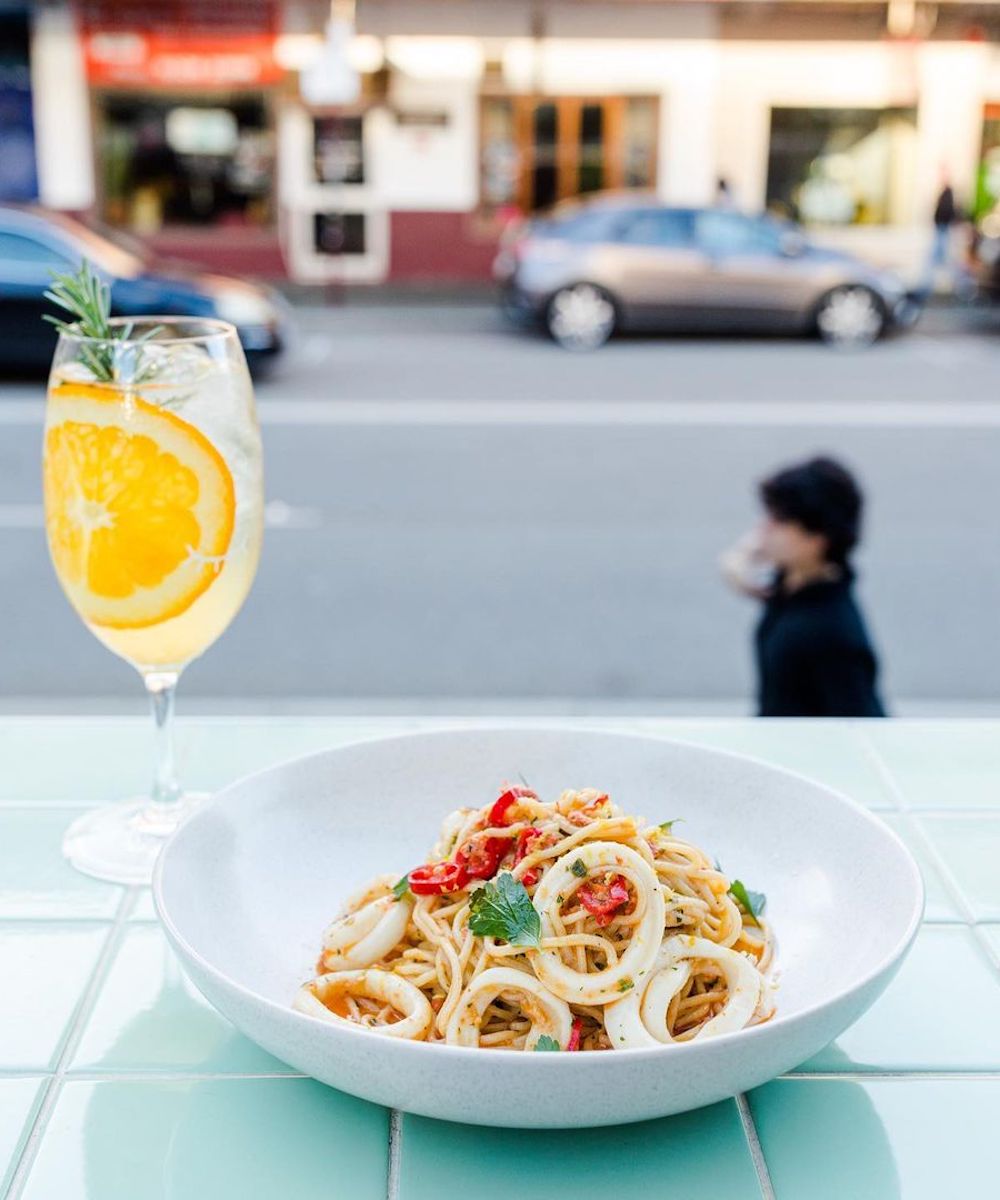 Francoforte Spaghetti Bar
NORTHBRIDGE
A neat little joint tucked away in Williams Lane, Francoforte Spaghetti Bar is experimental yet unpretentious—a killer combo if ever there was one. Too damn tasty to stay a secret, their popularity has seen them expand and they've even submitted to demands for gluten-free 'spaghetti no regretti'. Bring your own chianti, a little cash and go all Lady and the Tramp in there.
Cecchi's
INGLEWOOD
Cecchi's charming courtyard is worth venturing that little bit further down the Beaufort Street strip for, especially on Wednesday evenings, when they offer some insane pizza and pasta dishes for fifteen measly bucks. What a hump day treat.
Three Coins
Inglewood
A hop skip and a jump from Cecchi's you'll find another top Italian eatery, Three Coins. Run by the Trequattrini family (which FYI translates to three coins), this place is about as authentic as it gets—from the Italian team right down to the red-checkered tablecloths. Rustic, regional cuisine reigns supreme, with dishes like polenta crusted squid, woodfired ricotta gnocchi, and handmade pappardelle with slow-cooked wagyu neck ragu—all of which you can wash down with an Italian drop from the drinks list.
Perugino
WEST PERTH
Perugino is definitely one of the best Italian restaurants in Perth. Head chef and owner Giuseppe Pagliaricci and his wife Rosalba provide an authentic and sophisticated Italian experience that has stood the test of time (they've been serving up delectable Italian fare since 1986.) The food is classic, with a modern twist, the dessert trolley is legendary and the wine list is extensive. For an Italian experience to remember, this is your spot.
La Sosta
FREMANTLE
Tucked upstairs away from the streetside action on Market Street in Freo, La Sosta is one of those places that if you don't know about it, you could miss it. But boy what a tragedy that would be. With the silkiest handmade pasta and super fresh seafood, this spot boasts one of the finest Italian menus south of the river, not to mention absolutely stunning interiors and charming Italian service. Score yourself a vantage point on the primo balcony, order a bottle of vino and you'll be feeling slicker than a mafioso's comb-over.
Post
Perth
Nestled in the foodie mecca that is The State Buildings, Perth restaurant Post has made a name for itself as one of the best in Perth. Expect full-flavoured, modern Italian-inspired dishes guided by the season's best Western Australian produce, beautifully served up in stylish surrounds. Whatever you do, just be sure to leave room for dessert because the tiramisu is next level.
Garum
PERTH
Brought to us by Melbourne restauranteur Guy Grossi, Garum is a large scale, rustic Roman restaurant championing the quality local produce that originally enticed Grossi over to WA in the first place. The menu is inspired by Roman food and dining culture and it's bringing a much-needed contemporary feel to the original heritage building that it's located in.
Capri
Fremantle
Anywhere that serves complimentary soup with a main meal gets two ticks from us. Capri has been thriving since the 50s, providing the people of Fremantle with honest, hearty Italian meals and quality service. We highly recommend the minestrone soup, and don't be afraid to pack on the parmesan.
Spritz Spizzicheria
MOUNT HAWTHORN
What's not to love? Spritz Spizzechiaria is pure fun. Their killer classic menu treads gently on your wallet, leaving you with more dollars for an Aperol Spritz that you just won't quit. The catch? The Mount Hawthorn locals keep their favourite joint tightly packed, but its popularity is well-deserved. Grab your besties and bust out that vintage gingham frock—you're about to have a BIG night.
Si Paradiso
Highgate
Si Paradiso's retro Italian vibes will have you feeling like vintage Amalfi has arrived in Perth. Brought to us by the masterminds behind El Grotto and Cale Mason (the creative director and one of the legends behind the old Late Night Valentine) you can expect epic drinks and a space you'll never want to leave, all backed up by their mouth-watering traditional Italian eats.
Lalla Rookh
PERTH
If you're craving authentic Italian with a dose of elegance and a good splash of top-quality wine, head to Lalla Rookh, a super-sophisticated wine-store/bar/restaurant with sleek interiors and a drinks list longer than most young adult novels. Order a Tuscan wine from their enoteca and head to the eating room for a fresh modern Italian feast courtesy of Head Chef Alexandra Haynes. Their six-course Il Capo menu will leave you utterly sated.
Santini
PERTH
Santini Bar and Grill is dishing up a mix of Italian cuisine with local West Australian produce all from an open kitchen so you can sit back and watch it all unfold. Equipped with a wood-fired grill and oven, you'll be able to see handmade pasta, Shark Bay hand-picked crab and veal chop parmigiana cooking away.
Monsterella
WEMBLEY
One visit to this family-owned and run neighbourhood joint and you'll be wishing Monsterella was your local. Casual, BYO and serving up saucy pizzas and banging pastas, Monsterella is your absolute go-to for an effortless night out. The place is usually packed out every night of the week with avid locals and loyalists alike. Far from a bad thing, Monsterella's busyness is testament not only to the quality of the food served, but the warmth of the family-style service too. The Bufalina and Frankie combo is the go.
Il Lido
COTTESLOE
We all know seaside dining in Perth is a high-risk investment, but Il Lido has proven itself to be reliable stock time and time again. When you need a bit of low-key romance in your life, try this for a date night: a stellar Cottesloe sunset followed by a legendary lasagna that's just made for two. Netflix and chill can wait. P.S. Only available on Sundays, the lasagna for two tends to sell out, so best you ring ahead (lest your lasagna-loving heart be broken).
Prefer an Italian pizza party? Scope out all of Perth's best pizzas.
Image credit: Emma Bryant, Ischia, No Mafia, Elle Borgward, Nancy Hanna