Le Rebelle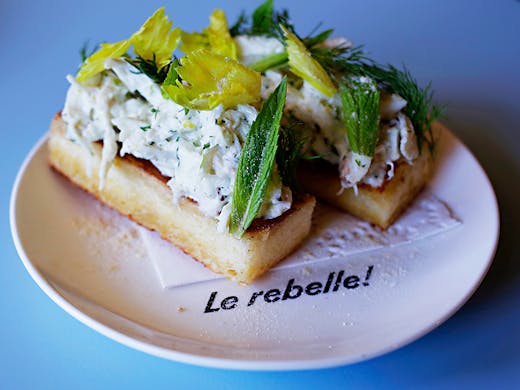 The Verdict
Perth restaurant industry veterans Sarah and Liam Atkinson are no strangers to the running of a damn good business, so it's not surprising Le Rebelle in Mount Lawley fast became a favourite of Perth foodies.
After temporarily closing the main dining room and opening their pop up Oui Rebelle during COVID, the real deal is back on Wednesday 2 September with a brand new menu. The 'classiques' are still there so old regulars need not miss out on the crab toast, the duck liver parfait or the Wagin duck with frites, though we'd recommend trying a couple of new dishes or just going for the carte blanche menu and letting them do the deciding for you.
If you didn't make it there pre-COVID, let us fill you. Le Rebelle is an intimate restaurant and wine bistro bar, inspired by the old romanticism ('romantica') of classic Parisian and New York bistros where, traditionally, they served as a meeting place for anything and everything. With beautiful and cosy interiors, atmospheric lighting and ace staff to guide you through your night, Le Rebelle is a breath of fresh air.
Long and skinny, Le Rebelle is a collection of three spaces—a dining room at the back, a casual drop-in bar area at the front and in the middle, a 10-seater table just begging to host your next group dinner.
If you suffer from food envy, you're not going wrong with this menu. It looks and feels effortless, but a lot of hard work has gone into it.
The drinks program is just as important as the food at Le Rebelle. As you would expect from sommelier, Sarah, the wine list is phenomenal—tight, thoughtful and intriguing.
Book now to secure your spot at this contently snug and ambient bistro for your next night out.
Image credit: Elle Borgward
---