Community Coffee Co | Perth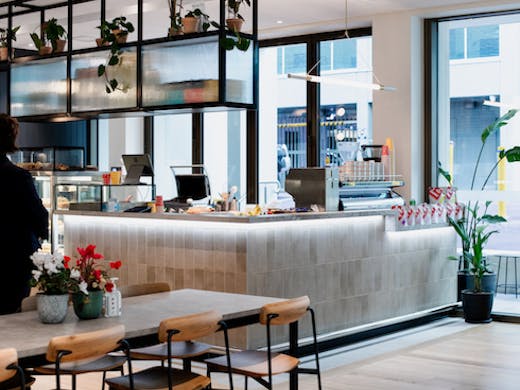 The Verdict
A major supplier for some of Perth's fave cafes and bakeries (Willing Cafes, Ooh Coffee, Uptown and Grain Bakery, just to name a few), Community Coffee Co is already a well-established name in the Perth coffee scene, so we're not too surprised to see they've just expanded into a third venue to help satisfy our cravings.
Starting out as a hidden little coffee warehouse tucked behind a shopping centre car park in Subi (where they also serve the most delicious Greek souvlaki for Friday lunch), this urban coffee haunt has been dishing out some of the finest roasts in Perth for years.
The third opening delivers all the things we love in a slick new laneway location within Hawaiian Group's Parmelia House in Perth CBD—bringing classics like North Street Store cinnamon scrolls plus fresh bread and yummy open toast options alongside their top-notch brews.
The look is definitely a little more refined than the warehouse original, with Adam Paikos-Coe from Hassell in charge of the design. Think loads of light, a beautiful tiled coffee bar, light timber floors, contemporary furnishings and splashes of greenery hanging from terracotta pots.
Led by co-owners Michael Roach, Phillip Arnold and Laurence Greenfield—who are all major players in Perth's coffee scene in their own right—we're sure this newest Community Coffee Co addition will be a fave for CBD workers in no time.
But if you're not already convinced, we'll let you in on a little secret—they're also planning on parking a food truck right outside, so you'll have your coffee and food fix all day long.
Image credit: supplied
---