Local & Aesthetic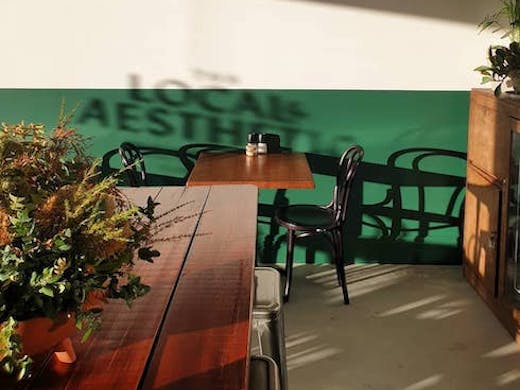 The Verdict
Ever wanted to have a cuppa while browsing through vinyl records and admiring beautiful artwork? Let us introduce you to (drumroll please) Local & Aesthetic. Boasting a beautifully balanced cafe/art gallery/retail store hybrid, you pretty much have everything you could want here. We'll give them extra brownie points for their location in the beating heart of Mount Lawley.
Co-founded by Liam Young and Dominique Rae, at Local & Aesthetic you'll be stepping into an oasis full of native WA goodies. Picture yourself surrounded by the most beautiful Aboriginal artwork, munching on a Numbat Toast (think Vegemite and cheese toastie—but better), and sipping a fresh coffee brew by Kaltiva.
Looking for inspiration? Peruse the products on offer, from Rhubarb Records vinyls to books and artwork from the Foundation for Indigenous Sustainable Health. With an inclusive and community-based vibe, there's sure to be collabs and pop-up market events on the way. Don't worry, we'll keep you posted so you don't miss out.
In the meantime, grab a cup of coffee from the Local & Aesthetic cafe from Tuesday to Saturday 7am 'til 4pm, and Sunday 7am 'til 3pm. For the music and art fanatics looking for a shop, head down from 9am Tuesday to Sunday.
Image credit: Local & Aesthetic
---