Singapore is known for a whole host of amazing things (the culture, the design, the epic experiences…), but the jewel in their crown has to be the drool-worthy food scene. While we love living it up at award-winning restaurants, we reckon the best eats in this country can be found at their famous hawker centres. Buzzing with vibrant sounds, colours and smells, Singapore's hawker centres are known for slinging mouth-watering plates day in, day out. It's also one of the only places in the world where street food vendors score Michelin stars!
With so many tasty treats on offer it can be a little overwhelming for a first-timer. To help you order right, we've compiled a must-eat guide for your next tasty visit.
Come hungry, because you're going to want to smash all of it!
Chicken Rice
Sounds simple, but seriously, you have never tasted chicken rice this good until you've been to Singapore. It's made with juicy poached chicken, white rice seasoned with garlic, soy and pandan and served with a spicy chilli sauce and cucumber to cool your palate. Loved by Singaporeans for generations the dish originated in Hainan—a small island in southern China—adapted from their dish of Wenchang chicken. It was brought to Singapore by immigrants and slowly adapted over time to become the country's national dish. While every Singaporean you ask will have a different opinion of which hawker makes the best chicken rice, we can't go past Tian Tian Chicken Rice at Maxwell Food Centre. Gordon Ramsey and the late Anthony Bourdain were also fans so you know you're in good hands here.
Char Kway Teow
Char Kway Teow (pronounced 'cha-gway tee-ow') is the stuff foodie dreams are made of. Originating from the region of Chaozhou, in China's Guangdong province, it was first known as a poor person's dish because of the simple ingredients and high fat content—read: insanely tasty. Traditionally cooked over charcoal fire to get a smoky fragrance, Char Kway Teow is made up of flat rice noodles and yellow wheat noodles cooked in soy sauce, garlic and chili with a mix of egg, fishcake, sausage and bean sprouts. But what makes it so naughty? The whole thing is stir-fried in lard, giving it texture and taste that will have you going back for seconds. For some of the best, head to Meng Kee Fried Kway Teow at the Wei Xuan Eating House on Havelock Road. They've been slinging piping hot plates of the good stuff for over 30 years.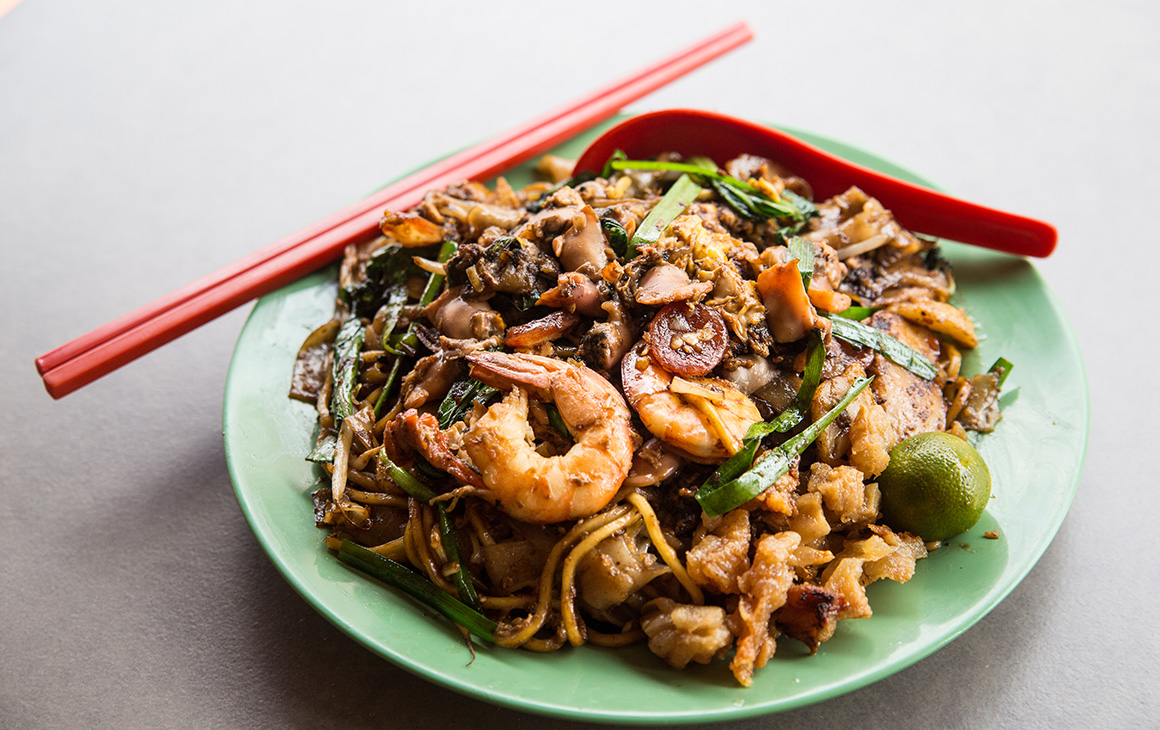 Hokkien Mee
You may have heard of this tasty dish before—it's a firm favourite in Indonesia, Malaysia and Singapore, each with their own variation. Singapore's version is our obvious fave, made up of both egg and rice noodles, stir fried with egg, slices of pork, prawns and squid, mixed with veggies, sambal and lime for a zingy kick. Like the chicken rice, this dish has a long history, originating after World War II when Chinese soldiers from the Hokkien province in China would cook excess noodles along Rochor Road in Singapore after working in the nearby noodle factories. Head to Swee Guan Hokkien Mee for a steaming bowl of noddle goodness. Ranging from $6 to $10AUD a plate, it's pricier than other stalls but oh so worth it.
Carrot Cake
Contrary to this popular dish's name, there is no carrot in it and it's not a sweet cake either. Confused? What you really want to know is if it's delicious and that's a resounding yes! The Singaporean staple, also known as chai tow kway, is made from flash-frying radish cake or daikon, eggs and chilli sauce. It comes in two varieties, black and white. Despite their physical difference, they're pretty similar in their makeup. Black carrot cake gets its colour from a dry soy sauce which can make the cake a little sweeter. The white version was popularised by Teochew hawker Ng Soik Theng and famed hawker Lau Goh back in the 60s. Today, the latter's son is serving black and white carrot cake from the Zion Riverside Food Centre which is exactly where you should head to get yours.
Nasi Lemak
Traditionally eaten at breakfast but delicious any time of the day, Nasi Lemak is a must eat when visiting a Singapore hawker centre. While there are tons of variations, Nasi Lemak usually consists of a heap of coconut milk and pandan-infused rice, a generous serving of sambal, toasted peanuts, a fried egg and slices of cucumber. Then you add a serve of fried chicken on the side—yes it's a total feast for the senses. The dish originates from neighbouring Malaysia and is known as their national dish so if you've had that before, expect a few variations around the Singapore stalls. Our favourites can be found at Mizzy Corner Nasi Lemak at the Changi Village Hawker Centre and Boon Lay Power Nasi Lemak at the Boon Lay Food Village.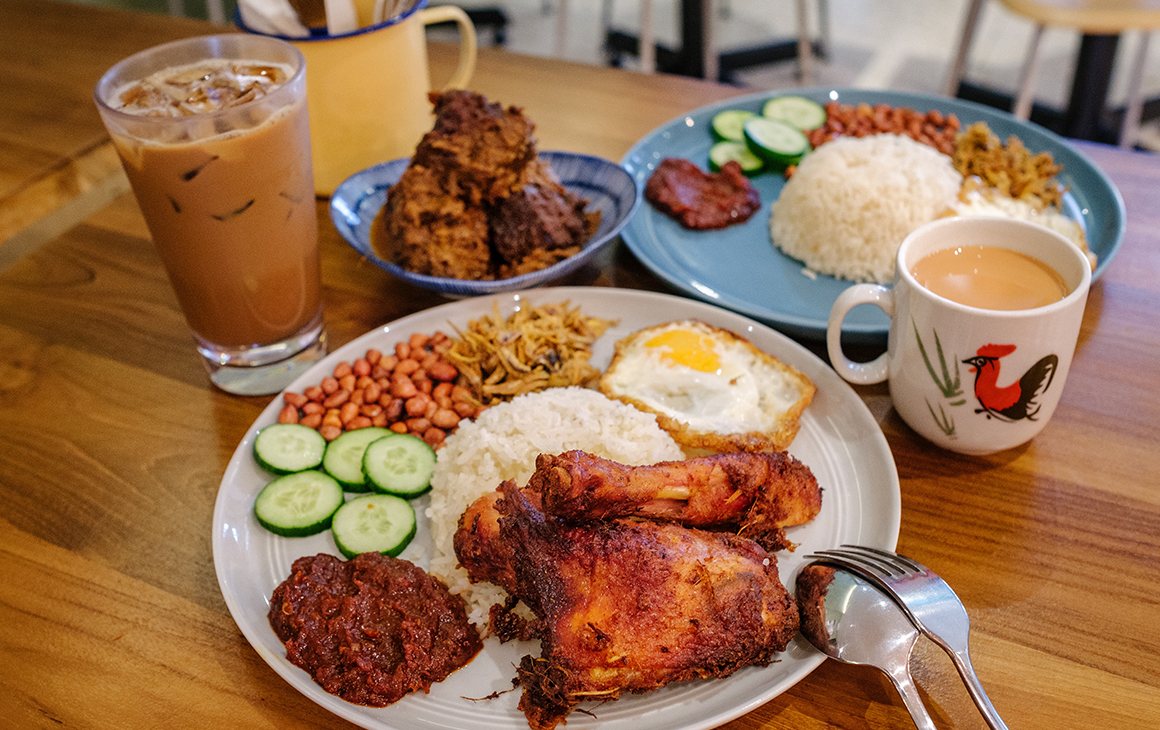 Laska
You're probably thinking, I've already had the best laska and it's from my local takeaway, well we're sorry to burst your bubble but the best spicy broth lies in Singapore. For those not familiar, laska is a spicy coconut milk-based noodle soup and in Singapore it can take on a few forms depending on the maker. The most loved however is the Katong laska which is inspired by the Peranakans who live in the Katong area. The spicy dish, made with thick vermicelli noodles cut short, is flavoured with coconut milk, dried shrimp, and topped with juicy cockles, prawns and a fishcake. While there are many tasty laksa stalls, we love Janggut Laksa located at the Queensway Shopping Centre—they've been perfecting this dish since the 50s.
Satay
Satay is an absolute staple of Singapore dining, and their hawker centres are serving up award-worthy plates of it daily. Think perfectly seasoned meat (usually chicken, beef or mutton) cooked on bamboo skewers over charcoal fire, constantly brushed with oil for the perfect, mouth-watering glaze. Fresh off the fire, the skewers are served with a spicy peanut sauce made from roasted peanuts, coconut milk and spices. For some of the very best, you can't go past Chomp Chomp Satay at the Chomp Chomp Food Centre in Serangoon. Their chicken satay marinated in a honey brown sauce and finished with pineapple scored a Michelin Plate in 2018. Hey, if it's good enough for the Michelin…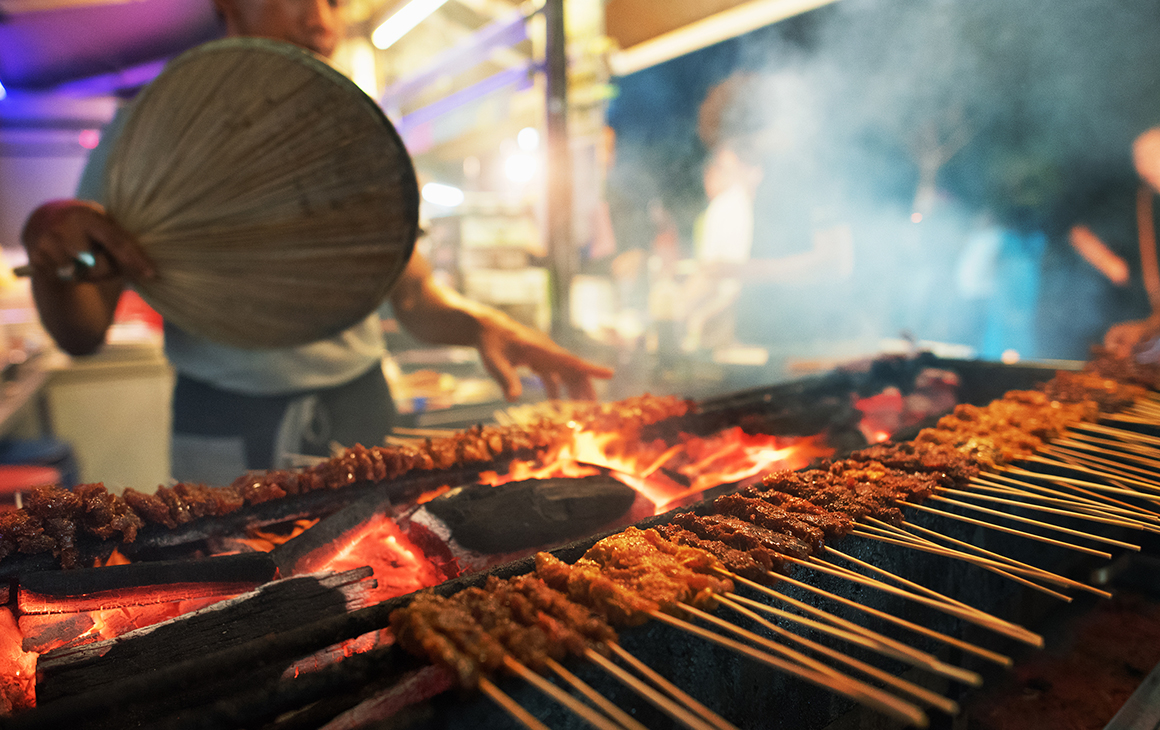 Ice Kacang
Because everyone should finish their meal with something sweet, you'll want to grab yourself some ice kacang. A childhood fave for many Singaporeans, this treat is as tasty as it is pretty to look at. Like the best things in life, this dessert is super simple—a huge pile of finely shaved ice is drizzled with brightly-coloured syrups and topped with everything from red beans and sweet corn to palm seed. Super tasty and also oh so perfect for the 'gram, head to in Jin Hot/Cold Dessert stall at ABC Brickworks Food Centre. Flavours include Matcha and Red Ruby, but their signature has to be the Gangsta Ice which comes in mango or durian flavours with fresh fruit and a scoop of ice cream. The perfect way to beat the heat.
Hungry for more tasty eats? Singapore is where passions and possibilities meet from the culture to the kitchen. Head to Singapore Tourism for more info.
Editor's note: This article is proudly sponsored by Singapore Tourism and endorsed by Urban List. Thank you for supporting the sponsors who make Urban List possible. Click here for more information on our editorial policy.
Image Credit: Singpore Tourism