Bakeries. Just reading the word conjures up dreamy images of early morning fresh bread runs; a mid-morning meat pie with buttery, flaky pastry; a lunchtime sausage roll dripping with tomato sauce; or an arvo finger bun, jam and cream going everywhere.
Things are evolving, especially here on the Sunshine Coast, with new establishments regularly popping up and old favourites offering seriously impressive and creative baked goods. Read on as we eat our way through 11 of the best bakeries on the Sunshine Coast in 2023, so you know where to get your next bready fix.
Harvest Breads
Cotton Tree
Harvest Breads is the ultimate bakehouse-meets-cafe, in the heart of Maroochydore. While they pump out delicious breakfast and lunch spreads on the daily, it is their artisan sourdough bread—with just the right amount of chewiness—that really keeps us coming back for more. Trust us when we say these guys have nailed it. On top of their bread range, Harvest's shelves are loaded with freshly baked cakes, pastries and some of our favourite local provisions. Grab a jar of their mango chutney or chilli pepper jam, and you'll be whipping up some of the best homemade sandwiches around town.
Kenilworth Bakery
Kenilworth & Mooloolaba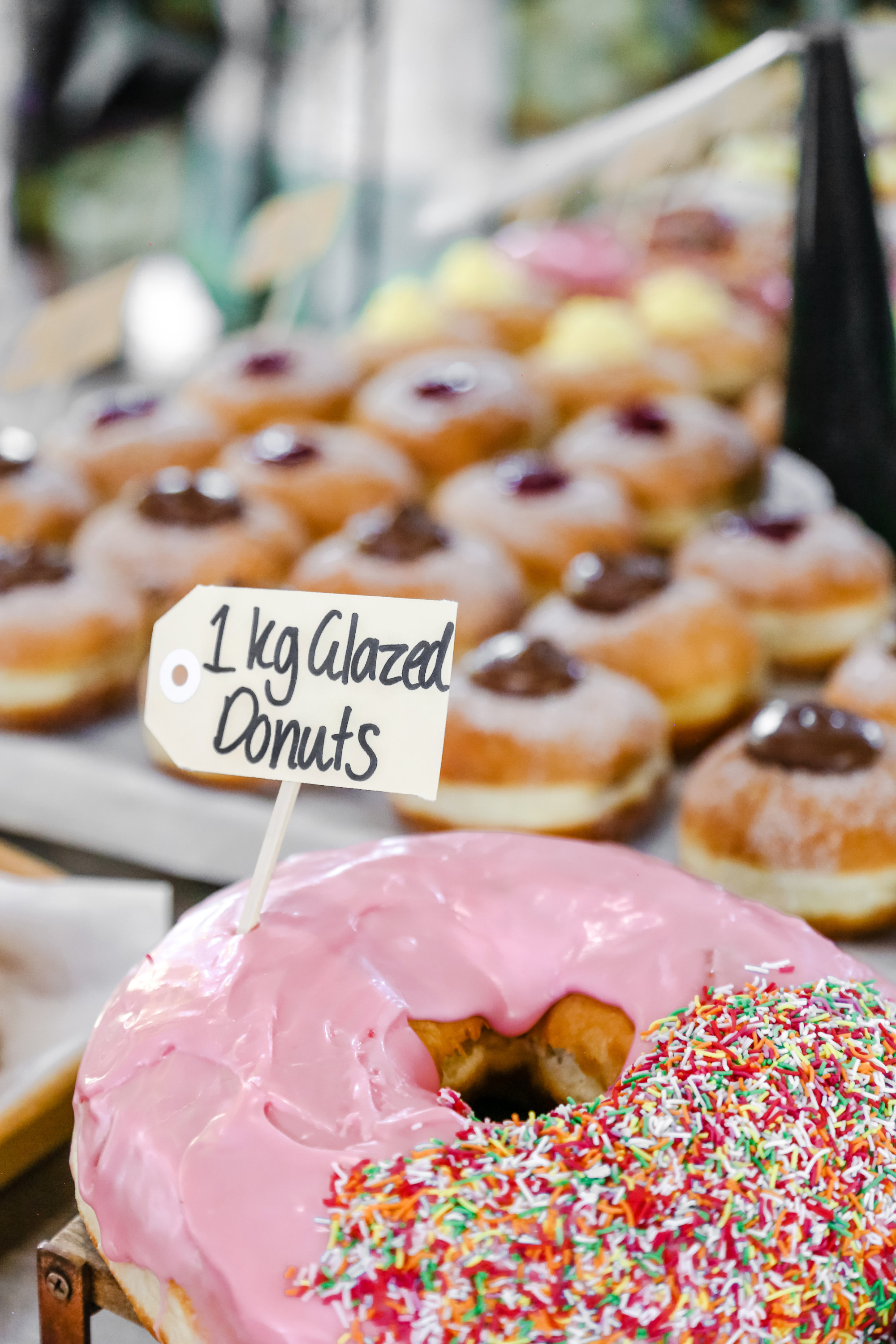 With mouth-watering meat pies, artisan loaves and an assortment of divinely baked doughnuts, we'd never say no to visiting the heritage-listed Kenilworth Bakery, or its coastal spot down at Mooloolaba Wharf. Serving up a huge range of delicious baked goods, including vegan options for our meat-free and dairy-free friends, Kenilworth Bakery continues to outdo themselves with their highly coveted 1kg doughnut challenge—loaded with cream and your choice of jam, custard or Nutella. These sell-out sugary giants must be ordered the day before and promise your money back if eaten in one sitting. As well as the best hot coffee in a doughnut pairing we've ever seen. Visiting Kenilworth Bakery is a Sunshine Coast bucket list must-do.
Tanglewood Sourdough Organic Bakery
Noosaville & Noosa Heads
It's all in the name, and for Tanglewood Sourdough Organic Bakery, it could never be more true. This Sunshine Coast bakery is tucked away inside several at-the-ready locations including Belmondo's in Noosa's industrial area, a coffee cart in front of Cafe Le Monde and a regular market stall at the Noosa Farmers Market. This is a bakery famed for its huge selection of sourdough made from organic fresh-milled flour. Mixed with activated nuts or ancient grains, you can grab loaves of white, sprouted quinoa and spelt sourdough, just to name a few. Top your weekly market shop off with their melt-in-your-mouth croissants and we can't remember a time we jumped out of bed more quickly.
Ricks Artisan Pies & Sourdough
Noosa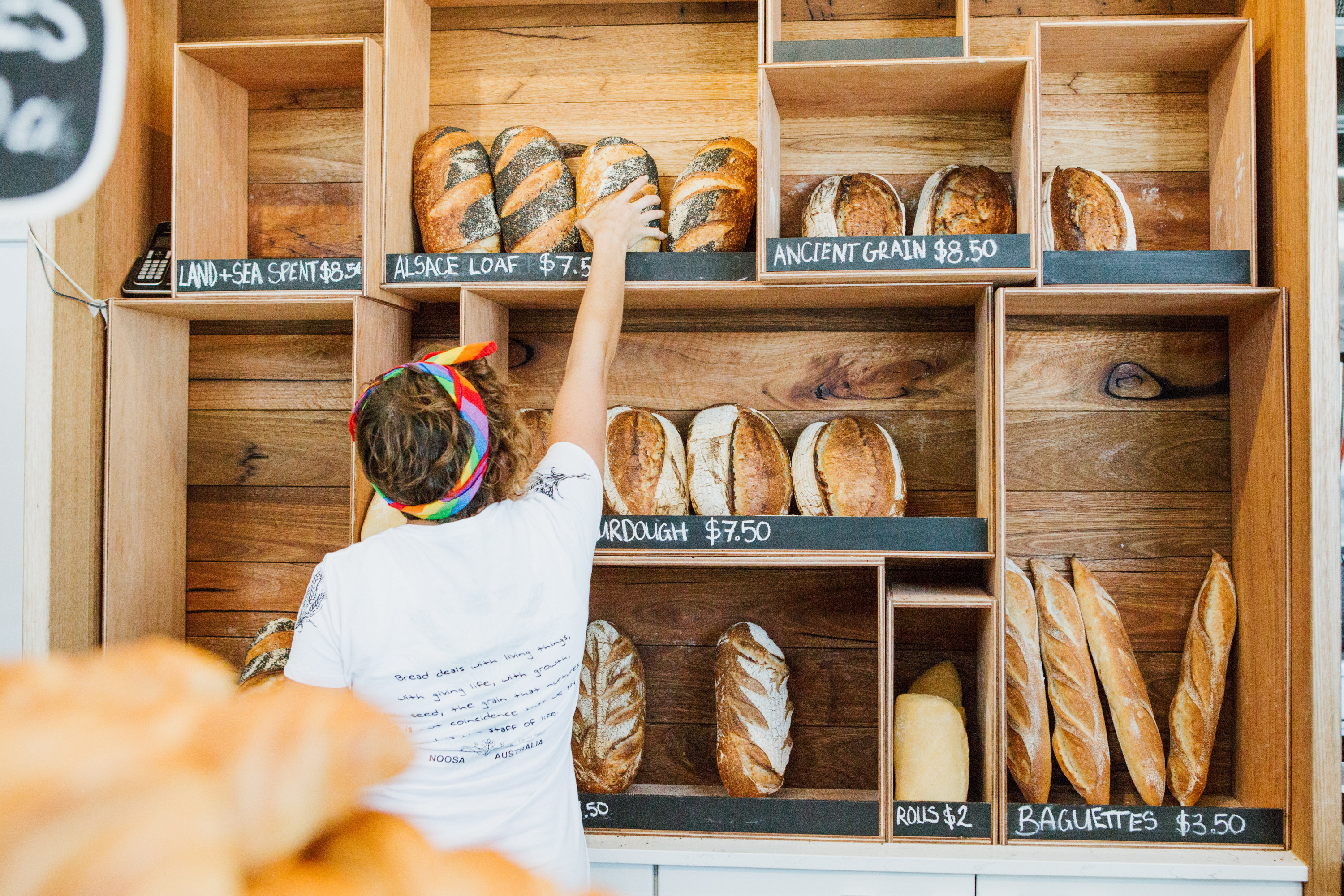 Ricks Artisan Pies & Sourdough is a delightful bakery serving up all of the bakery classics with a very special and very French twist. Fancy a gourmet pie or specially baked sourdough? If you love treats like this, Ricks is most certainly the place for you. Favourites with the locals include Angus in béarnaise pie with pan-fried mushrooms and cheddar cheese and the chicken and chunky veg in katsu style curry sauce. If you want something a little sweeter, look no further than the traditional Portuguese custard tarts, pistachio cream eclairs, Belgium chocolate brownies, raspberry meringue tarts and French vanilla slice. Ricks Artisan Pies & Sourdough has something for everyone, including amazingly smooth All Press coffee.
Vans Wegens Continental Bakery
Mooloolaba
If Vans Wegens Continental Bakery is renowned for anything, it's got to be for their cronuts and cruffins. Selling directly from their shopfront in Mooloolaba—as well as supplying dozens of cafes across the Sunshine Coast with their baked goods—these parcels of sweetness are a must-try if you're cruising through Mooloolaba. Hot tip, these local favourites sell out, so if cronuts are on your weekend food hit list, don't leave it until late in the day.
Le Bon Delice French Patisserie
Peregian Beach
Stroll on up to a little slice of France in Peregian Beach at Le Bon Delice. With striped yellow awnings, cute china saucers and delectable chocolate éclairs we are always in the mood for all things French at Le Bon Delice. Tucked away in Perigian's shopping district, you'll find delicious go-to treats including macaroons, cakes and french mille-feuille. They also serve up delicious brekkie plates including a to-die-for Croque Monsieur, which we've found goes down extra smoothly with a chocolate chai.
Pastry Lab
Caloundra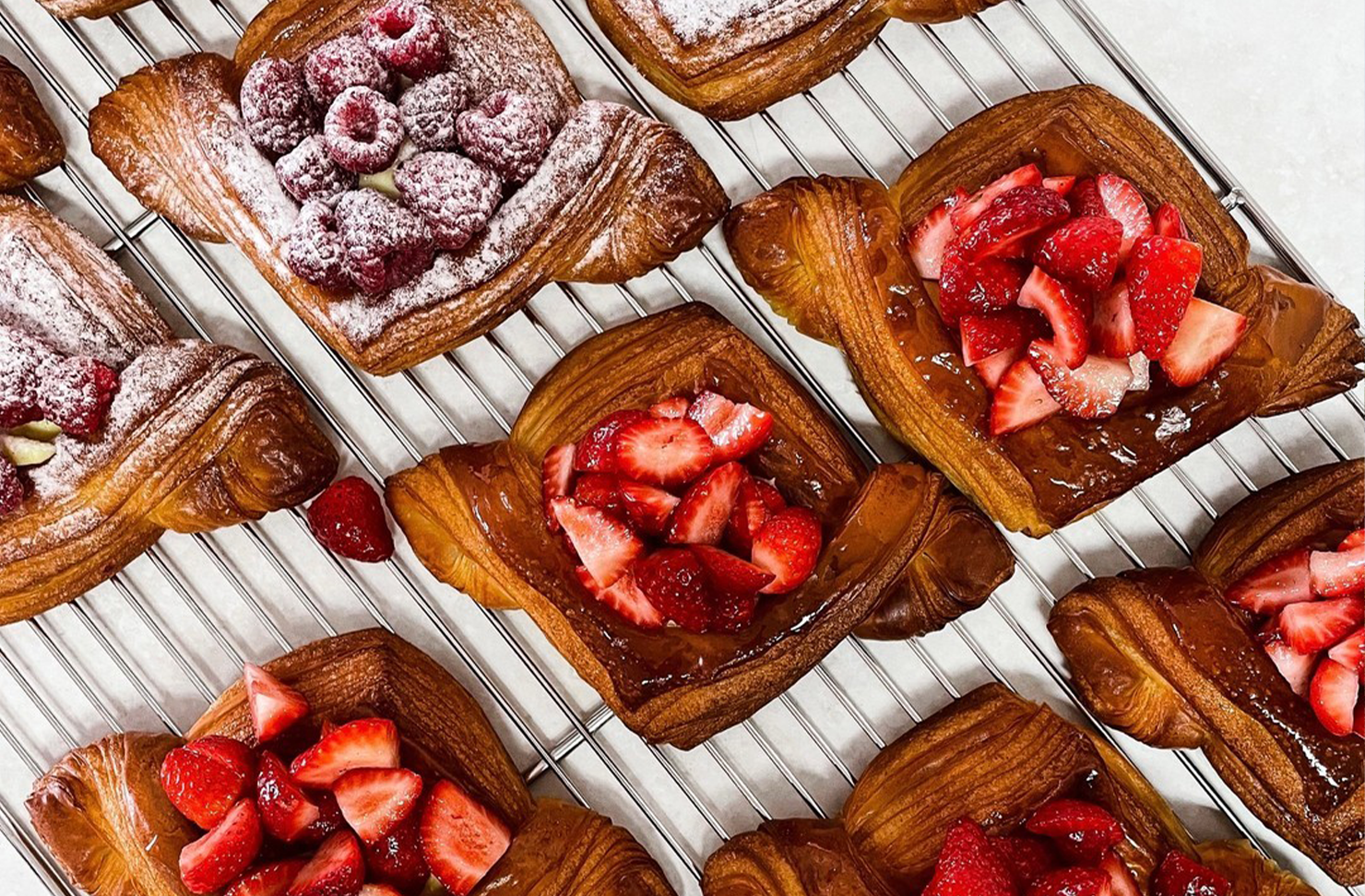 We've died and gone to bakery heaven over at the Pastry Lab in Caloundra. Filled with an overwhelmingly delicious amount of both sweet and savoury options, we couldn't pick a favourite if our lives depended on it. You'll be spoiled for choice at this modern French-fusion bakery, where its crisp white interiors reflect the quality of the artisanal pastries and sourdough loaves you'll find within. If you haven't had a chance to try their New-York style croissants, lemon meringue cruffin or a classic chocolate-filled croissant—dipped in your frothy morning coffee—we suggest you hit the Pastry Lap up ASAP.
Pacific Haven Bakery
Currimundi
Crunchy gourmet pies, cookies and cream doughnuts, salted caramel cronuts, glazed danishes and some of the best straight-out-of-the-oven bread we've bitten into, it's not hard to taste why Pacific Haven Bakery deserves a spot among the best bakeries on the Sunshine Coast. Tucked down the southern end of the Coast, this is the perfect pre- or post-beach stop to satisfy hungry stomachs.
Maleny Pie Guy
Maleny
While it might not be a traditional bakery, Maleny Pie Guy has earned a special mention on this list of best Sunshine Coast bakeries. If the name hasn't already given it away, this hinterland favourite specialises in pies of all sorts, shapes and sizes. And that kind of sole focus has paid off—the pies here are next-level. It's not uncommon for there to be a line of hungry revellers waiting to order, but don't let that deter you; any wait will be worth it once you wrap your hands around these golden parcels of deliciousness. Using only the best ingredients, all of the beef options—including the Malaysian rendang and the traditional chunky steak pie—are made from grass-fed Maleny Black Angus Beef. One mouthful and you'll taste the difference.
Ricks On 6th
Maroochydore
One of the newest additions to the Sunshine Coast bakery scene, this sweet-as-can-be Maroochydore bakery slings up a cracking range of freshly-baked pastries, patisserie delights, cakes, gourmet pies, croissants, traditional French baguettes and to-die-for sourdough loaves. Our must-try? The lemon meringue croissants are simply divine. Pair any of Ricks' delicious bakery goodies with a Campos coffee, and you've got the perfect Maroochy morning in our books.
La Petite Souris
Alex Heads
Your Sunday morning beach trips are about to get a whole lot sweeter after we introduce you to La Petite Souris. If you're hankering for the Sunshine Coast's best ham, cheese and bechamel sauce croissant—or can't decide between a fig danish, almond and raspberry cream tart or pumpkin and feta quiche—at La Petite Souris we guarantee you'll have it all. With an overflow of delicious cakes and pastries that greet you as soon as you walk through the door you'll be overwhelmed by having so much choice. Pick up a freshly baked baguette and a jar of their finest handmade jam and we think you'll agree this place definitely has a certain je ne sais quoi.
Now that you're loaded up on sweetness, hit the prettiest walks around the Sunshine Coast.