While our Kindle lies patiently waiting for us to dust it off and charge it up, some fanatic readers—you know who you are—love the feel of a good old-fashioned paperback in hand and coffee at the ready.
We've found our favourite bookshops here on the Sunshine Coast for coffee lovers and avid bookaholics alike. From bookstore cafes to the best beachside locals; book lovers, this one's for you.
The River Read
Noosa
Whether it is an idyllic sunny day or perfect moody reading weather, The River Read bookstore and cafe is our book lover haven. This small yet heavenly local bookstore is situated across from the Noosa River and is perhaps all our paperback dreams come true. Stocked with your latest reads and range of charming gift ideas, we all know Noosa sets the trends and their bookshops are no exception. Sip coffee in their sun-filled courtyard and catch up on the latest crime thrillers as you ultimately decide to never go without a book or coffee in hand ever again.
Annie's Books on Peregian
Peregian Beach
You're heading to the beach and it's a perfect blue sky, blue surf, light winds kind of day. You've skated past your local smoothie place and are ready to bunker down in the sandy dunes of one of the Coast's best beaches only to find your current read nowhere in sight. Glancing up from your frantic rummaging you see—like a shining beacon of light—Annie's Books on Peregian. Nestled perfectly across from Peregian beach and supplying all our latest reads and local charm. We've never walked away from Annie's with only one book.
Harry Hartog
Maroochydore
Amongst the sea of clothing and shoe shops you'll find at the Sunshine Plaza, we think Harry Hartog offers an even better kind of retail therapy. Nestled amongst the hustle and bustle that will always accompany this particular shopping centre, we've found our quiet oasis. You'll find wall-to-ceiling shelves, wooden canoes filled with your latest reads and enough book merch to distract any reader into a near frenzy. We've absolutely fallen in love again, and again, and again at Harry Hartog and our TBR can't cope.
Berkelouw Book Barn
Eumundi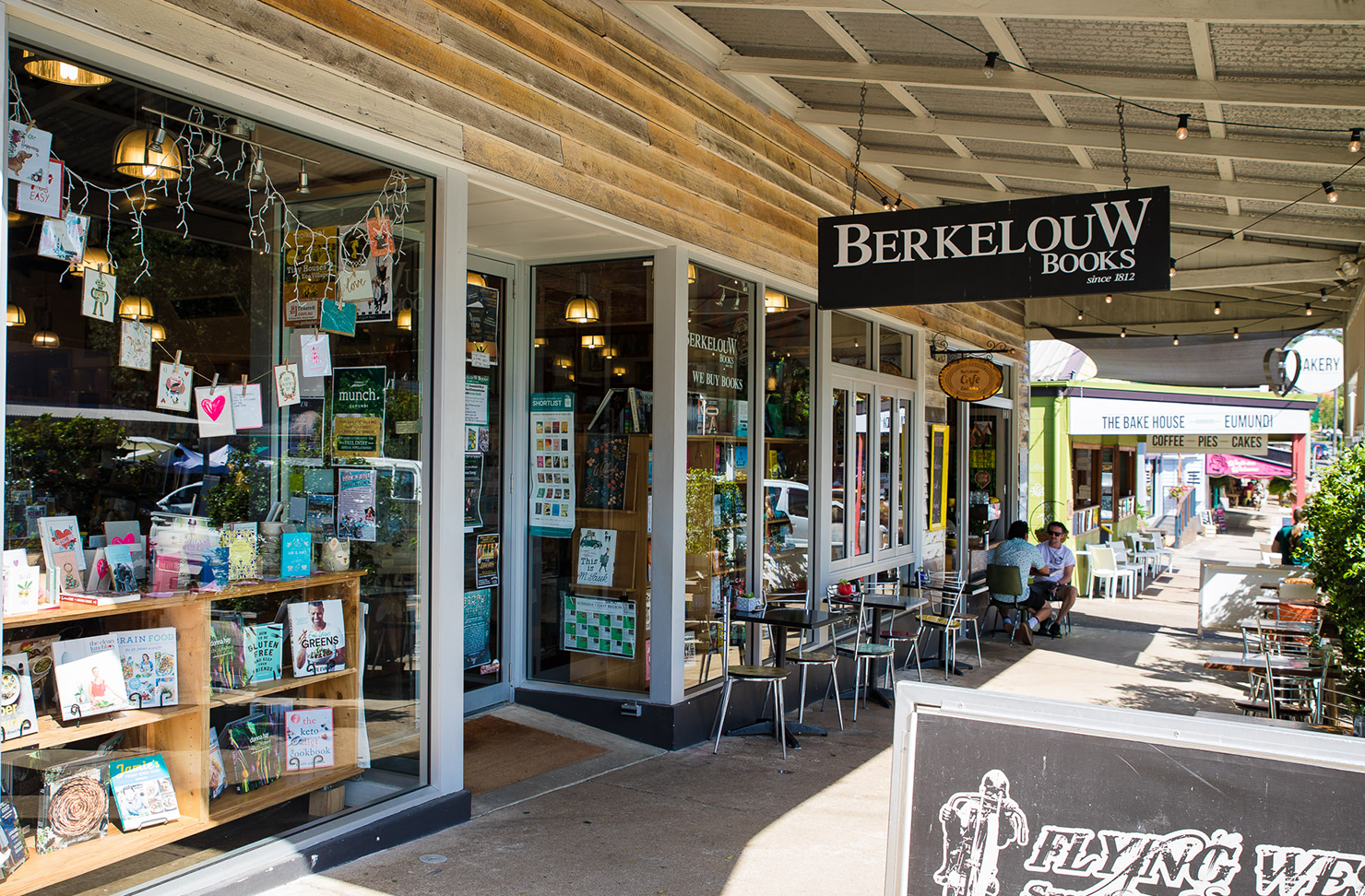 If there was one bookshop on the Sunshine Coast we love to visit, browse, and sip non-stop coffee in, it's Berkelouw Book Barn and Cafe in the Noosa hinterland. Across the road from the iconic Eumundi markets and filled to the brim with local authors, new titles and an overwhelming selection of never-to-be-found-elsewhere second hand-books we've just about died and gone to bookwork heaven. Built into the historic Trading Post building, with exposed high ceilings and tables of book-loving wares to suit even the pickiest of readers in your life. Coupled with its own cafe next door, gives Berkelouw books a resounding two-thumbs up from us.
The Bookshop at Caloundra
Caloundra
A proud and prominent fixture in the Sunny Coast book community are our friends down at The Bookshop at Caloundra. Providing readers and holidaymakers alike with the best summer reads since 1980, we can never not go in for a cheeky squiz while browsing our way through Caloundra's main street. This bookstore is locally owned by Graeme and Chris Bowden, who always provide the goods when it comes to author signings and local events. We wouldn't trust anyone more when it comes to navigating our way to the best book recommendations here on the Sunshine Coast.
Kickback Books
Mooloolaba
We all know being a reader ain't no cheap feat. But this perfect little beachside second-hand bookshop has the hook-up and we can't get enough. Kickback Books has a treasure trove of second-hand fiction and non-fiction to suit any avid beach reader's needs. Not to mention we would never pass up an excuse to shop our fav titles both sustainably and locally. How could anyone disagree with that?
Rosetta Books Maleny
Maleny
If your perfect day consists of heading up to the hinterland for a picnic with bags full of tasty morsels and a book to read in between mouthfuls and food coma naps, you're our kind of person. But because we're like you, there's also a chance that you may have forgotten the page turner you'd planned on wiling away the afternoon with. And that's why we're introducing you to Rosetta Books. Found in the heart of Maleny, this stunning shop is easily one of the best bookstores on the Sunshine Coast. Visit and you'll see why.
Duporth Book Exchange
Maroochydore
If like us, you love the musty smell of old books, and see walking into a second-hand bookstore as a treasure-hunt instead of an unnecessary chore, then the Duporth Book Exchange is the friend you can't survive without. It'll have your back when you're after a bit of gritty crime to shake up the day, or when a break-up makes you want lose yourself in a soppy romance. With shelves that are constantly bowed from the weight of thousands of titles, don't try and duck in and out on a lunch break. It won't happen.
Nambour Book Exchange
Nambour
One of Queensland's biggest book exchanges, there's no way we could leave this one off the list. With a status like that, it's obvious why Nambour Book Exchange is up there with the best bookstores on the Sunshine Coast. Home to more than 200,000 books, both new and not-so-new, these guys know what's in-store, so if you're looking for something specific make sure you let 'em know.
If you're looking to get out and about after your having your nose in a book, hit up our list of 26 of the best things to do on the Sunshine Coast.
Image Credit: In My World & Amelia Shaw