The change of seasons can mean only one thing, our favourite cafes are dropping hot new menus to warm your cockles this winter.
Buderim is known for its abundance of great breakfast and lunch spots, and you'll find some of the best coffee on the Sunshine Coast along the main drag.
Conveniently located, the following list could serve as "grub crawl", with a few epic espresso bars thrown in for good measure. Enjoy.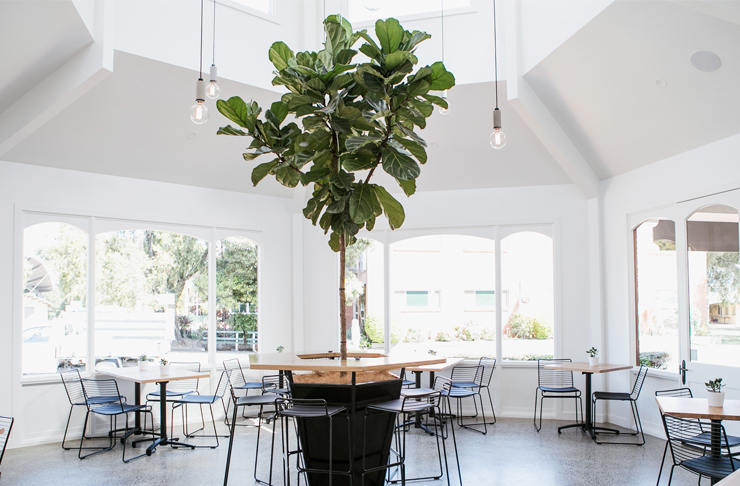 The Birds & The Beans
It's time for us to have the talk; about The Birds & The Beans. This super cool coffee shop is running out of the converted Vandy's Garage to keep you caffeinated during the working week. Serving Kai Coffee, they also have a tasty selection of freshly baked goods, including muffins and friands made by their friends down the road at Hungry Feel—we have it on good authority that they sell out quickly, so you best get in early.
Aimee Provence
Morning tea never looked as good as it does at Aimee Provence. Sure, their high teas are next-level, but it's their plain, fruit and date scones which have us coming back for more. Owner Aimee Russell is known to make as many as 180 scones for their high teas on weekends and the secret is in her secret English recipe, which she makes by hand, so they're fluffy on the inside and crispy on the outside. Perfectly accompanied by a Clandestino Roasters coffee. Yum.
Mill St Kitchen & Pantry
Mill St Kitchen & Pantry owner James Ostridge—previously Head Chef at Brouhaha Brewery—really wanted to open a local cafe and pantry that would benefit both the environment and patrons' health, as well as serve the local community by supporting local Sunshine Coast farmers and businesses and he's truly succeeded. From coffee to lunch menus, to small plate dinners, local produce and even basics like toiletries, you could easily get away with skipping the supermarket and just get all your stuff at Mill St.
Rue Bourbon
Rue Bourbon is the definition of "brew with a view". Housed in a shipping container-come-espresso bar atop of Buderim, it's the perfect place to let time slip away while sipping on Semi-Pro Coffee and munching on loaded cookies from Milk Bar Cookie Co.
Little Fig Cafe
Locally owned and operated Little Fig Cafe slings some of the best breakfast and lunch options in Buderim and you'd be remiss not to pay them a visit. From eggs benny with salmon to tarts, to mouthwatering scones, Little Fig is rife with options for even your pickiest mate. Plus they're dog friendly too, so bring the pooch along.
Mint
Woke up in a flap this morning? Head to Mint Buderim for a coffee hit or a health latte made with charcoal, beetroot, turmeric or matcha. We particularly love Mint for their delicious and nutritious grab-and-go selection—our favourite is the protein bowl packed with all of the good stuff.
The Shak Organic Cafe
Chilling outside underneath the oversized umbrellas is what brunch dreams are made of. Satisfy your cravings with organic Fairtrade coffee from Sunshine Coast Coffee Company and tuck into one of The Shak's scrumptious meal options. We have a hankering for The Hunter—bacon, duck and maple chipolatas, field mushrooms, grilled tomato, braised white beans, free range poached eggs and Walter's Artisan ciabatta; or The Gatherer—sautéed greens, quinoa, mushrooms, avocado, poached egg and dukkah.
Hungry Feel
Chef and owner, Chris White, champions seasonal and sustainable produce and is often found plucking snake beans and other greens from their kitchen garden or at local farm gates collecting kilos of fruit and veg to turn into preserves. Open for breakfast and lunch Tuesday to Saturday, Hungry Feel's menu reads like a map of the Sunshine Coast with dishes like the Local Brekkie Board—Kenilworth free range scrambled eggs, Rhodavale pork belly, Brouhaha milk stout bread, Noosa Earth mushrooms, Cedar Street haloumi and backyard preserves.
John Kyle Espresso
You know you're in for a treat when a cafe's branding is on point. Enter John Kyle Espresso. Catering to your needs Monday to Saturday, their Slide coffee comes in all shapes and sizes for you to enjoy in the comforts of this stunning space. Hungry? Grab BRKFST, ready-to-eat organic Bircher muesli and chia puddings made fresh on the Coast. This is easily one of our favourite cafes on the Coast.
Cafe Vie
The classics have been given a shakeup with Cafe Vie's latest releases—pancake stacks layered with yuzu and blueberry compote and topped with whipped coconut cream; and smashed avo, coconut labneh, beetroot relish, asparagus and cherry tomatoes on ciabatta. Coffee comes in the form of Campos, and being a vegan cafe, they only offer plant based milks, but owner Michael Collen assures their default milk, Minor Figures Oat imported from the UK, is the closest to cow's milk that currently exists.
Hamptons Espresso
On the fringes of Buderim you'll find Hamptons Espresso. Serving Tim Adams Specialty Coffee, their new menu is all about the winter warmers—housemade beans with tomatoes, currants and red peppers spiced up with their own blend of paprika and cinnamon, accompanied by an egg and dipping toast. What a way to round out our tasty tour of Buderim.
Hankering for some more cafes? Here are all the best cafes to hit up on the Sunshine Coast.
Image credit: Amy Higg for Urban List