If you have the burger urge, this list of the best burgers on the Sunshine Coast is sure to get your mouth watering.
True burger lovers go way back to when offerings were kept traditional with a beef patty, cheese, tomato sauce, mustard, pickles, lettuce and tomato. And while that's still super delicious–the humble burger has been flipped.
Now, we have hero ingredients to please all palates and serve all lifestyle choices. Then there is the piece de resistance–burgers that look like they've eaten burgers, they are not for the faint of heart (for health reasons).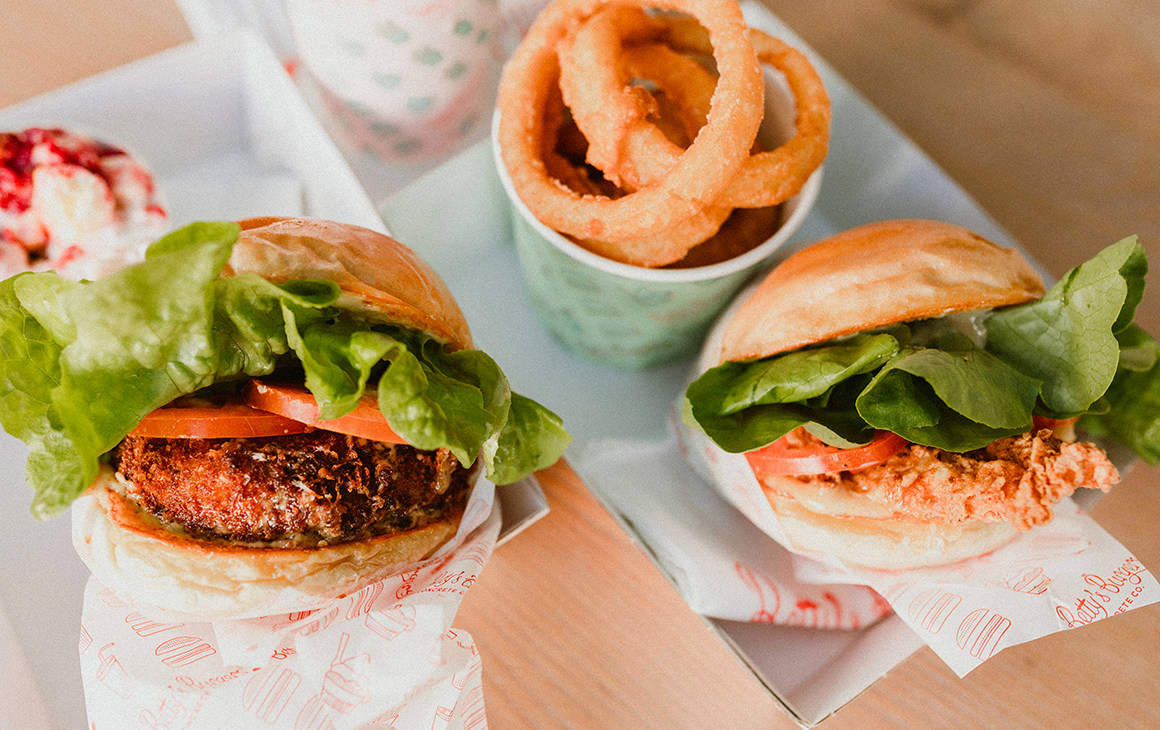 Ricks Garage
Palmwoods
The OG of big burgers is Ricks Famous Big One, which weighs in at a whopping 1.1kg. It's a double serving of beef, bacon, cheese, eggs, lettuce, tomato, onion rings, pickles, beetroot, tomato relish and aioli. There's no swapping and changing ingredients, because this burger can't be altered for structural reasons! Now that's serious burger business.
The Milk Bar Coffee Co
Maroochydore
The crunch says it all. Biting into the Karaage Chicken Burger sets all tongues wagging. And with the accompaniment of radish and green cabbage pickle, shredded lettuce, Kewpie and bulldog sauce on a toasted brioche bun, this burger is sublime. Milk Bar Coffee Co also has another stellar burger on its menu, keeping things traditional with the Cheeseburger– hand-pressed beef patty, double cheddar cheese, lettuce, tomato, housemade bread and butter pickles, tomato ketchup and American mustard on a toasted brioche bun. No matter which you choose, we recommend the side of beer battered fries because these little morsels are very tasty in their own right.
Betty's Burgers
Noosa and Maroochydore
When talking about the best burgers on the Sunshine Coast, Betty's Burgers is of course going to make the list. Our favourite is the Betty's Classic Stack, which combines our love for the Betty's Classic and the Shroom Burger in one epic release—think Angus beef, crisp fried mushroom patty, melted Gouda and Gruyere cheese, lettuce, tomato, onion and of course, Betty's special sauce.
Brouhaha
Maleny
The boys at Brouhaha take their beef very seriously, so you know their burger offering is going to be top notch. The Wagyu Beef Burger is dressed with pumpkin jam, beer ketchup (of course) and Swiss cheese on a sourdough roll. It comes with a side of beer battered chips and goes down a treat with their NZ Pale Ale.
Cafe Silo
Yandina
Now let's slow things down with the Brisket Burger at Cafe Silo, which is something delicious dreams are made of. Slow-cooked pulled barbecued brisket, radish slaw and housemade pickles—minimal toppings mean there's nowhere to hide, so every single ingredient is perfection.
Elixiba
Maroochydore
Who would have thought we'd see the day when banana peel was a favourable burger topping. Well, the team at Elixiba has done it with their BBQ Melt Burger. Sumptuous grilled mushrooms, vegan feta, housemade cucumber pickles and BBQ banana peel make this burger a truly memorable experience.
The Good Bar
Mooloolaba
Ben Stiller said it perfectly, "I'm pretty sure there's a lot more to life than being really, really, ridiculously good looking. And I plan on finding out what that is." Well you can stop looking because we found it; the answer is indulging in the burger deliciousness that is The Good Bar. Why not wrap your Blue Steel-lips around their Ben Stiller Burger–bacon, spinach, fried egg, hollandaise on a brioche bun. And if that's not enough, each month they release a new burger beast onto the world with their Dreamtime specials. June pays homage to the Grill Cheezus with chipotle slaw, beef pattie, beef brisket, crispy bacon, white onion, pickle, waffle fries (on the burger), Sweet Baby Ray's BBQ sauce and cheese sauce sandwiched between two grilled cheese toasties.
Downtown Burgers
Nambour, Maroochydore
Feeling adventurous? Why not try the Secret Burger at Downtown. You won't know what it is until it's placed in front of you—talk about a blind tasting! But if you're not one to take too many risks, the Fish Burger is totally in your wheelhouse; grilled barramundi, garlic butter, spinach, mozzarella with tomato, red onion and avocado salsa on their famous vegan soft pretzel bun, it's simply superb. And what's better than a burger for lunch or dinner? Following that up with a burger for dessert! Yep, that's right, they have two dessert burgers including our fave, the Roasted Almond–vanilla bean ice cream mixed with roasted almond and coconut with a raspberry sauce on a brioche bun. Yes, please.
Riba Kai
Maroochydore
What makes a Veggie Burger great is halloumi and Riba Kai has taken that up a notch with crunchy crumbed halloumi, combined with the hearty flavours of a pea and sweet potato pattie, beetroot hummus, grilled zucchini and spinach, which all comes together in a toasted charcoal bun. Delish.
Dirty Moes
Mooloolaba
Thursday night is burger night at Dirty Moes, and because it's so hard to pick a favourite, you can keep going back week after week until you've tried them all. It's hard to go past The Brisket, with housemade smokey BBQ sauce, lettuce, tomato, mustard, ranch sauce and American cheese. You may need two hands to devour this one.
The Burger Bar
Noosaville
The offering at The Burger Bar is sure to please and delight the taste buds, especially with the crowd favourite, House of the Rising Bun; featuring premium wagyu beef, Japanese teriyaki sauce, pickled ginger, Japanese mayo, wasabi, kimchi, roasted red peppers and lettuce. The location is also a winner, being walking distance to the Noosa River, so you can phone order ahead and enjoy lunch or dinner along the water.
Image credit: Amy Higg for Urban List