To beetroot or not to beetroot, that is the question. Whether you like 'em loaded, tripled, smoked, pulled or plant-based, the Sunshine Coast has a burger to kill your cravings.
In no particular order, here's our round up of 12 of the sauciest, tastiest, juiciest, stacked burgers you can find on the Sunshine Coast in 2022. Get ready to sink your chompers into these babies.
Dirty Moes
Mooloolaba
Thursday night is $17 burger and fries night at Dirty Moes, and because it's so hard to pick a favourite, you can keep going back week after week until you've tried them all. Although we will absolutely devour a burger at Dirty Moes any day of the week. It's hard to go past The Brisket, with housemade spicy BBQ sauce, mayo, mustard, lettuce, tomato, cheese and delicious beef brisket. Feeling extra? Devouring the Sloppy Moe with three beef patties, brisket, cheese, bacon, mustard, mayo, tomato sauce, spicy BBQ sauce and onion rings is a truly transcendent experience. You will need two hands to devour this one.
Ricks Garage
Palmwoods
When we talk about the Sunshine Coast's best burgers, there is one name that pops up again and again, and for very good reason. The OG of big burgers is Rick's 'Famous Big One', which weighs in at a whopping 1.1kg. It's a double serving of beef, bacon, cheese, eggs, lettuce, tomato, onion rings, pickles, beetroot, tomato relish and aioli. There's no swapping and changing ingredients because this burger can't be altered for structural reasons. Now that's serious burger business.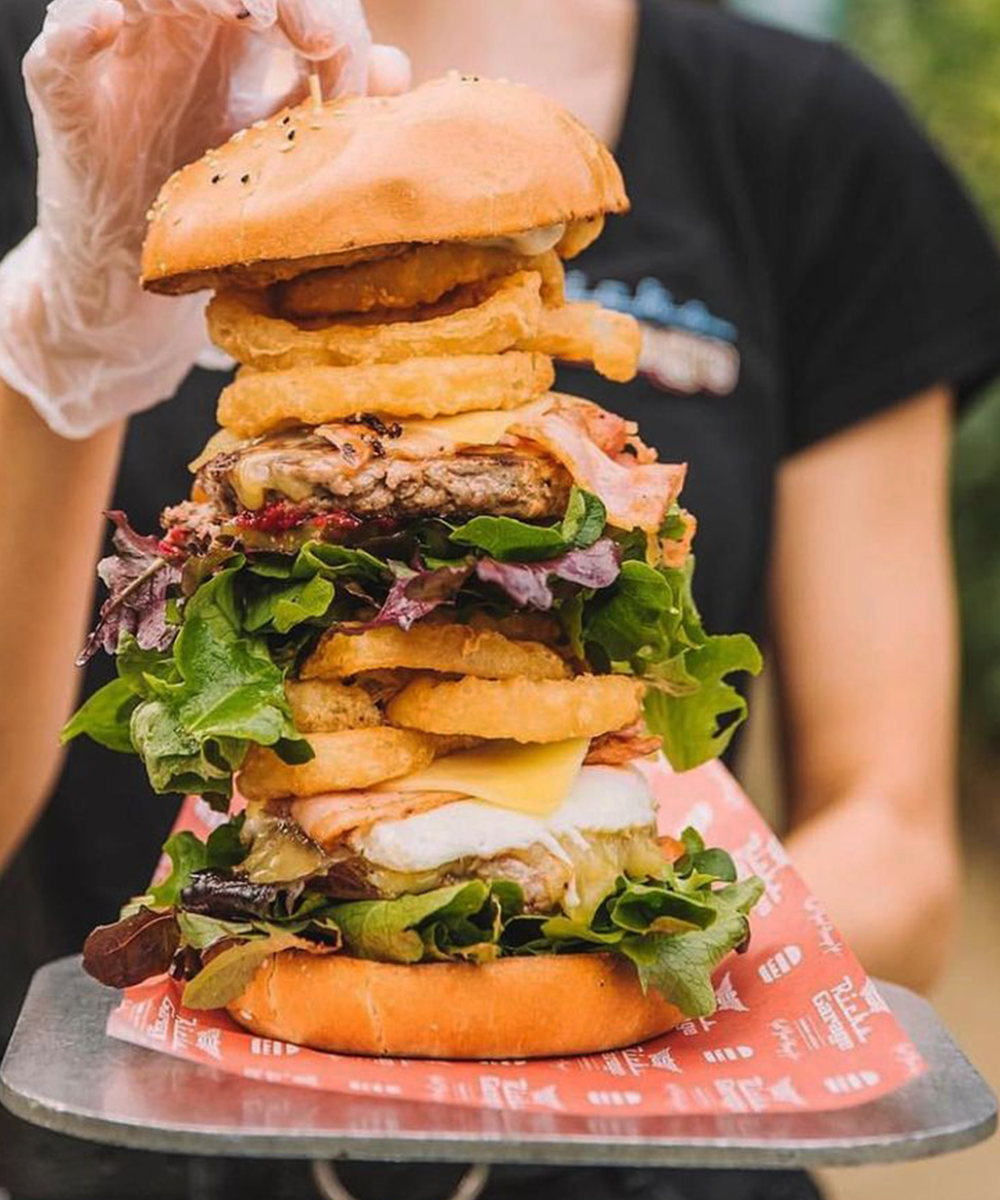 Brouhaha
Maleny & Baringa
The team at Brouhaha take their beef almost as seriously as their beer, so you already know their burger offering is going to be top-notch. One of our personal favourites, the Maleny wagyu beef burger is dressed with Maple St bacon onion jam, red cheddar, tomato and lettuce on a Ten Acres bun. It comes with a side of beer battered chips and goes down a treat with their NZ Pale Ale. For our vegan friends, Brouhaha is dishing up a 'chicken' schnitzel burger with plant-based schnitzel, vegan aioli, Korean chilli sauce, tomato, lettuce and onion on a Ten Acres bun. Drool.
The Burger Bar
Noosaville
The gourmet burgers at The Burger Bar are designed by a Michelin star chef, so you already know they're going to be damn good. The extensive menu covers beef, chicken, lamb, vegetarian, baby burgers and even boasts a rotating burger of the month. Fan favourites include the House of the Rising Sun burger with wagyu beef, teriyaki sauce, pickled ginger, lettuce, wasabi, kimchi and roasted red peppers and the Chicken Bollywood burger with tandoori chicken breast, hummus, lettuce, roasted red peppers and cucumber and mint raita. See? We told you it was gourmet. The location is also a winner, within walking distance to the Noosa River, so you can phone order ahead and enjoy lunch or dinner along the water.
The Nines
Maroochydore
Shaking up the Sunshine Coast café scene since its opening, The Nines is renowned for it's OTT loaded shakes and drool-worthy eats. Their burger game is something to behold—make sure to wear your stretchy pants for this one. Their brisket burger with slow-cooked beef brisket, lettuce, tomato, pickled cabbage, cheese, smokey BBQ sauce and fries is absolutely divine and we're also huge fans of the tofu bahn mi burger with fried tofu, pickled carrot, cucumber, mint, coriander, slaw, pate, chilli mayo and fries. The Nines also drops epic new burgers every month with mind-blowingly wild combos, so be sure to check their socials for their latest naughty creation.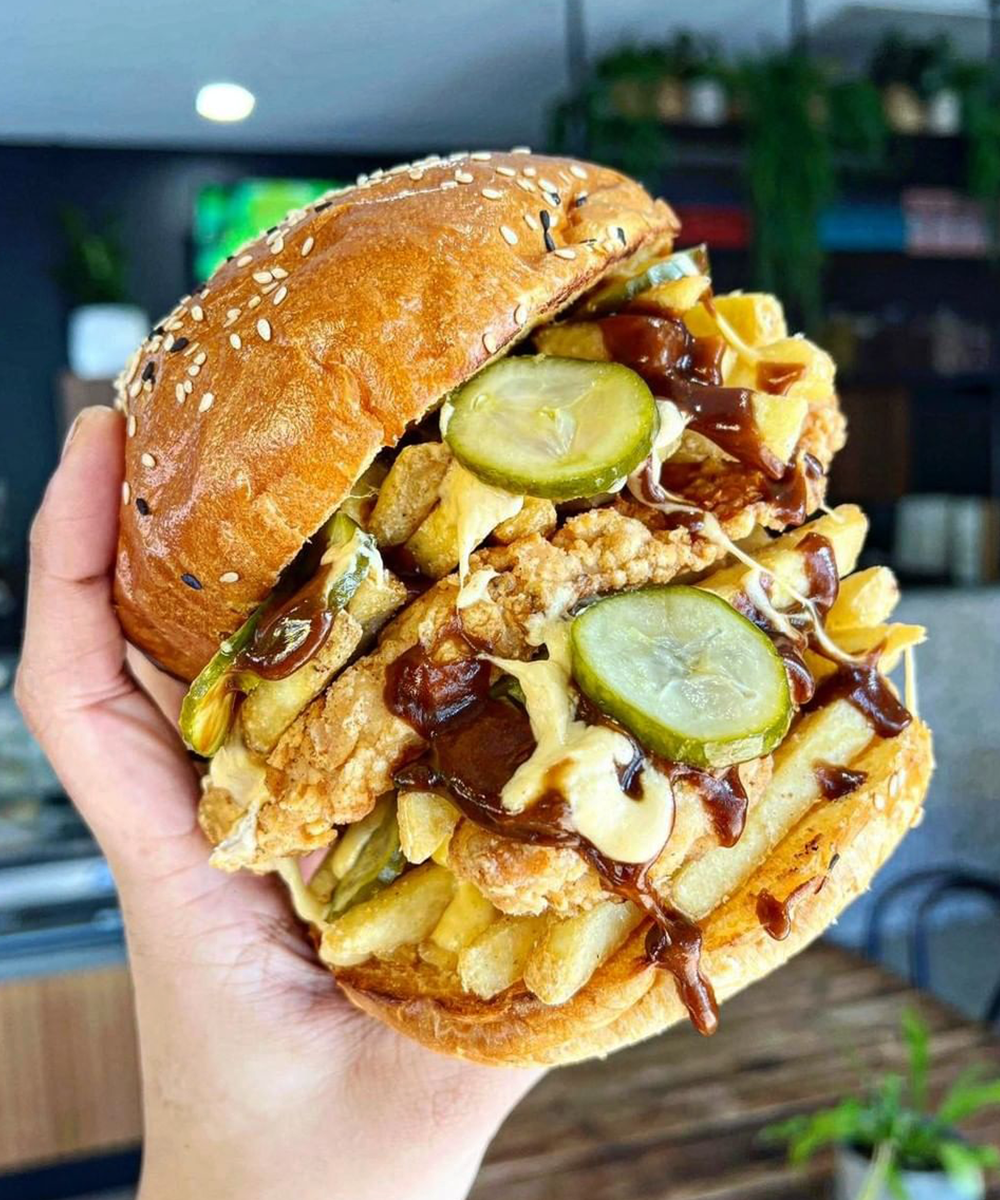 Imperial Hotel Eumundi
Eumundi
Imperial Hotel Eumundi might be best known for its incredible brews and epic live music events, but if you haven't tried the burgers here, you're seriously missing out. There are only two burgers on the menu, but they lack in quantity they make up for in quality. The wagyu beef burger is loaded with bacon, mushroom mesclun, cheddar, tomato relish and blue cheese with chips and aioli, while the chicken burger is served on a charcoal bun with red cabbage, rocket, pickled carrots, peanut sauce, Sichuan mayo and sweet potato fries. There's no doubt Imperial Hotel Eumundi is slinging up some of the best burgs we've had the pleasure of devouring.
Elixiba
Maroochydore
The sad days of our plant-based friends having to deal with mediocre vegan burgers are over. The team at Elixiba are seriously levelling up the plant-based burger game with their Humble Burger—a tantalising combination of a plant-based patty, creamy southwest sauce, caramelised onion, juicy tomatoes and local greens on a soft bun. Or, chow down on Elixba's signature grilled hemp and black bean patty served with mango and cucumber salsa, caramelised onion, coconut 'facon' and creamy southwest sauce, all wrapped up in lettuce.
The Good Bar
Mooloolaba
Sometimes you're ravished with hunger. A hunger that only burgers can satisfy. The Good Bar in Mooloolaba has got you covered with some of the best burgers on the Sunshine Coast. It's time to get your chompers around their Beastie Boi burger with a beef smash patty, fried chicken thigh, bacon, American Jack cheese, lettuce, tomato, onion, Alabama white BBQ sauce and spicy pickles all on a milk bun. And if that's not enough, each month they release a new burger beast onto the world with their Dreamtime specials. August pays homage to the Andre The Giant burger with fried chicken, bacon, chorizo, fried halloumi, tangy mayo, pineapple, onion, lettuce, tomato, slaw and BBQ sauce on a milk bun. Yes, it's insane and yes, it's damn good.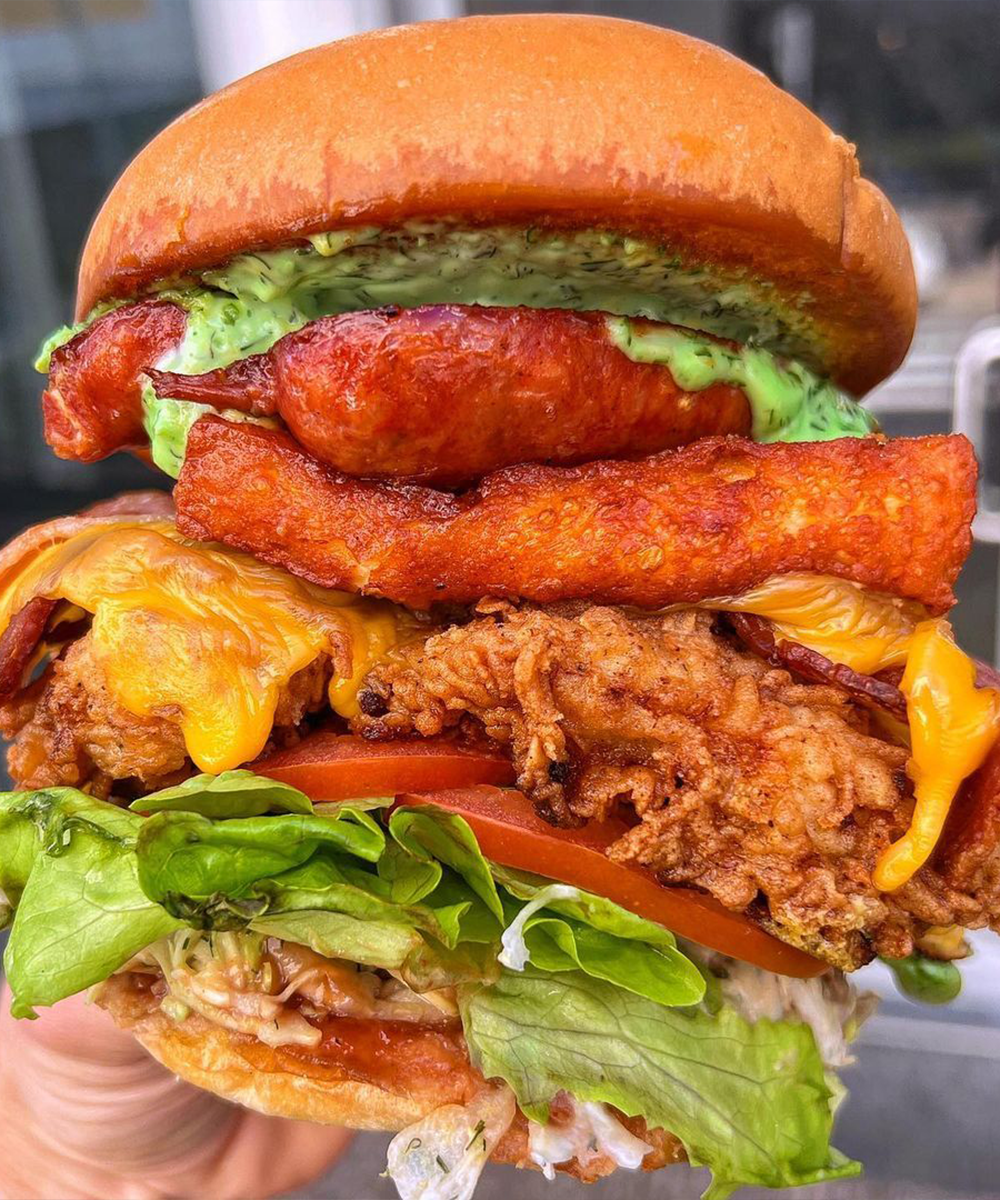 DownTown Burgers
Nambour
Made by locals, for locals, we have a soft spot in our hearts (and our stomachs) for DownTown Burgers. While the Big Pineapple burger might be calling our name, we can't go past the Skate Bowl burger with succulent steak, smokey BBQ sauce, caramelised onion, egg, maple bacon, lettuce, tomato, ranch dressing and fries. DownTown Burgers are currently operating just takeaway and deliveries from 5pm to 8pm daily, and with local support (aka eating loads and loads of burgs) they intend to get back to full operations very soon.
Hello Harry
Birtinya, Caloundra & Maroochydore
Hello Harry are pros when it comes to whipping up great burgers. With locations in Birtinya, Caloundra and Maroochydore, they certainly don't pull any punches with their epic burgers. Favourite burgs include the South of the Border with grass-fed beef, jalapenos, lettuce, cheese, Spanish onion, red pepper relish and sour cream, and the Pitt Master with Texan brisket, Louisiana pulled pork, double cheese, caramelised onion, mixed slaw, chipotle mayo and BBQ glaze. Just quietly, it's one of our all-time fave burgers full-stop. Especially when paired with a side of sweet potato fries. Oh baby.
The Milk Bar Coffee Co
Maroochydore
Milk Bar Coffee Co keeps things simple, but we're huge fans of their traditional wagyu cheeseburger. It's called a classic for a reason. Dive into this bad boy loaded with a hand-pressed beef patty, cheddar and Jack cheese, lettuce, tomato, housemade bread and butter pickle, and mustard and onion sauce on a toasted milk bun. We recommend the side of beer battered fries because these little morsels are very tasty in their own right.
Betty's Burgers
Noosa and Maroochydore
We don't know who Betty is, but we love her and we love her burgers. Opening up new stores all across Australia and thankfully in two locations on the Sunshine Coast, we adore that this American-style diner chain is Aussie-owned. We think the recipe creators for Betty's Burgers must have put in some serious hard yards scouring the U.S. for tasty burger creations. With soft-as-a-pillow milky buns and a crispy fried mushroom patty filled with Gruyere cheese, all topped with lettuce, tomato and Betty's Special Sauce, make sure you don't skip past the 'Shroom Burger. Hands down, Betty's is making some of the best burgers on the Sunshine Coast.
Need some brews to wash down your burgs? Quench your thirst at the best breweries on the Sunshine Coast.
Image credit: Ricks Garage, The Good Bar & The Nines