Burger love is an actual thing. If the sauce isn't dripping down your fingers as you chow down your burger so fast it falls completely out of its bun, all because you're just trying to stay "clean" (but actually just can't stop), then it's no burger at all. None at all.
To that end here are the Coast's best of the best when it comes to those over-sized, juicy, messy but delicious delicacies! We've done you a solid and rounded up the best burgers on the Sunshine Coast for your eating pleasure.
Dirty Moes
Mooloolaba
Bringing the deep south to the Coast, there's melt-in-your-mouth lamb shoulder, super slow-cooked brisket, and the best mac 'n' cheese you'll ever taste. But it's the holy mother of burgers we're loving at Dirty Moes which are stacked high and oozing with flavour. And we're especially loving the new $10 burger happy hour on Friday, Saturday and Sunday from 3pm till 5pm. Don't forget to bring your gal pal. Remember, happy wife, happy life!
MooFree Burgers
Maroochydore
Often featuring two for one specials on Tuesdays, MooFree Burgers is not only raking in the customers for its forward-thinking, cruelty free and environmentally conscious feasts, but also for its hella tasty lunch options, fit for meat eaters alike! No boring sad salads here. Think beef-less patties, bacon-less rashers, dripping vegan cheese, and falafel burgers with pulled jack fruit. Ooh, yeah.
The Good Bar
Mooloolaba
Tucked behind the busy esplanade, The Good Bar is a hive of hipsters chasing good American-style burgers and craft beers. But these guys don't hesitate to shake things up around here, showcasing a double beef burger with peanut butter (that's right) on a brioche bun. Only the yanks would do that!
Hello Harry
Maroochydore
An Ocean Street favourite, the buns at Hello Harry are super soft and come piled high with eye boggling epic-ness. Heading for a big night out on the glitter strip? Get your carb load on here.
Rick's Diner
Palmwoods
It's the hinterland's biker's pit stop renowned for serving up the best burgers, milkshakes and sweets, complete with old-school Hollywood memorabilia. When doing a round up of the best burgers on the Sunshine Coast we HAD to include Rick's Diner. And with a newly landscaped, fancy shmancy beer garden, it looks like this iconic diner is getting a little too classy for itself. Easy up Rick!
Sneaky Baron
Maroochydore
There's 11 burgers at this sassy Ocean Street joint, starting with the humble Mr Cheesy Pickle, $9, and finishing with The Big Deal, which features TWO juicy wagyu beef patties, smoked beef brisket, triple cheese, maple bacon, onion rings, mac and cheese with hickory BBQ sauce, all for $25. We know which one we're choosing. When looking for an epic burger on the Sunshine Coast remember to head over to Sneaky Baron.
313 Social
Mooloolaba
Haven't heard of this new cool cat? 313 Social is hidden down a secret back-alley and comes equipped with its own skate ramp (I know like, whaaa?), a pool table, darts board, plus rad, art deco vibes. This is one of the hippest spots on the Sunshine Coast. And it serves up ribs, wings and divine brisket burgers with all the trimmings!
Alex Bluff Bar
Alexandra Headland
Got your Saturday morning chill vibes on? Cruise on down to Alex Beach and grab a classic egg and bacon burger and coffee to boot from the Alex Bluff Bar. It's so uber retro down at this oceanfront kiosk they even call your name out on a loudspeaker, but that's all part of the charm.
New Earth
Coolum
Hidden down a Coolum alleyway, this all-organic, vegan and gluten-free health bar is like eating straight from Grannie's garden. The food here is insanely good and the burgers are some serious health on a plate. Try the Tower Burger, built on homemade sprouted bread, and piled high with an activated almond veggie patty. You will always leave this place with a happy face and smiling belly. We love New Earth and so will you.
Mr Jones & Me
Noosaville
Sticky Pork Burger, we're looking at you Mr! Crammed with apple, fennel, coriander and a radish slaw, these guys have nailed it with this creation. At Mr Jones & Me the Tex Burger is also a favourite, packed with no other filling but corn chips, jalapenos and a roasted chilli relish. I die.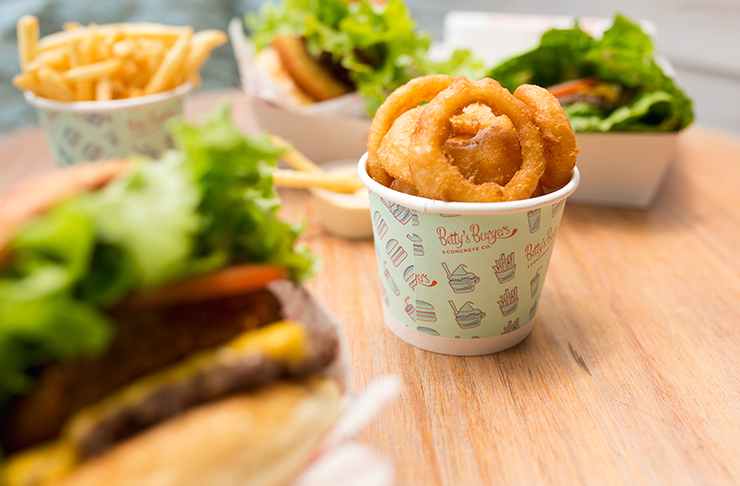 Betty's Burgers
Noosa
Betty's is the OG of burgs on the Sunshine Coast and the customers have not stopped lining up for their favourite buns. The burgers here come with a very appealing price tag, from $10-$16. But come here with an empty stomach because you won't be able to say no to the jaw-dropping "concrete" desserts, waffles and thickshakes. They're everything and more. Pick of the bunch was Betty's Classic—a simply satisfying 10-buck burger loaded with an Angus beef pattie, lettuce, onion, tomato, cheese, and Betty's secret special sauce. Get in mah belly! Pssst! Did you hear? Betty's Burgers is also coming to Maroochydore this year. Woot!
The Burger Bar
Mooloolaba and Noosaville
Served on delightfully light Turkish bread, the flavour combos here are off the hook. With a whopping 16 burgers to choose from, The Burger Bar is your answer to all your meaty mouth-watering dreams. With worldly foodie influences from Jamaica, Mexico, India, America and traditional Aussie flavour, there's a bite here to suit all fussy tastebuds.
DownTown Burger
Nambour
Prepare to get your drool on here with burger specialties such as the Lamb Burger, Pip-Squeak Cheeseburger Meal, Veggie Delight, Tropical Paradise and the Pulled Pork Burger. The place also offers sensational onion rings, sweet potato fries, and mocha, mint-choc-chip, and Oreo cookie thick shakes. Can't get off the couch? Jump online and press the order button and they will shoot your favourite duo straight to your door! DownTown Burger has their burgs game on lockdown.
Taps
Mooloolaba
It's where the pour your own (PYO) beer revolution began and you can sit back at your own table with your mates doing exactly that – enjoying a fresh frothy straight from your own personal tap. But this local's fave beer trap also packs out with punters seeking drool-worthy pub grub. Try the sky-high famous Double Double Wagyu Beef Burger. It's a Taps MUST.
Monica's Cafe
Maleny
It's a hinterland favourite focused on local, organic fresh produce and fair-trade coffee. But it's the Cajun Chicken Burger at Monica's Cafe that has our knickers in a knot, stuffed with spicy chicken breast, avocado, sour cream, salsa and red onion – all served with thick cut chips and aioli. Yes, yes, yes!
Cafe Nurcha
Maroochydore
Vegan lovers unite. Inside the peace-out vibes of Coastal Wellbeing's health food, hippy mart, is some of the Coast's best when it comes to fresh, organic produce. But Cafe Nurcha's Satay Burger and Wedges is the one to hit. Featuring tender local tempeh marinated in satay sauce, and served in a focaccia with smashed avo, crushed peanuts, and sprouts, these guys don't disappoint. Served with thyme and garlic wedges, this is a filling meal to the extreme.
Ok so you love a good feed don't you? We've also rounded up the best cheap eats on the Sunshine Coast here. What goes perfectly with burgers guys? BEER! We've rounded up the best breweries on the Sunshine Coast here. What about some exercise to work off of those extra cals. We've rounded up the best hikes on the Sunshine Coast here.
Image Credit: Daniel Hine, Ariana Grillrie and Amy Higg for The Urban List