In case you've been living under a rock—craft beer is all the rage right now. And the Sunshine Coast is leading the way, with local beerpreneurs shining a light on their brews of choice and boutique-style breweries popping up across the region. We'll drink to that.
With the Sunshine Coast home to the largest number of craft breweries per capita in the country, you could say we take our craft beer pretty seriously. Scroll on for 13 of the best Sunshine Coast breweries you need to have a drink at in 2023.
Moffat Beach Brewing Co.
Moffat Beach
Touted as Australia's only beachfront brewery, Moffat Beach Brewing Co. is the perfect place to chill out, sip on a schooner and enjoy some panoramic ocean views. These guys specialise in handcrafted ales, which are freshly brewed out of the already well-known Black Water Trading Co. (who also serve some mighty good grub). And once you're done appreciating their clean, crisp, refreshing brew, you can go on and appreciate the great names they go by—such as the Deadbeat Boyfriend Cream Ale and the Iggy Hop IPA.
They also rock some amazing live events, including stand-up comedy and bogan bingo, so you're guaranteed entertainment any night you visit. If that wasn't enough, they were also recented named as Australia's most awarded brewery, after bringing home ten titles from the Independent Brewers Association 2022 awards.
Land & Sea Brewery
Noosa
From the moment you step inside, the ultra-modern brewery you can tell everything has been done with the utmost care. Nothing has been rushed or careless crammed in at the last minute. The best places always have clear intent and a strong vision, and Land & Sea Brewery clearly has both. Everything from the lighting fixtures, colour palate, seating, tables, cutlery and glassware has been curated seemingly after hours of thoughtful selection and consideration. And it just works. It works wonders, in fact.
Their menu is concise with foodie offerings that perfectly match their liquids, all of which you can order at the bar. We recommend the chips—which are cooked three times before being served with salt and malt vinegar.
Brouhaha Brewery
Maleny & Baringa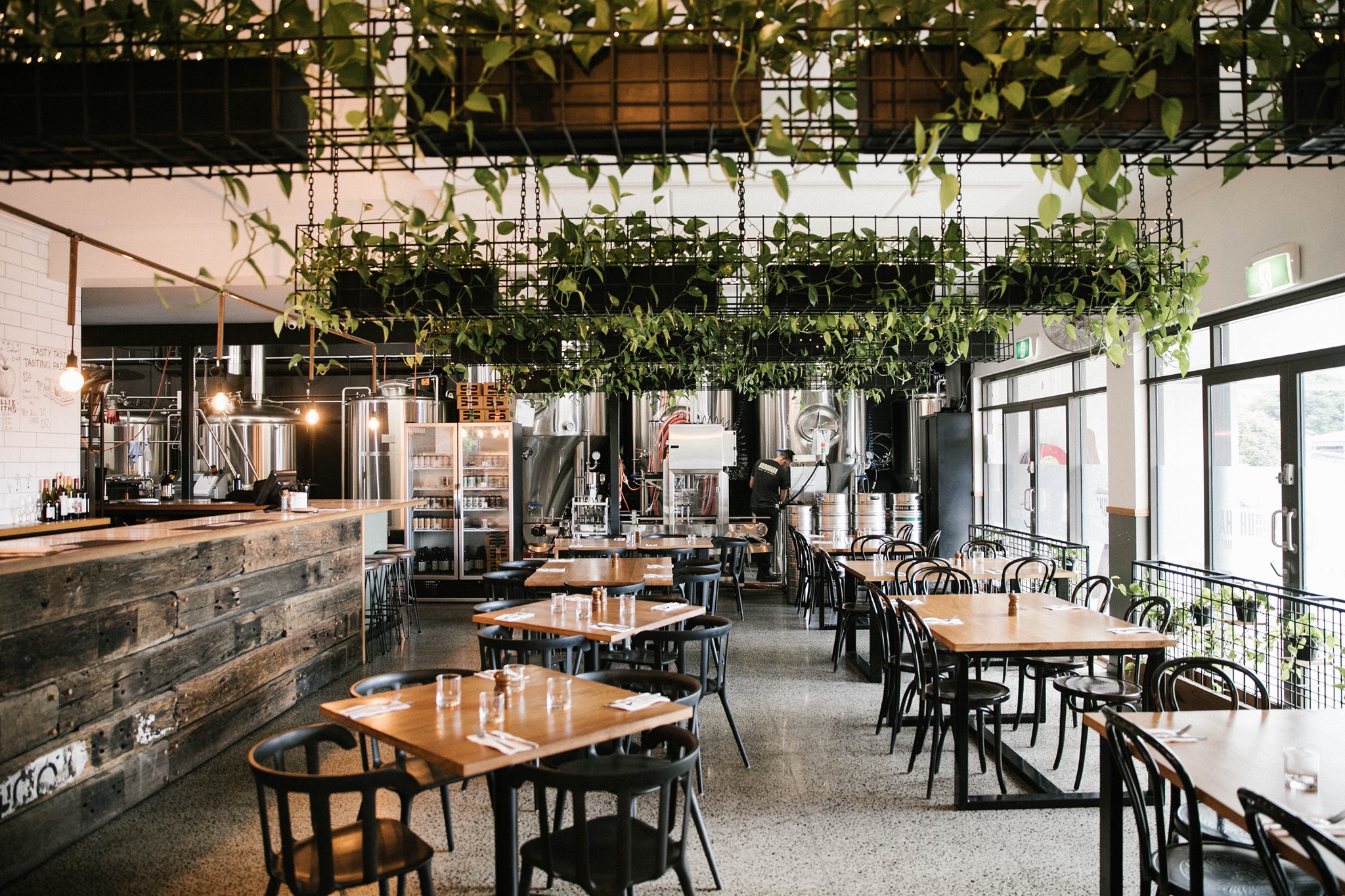 If you haven't heard of Brouhaha Brewery, you may have been living under a rock. Taking the Sunshine Coast Hinterland by storm, these guys are fulfilling all our boutique brewery dreams with great beer (of course), excellent coffee, and incredible food. Their industrial-style interior will leave you with #interiorenvy and the lush hills of Maleny will make you want to set up camp on the sprawling deck permanently.
Pouring from their sleek wall taps is an impressive line-up of brews and the best way to sample all 10 brews is to order the Tasting Card for a little over 30 bucks. They've also recently opened a second location in Baringa and custom-built production brewery and taphouse has taken over the brewing of our seven core range beers, supplying this range across Queensland and beyond. A 16 tap, two-level tap house looks over a state of the art, 35 hectolitre brew-kit, and allows guests to enjoy Brouhaha's much-loved brews while watching the action take place.
10 Toes Brewery
Alexandra Headland
When 10 Toes Brewery opened, they had two goals: Build brewery. Make beer. They've more than succeeded in both. Founded in an industrial shed near the beach on the Sunshine Coast, they live for the laid back coastal vibes and celebrating our local Sunny Coast legends.
With a focus on creating a beautiful space to craft some great local beer, they've stolen our hearts and our beer-lovin' tastebuds with their open-plan tasting room. Hands down, one of the best breweries on the Sunshine Coast.
Heads Of Noosa Brewery
Noosaville
Independent, family-owned and all-Australian, Heads of Noosa is inspired by the nearby rocky headlands of Noosa Heads. One of the best breweries on the Sunshine Coast, their beers embody the flavours, sights, sounds and colours of Noosa, and are brewed, filtered, kegged and bottled on site. The brewery itself is impressive, with massive fermenting tanks taking centre stage.
And because no beer session is complete without food, the brewery houses a kitchen, serving up delicious eats, like Japanese peppers, beer battered zucchini flowers with herby tofu stuffing, chicken wings with miso maple sauce and pork buns. Made from locally-sourced, fresh ingredients these dishes are designed to be washed down with a thirst-quenching lager and that's one request that will be easy to fulfil.
Boiling Pot Brewing Co.
Noosaville
Shaded, elevated courtyard—tick. Cool, urban interior—tick. Local beers that taste even better with a slice of housemade pizza—tick. There's a lot to love about Noosa brewery, Boiling Pot Brewing Co. Located in the heart of Noosaville, this watering hole pours a frothy range of refreshing brews from their refurbished warehouse space location.
On the taps, you'll find a range of thirst-quenching beers, ranging from mid-strength pale ales, IPAs and Saisons to black lagers and Rye XPAs, which you can also buy online. There's also a local cider and ginger beer for those that prefer something less beery. With a kitchen on-site and a local produce-heavy menu that spans pizzas, shared dishes and platters, chances are you'll drop in for a beer and stay for dinner…and who could blame you?
Your Mates Brewing Co.
Warana & Cooroy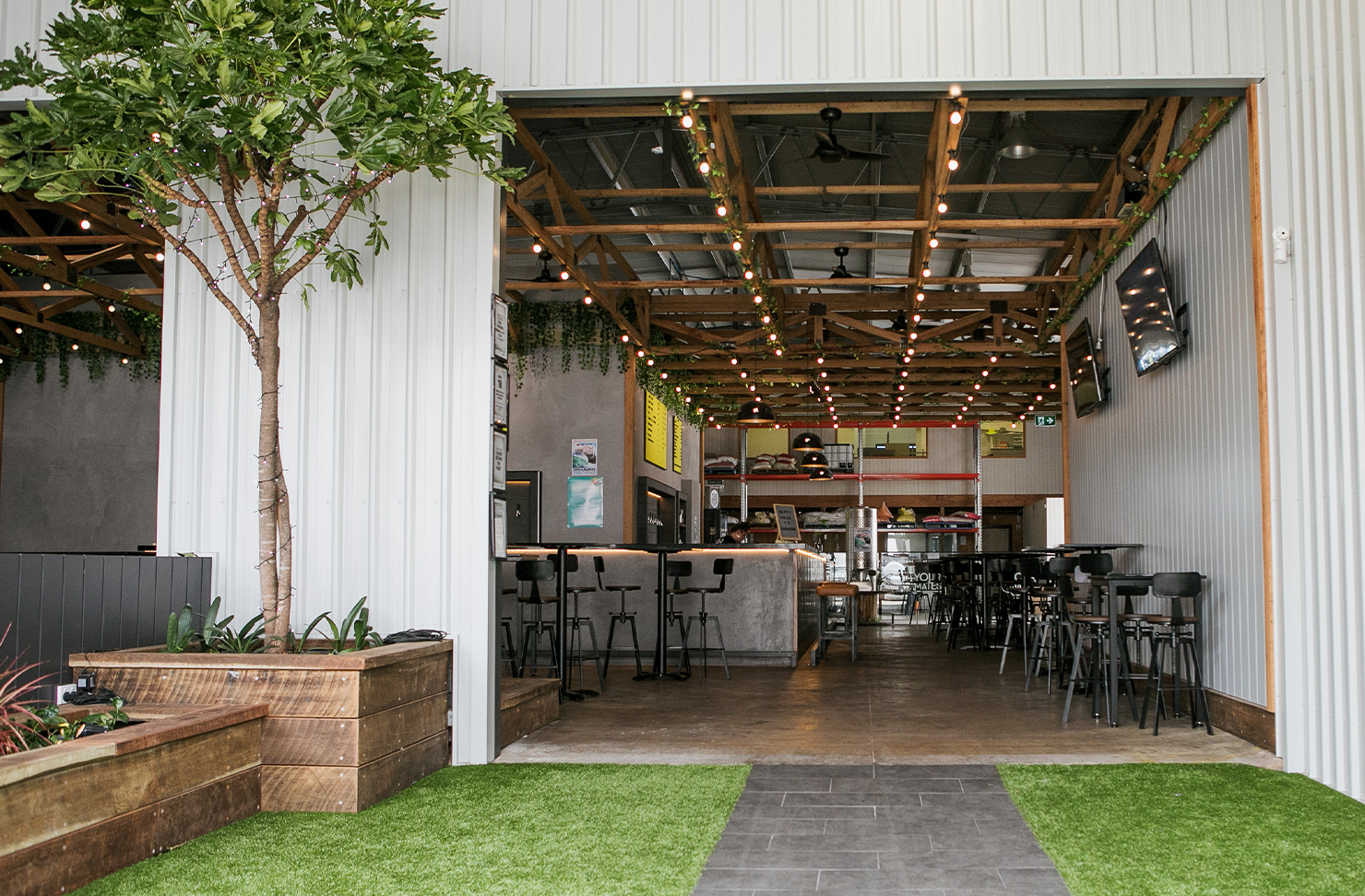 Your Mates Brewhouse is an award-winning Sunshine Coast brewery created by locals, for locals. Positioned conveniently inside a massive venue on Technology Drive in Warana's industrial precinct, Your Mates Brewhouse fits right in with an urban industrial fit-out and exterior.
Think: cement floors, high bar tables and stools, ambient downlighting and exposed timber panelling, mixed with just the right amount of corrugated iron detailing and a dash of greenery. Their beers are next-level and the Your Mates crew recently expanded to open an epic BowlsPub (yes, it's a thing) which brings together the cracking craft brews and lively entertainment they've become known for, with the added fun of barefoot bowls, lawn games and delicous feeds.
Eumundi Brewery
Eumundi
Tucked inside the iconic Imperial Hotel is where you'll cross paths with Eumundi Brewery, a old favourite that was brought back to life in 2016. While you can obviously enjoy Eumundi Brewery beers at an ever-growing number of local restaurants and bars, The Imperial Hotel and Eumundi Brewery is the only place you can taste the beers tapped direct from the brewery tanks—and that is a good enough reason to visit.
With brewery tours available on Wednesdays and Saturdays, we suggest spending the morning at Eumundi Markets before ducking across the road for some brews and a delicious feed. It won't be the last time you visit.
Terella Brewing
North Arm
Sprouting in the rural landscape of North Arm (in between Yandina and Eumundi), Terella Brewing is a sustainable farm-style brewery you need to know about. Rolling up its warehouse doors in late 2019, this Sunshine Coast brewery utilises high-tech innovation to make some of the best craft beer you'll ever taste. Using a totally sustainable business model, which sees the brewery integrated with a Vertical Farm system that creates its own fresh water to use in the beer, Terella Brewing is a must-visit.
Fitting out a section of a mammoth onyx-coloured warehouse, the taproom has an industrial fit-out with a rustic vibe and features plenty of seating and a bar that is home to 15 taps pouring Terella's crisp lager, signature mango XPA, honey nut brown ale and a unique blackberry wheat beer. They also have a gorgeous farmyard which houses rescued animals and is the perfect entertainment for the kiddies. Stop the search for the Sunshine Coast's best brewery, 'cause you've just found one.
Glass House Brewery
Forest Glen
Imagine a brewery with all the class of a winery, the menu of a five-star Italian restaurant, the décor of a rustic log cabin and the ambience of a jazz bar. Sounds too good to be true right? Wrong. Say hello to The Glass House Brewery. Situated in Forest Glen, this joint is the passion project of friends Simon Michelangeli and Paul Sanders, that saw them turn a shed into an ambient brewery with large wooden beams and pallets that run the length of the building, a huge dining hall, beer garden and function room.
Come here with an empty stomach, because along with lip-smacking house-brewed beers, there's also multiple menus that you're going to want to pick from. We suggest starting small, and pair your brew with the likes of Glass House wings, fable "mushroom meat" arancini and veal tonnato with caper berries and rocket.
Copperhead Restaurant & Brewery
Cooroy
You'd be forgiven if you thought were in some kind of chalet the moment you step inside Copperhead Brewery. This brew pub is ridiculously stunning with loads of timber, high ceilings, gorgeous chandeliers and a whole lot of room to gather your fave people for a chinwag over some high-end pub food and housemade beer. Choose between loads of quaffable ales, perfect for a chilled arvo session, as well as a few more experimental options for hardcore beer enthusiasts to get all snobby over.
The menu is giving us some serious love, too; it's focused on great produce and shared feasts with mates. And if you're up for a real experience, make sure you book ahead for the Brewer's Table—where you and your foodie friends put yourself in the hands of the chef and you'll be served a tasting menu of the best local produce, matched with craft beers.
Sunshine Coast Brewery
Kunda Park
The Sunshine Coast Brewery is one of the old boys. Blessing us with their brewed goodness since 1998, this brewery originally started as a ginger beer producer. This family-run business now focuses on perfecting their large range of craft beers; drawing on international influence, and spreading their passion for a boutique beverage over a mainstream tipple.
Their range of award-winning beers includes a popular mid-strength summer ale; and they also have a few unique brews such as a chilli beer (with a bit of bite!) and a Rauch Bier—made with smoked grains and smelling like a smoked winter's roast. So many choices, so little time.
Sunshine Brewery
Maroochydore
Summer ale, pale ale, IPA, stout, sparkling ale, saison—Sunshine Brewery in Maroochydore does it all. The Sunshine Brewery team are passionate about good fresh beer made with love, using products directly traceable to the people who grew them.
And of course, with good beer comes good times. These self-labelled salty sea dogs are ready to pour you a beer from Wednesday through to Sunday between midday and 7pm. Time it right and you can line up your visit to coincide with a food truck appearance, because we all know how well cheap eats go down with a couple of frothy ones.
If you need a place to rest your head after all those brews, hit up our round-up of the best Airbnbs on the Sunshine Coast.
Image Credit: Lumea Photography, Amy Higg Photography and Aaron Shum